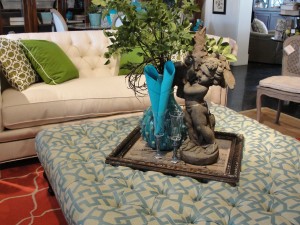 I'm definitely not an outdoorsy kind of girl. You will never catch me hiking in the wilds, cooking over a campfire or sleeping under the stars. No, my idea of spending time with Mother Nature is reclining in a comfy chair in my garden. Unfortunately, I live in a climate where the garden is asleep for months on end. That's why I like to bring the best of the garden inside my home, so I can enjoy the fresh feel of this little oasis all year long. It doesn't take much to give your interior décor a garden view – just a touch here and there. Here's how.
Pull up a Garden Stool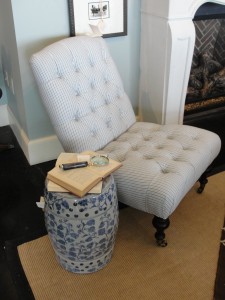 These squat little ceramic stools have taken the decorating world by storm. Whether they sport a blue and white Asian motif, are a bright, bold color, or feature a funky colorful glaze, they will look super in your home too. Right now I have two garden stools in my house. Both are partially tucked under formal end tables, one in my study and the other in my living room. They look great peeking out from under a traditional wooden end table because they add a bit of color, a sleek texture and a small surface on which to stick something little, like a book or cup of tea.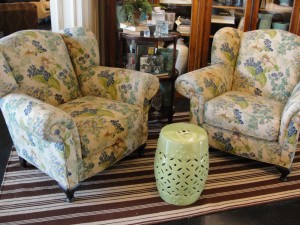 If you want a fresh, outdoor feel for your interior spaces, I think garden stools are a must. There are so many ways to use them, too. In your living room, use one as a side table or a footstool. In your bathroom, place one next to the tub to hold towels. In your bedroom, push one up to your vanity instead of a chair or bench.
Make Room for Outdoor Furniture
I always pull together a mix of furnishings when I decorate rooms, blending formal and informal styles, diverse textures and colors, and an array of materials, like textiles, wood and metal. Often, the finished rooms include a piece or two of classically outdoor furniture because I think outdoor furniture adds whimsy and character to interior spaces.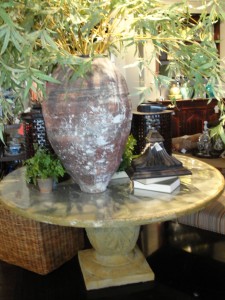 A friend came into Nell Hill's the other day looking for a new dining room table. She wanted something unusual, so I suggested a pedestal concrete table, just like the one I have in my courtyard at home. I'm crazy about this table because it's indestructible and versatile. I dress mine up a host of different ways when I entertain or when I have my home open for public tours. My friend sparked to the idea immediately. With its 72-inch diameter, the table was large enough for her to entertain a party of eight. To soften up the look of the stone, she ringed the table with slip-covered parsons' chairs.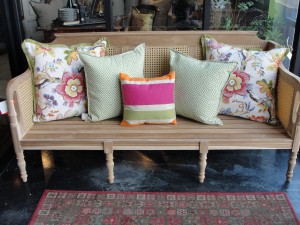 I adore garden benches festooned with seasonal pillows. They make a perfect addition to a large mud room, giving you a place to sit and take off your shoes. You could also place a garden bench at the foot of a bed in your master bedroom or a guest room. Or in your living room, back it to your fireplace during the warm weather months when your hearth is dark.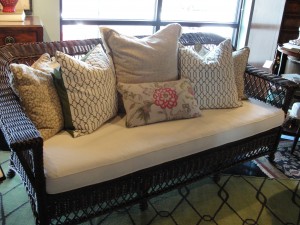 Wicker chairs are a building block of the Nell Hill's look. You can't beat these beauties for affordability and versatility. You can use them as dining room chairs, in bedrooms and living rooms, on screened porches and entries. They are sturdy and surprisingly comfortable. And, because you can have the seat cushions and pillows custom made, you can achieve myriad looks. For instance, if you want vibrant color in your room but don't want to paint your walls, cover the cushion in one of today's hottest colors, like apple green, coral or sunny orange. Select a pillow that pulls in the electric color of your seat cushion and some of the other hues in the room. Suddenly, you have an arresting focal point.
Build Garden Ambiance with Architectural Elements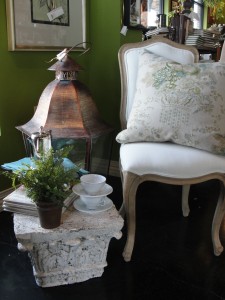 Periodically we stock a few antiques at Nell Hill's. Recently, I couldn't resist buying one for my own home. It's an antique capital that I'm going to put next to a chair in my living room and use as a little side table.
To me, aged architectural pieces, like capitals or finials, give a garden feel to a space. Perhaps it's their aged, weather-worn appearance, suggesting they have seen lots of spring rains, or the fact that they have been used to bring interest to gardens for centuries. You can also use a small, reproduction capital as a riser in your displays – we do this all the time at Nell Hill's. Or, add a finial to a display to lend vertical height.
Accent with a Garden Statue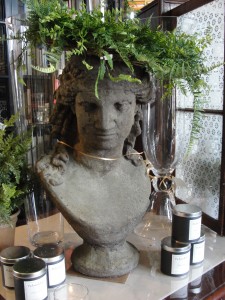 If you've been a part of the Nell Hill's family for long, you already know we're crazy about garden statues that have an aged patina. Whether antique or reproduction, this sophisticated yard art brings a stately look to home décor.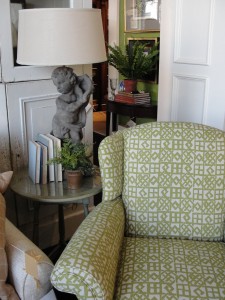 You only need a few statues to pull off the look – too many and your home will resemble a historic graveyard! Weave the statues into the décor throughout your home. For example, use one in the display on your coffee table ottoman, or on your dining room table, or in front of your hearth during the summer. How about this lamp that has a garden statue as a base? Love it!
Bring on the Flowers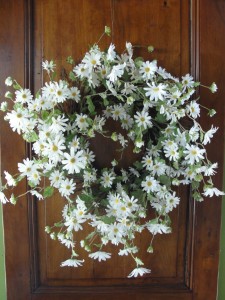 What is a garden without bowers of flowers? So to give your home a garden feel, you have to add some flowers. Don't you love this cheery daisy-covered wreath? You could hang it on your front door, lay it atop an urn in a display, or use it to ring a garden statue on a side table.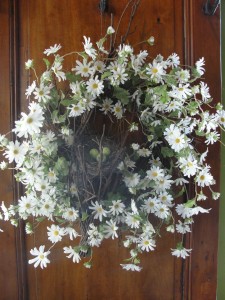 Have you ever hung a wreath in the spring and later discovered some birds have built a nest in it? Now you can get the same charming effect, but without the droppings all over your porch! Just tuck a cluster of twigs holding a bird's nest into the center of the wreath.
Don't Forget the Garden Pots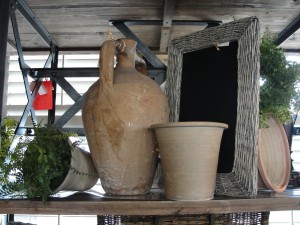 Including garden pots in your décor is one of the easiest and least expensive ways to give it a fresh garden feel. I like it all, from aged terra cotta pots to cast iron planters to brightly colored cachepots.  Use these versatile receptacles in a traditional manner, holding a potted fern. Or, think of them as vases waiting to be filled with a host of fun things, from the daily mail to kitchen spoons.
Next Week … Are your interior spaces looking a bit stale? Next week I will share six simple tricks to help you amp up your rooms.