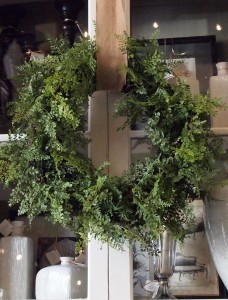 Every time a new shipment of home accents arrives at the stores, the Nell Hill's staff and I get giddy. As much as we'd like to, we can't take home everything we fall in love with at Nell Hill's. But, we still manage to fill our fair share of shopping bags with treasures we can't wait to use to decorate our own homes. So just for fun, I asked five members of the Nell Hill's team to share their favorite item at the stores right now and how to use it to make your home more lovely and livable. Here's what they said …. Lori: Freshen up with a Fern Wreath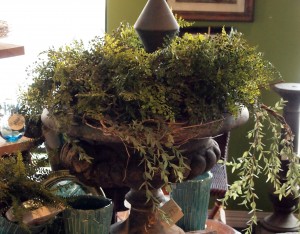 Lori loves gardening, so when our big leafy fern wreath arrived at the store, her heart jumped because it reminded her that spring was finally coming and she would be out digging in the dirt soon. Green wreaths like this one made of faux ferns are great decorating tools because you can use them lots of different ways inside your home and out. One of my favorite tricks is to rest a green wreath on the mouth of a garden urn, then fill in the center hole with a dramatic focal point, like a garden statue, lantern, trellis or gazing ball. You could use this fresh display on your front porch, at the center of your dining table or on your kitchen island – anyplace you want a splash of spring color.
Lori is going to use her wreath to decorate her front door for spring. While the wreath is definitely pretty enough to stand alone, Lori likes to add a personal touch, so she's always experimenting with new looks. For instance, at Christmas she hung a mirror in the center of the wreath on her door. Right now, she's thinking about hanging the wreath by some of the Easter-themed ribbon we're selling at Nell Hill's, then tucking in a few of our adorable bunny or chick figurines. I can't wait to see what she comes up with!
Ali: Jazz up Your Bed with Colorful Quilts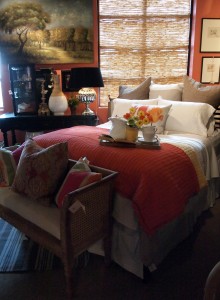 When Ali unpacked the new shipment of Amity Home's Base Camp quilts, she was a goner. These bright and cheery lightweight quilts sporting colors like choral pink, butter cream yellow, mint green and tangerine orange just screamed spring. To add a touch of spring cheer to your bedroom, Ali suggests folding one of these solid-colored quilts at the foot of your bed. Or, have twice the fun by layering two, folding them so both colors show. These inexpensive additions are an easy way to give your custom bed one more layer of interest.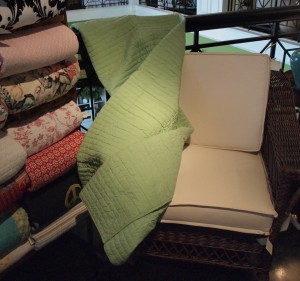 As the weather begins to warm up, I'll be hanging out on my screened porch every chance I get. During these early spring days, when the air is still cool, I like to drape lightweight quilts like these over the arm or back of my porch furniture so I'll have a blanket nearby in case I get chilly.
Stacey: Life Smells Sweeter with Pickwick & Company Candles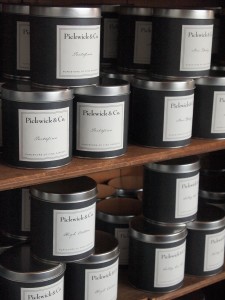 When we got in our first shipment of Pickwick & Company Candles, Stacey was a bit taken aback by the names of the scents. Black Pepper? Really? Who on earth would want a candle that smelled like pepper? And Leather, Tobacco and Wood. Seriously? Does this mimic the aroma of my husband's dreaded Man Cave? What would be next: Gym Locker? Wet Dog? Then Stacey took a whiff and was captivated by these delightfully different candles.
This new line of candles is made right here in Kansas City by a few guys who are passionate about their truly unique product. They've had fun coming up with out-of-the-ordinary scents, all of which smell amazing. It's fun to watch our customers huddle around the Pickwick & Company display, sniffing each candle, picking out their favorites. How about New Baby, which captures that indescribably wonderful clean and soft smell of a little one–part powder, but magic. Or Norfolk Lavender, which makes you feel like you're in a spring garden. Stacey's current favorite is Salty Sea Air because after the long, hard winter, she desperately wants to be at the beach. One whiff and she's there.
Dolores: Warm up a Room with a Lovely Jade Lamp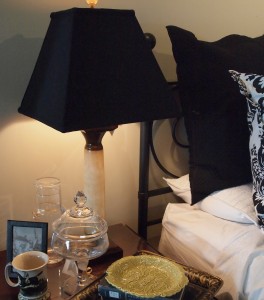 I barely finished asking Dolores for her top pick when she started describing her all-time favorite lamp. "I love, love, love this buttery yellow solid jade lamp," she said. "It's just gorgeous and will create ambiance in any room, guaranteed."
Now you know why Dolores is in sales – her enthusiasm is genuine and incredibly infectious. She adores the lamp base's warm coloring and its black, octagon-shaped linen shade. She likes the fact that it's big enough to add much-needed visual weight to side tables and that it looks superb in every room, from the entry to the bedroom to the living room.
Once you have a great lamp like this one on a side table, think of it as just one element for an eye-catching display. Dolores likes this jade lamp displayed with a potted fern in the background. Then, in the foreground, she suggests a small silver tray holding a crystal decanter and two wine glasses, or a short stack of antique books serving as a pedestal for a few snapshots in beautiful frames.
Christi: Add a Pop of Color with a Blue Garden Stool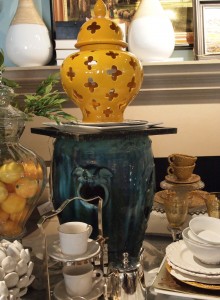 Christi likes to break decorating rules. (Maybe that's what knit us together when we first met!) So when she saw the shipment of adorable turquoise ceramic garden stools on the showroom floor at Nell Hill's, she started dreaming of unusual ways to use them. Her favorite idea? Use one of these chubby little stools in place of a standard wood or metal side table in your living room, introducing a new color and texture to a space that's probably full of fabric and wood.
"If your room is large, you could also use a garden stool as a riser in a really dramatic centerpiece on your dining room table," she suggested.  In her home, Christi has placed her ceramic garden stool on her fireplace hearth. It not only brightens the brick expanse with its splash of color, the stool is also an excellent stage on which to set up seasonal displays.
Do you have a Nell Hill's favorite – a piece you fell in love with at the stores and now are using in really wonderful ways? We'd love to hear about it!
Next Week … I'll share some ideas for weaving the fresh feel of your spring garden into your interior decor.