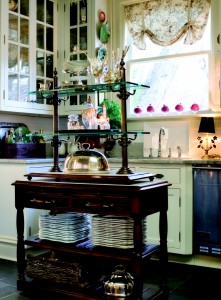 We lived in our historic fixer-upper for 12 long years before we had the budget to finally tackle the worn and dated kitchen. After more than a decade of dreaming about what I wanted to do with this all-important room, I couldn't wait to get started picking out cabinets and countertops and paint. From the moment the drywall dust settled, I was crazy about this reinvented space. And I still am. But like all good love affairs, you've got to mix things up every so often to keep the love alive. So I periodically make little decorating changes in my kitchen to keep it fresh and new. Here are a few you can try, too.Fetching Edges and Ledges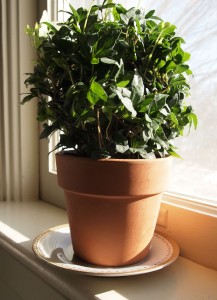 I view every edge and ledge in my kitchen as a small stage, waiting to be filled with something spectacular. My favorite spots to deck out are the windowsills above my kitchen sink and in the little breakfast nook that adjoins my kitchen. This spring, you'll find a single topiary sitting in the middle of each of the sills. Sweet, simple and eye catching.
Do you have room on your kitchen windowsills for a display? If so, perk them up with a small potted fern or a few garden herbs. How about a whimsical figurine, like a terra cotta statue of a frog? Or, a bud vase holding fresh flowers from your spring garden?
Artful Organization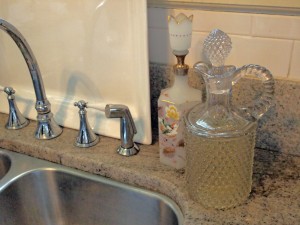 You won't believe this, but when I was single, the linen drawers in my kitchen were a thing to behold. I kid you not: I would iron my kitchen towels them fold them in precise stacks. Those days are long gone, but I did get a chance to revisit my past when I was at a friend's for dinner not too long ago. When we were cleaning up after the meal, I opened her drawer to put something away and was transported to heaven. The drawer was filled with beautiful kitchen linens, pressed and neatly arranged by color. I wanted to stick my face in the drawer and kiss the towels!
This spring, set aside an afternoon to deep clean and reorganize your kitchen. It may be one of the most gratifying things you do. After you toss out the expired food in your pantry and clean out the crumbs in your silverware drawer, come up with new ways to organize the kitchen items you use every day so they are attractive and accessible. One fun idea is to keep your dish soap in a pretty crystal vinegar pitcher and your hand soap in a decanter. That's what I've done in my kitchen – see the snapshot above.
Here's another idea: Find a woven wicker caddy you can use to transport the items you use on your kitchen table every day, like salt and pepper, or olive oil and balsamic vinegar. One of my favorite organizational tools is a big cast iron planter I fill with oils and flavored vinegars. I've had it on my counter for the past two decades and still love it.  I also include baskets in the displays on my kitchen shelves because they are not only attractive, they also provide extra places to store the kitchen items I don't use every day.
Beautiful Backsplashes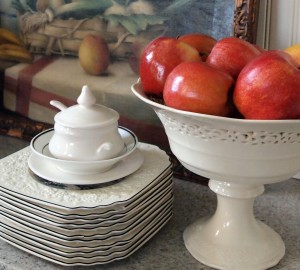 Your backsplash is another fabulous spot to decorate. In keeping with the age and style of my home, I picked a simple white subway tile backsplash for my kitchen, which serves as a blank canvas, ready to show off anything I lean against it. One of my favorite tricks is to rest a piece of framed art on the back of my counter then lean it up against the backsplash. People don't think to put artwork in such a hardworking place, but it is visually arresting. I also like to lean beautiful platters on the counter behind my sink to serve as a shield to stop splashing water. It's easier to clean than the backsplash and gives me a chance to showcase a nice platter.
Wonderful Walls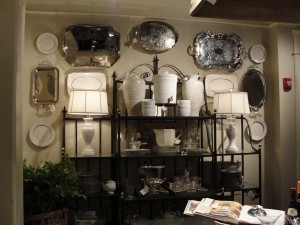 Nothing will spark up your kitchen like some lovely artwork. Don't allow yourself to be limited to conventional kitchen artwork, those stereotypical pieces that depict fruit or chickens. Instead, treat the walls of your kitchen just like any other in your home. Dress them delightfully in a mix of interesting pieces, from framed artwork to silver serving trays. The snapshot above is of a display we created in our mock kitchen at Nell Hill's Briarcliff, and it would be fabulous reproduced in your kitchen. We filled a blank wall with a baker's rack – one of my favorite kitchen storage pieces because they display collections of dishes so beautifully. We surrounded the rack with a constellation of amazing silver trays and creamy white platters and plates. Then we finished off the look by filling the baker's rack with silver and white dishware and serving pieces. Classic and beautiful!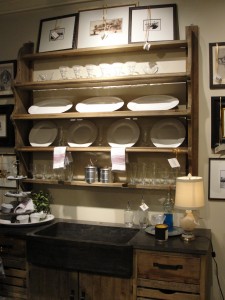 Another fun way to decorate a kitchen wall is with a huge plate rack filled with amazing dishes. I like to think of a plate rack as an easel, ready and waiting to hold a medley of plates, each a wonderful work of art in its own right.
Dish Displays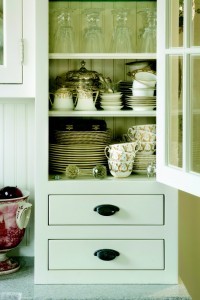 If you have open cupboards or bookshelves built into your kitchen, decorate them deliciously with beautiful dishes. This is a shot of my kitchen cupboards holding my antique china. This set is so special to me that I hate to hide it away when it's not in use. So, when we renovated our kitchen, we picked glass-front cabinets so I could enjoy looking at my dishes every day.
Island Magic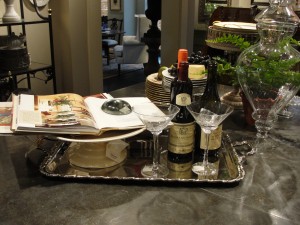 So many kitchens these days have huge built-in islands that seem it stretch on to infinity. If you have one in your kitchen, make sure to dress it up with a wonderful display, perhaps something you can freshen up for each new season.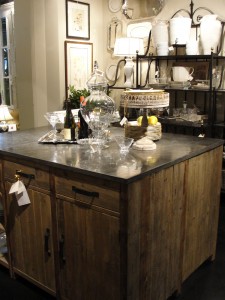 My kitchen is too small for a built-in island, so instead I got a free standing one I can move about if I need to. In theory, this little beauty is in the kitchen to help Dan out when he cooks big family meals, serving as a spot for him to put bowls and platters full of food. But if the truth be told, I got the island so I can dress it up. I fell hard for a French pastry shelf I saw at market, but didn't have any available counter space in my postage-stamp sized kitchen to hold it. Then I had a light bulb moment! I would get an island just big enough to hold the shelf and a few more decorative pieces.
Luminous Lighting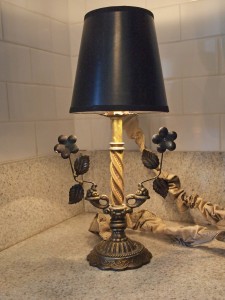 For some reason, I've never been a big fan of overhead lighting. I prefer the soft glow of accent lamps. And the same holds true for my kitchen. I keep this darling little lamp pictured above on the corner of my kitchen counter to soften the hard edges and make the space feel homier. If you have an enormous kitchen island with electrical outlets built into the side, why not place a pair of lamps on either side of the island? It will not only ground the space, it will also add soft, beautiful light to the room.
Reflective Surfaces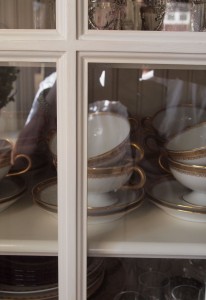 I really like light, bright kitchens. So when we renovated, I decided to paint my cabinets Garrity Cream and use glass doors wherever I could. The downside of the glass doors is you have to keep the shelves behind them tidy. But they make the entire room look bigger and brighter, a huge plus for those of us with small kitchens. Another trick is to pick white or stainless steel appliances that reflect light.
Coffee Central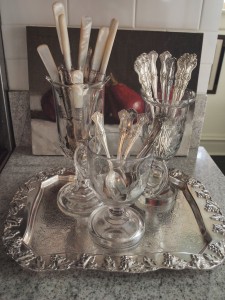 Since I don't cook, the only appliance in my kitchen that I'm truly passionate about is my coffee maker. For me, morning coffee is almost a religious experience. One of the ways I make my first cup special is to create a pretty coffee station in my kitchen. Try it in yours. Build your station on a lovely silver tray – gallery trays that stand on little feet are my favorites for this kind of thing. Then, fill the tray with a darling coffee urn, a vintage china creamer and sugar bowl, and some demitasse spoons displayed in a crystal glass. If you like to use flavored syrup in your coffee, store it in a decanter. I can't think of a better way to greet the day!
Fill in with Fun Stuff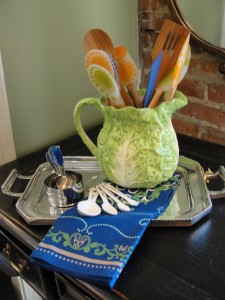 Seriously, can you ever have enough kitchen gadgets? I don't even cook and I can't say no to these things.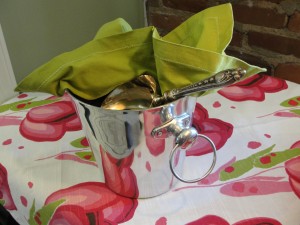 Look at some of the tempting tools we have at Nell Hill's Atchison: peppy rubber spatulas, amazing measuring cups, spoons, linens and aluminum serving pieces, like this ice bucket and scoop. Come check it out soon!
Next Week … I asked a few of our Nell Hill's team to pick out their favorite decorating tools in the stores right now. Find out what they can't live without, and how they use these timeless pieces in their own homes.