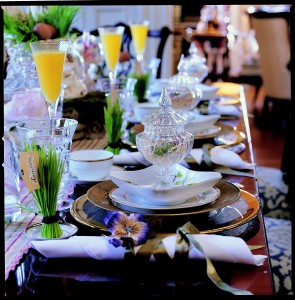 Easter always brings back a wealth of wonderful childhood memories for me. One of my favorites is the amazing egg tree in the home of my friend Gracie. Every Easter, Gracie's mother would hand-blow Easter eggs, decorate them beautifully and hang them from the twigs of a tree she made from a fallen branch. Then came the best part: Gracie's mother would say, "Mary Carol, you can pick an egg to keep." I thought I had died and gone to heaven!
While I don't have Gracie's mother's talent for decorating hand –blown eggs, I do like to dress up my dining room table for Easter when Dan and I have the family over for dinner. This year, I'm going to  get my inspiration from the festive table the Nell Hill's Atchison gang designed. Want to join me? Here are a few tips for the taking. A Lavish Feast of Color
In general, I'm opting for a subdued look on my dining table this season. But Easter is the big exception. In my book, if your table isn't bright and cheery and overflowing with spring color, it just isn't Easter.  I cheered when I saw this fanciful table at Nell Hill's Atchison – it's so much fun! There's a lot going on in this lushly layered tablescape because it was created as a store display, so I'm going to break down the scene into a few key components that you might want to try on your own table this Easter.
Cheery Chairs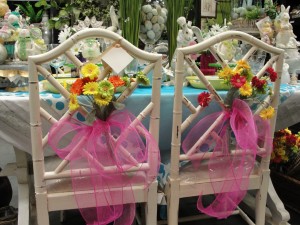 It doesn't take much to make your dining chairs festive, but your guests will be wowed by your work. Gather together some faux spring or summer blooms, make a bright bouquet, then tie it up with spring colored organza ribbon. Secure the nosegay to the back of the chair and in seconds you've elevated the look of your table.
Lively Linens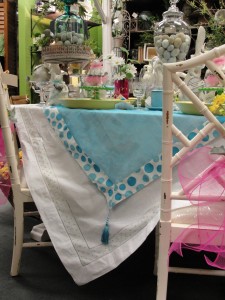 This is your chance to break out your spring linens, waking them from their long winter nap. On our display table, we used two layers of light, springy tablecloths. We started with a vintage-looking white cloth that is edged in green embroidered polka dots, turned on the diagonal to make it more interesting. Next, we added a peppy table topper in robin's egg blue, bordered in bouncing blue polka dots. Check out the tassels on the corners of this topper – just this little touch alone makes the whole table more fun.
Do you have any vintage linens hiding away in your cedar chest? Use them on your Easter table. Or, get a yard and a half of spring fabric, sew a hem (or if you're a cheater like me, fold and press a quickie hem) and use it as an instant topper.
Whimsical Centerpiece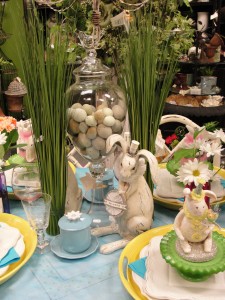 Depending upon your time and inclination, you can make your centerpiece as simple or complex as you like. Our table display is loaded up with several fun tableaux, any of which could serve as an inspiration for a centerpiece on your Easter table at home.
If you're rushed for time, take one or three apothecary jars and fill them half full of faux birds' eggs. If you'd like your arrangement to have more color, add a few bundles of faux spring grasses on either side of the grouping. These fake grass bouquets are one of my favorite seasonal accents this year – the emerald green positively glows with energy and life. For our third element in this centerpiece, we added a few Easter figurines. Don't you love this vintage looking bunny, dressed in his top hat and ruffle?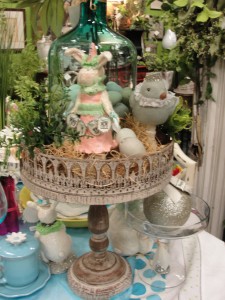 Here's another centerpiece option: Elevate an Easter icon on a riser. The key to making a centerpiece more dramatic is to use lots of different heights in your display. So find a riser, like this rustic wooden cake plate, and go to town. You could also use a plant stand, a stack of books, a compote or anything else that will give your look a lift.
We perched another super cute Easter figurine on our riser. Then, to give the tableau more height, we placed a blue tinted jar full of birds' eggs in the background. We put Easter grass in the foreground (you could also use moss) to make the display fuller. Stop here or add an egg or two to the foreground, and a fern to the middle ground to bring in even more color and texture.
Playful Place Settings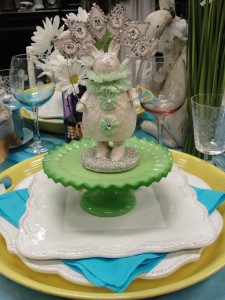 When you design the place settings for your Easter table, think like a kid. Make it bright and playful and so much fun to look at that you'd rather not disturb it to eat. One secret is to add pops of color, balanced with a few plain white dishes. We achieved that harmony on this table by starting with a yellow charger, which is actually a serving platter. Next came two white plates, each in a different shape and size but sporting similar trim details. We broke up the plane of white by inserting a bright blue napkin. This is a great way to display napkins if you don't want to do anything fancy with them. We topped our tower of plates with a green cake plate with fluted edges. It makes a perfect stage for our to-die-for-cute Easter figurine. Can you see the pink and blue glassware in the background? Drink glasses are another way to bring in a pop of color.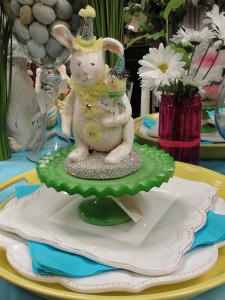 To delight your guests, use a different Easter figurine as the finial for each place setting. You can even give each guest their figurine as a take home gift.
A Few More Fun Touches on Your Table…
Flowers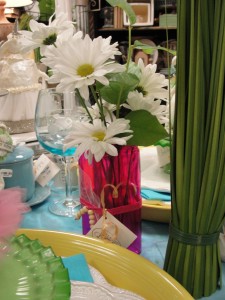 I really like to add individual flower bouquets to my dining table displays. These little displays give you another chance to bring more color, texture and interest to your table. And they make individual place setting feel that much more special. Here, we filled brightly colored mini vases with a few faux daisy blooms. If you don't like fakes, fill the bud vases with inexpensive cash and carry bouquets, then when Easter dinner is done, line your kitchen windowsill with the flower-filled vases.
Easter Dishes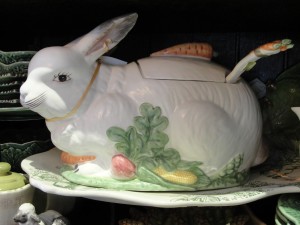 An easy way to have your table celebrate the season is by simply placing an Easter themed serving piece at the table's center. How cute is this bunny shaped soup tureen?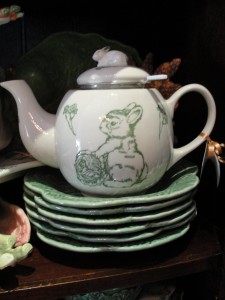 Want something more subtle? Look for a little teapot like this one that features an Easter or spring image. Can you make out the bunny on the lid of the tea pot? Irresistible! Reminds me of Peter Rabbit.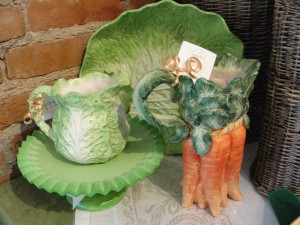 Get more mileage from your table by using serving pieces that have a general spring theme, like this majolica cabbage leaf creamer and platter, and hilarious carrot shaped pitcher.
No matter how it's decorated, I hope you and your loved ones create many wonderful memories around your table this Easter!
Next Week … Are you burned out on your kitchen? I'll have some quick and inexpensive tips for spicing up this all-important room.