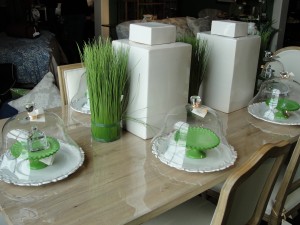 When it comes to creating beautiful dining table displays for spring and summer, I'm craving simplicity this year. I want my dining table at home and those at Nell Hill's to reflect an understated elegance, uncluttered and clean but still fetching. Want to give your table place settings and centerpiece a fresh look for spring? Try these ideas. White and Bright
Anyone who knows me knows that I will never, ever live a calm, peaceful life. How could I? I like to go hard every minute and squeeze the last drop out of each day. So instead, I'm going to settle for tranquility in my table settings this spring.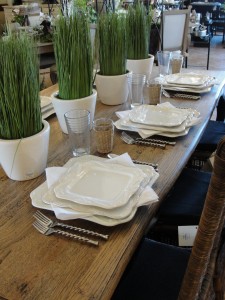 I am crazy about this contemporary, restful table at Garrity's in Atchison, aren't you? The organic elements, like the rough table top, wicker chairs and tufts of spring grasses, make me feel peaceful (for a minute, anyway!). We wanted to show off the pronounced grain in the trestle farm table, so we opted against using a tablecloth, topper or placemats. The centerpiece couldn't be easier or more attractive. We filled four sleek white pots with bunches of faux green grass that looks like it grew in a meadow in Ireland.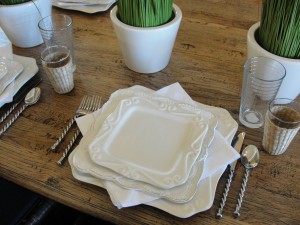 Each place setting features several layers, in the Nell Hill's tradition, but they are simple – just an oversized square dinner plate, a salad plate and dessert plate, with a plain white linen napkin tucked in.  To carry on the curvy lines in the pots, we used silverware with a twisted metal design on the handles and clear water glasses sporting rings.
More White Done Right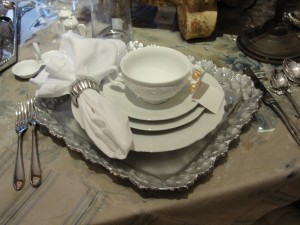 We went for a charming vintage look on this table at Nell Hill's Atchison. The tablecloth is beautiful in tans and cornflower blues. To play off the floral pattern in the tablecloth, for chargers we used darling aluminum trays that feature a chain of daisies around the edge. The shiny silver is repeated through the napkin ring and silverware.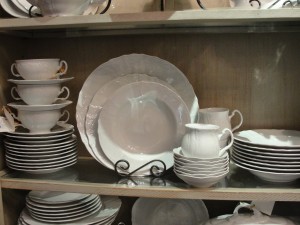 If you haven't yet invested in a set of white dishes, you've got to get some now. White dishes are one of our decorating building blocks at Nell Hill's because you can achieve so many different looks with them simply by switching out your table linens, serving pieces, accent dishes, glassware and centerpieces. This snapshot is of my favorite set of white dishes. Simple and sweet, they look sensational with everything. Check out the selection at Nell Hill's Online!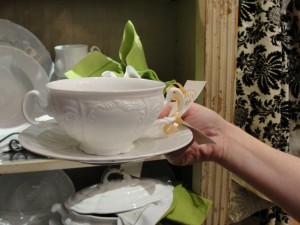 Here's a snapshot of me holding my pet piece in this set – the to-die-for cute two-handled soup bowl. Notice the detailing on the sides and handles? Love it!
Birds of a Feather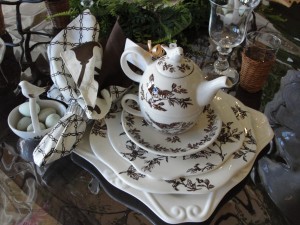 Birds are another favorite icon of spring, so why not include images of birds on your spring table? We started with a white dinner plate, then added some accent pieces from this classic but cute set of dishes featuring bird images in a yummy cocoa brown. I like how this place setting has nice vertical height, topped with a teapot/cup combo. You could also place a faux nest on the top plate.
The napkins we paired with this place setting tie in the warm brown color but add an interesting new pattern. Reversible linens like these napkins are a great pick because you get can achieve two very different looks on your table simply by flipping over the napkin. Notice the little cup on the left of the place setting, filled with little birds eggs? To make your place settings more intriguing, add a little surprise or two like this one—something that catches your guests off guard and makes them smile.
Playful Color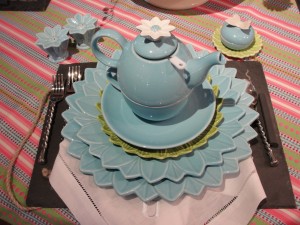 If the warmer weather makes you feel like a kid, why not double the fun by setting a whimsical spring table? We picked an irrepressibly joyful tablecloth featuring cheery stripes (we sell this cute, cute, cute fabric by the yard at Nell Hill's Briarcliff), then continued the fun with flower shaped plates in a spring palette. The place setting starts with an unusual charger – a chalkboard.  And it's topped by an adorable teapot/cup combo. Notice the little flower-shaped salt and pepper shakers?
Spring Centerpieces Made Simple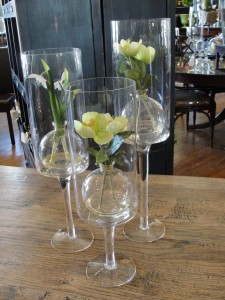 I'm all about simple centerpieces this season. What could be lovelier, or simpler, than these three glass hurricane lamps holding small glass bud vases? Simply cluster a trio of glass vases, hurricanes or apothecary jars at your table's center, fill them with iconic spring images like flower blooms, eggs or nests, and call it good. If you have a long, rectangular table, you could multiply your glass containers by three, placing all nine containers in a row going down the table's center.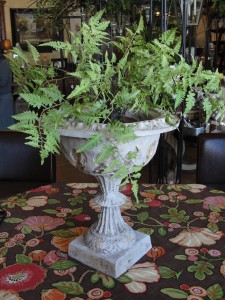 I often work rustic garden statuary into my formal table settings because I enjoy the juxtaposition of formal and informal. Steal a neat container from your garden or get a new one, then fill it with a large and leggy faux fern. Springy, dramatic and lovely–in just seconds!
Next Week … Easter is right around the corner, and I've got some fun ideas for making your Easter dinner egg-stra special.