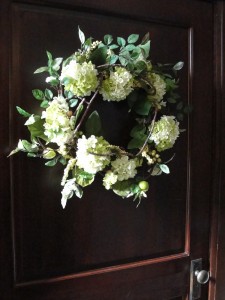 Through the years, I've shown little restraint when it comes to dressing up my front door. I've embellished it with  mirrors, oil paintings, plates and platters, wreaths, lanterns, wall clocks and baskets of flowers, to name a few. For spring this year, I'm going for a simple, eye-catching look that only takes minutes to hang. Want to join me? Here are three super easy, darling designs to inspire you. Ring of Color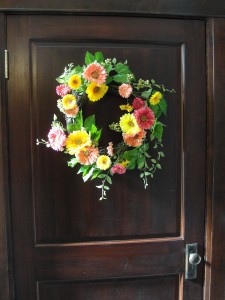 After a long, brutal winter, I can't seem to get enough color in my life right now. So I've been drawn to this year's array of brightly colored home accent pieces that sport vibrant hues like orange, magenta and teal. These peppy colors would look fabulous on your door this spring. And what could be easier than hanging a simple wreath made of flowers and fresh spring greens? I really like this happy wreath that features peach, tangerine and sunny yellow daisies. We secured the wreath to a nail in the door, and snap, we were done. You could also hang it from a festive ribbon tied to your front door knocker.
Romantic Flowers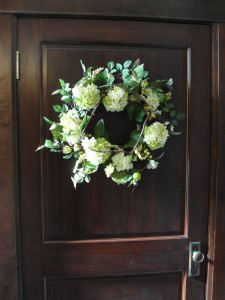 Whenever I see hydrangea blossoms, I think of romance. We used mounds of hydrangeas when decorating our home for our daughter's summer wedding. And my dear friends Gloria and Lynda, whose unenviable task it is to try to keep my garden alive, have planted some hearty hydrangeas in my yard that not even I have been able to kill. So when I saw this simple but beautiful hydrangea wreath at market, I had to order a stack of them. I like that it's not too cutesy, thanks to the bare sticks that are woven throughout the wreath. You'll be able to find lots of floral wreaths this year—we have lots of different looks at Nell Hill's right now–but if you're crafty, make your own! This hydrangea wreath is so pretty, you can hang it all by itself from a nail in your door or tie it to your door knocker. For added oomph, suspend it from a beautiful bow. If you want to play up the romance, pick an organza ribbon in pink or green. For a more natural look, pick a rustic burlap ribbon.
Mirror, Mirror on the Wall …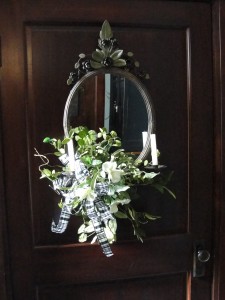 Hanging a mirror on my front door is one of my favorite tricks because I like how they reflect the light, sparkling and catching the notice of passersby.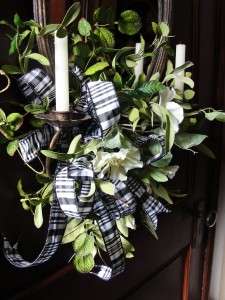 For this fun treatment, we started with a mirrored wall sconce that features delicate details, like leaves and flowers, fashioned from metal. When you hang your mirror, make sure to secure it well so it doesn't flap in the wind. Also, protect your door by backing the mirror with felt.
This mirror would be lovely enough to feature alone. But we couldn't resist the urge to add spring florals. So, we made a simple arrangement using assorted spring picks–greens and a delicate white flower. Then we finished it off with a black and white plaid bow.
Lively Lantern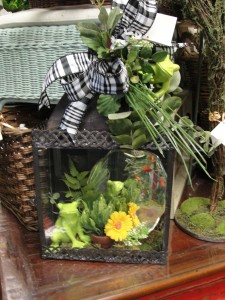 Lanterns are another all-time-favorite tool to use on my front door. The visual team at Nell Hill's Atchison picked this cute boxy lantern to hold a playful spring tableau. This beguiling scene features a small mirror, two irresistible frog figurines, some tiny potted ferns, a few flower blooms and moss. The fun continues on the top of the lantern, where we've created a spray of spring greens (and another frog!) tied up in a black and white plaid ribbon. All you need to create a whimsical display of your own is an empty lantern, some spring decorative accents and greens, and your own imagination.
Next Week … The march toward spring continues next week when I'll share some ideas for creating spring tabletop displays and centerpieces.