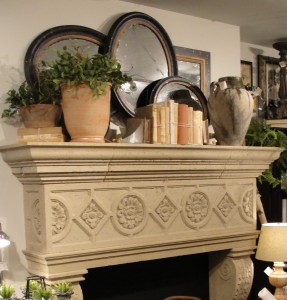 Spring is an ideal time to lighten and brighten the look of your fireplace mantel display. Some years, I completely remake the look of my mantel at the start of each new season. And others, I keep the same basic display in place the whole year through, then add just a few seasonal touches here and there to give is a quick freshening up.
At Nell Hill's, we're loving a dramatic but subtle, lightly layered look for fireplace mantels this spring. Want to create this fresh feel on your mantel? Here are some tips to get you started.
Start from Scratch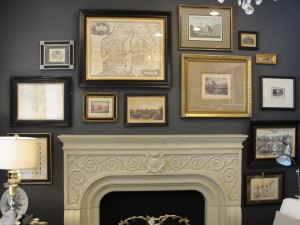 Sometimes the easiest way to build a new mantel display is to completely clear off the old one, giving yourself an empty stage full of possibilities. While your mantel is bare, stop for a minute to consider the artwork display you've built around it. If you don't like what you see, take this opportunity to reconfigure, creating a new look by hanging existing art in a new way. Or, maybe it's time to upgrade your artwork, replacing pieces you no longer love with those that make your heart sing.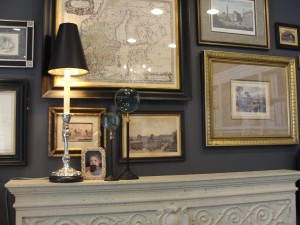 When creating your mantel display, you can come at it in two ways. One method is to visualize the finished look of the entire mantel. Another is to start with one side, arranging and modifying as you go, letting the one side dictate what you place on the other side. For our mantel makeover today, we're starting with the left side then working on the right.
We picked a lovely accent lamp to ground our grouping because it adds much needed light to our dark and dramatic room and repeats the gray, black and gold color palette established in the wall color and artwork. Next comes two standing magnifying glasses –one of my favorite accents in the store right now. I love how the round, reflective surface of these glasses adds a bit of sparkle to the grouping, but is still subtle and subdued. We finished off the grouping with a framed snapshot. Don't ever be afraid to use snapshots in your decorating – I do all the time. I think a house isn't a home unless it tells about the people who live there, so display pictures throughout your home that tell the story of your life. So far, this display is timeless and could easily be left up all year.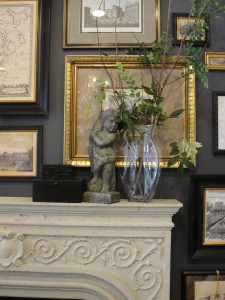 To give our mantel a subtle spring look, next we added a few spring icons to the right side. We picked a garden statue and a vase holding some spring branches. Notice how sparse the floral display is–mostly bare twigs with just a few faux greens added to give the slightest suggestion of green. I really like this natural, minimalist look right now. To finish off our grouping, we stacked two small, black wooden boxes on top of each other and placed them toward the middle of the mantel. Notice how we've created a diagonal line with our three decorative elements that leads the eye down and across the mantel.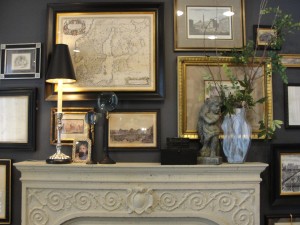 Here's the finished display, a visual treat that pulls together the mosaic of monochromatic artwork on the wall with a timeless grouping on the left and a spring tableau on the right.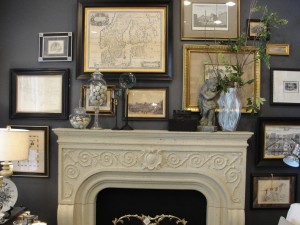 If you'd like a stronger spring feel on your mantel, substitute the grouping on the left with accents that showcase the season more directly. We replaced the lamp and picture frame with two apothecary jars filled with natural-looking birds' eggs. You can't tell very well in this snapshot, but we also tucked in a bird's nest on top of the eggs in the shorter jar. This modification screams spring without being overly cute or cliché. It's the perfect look for a formal living room.
Add a Tweak Here and There
I'm opting to keep the core of my mantel display the same for all the seasons this year. Then, every few months, I tweak it just a bit to give it a fresh feel for the current season. If you are too busy for full-fledged seasonal decorating, this might be a great solution for you, too.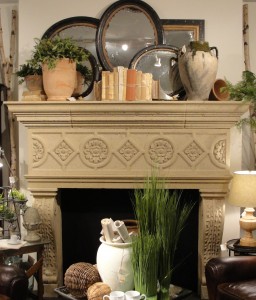 For this spring mantel display, we wanted to go for a restful, serene look that could stay up all year long.
We started by hanging an intriguing tapestry of mirrors. The mirrors are from the same grouping and look identical except the size and shape. Some are hung from the wall, overlapping. Others are resting on the mantel, leaning against the wall.
To give this display a garden feel, we wove in several pieces of rustic pottery, repeating the color of the pots but mixing up their size and shape. We rested a terra cotta pot on its side on the right, put a chubby, aged urn toward the center and positioned pots holding plants on the left side.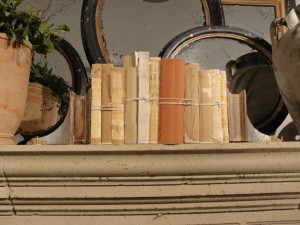 My favorite feature in this mantel display is the line of worn, antique books tied up in several groupings with string. The bookends we used here are really two wall brackets!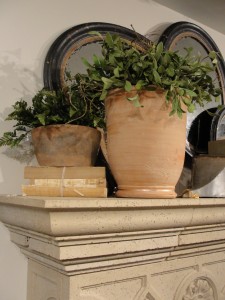 We repeated the unique look we created with the antique books on the left side of the mantel, using these aged volumes to make a riser that lifts our smallest potted plant up so it wouldn't get lost in the overall display. To give this display an instant fall makeover, all you would need to do is place some fall foliage in an urn and tuck in a gourd here and there.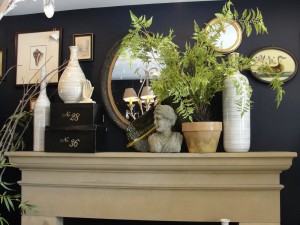 This mantel display is built around a few key foundational pieces that could be kept in place year round.  The addition of the three pieces of white pottery lightens the look quite a bit, providing excellent contrast from the dark wall color and black wooden boxes. As with the first mantel display, we added a potted plant and garden statue to lend a hint of spring. Notice the fun iron hand on top of the stack of boxes? It's actually a small shelf you can mount on the wall to hold little objects like your car keys.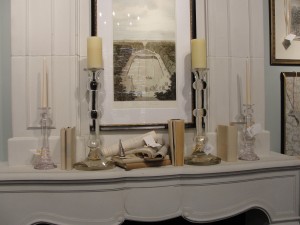 Our last mantel display features today's hot French market look. Several layers of monochromatic accents give it loads of interest. I love the subtle texture, and it's so light and airy, it's ideal for spring but could also be left up all year long.
Next Week …As you get your home ready for spring, don't forget your front door! I'll have some fun ideas for making your front door bright and cheery for the season.