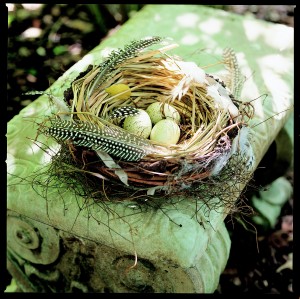 One of my favorite things to do in spring is to spy on the birds that live in the canopy of the trees in my backyard. I enjoy watching them hop about the garden, gathering twigs or bits of grass to build their nests. But most of all, I love to watch them torment our cats. The kitties see themselves as fierce hunters, but the birds see them as pure sport, I think. As the cats skulk about the garden spying on their targets, the birds have a blast flying about, dive-bombing the poor cats until they retreat to the porch for a long nap. My fascination with these little winged creatures has inspired me to celebrate them through my interior décor.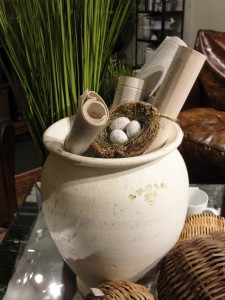 We've been loony over birds at Nell Hill's for the past decade or so. But despite this long-running obsession, these flighty creatures never get old to me. Perhaps it's because creative designers keep coming up with new ways to depict birds in home furnishings. This spring, give a nod to the birds by subtly working bird images into your décor. Here are a few suggestions to inspire you:
Tuck in a Figurine
Perch a bird figurine in one of your existing displays on a side table, in a bookcase or on your mantel.  Or create a dining room centerpiece that features a bird theme and uses two or three bird figurines in the presentation.
Get Excited About Nests and Eggs
One of my favorite ways to celebrate birds is to use nests and eggs in my spring decorating. Pool some speckled eggs in a bowl on your kitchen island, place little faux nests on top of each place setting when you entertain or create a bouquet out of fallen sticks and spring greens, resting a nest on one of the branches.
Brighten Your Walls with Bird Art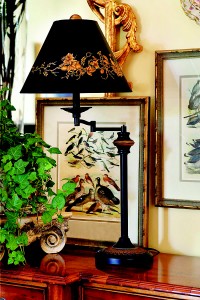 Create an interesting collage of art using dissimilar sized and styled pieces that each feature an image of birds. Hang a grid of matching bird-themed artwork. Or add a new piece of bird artwork to an existing display.
Feature Dishes the Feature Birds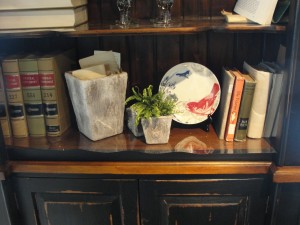 Freshen the look of your everyday dining table by picking up a set of salad plates that feature birds. Set your table as usual, then top the dinner plates with the new bird plates and you've re-invented your dishes for a small investment. Or, just pick up one bird-themed plate and use it as artwork in a display. Prop it up on an easel and make it a backdrop for a small tableau.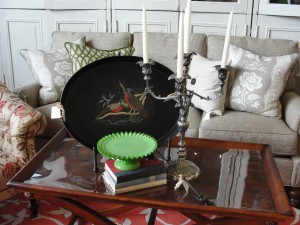 Looking for something to spice up your coffee table or mantel? Try this idea. Prop a tray featuring a bird onto an easel, then pair it with a few catchy accessories. Simple and powerful.
I adore English footbaths because they can be used in myriad ways in your decorating. This lovely piece, with its delicate bird image, could be filled with moss balls or ferns for a quick centerpiece. I especially like the display above, with the footbath filled with rolled up pages from vintage books and magazines.
Make a Statement with an Aviary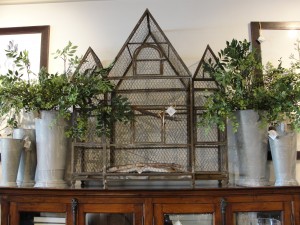 I was thrilled when Victorian aviaries made a comeback a few years ago. These statement pieces turn heads when displayed on top of hutches, low bookcases and even in high places, like atop an armoire or on a ledge in a two-story entryway.
Feather Your Bed in Birds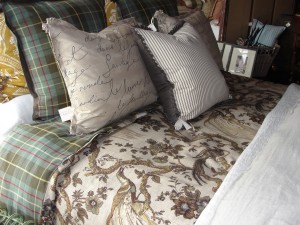 This year at market, the designers showed lots of fabrics featuring birds. My favorites sported the classic look of toile.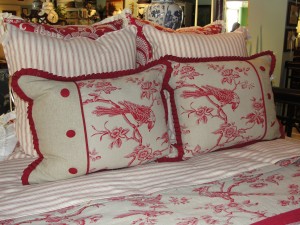 The amazing team of bedding designers at Nell Hill's Briarcliff got to work creating custom bedding ensembles that combined these new bird-themed fabrics with some of the other hot looks in textiles today, like ticking, plaid and paisley.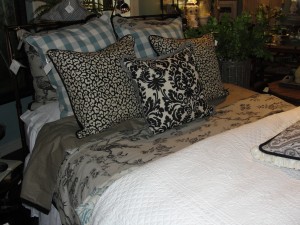 If you'd like to invite some birds to brighten up your bedding, add a few custom pillow shams made out of a fabric that features birds. Or, try a two-sided duvet cover, one side featuring a bird print and the other a complementary fabric in plaid or stripe.
Brighten Furniture with a Bird Pillow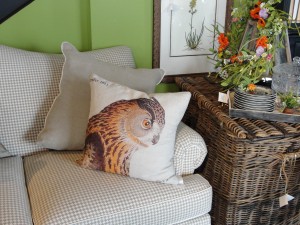 Every season, I change out the accent pillows on my living room sofas and chairs. These bold and bright bird pillows would be a perfect addition to my spring pillow lineup. I was drawn to these fun pillows at market because they work well in just about any style home. Hunt for a fun accent pillow or two depicting birds, then toss them on your sofa or side chair this spring. I guarantee, it will make you smile every time you walk by.
Next Week … Ready to create an arresting spring display on your fireplace mantel? Come back next week, when I'll show you how!