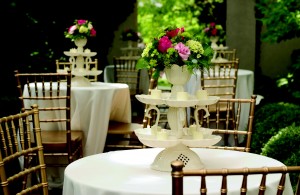 I love a good shower. Not the soap and hot water kind. The kind where you gather with friends to celebrate an exciting new beginning in a loved one's life, whether it's the arrival of a baby or an upcoming wedding. Do you have any friends or family celebrating a milestone event this year? If so, cheer with them by throwing them a fun and festive shower. Here's how. A Shower to Remember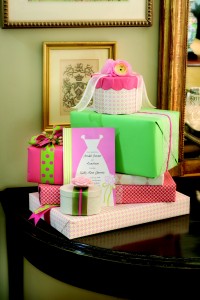 When our daughter Kelly was married a few years ago, we had so much fun planning her wedding, which was held at our home. (You can read all about our journey, plus get lots of fabulous tips for planning the perfect wedding in my book, Nell Hill's Stylish Weddings, available now at Nell Hill's Online). But the best part was the parties. I confess: I'm a party girl. And I relish any oppportunity to gather with friends and laugh until my sides hurt.
When my dear friends Janet, Mary and Denise offered to throw a bridal shower for Kelly, I knew I was in for a treat because these three amazing women do everything right. Whether you're throwing a baby or bridal shower, try these great shower-planning tips I learned from them: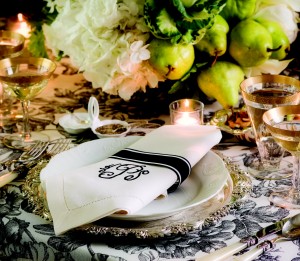 Team up. When you plan an event with others, you can share the time, effort and expense.  Plus, it's a whole lot more fun to do everything with friends, in my opinion.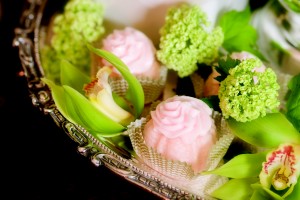 Consult with the guest of honor. Before my friends made any party plans, they first asked Kelly what she would like her shower to be like. It's absolutely essential to tailor the event to match the guest of honor's personality. Does she want a quiet gathering or a big bash? Does she want to have a theme for the shower? Would she like the shower to be co-ed or just the girls?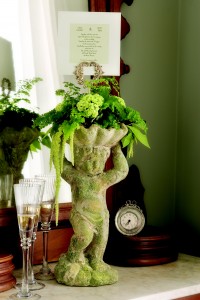 Set the tone with the right invitations. In this age of e-vites, I'm still a fan of old fashioned invitations that arrive in the mail. When you're sifting through the day's mail, it's always a treat to spy an invitation envelope that promises a good time, isn't it?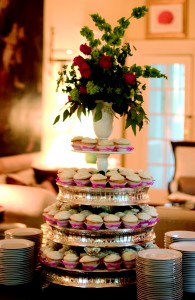 Serve up a yummy spread. Will the shower include light appetizers or a full-blown dinner? No matter what you serve, don't be a slave to the kitchen—you'll stress yourself out and miss all the fun. Instead, if you love to cook, just pick a few savory dishes to serve, not  a huge spread. Even better? Have the event catered or order some gourmet to go from a local restaurant.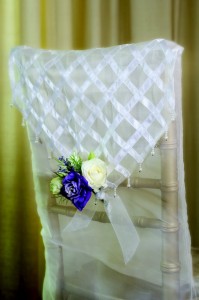 Decorate to your heart's delight. If your bride or new mom wants a themed shower, bring it to life through your shower decorations. Kelly didn't want a theme for her bridal shower, so my resourceful friends looked out at their summer gardens that were exploding with flowers and decided they would snip mounds of hydrangea blossoms and hosta leaves to create killer displays on the buffet, fireplace mantel and dining tables. The decoration were off-the-chart sophisticated and, best yet, FREE.
Bride Ideas for a Wedding Shower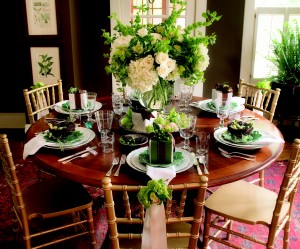 Need some ideas to get your creative juices flowing? Try these:
A lovely luncheon for the ladies. "Girl time" can cure a list of ills. So a great way to encourage stressed-out brides is through some much-needed time with other women. The shower that Janet, Mary and Denise threw for Kelly was just what the doctor ordered. Our amazing hostesses greeted everyone at the door with mimosas, setting the tone for revelry. Everywhere you turned, you were cheered by happy bouquets of garden flowers. For the light luncheon, the hostesses rented a few café tables then decorated them with white china, pink and green linens (to match Kelly's bridal colors) and fun, practical party favors: pink and green potholders with matching kitchen towels.
A backyard BBQ for the gang. Friends of Kelly's in-laws hosted a fun backyard BBQ shower for the young couple. The hosts dressed up their deck with tables covered in red-and-white gingham tablecloths and used live strawberry plants for centerpieces. The event was catered by a local BBQ restaurant, a hint at the big gift the guests had pooled their money to buy for the happy couple: a sensational outdoor grill.
Baby Me, Baby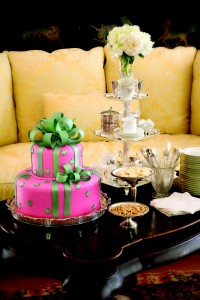 Pick a playful theme. The sky is the limit when it comes to themes for baby showers. Thank heavens we are no longer confined to pink for girls and blue for boys. In fact, yellow was the color of the hour at my friend Nancy's baby shower. The theme and color palette was set with the invitations, which said "Duck in for a Baby Shower" and featured adorable illustrations of yellow ducks. I laughed for joy when I took in the sunny dining room at a local restaurant where the shower was held. The ice buckets at the table's center, filled with sparkling wine, were red, blue and yellow plastic sand pails. The linen napkins were rolled up in duck shaped teething rings. And the flower arrangements featured baby bath toys. This fun and frolicking atmosphere set the perfect mood for us to cheer the coming of this special baby girl.
Decorate with toys. A few weeks ago, the Nell Hill's Briarcliff gang gathered to celebrate the pending arrival of the newest member of the Nell Hill's family: Macy's baby boy. When we arrived at Kathy's house for the shower, we were greeted by creative displays showcasing vintage toys. On top of her grand piano, Kathy created a large display featuring a child's ride-on red tractor, which was her son's when he was a boy, and bouquets of bright flowers. Her son's old Matchbox cars filled the wooden dough bowl she keeps on her dining room table. And she  loaded glass cylinder hurricane lamps with assorted toys, like blocks and cars. But one of the neatest ideas that Kathy and co-host Dorothy came up with was to pass around a box filled with  the envelopes for thank-you notes that we addressed to ourselves so Macy wouldn't have to fill them all out herself.
Next Week … I love birds and take every chance I can to celebrate them through my interior decorating. Next week, I'll share some tips for adding new life to your décor with birds.