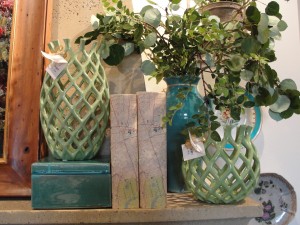 I got an icy welcome when I arrived at the huge Atlanta International Gift & Home Furnishings Market in January. You probably remember the news — Atlanta was covered in a sheet of ice that grounded flights, held up shipments of merchandise and left restaurants and hotels near the convention center without the supplies they needed for the nearly half a million people who attended the world's largest gift and home furnishings market.
But despite these inauspicious beginnings, my heart began to thaw as I raced from showroom to showroom, hunting for this year's "finds" – truly unique home accents I love so much, I'd want them in my own home.
Here are a few of my favorite picks from market this year, plus today's hottest trends.
To-Die-For Accents
Sensational Ceramics
It felt like the sun was bursting through the clouds when I drank in all the delightful, colored pottery featured at market this year. Orange, red, yellow and the most amazing teal I've ever seen. I found tiny vases that stood no more than a few inches high – a perfect way to add a pop of color to a tabletop tableau. And I saw large statement pieces that stretched almost three feet tall, big enough to be an arresting addition to the top of an armoire, a ledge in a two-story entry or even on a dining room buffet.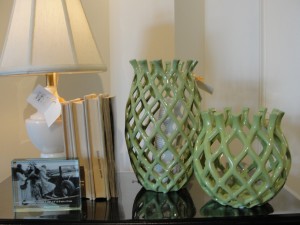 The styles of these playful pieces were just as varied. Some were rustic and rugged, and others were sleek and contemporary. And, the prices were unbeatable, with some pieces costing as little as $5!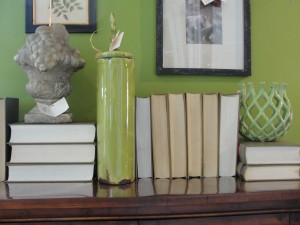 Like me, Nell Hill's customers are really craving color right now. Those of us who live in colder climates are yearning for vibrant hues, since we see so much gray and brown outside our windows this time of year. Others, who are tired of today's decorating trends that lean toward muted, neutral palettes, are also clamoring for color, and lots of it. I can't think of an easier, less expensive way to add some zest to your décor than with these bright and happy vases. I'm going to tuck them in and around the displays in my own home—in bookcases, on side tables, on my kitchen windowsill and my bedside table.
Amazing Artwork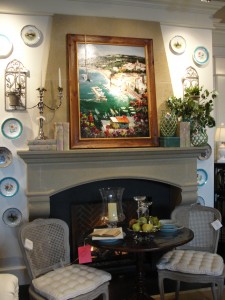 One of my goals at market this year was to find beautiful artwork that spanned all design styles, from traditional to contemporary. I scored! This year, I found something for everyone, no matter their look or budget.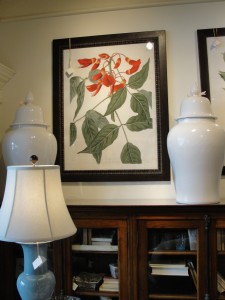 I really enjoyed scouting through the galleries of art this year because the home decorating industry is finally recognizing that everyone has a unique look in her home. Before, the industry tried to dictate set trends, telling us what was "in" and "out," and asking us to adjust our home decor to accommodate the ever-changing new designs.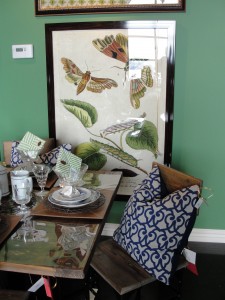 But now, designers are offering a wide array of pieces that help us celebrate our own style, not mimic someone else's. I'm thrilled with the new liberation, and the artwork I spotted at market this year will help Nell Hill's customers find pieces that reflect their unique personalities.
Luminous Lamps
To me, accent lamps are like artwork – you need to absolutely love them in order to display them in your home.  You should never compromise by getting lamps that leave you cold. So I was thrilled to also find a great selection of lamps at market this year and ordered scores of different styles so our customers can find the ones that are perfect for their home and life.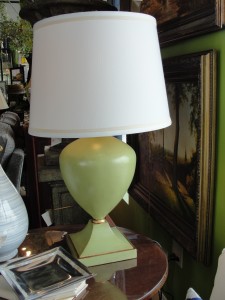 Following my quest for color, I spotted some fabulous lamps that featured colored ceramic and glass bases. I'm in love!
Today's Trends
Color is Coming on Strong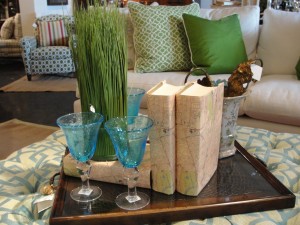 Right now, when it comes to color palettes, neutral is still king, with many designers still showing lots of grays and creams. But an increasing number of designers are starting to quench our desire for color by working with sensational shades of teal, yellow, orange, red and green. My favorite new shade this season is teal. I'm sold on this hue of blue because it fits in most any décor with ease. I like it when teal accents blend with the colors around then, adding a light, bright glint of blue. But I'm also crazy about teal when it stands out from everything around it, stopping the show with is perky presence.
Glass Still Shattering the Mold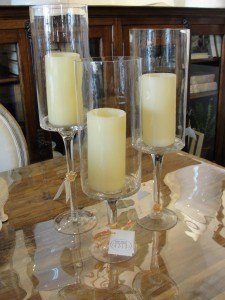 The designers are doing lots of fun stuff with glass now, shaping intriguing jars, vases and hurricanes that stretch from traditional to modern. I'm a huge fan of apothecary jars – they are a bedrock of the Nell Hill's look—so I always enjoy seeing them reinvented, made fresh once again for a new season.
"French Market" Look Still Capturing Our Imaginations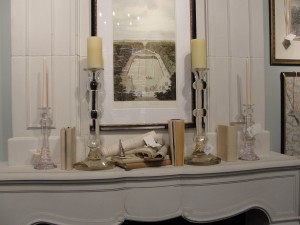 Designers are smitten with France, and the French market look that hit the scene a few years ago is still going strong, dominating the Atlanta market again this year. Showroom after showroom displayed furniture painted a soft gray, furniture covered in ticking, and oodles of gray and white accents. After three years of eclipsing the market, I don't see this look going away soon.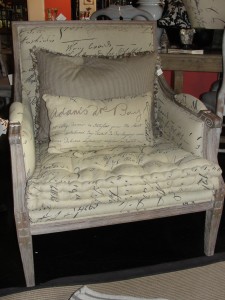 After days of rushing about market, ordering willy-nilly, now comes the fun part: Seeing the shipments arrive at the stores. Visit us soon to snatch up the treasures, then come back often because new things will be arriving every week.
Next Week … With spring around the corner, it's time to celebrate new life. What better way than by throwing a wedding or baby shower for a loved one! Next week, I'll share some tips for hosting a fun and memorable shower.