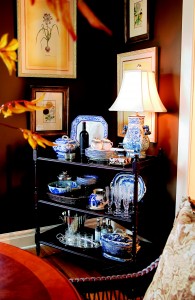 Getting the "blues" is generally considered a bad thing. But I have to admit, any mention of the word blue makes me smile because blue is my favorite color. Up until a few years ago, my heart belonged to green. And while green and I are still the best of friends, I am now head over heels in love with blue and use a liberal amount of it in my decorating. If you would like to sing the blues with me this winter, here are some ideas for working this wonderful color into your décor.  Paint up a Blue Streak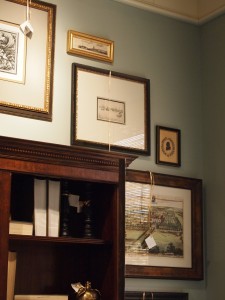 I adore blue walls because blue typically looks terrific with just about anything you put with it. When I was developing my custom line of interior wall paint, I wanted to come up with a shade of blue that reminded me of my mother in law, Mimi, who was also a big fan of blue. Mimi brought a bolt of light blue fabric with her from Ireland that she used to make all sorts of things for her home. Dan and I dubbed the shade Mimi Blue. Front Porch, a wonderful light blue in my Mary Carol Artisan Paints line, is a close cousin to Mimi Blue. I adore this shade because it is so versatile it goes with just about everything, like camel, cream, red, pink, brown and navy.
If you don't want to paint a room blue, why not a ceiling? When Dan and I moved into our historic fixer-upper, we had to pace ourselves with all the renovation projects we needed to complete to get the house up to snuff. The kitchen was among the last rooms we remodeled. By then, I had been living with someone else's bold color choices for far too long. As a result, I was hungry for a soft, neutral palette so I painted the kitchen Garrity Cream, a warm, buttery off white. But I couldn't stand to not have some color in the space, so I covered the ceiling in Front Porch. Similarly, I painted the ceiling of my screened porch Amelia Blue, a punchy shade of blue that's also in my custom paint line. Having blue ceilings makes me feel I'm under sunny skies all year long.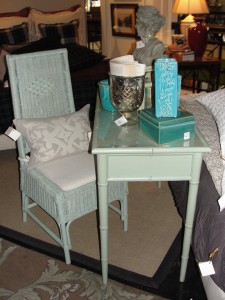 If you are crafty, there is no end to what you can do with a can of blue paint. Why not give a dated piece of furniture a new lease on life by painting it a hip shade of blue? I like the blue wicker desk and chair pictured above because it's times and feminine yet a bit funky. It would make a perfect bedside table or a space saving solution for a small home office. Scout in your basement, at estate sales or flea markets for great old pieces that need some TLC, like frames, bookcases or chairs, then zip them up with your favorite tone of turquoise, robin's egg or periwinkle.
Fun with Fabric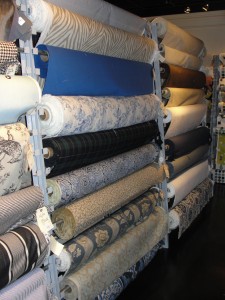 The girls who work with me in the fabric room at Nell Hill's Briarcliff like to tease that every one of the blue fabrics we get in is my "favorite." They're right! But how can you chose just one, when you know that just a few yards of blue fabric, whether it's a playful floral or a sophisticated damask, can do so much to elevate the design of a home?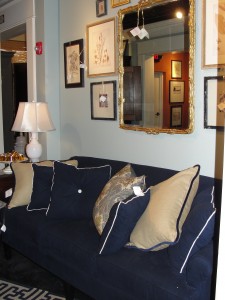 For instance, right now I'm upholstering lots of furniture in dark blue because this rich color is wonderfully dramatic yet versatile enough to act as a neutral. On the sofa pictured above, we picked a deep navy fabric that would hide soil, so it's perfect for kids, dogs and men. Then we brightened the overall look of the piece by adding light colored accent pillows.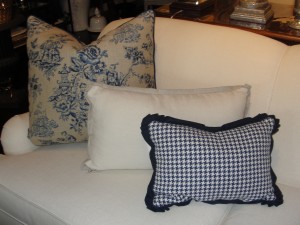 I'm over the moon about accent pillows. I think of pillows as the jewelry of your home – that small but mighty final touch that pulls together the look of an ensemble. Right now at Nell Hill's, we're selling tons of accent pillows in a bold blue ikat pattern. This ancient pattern that's super hot right now looks wonderful on contemporary sofas and chairs. Or, use blue toile, floral and paisley fabrics to give your pieces a more romantic, classic feel. Or, do things the Nell Hill's way – throw together a mix of modern and traditional fabrics in a range of blues.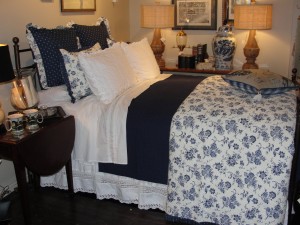 If you're thinking about remaking your bedding ensemble this spring, consider going with a blue and white color palette. You can't go wrong with this timeless combination, which looks great in all four seasons. In the bed pictured above, we went for a romantic look using a divine lace dust ruffle, a floral coverlet and polka dot pillows, all in shades of blue and white.  But you could just as easily go with a bold, masculine look with these colors by instead picking stripes, plaids and paisleys.
Dish it Out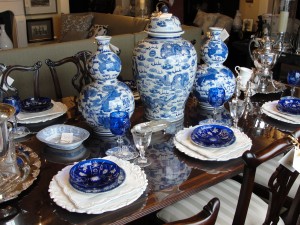 I have gone on the record as a confessed dishahaulic, and come clean about my obsession with the color blue. So, can you imagine how I feel about blue dishes? Blue and white transferware are one of my all-time favorite dish patterns because I love how these stately pieces of dish art are decorated, perhaps with a village scene or a still life. I use my blue and white transferware year round, remaking its look every season by adding appropriate touches. For instance, in spring, I like to pair my blue and white transferware with apple green accents. In the fall, I often mix it with orange.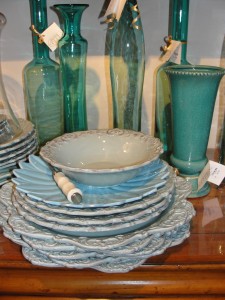 This season's line of whisper soft blue dishes is also to die for. Featuring just a hint of color, they look wonderful with white pottery and zippy turquoise accents.
Accentuate the Positive with Blue Accents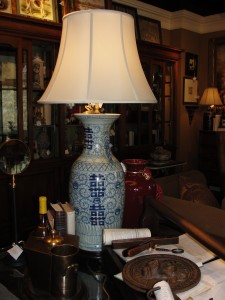 While only one room in my entire home is painted blue, you'll find pops of blue throughout my entire house, thanks to a wide array of blue accents I like to mix in and around. I love to use a gamut of different shades of blue so each space has a unique personality, yet together, they still feel like a cohesive whole.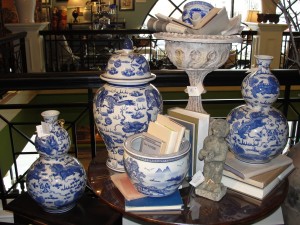 Blue and white Asian pottery is a bedrock of my decorating and a cornerstone of the Nell Hill's look. These vessels are usually alarmingly inexpensive, yet are very dramatic and powerful. Without investing much cash, you can get a trio of beefy Asian urns to give life to the empty space above your TV armoire or the shelf above your two story foyer.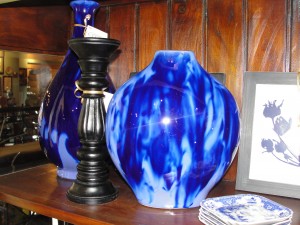 For a more contemporary look in your home, you might instead opt for blue pottery that features a different finish, like these unique pieces. In the Nell Hill's style, you can mix these transitional pieces with something more traditional, like the small transferware plates you see stacked next to the vase in the picture above.
Next Week … I just got back from the huge home accent market in Atlanta, and I'm itching to tell you about this year's hot new looks and some of my favorite finds.