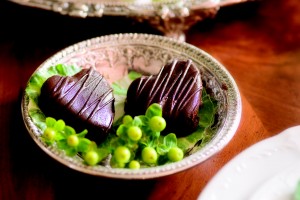 Valentine's Day is lots of fun, but why reserve the romance for just one day of the year? It's so easy to make your daily life more romantic just by adding a few special touches to your decorating. Here are a few ideas to inspire you.
Harness the Power of Flowers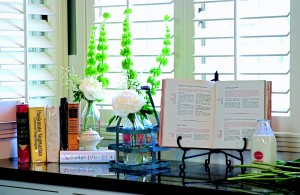 Flowers aren't just for Valentine's Day! So treat yourself to a lovely bouquet of cash-and-carry flowers every time you're at the grocery store, whether it's a bundle of sweetheart roses or a mixed arrangement.
One of my favorite ways to use these inexpensive grocery store bouquets is to separate out the flowers, trim the stems of each very short and place a few blooms apiece in several small vases. Tuck the little bouquets into unexpected places, like on a bookshelf display, on your kitchen windowsill or counter, next to your nightstand or on your dining table.
Make Everyday Dining a Treat
Even if tonight's fare is pot roast or meatloaf, your daily dinners don't have to be ho-hum. Make midweek dinner a delight by adding a few romantic touches to your table. If you're in the mood to go big, surprise your family by pulling out the china, silver and crystal. Or, just add a lovely serving piece here and there. Put your table water in a fine glass decanter with matching glasses. Or, pop the cork on a bottle of bubbly and serve it chilled in a lovely silver ice bucket.
Indulge in Sensuous Art
I love to use discreet nudes in my decorating, especially in private spaces like an upstairs bathroom or bedroom. My favorites are those that leave lots to the imagination, like the minimalist modern painting pictured above.
Trim Your Bed in Romance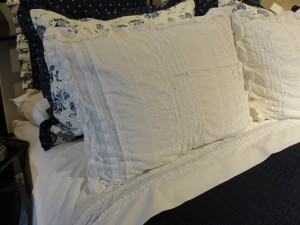 Spoil yourself with beautiful sheets trimmed in lace. Shop the white sales for a lovely set, or if you're crafty, get some plain white sheets and embellish them yourself with ribbons, lace or whatever fanciful trim your imagination can dream up. I know it sounds like a small thing, but when you head to bed after a long, hard day, and you see those lovely linens waiting for you, you feel like a princess.
Make Your Daily Routines Special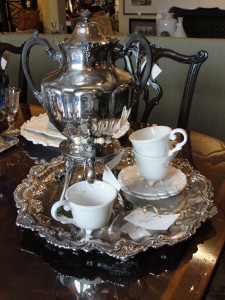 Isn't it wonderful to stay at an upscale hotel or quaint bed and breakfast where they serve your morning coffee from a silver carafe? You can do the same thing at home! Instead of heading to the coffee pot and filling up that stained and chipped coffee mug you've used for years, make your morning caffeine ritual special. Pour the pot of coffee into a stylish urn. Purge your cupboard of every ugly mug you own, and instead sip from a darling china cup. Instead of pulling packs of sugar or sweetener straight from the box or pouring your creamer from the carton in the fridge, dig out that wonderful cream and sugar set you have buried back in your cupboard and put them to use every day.
Celebrate the People You Love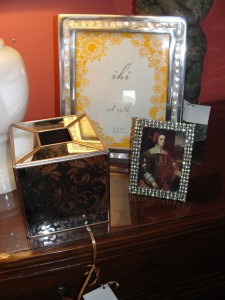 Raise your hand if you have hundreds of wonderful photos of your loved ones stored on your camera's memory card, in your computer or on a disc. This week, resolve to print your favorites and display them in your home in lovely frames. Tuck one on your bedside table, another on a shelf in your kitchen and another on your desk at work.
Make Tasks Less Tedious by Using Pretty Containers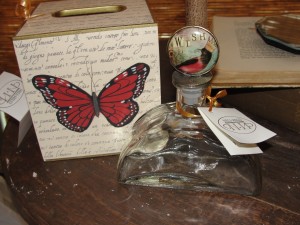 No one likes to do the dishes. But it's more fun when you keep your dish soap in a pretty decanter, like the one pictured above. A friend of mine used this idea to turn her laundry room, of all places, into a showplace. She put her liquid fabric softener in a crystal decanter and her powdered soap in an apothecary jar, using a silver scoop to measure it out. She placed both containers on top of her washer on a lovely silver tray. I've done something similar with my cats' food – I store the cat chow on my kitchen counter in a pretty glass jar. I've even taken this idea one step further by feeding these spoiled kitties in adorable blue and white china pet food bowls on a silver tray. The cats don't care a fig about how their food is served, but it sure makes my kitchen look nicer to have their chow displayed in such a fun fashion.
In addition, if you like to keep functional things  like tissues out in view, make them more attractive by covering them with a pretty tissue box cover like the one in the snapshot above. Place your bottles of cooking oil or vinegars in a galvanized tin container or English footbath. Stow your pile of mail in a pretty bowl until you have time to deal with it.
Next Week … Got the winter blues? Combat them by using my favorite color (you guessed it!), blue, in your decorating. I'll show you how!