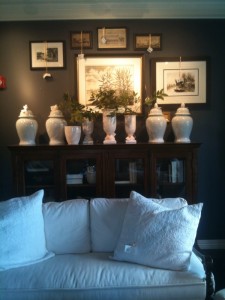 As I write, we have a flotilla of painters at Nell Hill's Briarcliff brightening the store's galleries with brand new colors. Nothing lifts my spirits on a cold January day like seeing a room transform before my eyes with fresh paint. In my book, there isn't an easier, less expensive or more effective way to change the look of a space than with a few gallons of paint.
When I pick a paint color for a space, I first envision the finished look and feel I want for the room. Then I develop a comprehensive decorating plan that incorporates all the elements in the room — paint color, furnishings, artwork, accents, lighting, window treatments and floor coverings — to bring that vision to life. Here are a few of my favorite wall colors right now and some suggestions on how you could interpret – and reinterpret – them in your own home, just as we have at Nell Hill's.
Go Gaga Over Gray!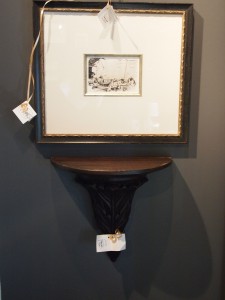 Gray is THE hot color of the season, and we are in love with it at Nell Hill's. Right now, all the decorating magazines and books are filled with great ideas on how to weave gray into your interior decorating. And no wonder: Gray has become the hot new neutral because it looks amazing with so many different colors.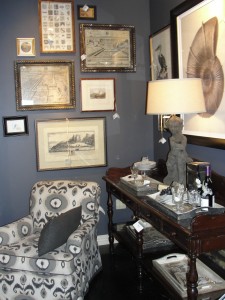 When I recently added new paint colors to my popular line of interior paints, Mary Carol Artisan Paints (available at my three stores or at Nell Hill's Online), one of my goals was to find the perfect shade of gray that would go with everything. I think I hit the mark with Abby Steps, a sophisticated charcoal gray that looks amazing with just about every color palette and decorating style out there.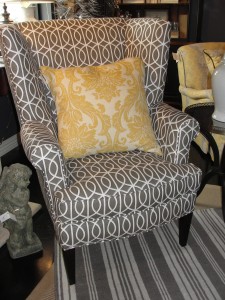 Why not experiment with gray this year, painting one room this soft but powerful color? For a hip, contemporary look, accent the room with bright yellow, choral or turquoise furnishings and accents – all hugely popular colors this season.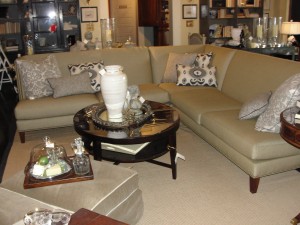 Introduce pillows with lively prints, like the ikats that are all the rage right now. Or, for a clean and sophisticated look, opt for cool white transitional furnishings and accents, then cover the walls with a montage of black and white modern art, finished in big creamy white mats and black frames, or a grid of black and white photographs.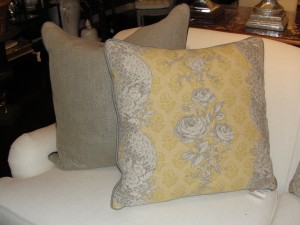 If you're a romantic, like I am, soften up your gray room with breezy colors like cream, camel, pale yellow, light gray, pinks and light blues.
Embrace Life with Joyful Corals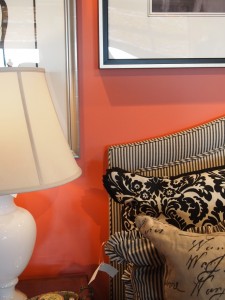 You simply cannot be in a bad mood in a room that is painted a happy shade of coral. To me, this radiant color screams, "This is a whole new year – look out, world!" At least that's how I felt when I watched the painters cover one of our galleries at Nell Hill's Briarcliff in Peony, one of the brand new colors in my Mary Carol Artisan Paints line.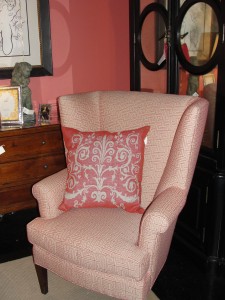 Before we even popped open a can of this perky paint at the stores, Becky, a member of our visual team, had already painted her bedroom in Peony. She finished off the room with animal prints, chocolate browns and crisp whites, and the overall look knocked my socks off. I would never have thought to pair this contemporary color with animal prints and such, but it shows how even bold colors can be used in a million ways – all you need is your own imagination and style to bring them to life.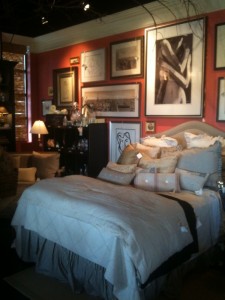 Our gallery at Nell Hill's Briarcliff is yet another take on coral. During the winter months, we went with a French market style, filling the room with furnishings that featured black and cream fabrics, like ticking, and fun flower sack pillows. For spring, we have redone the gallery in a vintage cottage style, using lots of faded floral fabrics. If you like things crisp and contemporary, fill a Peony room with furnishing covered in geometric patterns and pick lots of black and white art, like line drawings of nudes or portraits.
Bold, Beautiful Blue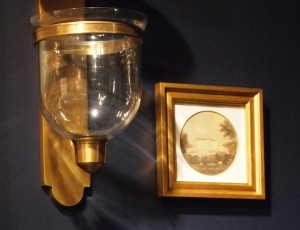 When I opened the first can of Twilight, the rich, luxurious navy color in my Mary Carol Artisan Paints line, and started painting the walls of my formal dining room, my heart skipped a beat. I had no idea this color could be so powerful, so beautiful and so memorable. Now, I'm hooked on this timeless favorite. Even though I love to change my wall colors, I will never again paint my dining room anything but Twilight because I've finally reached color Nirvana.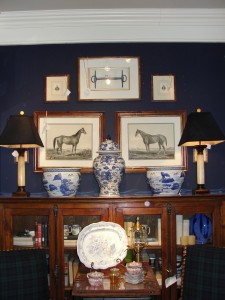 If you've never worked with a dark paint color before, you're in for a treat. I love to use dark colors in big lofty rooms because they make the space feel cozier and warmer. This winter, we painted a large gallery at Nell Hill's Briarcliff in Twilight, then made it even warmer by creating an English equestrian club feel, using upholstered furnishings that featured tartan plaids, which I'm completely crazy about right now.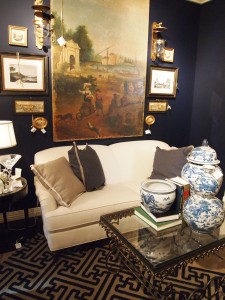 This spring, we're featuring Twilight in an entirely different setting. We used it in a smaller gallery to show how fabulous rich look in little spaces, disproving the old adage that you can't paint small rooms dark colors. The dramatic walls make the room feel like a cozy cocoon and set a great backdrop for the bright and breezy furnishings and accents we selected. We were going for a relaxed, romantic French feel in our Twilight room, so we covered our upholstered furnishings in cream and light blue linens, adding in pattern and texture though a mix of custom pillows. Then, we brought in wooden furniture with a Parisian influence that was painted pale gray.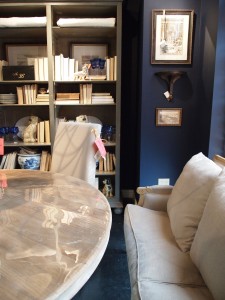 To keep the room from being too "matchy" and predictable, we introduced a very hip cabinet with a painted dove gray interior.
Greens Still Going Strong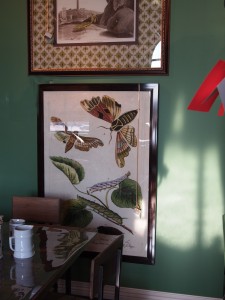 Green is still wildly popular, and I don't think there's a bad shade out there right now. While I love them all, I am particularly smitten with the wonderful, rich dark green we're just now seeing in the fashion magazines. (Usually, home interior trends follow fashion trends, so what you see on today's models, you'll likely see in tomorrow's show homes.) It's the same color I just added to the Mary Carol Artisan Paints line — Shuttered Window. Like Abby Steps, this strong color almost acts like a neutral because you can take it in so many different directions.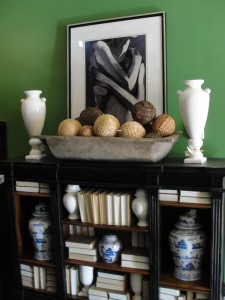 We painted the downstairs gallery at Garrity's in Atchison Shuttered Window, then gave the space a very fresh and contemporary look by filling it with painted wood furniture and modern art. If you're redecorating a bedroom or kitchen nook and want a fun feel, use Shuttered Green, then bring in accents and textiles in sunny yellow or bright choral tones. I often design an equestrian look in studies or living rooms, and this green is the perfect color to use on the walls. Fill the room with furnishings featuring men's wear fabrics like plaids, checks and paisleys; create awesome arrangements of artwork that include a mix of equestrian scenes, etchings and landscapes; lay a Kalaty rug on the floor and I'm in heaven!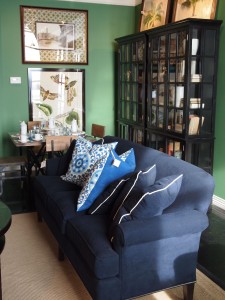 We just painted a gallery at Nell Hill's Briarcliff in Shuttered Window and decided to give it a more urban feel, like something you would find in a downtown loft condo. We filled the room with furnishings made of reclaimed woods, transitional upholstered pieces and accents. It's fabulous.
Bright White Is Brilliant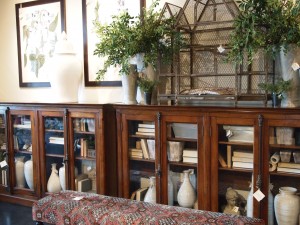 You don't have to paint your room a bold or dark color to make it dramatic. In my opinion, white is one of the most powerful colors you can use as a base when you want a head-turning look. That's why I added Farm House White to my Mary Carol Artisan Paints line. I have to confess, it's my new favorite. I felt like a kid, crackling with excitement, as I watched the painters cover the walls with it.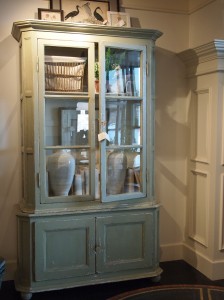 Most folks will warn you against mixing bright white and cream. But I think these two shades look amazing together, and I combine them time and again when I pick out textiles, creating drama simply through patterns and textures. Now, I'm applying my theory to the walls, pairing Farm House White with trim painted in Garrity Cream.
You can create a powerful room using nothing but white—you see it in the decorating magazines all the time. But right now I'm craving color, so I'm using the snowy white canvass of my Farm House White walls to showcase fabrics, accents and artwork in today's hottest colors, like coral and turquoise. I'm filling the gallery with upholstered furnishing covered in warm neutrals, then adding accent pillows loaded with color and pattern. One walk through this bright and cheery room, and I almost forget it's still winter outside!
Next Week … In honor of Valentine's Day, why not make your home décor a little more romantic? I'll show you how in next week's blog.