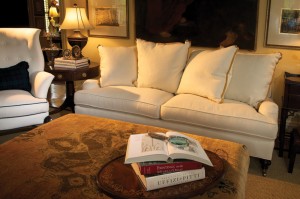 When Dorothy said, "There's no place like home," I wonder if she wasn't really thinking about her favorite chair back in Kansas, because for me, one of the best parts of home is sink-into-comfortable furnishings that fill your space with style. So much goes into picking the right pieces of upholstered furniture for your home, like selecting the correct scale and ensuring the piece is well made. But my favorite step is picking the upholstery. I enjoy working with Nell Hill's customers to find the perfect combination of textiles for their custom furniture so the overall look is singular and sensational. Here are a few of my tips for transporting a room from bland to beautiful with just the right upholstery.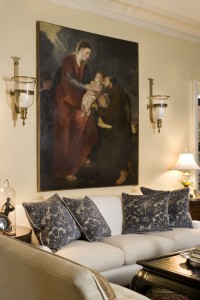 Develop a Design for the Space
Before you ever look at a swatch of fabric, you will need to develop an overall design for the room. Then create a floor plan that meets your design goals. For instance, if you're working on your family room, will the configuration of furnishings give you conversation groupings? Allow you to see the TV? Ensure there is good traffic flow through the room?  Some people frequently move their furnishings to keep their spaces fresh and interesting. But I have found that there is one floor plan that typically works best for a space, so once I find it, I keep my furniture right where it is.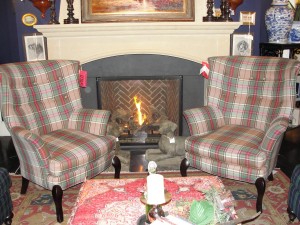 So often at Nell Hill's, we see customers who have been on the hunt for a new sofa or chair and are completely overwhelmed and discouraged. Usually, it's because they have not yet come up with a design plan for the space and are trying to find the right furniture without really knowing what they need. That's why we provide free in-store design services at Nell Hill's. We work with our customers to develop a fabulous plan for their space, even breaking it down into several steps so they can redo the room in stages, not all at once, if they'd like. We've found that when our customers have a destination in mind for a room, finding the furnishings is fun, not frustrating.
Pick the Right Fabric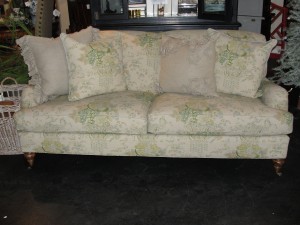 Once you select the right piece of furniture for your room—one that matches the scale, style and function you're going for—it's time to think about upholstery fabrics and custom finishes. If you're not sure what sort of upholstery fabric you'd like, flip through stacks of decorating books and magazines. What types of upholstered pieces catch your eye? Start an idea file filled with examples of pieces you love.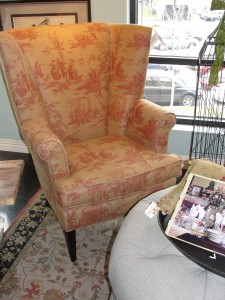 When Rich, one of our designers at Nell Hill's Briarcliff, helps customers select upholstery fabric, he starts by asking them three key questions: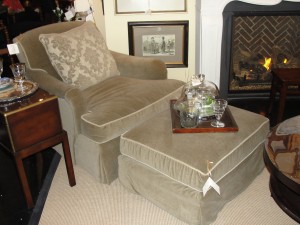 *How do you live? The answer to this all-important question will help you pick out fabric that is not only attractive, but also functional. How will you use the piece of furniture? Do you have pets and kids who will be sitting on it? Rich listens carefully as customers describe their lifestyles, then he zeros in on the fabrics that will look lovely for the long haul.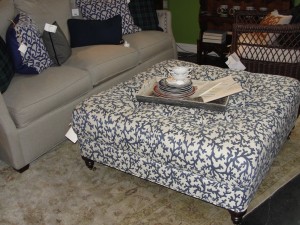 *What else will be in the room with the new piece of furniture? Do you have other upholstered pieces, rugs or window treatments you want to harmonize with your new piece of furniture, or are you starting with a clean slate?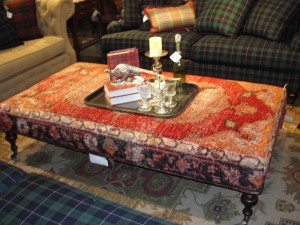 *How do you want to feel when you walk in this room? Textiles evoke emotions, so it's important that the fabrics you pick create the right mood.
Customize for an Amazing Look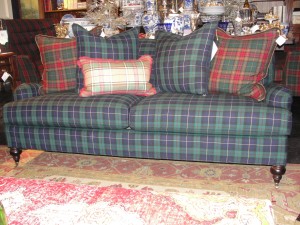 I believe that when you are investing in good quality upholstered furnishings, you should get exactly what you want, without compromising. That's why at Nell Hill's, our designers work with each customer to pick out upholstery fabric, welting and pillows that make their finished pieces unique pieces of art, each detail carefully selected to bring out their style, personality and vision for the space. (And now, during our popular semi-annual custom order upholstered furnishings sale, all our custom upholstered chairs, sofas and ottomans are 20% off between Jan. 15 and Feb.15!)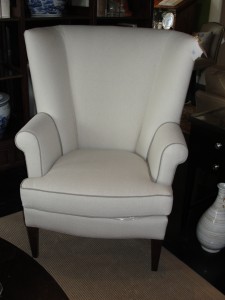 One way Rich loves to customize sofas is by adding a contrasting welting. "Contrasting welting really highlights the architecture of the upholstered piece and refines it," he explains. "If you pick a neutral, textured upholstery fabric, simply adding a contrasting welting will transform it from ho-hum to impeccable."  Right now, Rich loves pieces upholstered in men's wear fabrics, then welted in black or chocolate brown.
Keep Things Fresh with Pillows
In my home, I've opted to upholster my furnishings in a mix of white and cream fabrics that are rich on texture. Then, I spark them up with a constantly changing medley of pillows. I never cease to be amazed by how the look of a chair or sofa – and the entire room – is changed just by a quick substitution of pillows. Check out how different our popular Telford sofa looks with these three unique pillow combinations: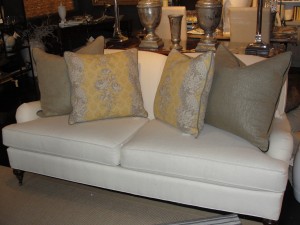 Gray and gold are huge this year.
Paisley and ticking are big for spring.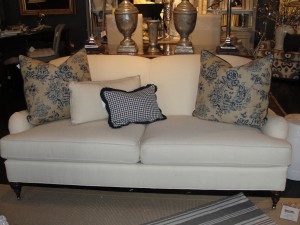 Combining feminine fabrics, like this toile, with masculine fabrics, like this hound's tooth check, makes a sofa appealing to both sexes.
Next Week … A fresh coat of paint is one of the easiest and least expensive ways to change the look of a room. Next week, I'll share my favorite paint colors and how to use them to make your spaces even more beautiful.