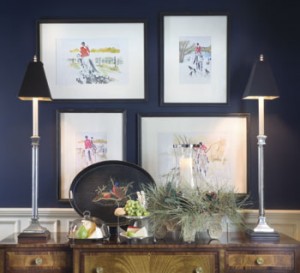 Dan's favorite day of the holiday season is the day the holiday decorations come down. After months of sharing his space with greenery, bows and baubles, he's ready to get his house back. While I miss the pomp and circumstance of the holidays, I have to admit that once the tinsel and trim is packed away, I can look at my home with fresh eyes and spy the changes I want to make in the new year.
Early January is the best time of year to do an honest assessment of your inter décor and come up with a list of projects, like getting the rugs and upholstery cleaned, touching up your paint and rearranging your accents. While you're making your list, be sure to put "hang artful artwork displays" at the top because filling your home with wonderful art is one of the simplest and most effective ways to dramatic improve the look of your home.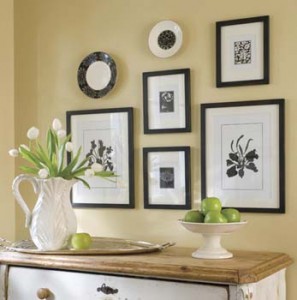 If you have filled your home with lovely furnishings and accents, yet still don't like the way your rooms look, stop and scrutinize your walls. Are many of them blank? Do others feature lackluster displays, like a small painting hung all by itself in the middle of a big open wall? If so, it's time to "finish" the rooms by decorating the walls as nicely as you've done the rest of your home.
To me, artwork is one of the most important elements in a room. It not only adds visual interest, it gives a home character and tells others a bit about who lives there. I think a home should be filled with a wide array of art that is hung is a number of different types of displays. There is no better time than now, at the start of the new year, to transform your home with art.
Group Matching Pieces in a Grid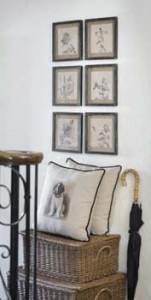 Have you ever stared at a big blank expanse of wall, whether it's the open stairway leading to your second floor, the spot over your sofa or a blank wall in your kitchen, and been perplexed by how to fill it with art? Try a grid. I love this technique of hanging a mass of similar pieces of art together to create one huge square or rectangle. The repetition of shape, subject and color scheme, amassed as one large group, is not only arresting, it's a great way to use a number of smaller, inexpensive pieces.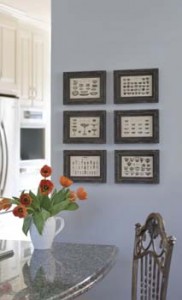 I love grids so much I've included several artwork groupings in my Mary Carol Home Collection of custom accents. Right now I have lots of well-priced artwork, both at the stores and at Nell Hill's Online, that is perfect for using in a grid, whether it's a series of black and white photos of flowers (this popular series is the Nell Hill's Online pick of the month for January), architectural prints, maps or water colors.
If you have great black and white photos of your family, have them all framed in matching frames and create an eye-catching photo gallery by hanging them in a grid. Or, if you have priceless masterpieces painted by your kids or grandkids, have them matted and framed, and hang them in a similar fashion, perhaps in your play room or in the kids' rooms.
Mix it up with a Meandering Montage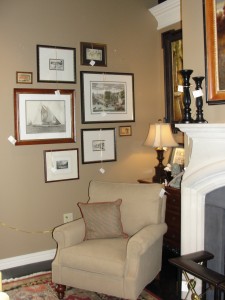 If you've ever visited Nell Hill's or Garrity's, one glance at the walls will tell you we are crazy about montages of artwork. Each grouping is completely unique, just like the ones at your home should be. We deliberately pull together an array of artwork in different mediums, featuring different frame sizes, shapes and colors.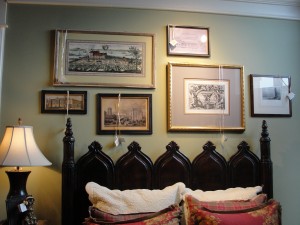 When designing montages for your walls at home, let your creative instincts lead you. Start by gathering a wide array of artwork that includes a range of mediums, like oils, pastels and engravings. Blend lots of different frames, like natural wood, metal, gilded gold and even canvases that have no frames at all.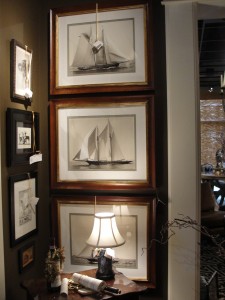 Mix up the subject matter, too, including things like portraits, landscapes, architectural drawings and abstracts. If your style is mostly traditional, throw in a piece of modern art, or vice versa. Or, pick a theme, like hunt club or nautical, and select a mix of art that brings it to life.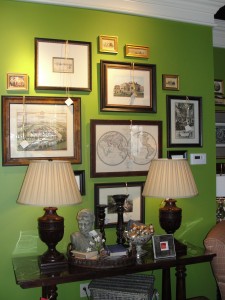 Be sure to mix a wide variety of sizes, from very large statement pieces down to tiny treasures that measure no more than a few inches. Don't discount the big role diminutive pieces play in the overall look of your arrangement – they may be small of stature but they give a big punch to the look of your grouping by breaking up the monotony of standard sized frames.
Use Unconventional Pieces of Art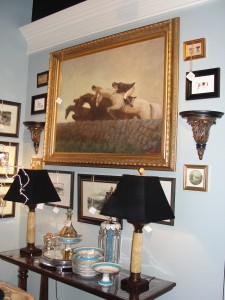 At Nell Hill's, we like to use three-dimensional art pieces, like brackets, small shelves and sconces, to add a bit more zing to our arrangements.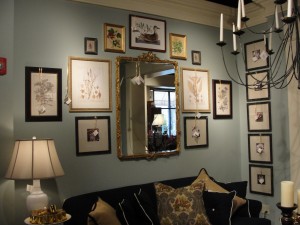 Mirrors make ideal artwork because they are available in every style and price range. You can find funky modern ones at discount stores, irreplaceable antiques at high-end boutiques, and everything in between. Or you can make your own unique works of art. Hunt for a one-of-a-kind picture frame at a tag sale then have it fitted with a frame. Or, purchase 12 to 16 inexpensive square frames, fit them with mirrors, and hang them in a grid to jazz up a boring wall. If you like a more romantic feel, create a grouping of different sized oval mirrors, all hung from satin ribbon. Once I decorated our daughter's bedroom wall with a collection of mirrored vanity trays.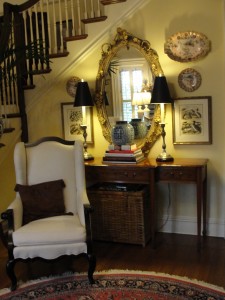 Whether they sport a design, like a scene from an English village, a flower, an animal; are embellished with a unique geometric pattern or are simply creamy white, your dishes are masterpieces in their own right. So hang them on your walls, either in a grouping by themselves or mixed in with other pieces of framed art. Whether it's a wall covered in blue-and-white transferware or a small column of plates painted with birds, when grouping plates, make sure they share a similar color scheme, theme or pattern so they look harmonious. While variety is the spice of life, when you group together too many colors and patterns, you end up with a look that's chaotic and disorganized.
Next Week … Longing for a new look in your interior spaces? Sometimes all it takes to kick start your design is one piece of furniture covered in fetching upholstery. Next week I'll show you how a few yards of upholstery fabric put on the right piece of furniture can transform your rooms.