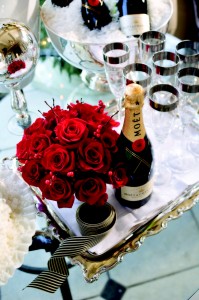 When you're writing your New Year's resolutions, don't forget to add a few that will help your home be its stylish best in 2011. I asked a few of the associates at Nell Hill's Briarcliff to join me in sharing some decorating resolutions to help inspire you.
Mary Carol: Clean, Edit and Upgrade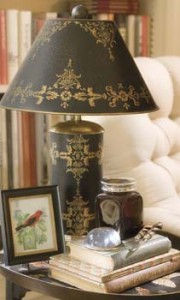 January is the perfect time of year for a purge. Be brutally honest with yourself as you go through each room, sorting, editing and freshening your décor. Do you still love all the accents in your year-round displays? If not, box them up and donate them to a charity. Take a long, hard look at your artwork. Is it dated, faded and tired? If so, commit to upgrading your art this year.
How about your accent lighting? Are your lamp bases dated? Are the shades dusty and dingy? I think of lamps like artwork – you only want to fill your home with pieces you love. Sometimes all it takes is a new shade to transform the look of your room.
Finally, make a list of the home repair and clean-up projects you need to tackle, like touching up your trim and wall paint, getting your carpets and upholstery cleaned, and doing minor household repairs. Make a vow to yourself that each item will be checked off before the first crocus pokes its head through the frozen ground.
Marla: Make Each Night's Sleep Dreamy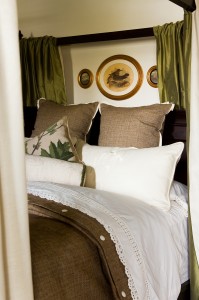 What kind of sheets are you sleeping on? Are your sheets tattered and worn? Scratchy or stiff? This year, Marla encourages you to spoil yourself each night by sleeping on the highest quality sheets you can afford.  Good quality sheets will make your other bed linens look their best, and they are heaven to crawl into after a long, hard day.
At Nell Hill's, we carry 100% long staple cotton sateen sheets, the best kind you can buy, in my opinion. When it comes to sheets, the longer the cotton staple, the finer the fabric. Egyptian cotton, for instance, has extra long, fine, silky fibers that are about 1 ½ inches long, making them soft and luxurious to the touch.  Another factor to consider when picking sheets is the thread count, which measures the number of threads per square inch. Start with a minimum thread count of 200, but if you can, find sheets that have a higher thread count. Nice sheets require an initial investment, but it's worth it. They just get softer and more wonderful with each washing.
Marla has made the switch to long staple cotton sheets in her house. "When my guests wake up I ask them how they slept, and they say we love the sheets on your bed–we want to take them home!" she says.
Kathy: Design Tabletop Displays That Tell About You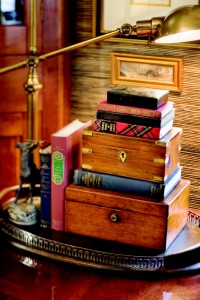 Your accent tables should be little stages on which you create scenes that give people a glimpse into your life. This year, resolve to decorate a few of yours with tableaux that showcase things you hold dear and that tell a bit of a story.
Kathy suggests starting with the bedside tables in your bedroom and in your guest room. For instance, if you love to celebrate your family's heritage and are gaga over all things vintage, like Kathy is, feature some historic family photos in wonderful vintage-looking frames. Then, add a container, like a mirrored box made out of mercury glass, to hold keepsakes, like your grandmother's white gloves or some of her vintage jewelry. Tuck in a lovely clock and a vase to hold fresh flowers.
"I love to put stuff like this on my night stand because it cheers me up to see it – I'm nostalgic that way," Kathy shares.
But don't stop at your bedside tables. In the above photograph, you'll see how I've decorated a side table in my study. I'm crazy about old wooden boxes and books. So, I made a stack out of both. Not only is the pyramid visually interesting, giving a snapshot of the things I hold dear, it also serves as the perfect place to rest a cup of tea or the TV remote.
Bri: Accent Your Home with Two-Seasoned Pillows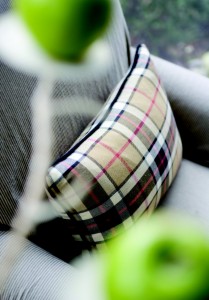 I love to remake the look of my upholstered furnishings each fall and spring by swapping out my accent pillows. In the fall, I layer up with yummy plaids, paisleys and men's wear stripes is warm, rich hues. Then, as soon as the weather begins to warm up, I replace the winter pillows with those that look like spring and summer, featuring softer, lighter and brighter colors, patterns and fabrics.
This year, if you'd like to give your living room or bedding a distinctive look for both the warm and cold months of the year, but you don't want to invest in two sets of pillows, Bri has the perfect solution for you. Have some pillows custom made that feature a winter weight fabric on one side and a summer fabric on the other. At Nell Hill's Briarcliff, our fabric room is filled with a fabulous mix of textiles in all colors, patterns and weights. We have a blast going through the bolts of fabrics, coming up with custom pillow designs that feature one side that's perfect for winter, like a wool tartan plaid, and the other that screams summer, like a linen floral in pastels.
Deanna: Set up a Lovely, Hard Working Home Office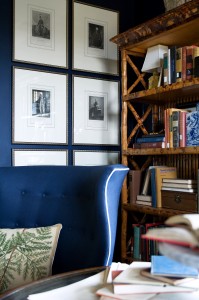 Whether you work from home or just need a spot to pay bills, this year, resolve to make your home work space both functional and lovely. Deanna, whose husband works from home, knows how important it is to have a home office that's hard working and an attractive addition to your home décor.
Her advice is to first do a thorough evaluation of your existing office space and determine what's working and what's not. Then, invest in the right furnishings and accents so the space is functional and beautiful. At Nell Hill's, we're in love with writing desks and library tables because they are classically beautiful yet still give you enough space to spread out and get to work. Many of the desks we carry at Nell Hill's are equipped to handle technology without compromising on style.
Instead of a utilitarian office store chair, consider getting something more attractive, like an upholstered piece or a dining table chair. If you love tradition, go for a big leather chair on casters.
What are you doing for storage? If you need a spot to stick files, consider a wood bookcase instead of a metal filing cabinet. One of my favorite finds at market was an amazing royal library bookcase that features cabinets below, book shelves above and a sliding ladder. Or, if you want a more casual look, fill an étagère with baskets that hold your files and supplies.
Once the big pieces are in place, pick lovely lamps that will give you task lighting and ambient lighting in the right places. Fill the walls with a mixture of artwork. Liven up your desktop with accessories that help you corral clutter, like a cream pitcher to hold pens, a silver tray to serve as an in box and a cluster of picture frames for snapshots.
Marsee and Becky: Lots and Lots of Great Tips …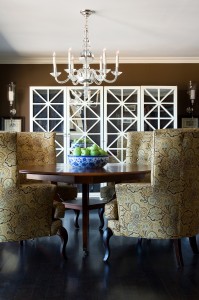 Marsee and Becky couldn't pick one single New Year's resolution, and instead wanted to pass on this list of suggestions for freshening up your home in 2011:
*Play Musical Chairs. If you are empty nesters, rethink your kitchen eating nook. Trade out your dining chairs for comfortable upholstered arm chairs.
*Crisp and Clean. If you love light colors but don't want white upholstery, paint your walls white and add contrast with art. A perfect pick? Farm House white paint, one of the newest colors in my Mary Carol Artisan Paint line. (It's available at all three stores and through Nell Hill's online!)
*Put the "Room" Back in Bathroom. If your bathroom is large enough, add a small side chair. Then use candles, mirrors, rugs and accent lamps for extra ambient lighting to make the space feel more inviting.
*Looking Pretty. Add a dressing table to a special spot. Hang a mirror over the table and instead of a chair, use a small garden stool.
*Add Pizazz to Your Plates. Start with basic white dinner plates and change the look with different salad plates and favorite colorful napkins.
*Be Bold. Introduce a new accent color to your home, either through accessories, pillows, fabrics, paint or art.
*Bright Idea. Lighten up a dark corner with an assortment of candlesticks, votives and accent lamps. Try using mirrors to reflect light within your room.
*Book Worm. Use books to bring height to a display or side table.  Try the Nell Hill's tip of covering books in seasonal papers to lend an instant design statement.
*Personalize with Monograms. Put monograms on pillows, shower curtains, upholstered pieces, napkins and bedding to make it truly yours.
*Mix-Up Your Look. Mix traditional, timeless pieces with one of today's new designs. If your home is contemporary, layer in one traditional piece to add interest or surprise.
Next Week … Once the holiday decorations come down, my home always feels a bit bare. Does yours, too? One of the best ways to brighten it up is through artwork. Next week I'll share tips on creating killer artwork displays in your home.