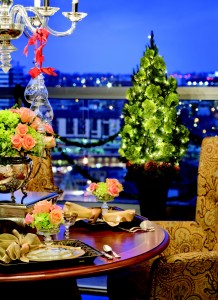 If you're entertaining this holiday season, make your dining table display as memorable as the delicious cuisine you'll serve. Need some ideas? Check out these fun and festive tables we created this year at Nell Hill's Atchison—they are sure to get your creative juices flowing.
Let's Go for a Sleigh Ride!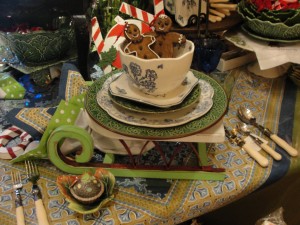 A great way to dress up your table this holiday season is to indulge your inner child. Remember all those winters, zooming down steep snow covered hills on your Radio Flier? This fanciful table captures some of my favorite winter memories. Try doing the same on your table this year!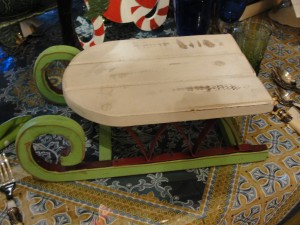 Judy, who designed our dining table tableaus at Nell Hill's Atchison this holiday season, had fun pulling together this nostalgic table. She started the setting with a very unusual base: a wooden sled decoration. The sleds were meant to be used in holiday displays, not as dinnerware. But at Nell Hill's, we like to think outside the box and use decorative pieces in unusual ways.
While we love traditional red and green at the holidays, it's sometimes fun to bring in other colors and make them look just as festive. Judy did just that by mixing together two very different dish patterns, neither of which has a classic Christmas look. One set is green earthenware and features a sunflower pattern. The other is a romantic blue and white floral pattern. Either set could be used year-round. I like how the mix of plates Judy used plays up the bright and colorful tablecloth she's selected. If you don't have holiday dinnerware, this is a great example of how to make your year-round dishes look merry and bright.
These adorable gingerbread ornaments are so lifelike you almost want to take a bite out of one. One of my favorite things to do when I entertain is to work a small gift for guests into my tablescape. Ornaments like these would make ideal gifts for the loved ones around your table.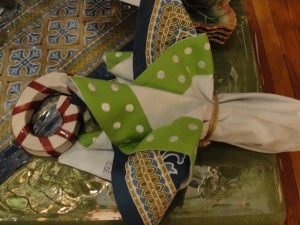 Notice how Judy paired two very different napkins, one mimicking the design in the tablecloth and the other a festive polka dot pattern. To make this napkin treatment even more fun, she slid in a painted wooden candy cane ornament that matches the style of the wooden sled.
Snow Balls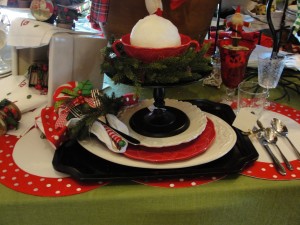 Judy picked white polka dots as her inspiration for this perky table because they are fun and bright and they reminded her of the raucous snowball fights she had as a kid.  Instead of using one red and white polka dot placemat, she overlapped three to make a chain. Next she grounded each place setting with a black tray. I adore this inexpensive line of black trays and use them over and over again with each new season to create memorable place settings. They are available at all the stores and on Nell Hill's Online.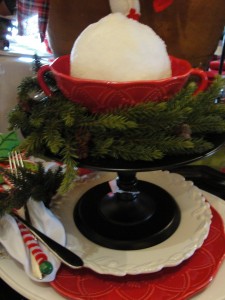 For each place setting, Judy alternated red and white plates, starting with a white oval platter used as a charger. I love the addition of the black metal cake plate that sits atop the salad plate. She used this as a platform to showcase a two-handled bowl encircled with a little wreath and holding a faux snowball, the ultimate winter polka dot. Judy repeated the polka dot theme in her glassware, picking goblets that featured etched glass circles. We have racks filled with an assortment of unusual glassware, all affordably priced, to finish out your table in style.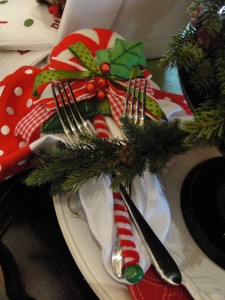 A great way to make your table stand out is to add tiny touches that are a bit out of the ordinary. For instance, notice how Judy crisscrossed the forks, binding them in the napkin with a large napkin ring that is really a miniature wreath—the same kind she placed on top of the cake plate, under the bowl. Everyone loves to get presents, so Judy slipped a lollipop ornament into the napkin display, which guests could take home.
Icy Winter Blue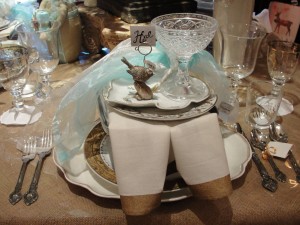 If you want to create a look on your holiday table that is oh so cool and sophisticated, try one of my favorite themes: icy winter blue. Judy created this stunning look by pairing my signature gold trimmed china with clear crystal and the tiniest touch of ice blue, brought in through a luxurious napkin. If you are looking for ways to reinvent your china, this might be just the look for you this year.
Judy started each place setting with an oval platter that features a gold chain trim. Then she loaded it up with a gold-edged dinner plate topped by an aluminum cake plate that gives the place setting more cool metallic shine.
She folded a white linen napkin in a box pleat, then rested it atop the cake plate, under a gold-rimmed salad plate from my signature set. Next came an adorable leaf shape plate that is embellished with bees and flowers. This delicate and unusual plate is the eye-catcher of the arrangement. She finished off with a cut glass sorbet cup and a bird figurine place-card holder. I like place card holders because they give your table instant sophistication.
The leaf plate features a looped handle, so Judy seized on this unique design and threaded through a duo of organza napkins, one icy blue and the other frosty white.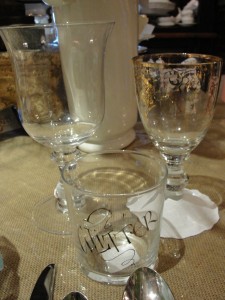 The glassware for this shimmery, shiny table is fancy and whimsical. I love the gold trimmed goblets paired with the highball glasses that feature a holiday sentiment.
Starry Night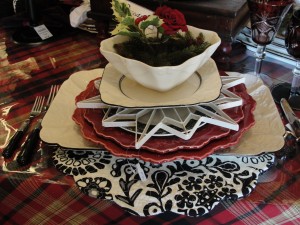 Judy's inspiration for this dramatic table was a plaid tablecloth in black, white and burgundy. If you're having trouble deciding what to do with your table, find a fabric you love and use it as a table topper, then build the table using the colors or images in the fabric.
To make the table visually interesting, Judy mixed a variety of shapes, patterns and colors through the table linens, dishes, glassware and adornments. Her base layer is a platter featuring a relief of bird shapes, one of my favorite patterns from my Mary Carol Home Collection line. Next she used a dinner and salad plate in our winterberry burgundy dish collection. To add a bit of whimsy, she inserted a metal snowflake ornament, which she topped with still more dishes, a mix of black and white.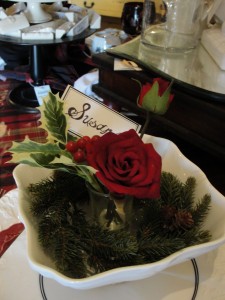 Judy filled the soup bowl with a small green wreath and an adorable place card holder that is designed to look like a vase filled with flowers. Simple, but dramatic!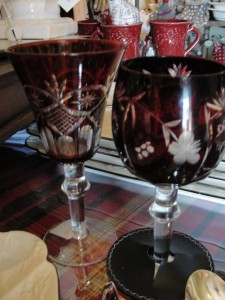 Instead of using clear glassware, Judy pulled in some wonderful red goblets. I think the addition of these cheery, red glasses really makes the table.
Pretty in Plaid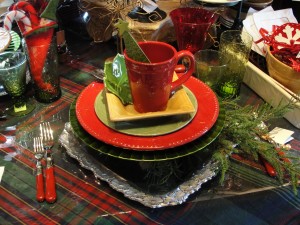 Once again, Judy used a plaid tablecloth to inspire this warm and wonderful table treatment. She pulled out a mix of red, green and gold stoneware dishes, starting her interesting place setting atop of gorgeous aluminum tray.  She liked how these causal dishes looked more elegant when paired with the trays. I'm crazy about aluminum serving pieces because they give you all the shimmer and shine of silver but never need to be polished.
To give your holiday table loads of drama, place dishes at a variety of heights, like Judy did here. Elevating the dinner plate with a plate stand not only gives each place setting more height, it uncovers the platter below so it shows more. Judy took advantage of the open space, adding another layer by inserting a cedar pick. The wooden tree ornament tucked into the coffee mug would make an ideal gift for guests.
Next Week … The Nell Hill's staff will share some decorating New Year's resolutions with you!