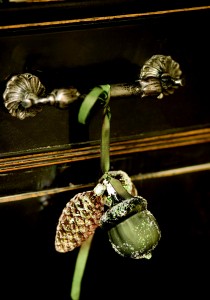 The last thing on my mind during the busy December when we opened Nell Hill's Briarcliff was decorating my home for the holidays. But when December 24th rolled around, I looked at my cheerless house and knew I couldn't bear to let Christmas come without some fanfare. So a few hours before my guests were due to arrive, I did an instant holiday makeover. I hung a few stockings, pulled together a quick centerpiece on my dining room table, filled some urns with tree ornaments and placed them on side tables, and hung some wreaths from the windowsills in my living room.
If you've been too busy to decorate for the holidays up until now, try a few of these quick, last-minute tricks to give each room in your home instant holiday magic.
Kitchen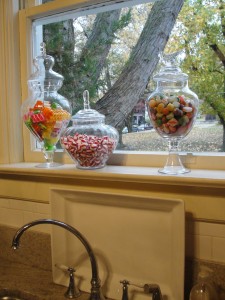 Assorted Christmas candies are excellent tools to use in quick holiday displays. Fill some apothecary jars, sorbet cups or glass vases with candy canes, colorful candy ribbons, gumdrops and other candies that make you think of the holidays. Then, place them on your kitchen windowsills.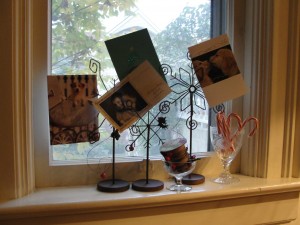 For my holiday open house this year, I created a quick but dramatic treatment you could replicate in minutes. First, I placed a few of the snowflake shaped wire photo holders we carry at Nell Hill's on my windowsill, then inserted holiday cards and family photos. I tucked a few candy canes in a pretty glass and a fun vintage ornament in another. Presto – head turning display, done in seconds!
I also like to use fresh fruit for last-minute holiday decorating, and pomegranates are among my favorites. Line up a row of sorbet glasses on your windowsill or on your table, then fill each with a fat red pomegranate for a perky phalanx. Fill a red transferware bowl, urn or soup tureen with pomegranates and evergreen sprigs, and you have a centerpiece for your kitchen island in nothing flat.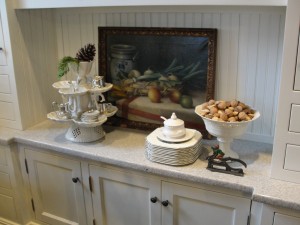 Pinecones and snips of greenery taken from your own shrubbery are also great last-minutes decorating tools. Here I added an instant holiday spin to the epergne I keep on my kitchen shelf. The bowl of nuts also helps make this year-round display feel more like Christmas.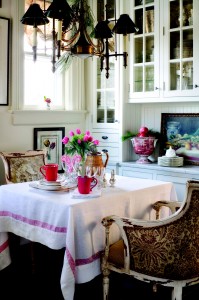 Dress up your kitchen table with a holiday table cloth, like a vintage white cloth banded in red or green, or a topper in a red and green plaid. Then create a simple holiday centerpiece by filling a pitcher with candy canes or a bouquet of red tulips and evergreen sprigs.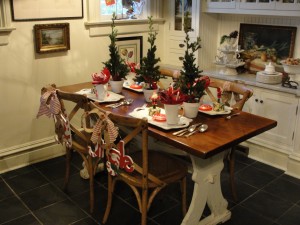 When I decorated my kitchen table for my open house this year, I just lined up three little Christmas trees down the center of my table. It was so adorable, you could stop there. Or, you could tie a little herald of the season to the back of each chair, like I did here.
Foyer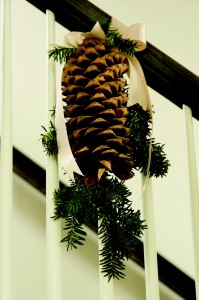 Instead of taking the time to wind a garland of greens around your banister, simply hang a beautiful wreath or evergreen swag from the newel post, and your entry is instantly festive. Brighten up your entry table by filling a glass apothecary jar or tall clear glass cylinder vase with red and green or silver and gold tree ornaments. If time allows, tuck a faux evergreen pick behind the jars.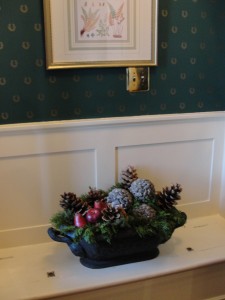 The built-in bench in my home's breezeway is the perfect spot to put a little seasonal arrangement. For the holidays this year, I dressed up this nook with a black iron planter filled with greens. It took just a few minutes to pull together but ensured my guests were greeted with a warm holiday welcome.
Living Room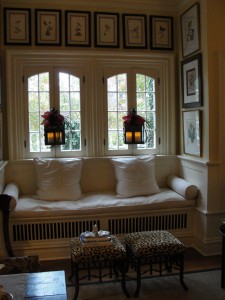 One of my last-minute tricks is to hang holiday décor from the window sashes in my living room. It takes just minutes but has a powerful visual impact. Lanterns are one of my favorite tools this year, so for my open house, I hung flat-backed black metal lanterns from the window sashes above the window seat in my living room.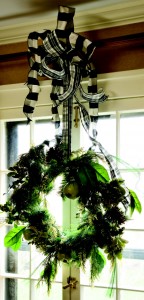 You can also do the same trick with wreaths. Hang the wreaths from a festive ribbon secured to a tiny nail just below the ceiling molding or wire the wreaths to your window locks.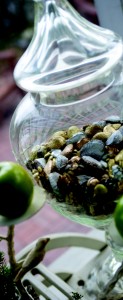 Fill two cylinder vases with pinecones, ornaments or spray painted nuts, then place them on each end of your fireplace mantel. Or, put a big iron urn in front of your hearth that's full of pinecones.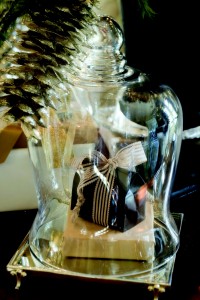 If you have a coffee table or upholstered ottoman, top it with a silver tray, then dress up the tray with a few prettily wrapped gifts from under the Christmas tree. Want a fancier feel? Place a tiny parcel under a cloche.
Dining Room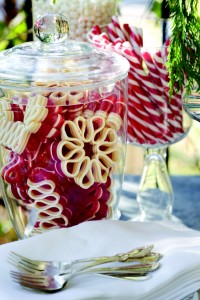 Create a simple but colorful centerpiece with a trio of apothecary jars, cylinder vases or compotes. You can fill them with Christmas candies, like peppermints and gumdrops, or with winter fruits, like lemons, limes and oranges. For a more woodsy look, use nuts and pinecones.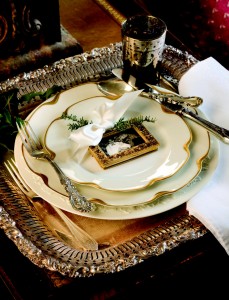 If time allows, twist a strand of faux pine garland around your chandelier. And set your table with your china or white dishes, giving it an instant holiday feel simply by adding holiday salad plates or linens. I also like to top each place setting with a little gift for my guests, like this keepsake family photo made festive just by the addition of a bit of evergreen.
Bedroom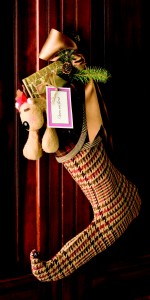 If you're expecting overnight guests for the holidays, add a few fun surprises in your guest room. Hang a wreath or stocking on the door, over a bedpost, on an armoire or dresser knob. Make a tiny bouquet of evergreen sprigs and place it in a cream pitcher on the night stand.  Or, put a gift on your guest's pillow.
Hallway
It's easy to brighten up the doors that line your hallway. Tie up a tree ornament, pinecone or small holiday-themed picture with a pretty ribbon and hang it from the doorknobs. Or use the knobs as hooks to hang stockings or little baskets filled with holiday treats.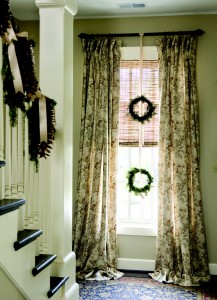 Decorate the hall window or banister with a tiny touch of the season, like little wreaths or ornaments tied up with ribbon.
Next Week …Looking for some ideas to add style and sophistication to your holiday table? Next week I'll have some tips for creating memorable looks on your kitchen and dining table.