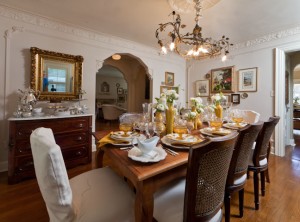 We host a big group of family and friends for Thanksgiving dinner every year. Dan is the chef in our family and, despite the chaos he creates, dirtying every pan we own and dripping all sorts of sauces down the front of the cabinets, the meal is always sensational. I will stay as far away from the bedlam in the kitchen as I can and focus my energy on striking gold on the dining room table. This year's tablescape will pay tribute to an old friend who has come back in vogue: Gold. Find out how you can do the same.
Strike Gold on Thanksgiving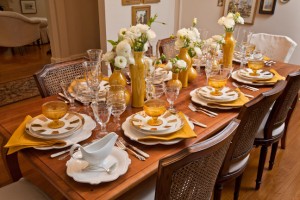 Gold is back! For years, designers have regaled us with shiny silver, sparkling crystal and every color under the rainbow for holiday decorating. Now, they've come full circle and are dazzling us with warm, wonderful gold. I'm crazy about featuring gold this year for Thanksgiving, especially when it's paired with one of today's splashiest, happiest colors: marigold.
Expecting a Smaller Group? Focus on the Place Settings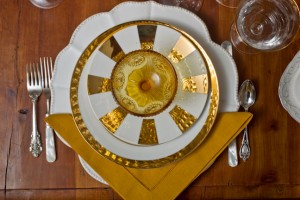 Before you even start thinking about how to do up your Thanksgiving table, do a quick headcount. If you're having eight or fewer guests, my suggestion is to play up each place setting, making them the head-turning focal point of the table.  The good news is, you don't have to use a zillion dishes to pull off a dramatic look. Instead of quantity, pick just a few pieces that are really striking.
On the table above, we started with simple white platters, used as chargers. Notice that they're sitting directly on the tabletop. For the sake of simplicity, we opted against using table linens on this gold-filled table. If you'd like your Thanksgiving table to be a bit softer and more lavish, add a tablecloth or placemats.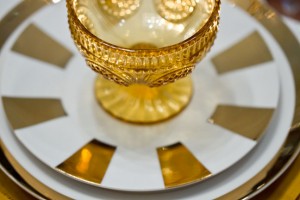 Next, we layered up with opulent gold china, which is available right now at Nell Hill's Online and at our stores. (Click here to find out more!) I love how this pattern reinterprets the traditional color combo of gold and cream, giving it a newer, fresher feel. I'm recommending the set to everyone because I think it has lots of staying power and can be used year round, not just during the holidays.
Finally, we topped the dishes with sorbet cups in amber glass. Don't they just pop? This little addition is at once formal and fun. Who knew those two concepts could come together on one table?
Did you notice that the silverware on the table doesn't match? If you're like most of us, you have an odd assortment of silver, with partial sets handed down from grandmothers and great aunts through the years. By all means, use these little works on art on your table, mixing all the patterns together.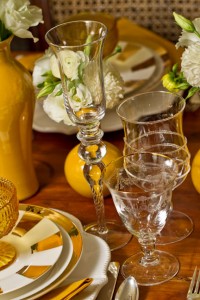 I really, really, really like an assortment of interesting glasses on my table. Aren't these three dissimilar glasses perfect together? We went for different heights and styles, mixing classic and contemporary, yet kept them similar enough so they felt like they belong together.
Entertaining a Crowd? Dazzle with a Dramatic Centerpiece
If your party will be larger than eight people, you will need to keep your individual place settings simple, using a minimal number of dishes, because there just won't be room on the table for more.  Your goal in this instance is to make your centerpiece the star of the show. But still, my advice is to keep it simple.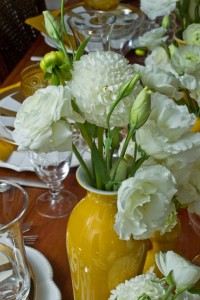 For our lovely gold, marigold and cream table, we called on the no-fail power of fresh flowers to create a knockout centerpiece. First, we placed an assortment of marigold-colored contemporary ceramic vases down the center of the table. Then, we filled them with white flowers. Fresh flowers are a fail-safe solution for just about every occasion. On this table, they soften the hard shiny surfaces and make the presentation more sumptuous.
If you want a more traditional Thanksgiving feel for your table, try this Nell Hill's trick: Get an assortment of gourds and pumpkins, then mist or coat them with gold spray paint. Hunt in your yard or a park for fallen acorns or twigs clinging to fall leaves, and mist them too. Place three urns down the center of your Thanksgiving table and top each one with a gold pumpkin. Fill in around the urns with a spattering of gold toned votive cups holding battery operated tea lights. Then, sprinkle in your spray painted fallen twigs and acorns.
Start the Day off Right with a Breakfast Table Treat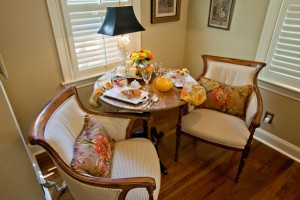 If you're lucky enough to be going to someone else's home for Thanksgiving dinner, you can still make your table festive at home. Treat yourself to a beautiful Thanksgiving breakfast on a kitchen table decked out for the season.
To give this darling breakfast nook a quick seasonal makeover, we tossed a fall-colored accent pillow into each chair, added fall napkins to the place settings and tucked in a little bouquet of fresh flowers in some favorite fall colors. Done!
Next Week … If you want to create spectacular displays for the holiday season, you've got to start with gorgeous greens. I'll show you how next week.