Are you ready to create some lovely holiday displays this year? Before you pull out the tree ornaments, the sparkly reindeer figurines or the spools of holiday ribbon, first grab the greens. Great greens are the key to success for every holiday display, whether they are simple or over the top.
Today's faux greens are so lifelike you almost have to touch them to tell they're not real. And, even better, as the quality of the greenery has gone up through the years, the price has dropped. Here are some tips for using greenery as a base for all your killer holiday displays.
You Gotta Love Greens!
Even though you love the holiday season, with all its magic and charm, have you ever found yourself groaning at the thought of decorating your home? More than a few of my friends and customers have confided to me that they dread the idea of holiday decorating because they are convinced it will take forever. That's when I get all excited and tell them about my time-saving secret weapon: faux evergreens.
If you haven't already, invest in some garland, picks and wreaths. Fluff them up so they look lifelike, not smashed. Then, put on the holiday music, make yourself a cup of cocoa and spend an hour, max, infusing your home with loads of holiday glitz. Here are a few super-quick ways to get a knock-out holiday look with greens:
Beautify the Bannister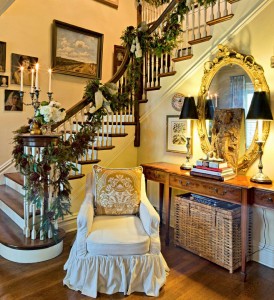 If your staircase is a prominent feature in your home's entry, you'll get a lot of bang for your buck decorating your banister with greenery. My favorite is pine garland that is rife with berries and pinecones. I also adore the garland that looks like it's dusted with frost. You won't believe how lifelike this stuff looks!
Simply swag the garland up and around your banister, securing it with florist wire or pretty holiday ribbon. I like the garland on my banister to look random and loose and haphazard, tucked up at irregular intervals, which makes it even easier to put up.
Dress up Light Fixtures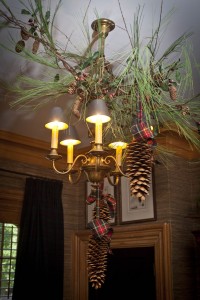 One of my favorite holiday looks is to loosely twist some pine garland through the arms of the chandeliers in my study, dining room and kitchen. It's simple to do but looks so elaborate, people will think you decorated for hours. Loop the garland around the chain of the chandelier, then tread it in and out of a few of the light fixture's arms. I like to leave a bit of garland hanging down from the fixture, too. Stop there or embellish the light fixture with some holiday ribbon or ornaments. You can dangle ornaments or little hanging votive cups from the chandelier's arms using fishing wire if you want an extra special display.
Add Some Swag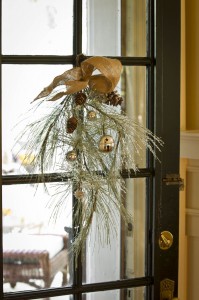 Buy a premade swag or, if you're feeling crafty, make your own. Then, hang it on an interior or exterior door. This little guy is brightening up the door that leads from my living room to my screened porch. It's just a little touch of Christmas but it adds lots of cheer. You could also hang a swag over a mirror or a piece of artwork using a door hook meant to hold wreaths.
Lend Drama to a Vase
I like to use statement-piece vases in my year-round decorating, changing them out – poof – for each season. These statuesque glass vases are long on drama but take just seconds to decorate. I inserted some fallen branches and some greenery picks that feature pinecones and faux frost, and I was done. Who knew creating a head-turning display could be so easy?
If you have great pottery vases and urns, turn them into vases for greenery bouquets this holiday season. Start with a fallen branch from your yard then fill in with an assortment of picks. Keep it natural or, if you want some glitz and glam, tuck in picks that feature pearl drops, sequins or glitter.
Decorate a Window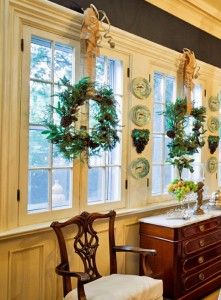 When we decorated my dining room for my fall open house, we decided to dress up the windows a bit. We hung a series of wreaths from holiday ribbon. Don't they look sensational?  Five minutes – done!
Dress up a Bookcase
I really like to decorate above bookcases and hutches, turning this dead space into a fetching display. For the holidays, I  place faux greens around the accents I keep on top of the secretary in my den.
Next Week … Need some holiday gift ideas? Next week I'll have my favorite gift picks – creative and inexpensive treasures everyone on your list will love.