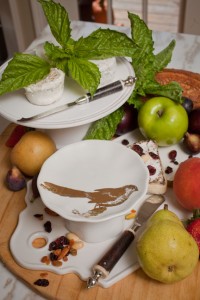 This time of year, I spend a lot of time being Santa's helper, helping customers come up with the perfect gifts for everyone on their lists. One of the benefits of working at Nell Hill's is that you can see firsthand what gift items people flip over — those can't-miss picks that score high on the wow factor and low on the cost scale. Here are my top five favorite gift suggestions for this holiday season.
Gift Giving Made Easy!
All of us want to score big when we give a gift, don't we? We want to pick out that special something that makes the recipient gasp with delight. To get a gift that's spot-on, it's important to first study the gift's recipient. What kinds of hobbies or interests does she have? What is the style of her home? How does she like to entertain? What are her favorite areas to decorate in her home? What colors does she gravitate toward? When you know your subject, picking the perfect gift will be much easier.
No matter how you answer the questions above, I'll bet one of my five holiday gift picks will suit those on your list perfectly, because each one had to meet my stringent gift-giving criteria. The gift selections had to have wide appeal, grabbing the hearts of nearly everyone who comes into Nell Hill's. They had to work well in any style home. They had to delight people of all ages and interests. And, they had to be so well priced that they wouldn't strain the holiday gift budget.
For Friends Who Love to Smile: Cheerful Holiday Towels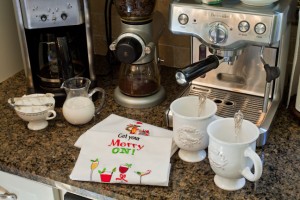 Featuring a variety of brightly colored, happy holiday sentiments, these super-fun tip towels are all the rage this year — customers are nuts about them. And why not? They are the perfect inexpensive holiday gift. Instead of taking the customary bottle of wine as a hostess gift, this year wrap up a holiday towel or two – your hostess will appreciate that she can use them long after the party is over. Give them to the kids' teachers, book club friends, coworkers, anyone you want to spoil with a "little something" without spending a lot. Or, get a few for yourself, because if you're like me, you can always use fresh kitchen towels to replace those tired, stained rags you've been using.
For Those Who Like to Entertain: Mini Cake Plates
This jewel is one of those perfect cheater gifts – it looks a lot more expensive than it actually is: Priced at under $15, it's a lot of look for your dollar. These sweet cake plates, decorated with a golden bird image, can be used a million different ways in both holiday and year-round entertaining and decorating. In the powder room, place one by the sink to hold a bar of fine soap. On the buffet, put one on top of a larger platter to hold a wedge of cheese and some crackers. On the dining table, include one at each place setting to serve appetizers or dessert.
For Those Who Always Set the Mood: Silver Votives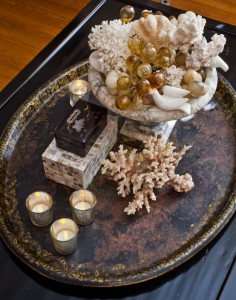 You know me – I can't resist candles! They make great gifts because everyone loves them and can use another candle someplace in their home. These little silver votives come in a pack of six and look amazing clustered together on a dining room table, mantel or coffee table. They are so neural, they will go with every style home, from modern to traditional, and they appeal equally to all ages. You can't go wrong with these gems!
For Those Who Make Merry: Evergreen Bouquets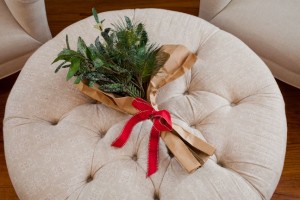 I don't care how many Christmas decorations your loved ones have in their homes, they will still adore cute evergreen bouquets. These happy brown-paper-wrapped bundles look sensational hanging from window sashes or interior doors, on the back of dining room chairs or worked into holiday displays on the mantel, buffet or dining room table. At the stores, we have hung them from Christmas trees and holiday garland suspended from the ceiling. They are irresistible and one of our hottest sellers this year.
For Those Who Decorate for the Season: Ribbon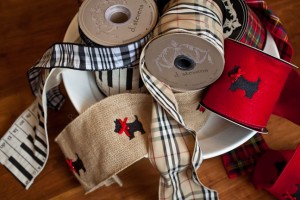 You may not normally think of holiday ribbon as a gift item, but let me tell you, people are thrilled when they are spoiled with a gift of several spools of amazing seasonal ribbon because it's one of those things they always want but don't always buy for themselves. But once you have some great ribbon to play with when you decorate for the holidays, you will be able to find a million ways to use it. I am a ribbon junkie and keep my ribbon for years and years. I like to laugh that each piece of ribbon in my home has nine lives – at least. One year you may find a strand of ribbon tied to the top of a lantern, the next, holding a wreath from the window sash, the next twisted in with a faux pine garland in one of my light fixtures.
Next Week … Find out how to make your home merry for the holidays using mini Christmas trees.