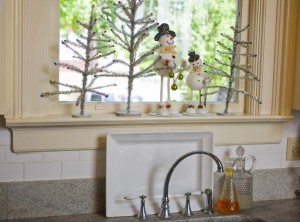 A towering pine tree decorated to the hilt will always be the king of the Christmas tree forest, in my opinion. But I have to admit that I've recently developed a huge crush on the big tree's little brothers. Little Christmas trees have captured my fancy in a big way because they come in lots of different looks – from vintage to classic to contemporary, are super affordable, virtually unbreakable, easy to store after the holidays and, best yet, a simple way to help any display shine for the season. Here are some secrets for getting a big holiday look from little Christmas trees.
Plant One in an Existing Display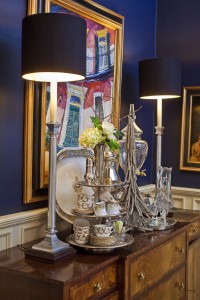 When I decorated my dining room for my holiday open house, I knew I wanted to include a mini Christmas trees in the mix. I found the perfect spot on my buffet for a silver tree made of real sticks, simply tucking this unique decoration into an existing display. The little tree's silver finish made it a natural for this year-round grouping, which already included silver accents like my buffet lamps, a three-tiered epergne and a tray.
To create a similar look in your home, fill your buffet with some of your most beautiful serving pieces, like a silver coffee pot or glass compote. Then tuck one of two little trees in around them. When picking your trees, go for a variety of heights so your display has more movement and interest.
Feature Little Trees on Your Dining Table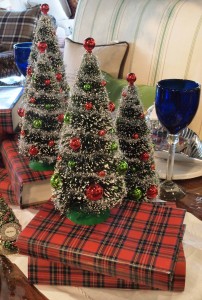 We've used little Christmas trees 101 different ways in our tabletop displays at the Nell Hill's stores this season and we continue to be blown away by how many looks you can get from these proven winners. In the snapshot above, we created a bright and cheery centerpiece just by clustering a few vintage looking bottle brush trees on top of books wrapped in holiday paper.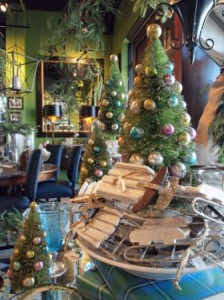 Or, instead of using lots of little trees, get three taller bottle brush trees and have them march down the table's center like toy soldiers. It's a simple but darling look and will help make decorating for the holidays a breeze.
Spotlight a Small Tree in a Showy Urn
Pull the dead summer plants out of your outdoor garden urns and bring the urns inside to help you decorate for the holidays. Iron garden urns are my favorite tree stand for mid-sized Christmas trees because they make small trees look majestic and the urns are heavy enough that they won't topple over like a conventional stand will, taking the tree and all its ornaments with it.
This year, I placed a mid-sized tree in a black iron urn, giving it one more boost up by putting the urn on an iron pedestal. I positioned the tree in a corner of my dining room that was also visible from my front door, doubling its impact with no added work. I love equations like that, don't you?
Think about your home's entry. Is there a spot you could place a dramatic mid-sized tree held in a beautiful container, like an urn or a china cachepot?
Have a Tree Brighten a Window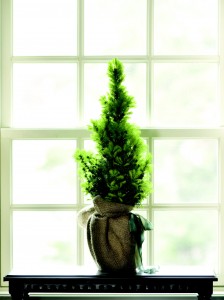 I really like to put decorative items in my windows during the holidays. What could be easier than dressing a windowsill with a tiny tree? For a rustic look, put a little tree wrapped in a burlap bag in your main floor windows, as we've done in the photo above taken from my newest book, "O Christmas Tree." (To order your copy of this beautiful book or give one as a gift, click here.)
Make a Bedroom More Festive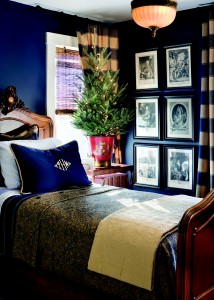 Are you expecting guests this holiday season? Don't forget to give the guest room a bit of holiday cheer. It's easy to do with a mini tree or two. Put a small tree in an interesting holder and display it on a bed side table or dresser. You won't believe how many young moms come in for decorations for mini trees they put up in their children's bedrooms every year. The little trees give the kids a chance to have a hand in decorating their own space for the season.
Maneuver a Tree onto the Mantel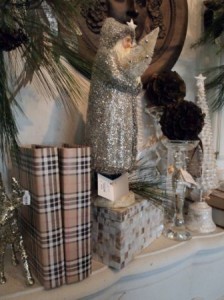 So many fireplace mantels these days are super skinny, making them harder to dress up with elaborate holiday displays. But tiny trees, with their petite girth, are a great solution. Try grouping a cluster of mini trees in a variety of heights on either side of the mantel. Or, create a small holiday scene on your mantel, using little trees to add some height, like we did in this mantel display at Nell Hill's. The white and silver glittery tree on the right works wonderfully with the other silver-sparkle pieces in this grouping.
Next Week … I'll help you make your holiday mantel beautiful for the season.