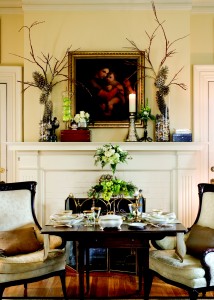 Some years I go at my holiday decorating with great gusto, fueled by a long list of ambitious decorating projects I can't wait to try. (Once I hung a huge fallen branch from the ceiling in my dining room, filled it in with faux greens then decorated it with hanging votive cups. I was exhausted, but man, was I thrilled with the drop-dead-gorgeous results.) But this year, I just want a hint of the holidays in my home decor, a gracious but gentle nod to the season.
Whether you're going for a splashy holiday display or just want to quietly sneak in a touch of Christmas, one of the easiest – and most important – spots to trick up is your fireplace mantel. Here's how.
Sneak in a Bit of Christmas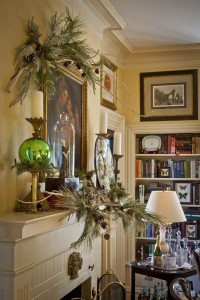 This year, instead of clearing off my mantel to build a big, elaborate holiday look, I'm keeping the existing display as is, then weaving in a touch of Christmas. After years of completely reworking the arrangements on my mantel every season, which is a total blast and keeps my creative fires stoked, right now I have a grouping on my mantel that I'm so crazy about, I can't bear to change it. So, I'm keeping all the big pieces just as they are and filling in around them with a few fallen twigs interlaced with some great faux greens. I've opted for a pine garland that looks like it's dusted with frost, and I'm crazy about the look.
Do you like the appearance of your mantel? Try doing the same thing. Get some great greenery garland and picks, and tuck them in around your existing pieces.
Winterize Your Fall Display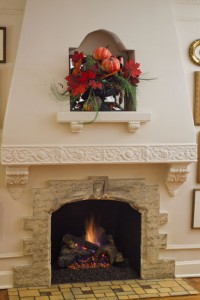 If you decorated your mantel for fall, you may be able to give the existing display an instant holiday feel just by trading out a few of your decorative elements. In the photo above, my friend Marsee's unique fireplace niche was decorated as cute as a button for fall. Being the smart girl she is, she used winter greens as the base of a bouquet she created in a black iron urn. Now, look how she transformed the display for the holidays in a matter of minutes:
Marsee just removed the pumpkin and pick of fall leaves, then inserted a glittery mini Christmas tree into the urn. She finished off by placing a silver reindeer figurine in the foreground. Can you believe how simple that was and yet it hardly looks like the same display! Knowing Marsee, she'll completely change the look of the urn once again in spring, perhaps filling it with seashells, a fern or some moss balls.
Make a Big Statement with Greens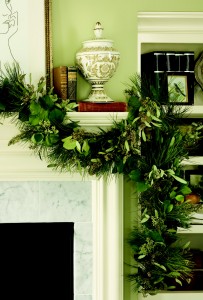 I can't say enough about how essential great greenery is when it comes to holiday decorating, especially if you want the maximum wow factor for the minimum investment of time and money. In the photo above, we simply swagged a big, showy garland across the front of the fireplace, not disturbing a bit of the existing display. It made for a majestic presentation in a matter of minutes.
When you work with greens, be sure to secure them to the mantel so they don't crash to the ground, taking all your treasures with them. I've solved this problem by waiting until Dan is out of the house, then I hammer a few little nails into the back of the mantel. (Dan cringes every time I pull out a hammer and begin happily pounding on our walls, so I spare him the pain by waiting until he's gone.)
If you're like Dan and have an aversion to nails, check out the new hooks that stick to your wall temporarily, then pull right off without ripping up the paint. They hold a remarkable amount of weight and are a great solution for securing a display you only want up for a few months.
Razzle-Dazzle with Baubles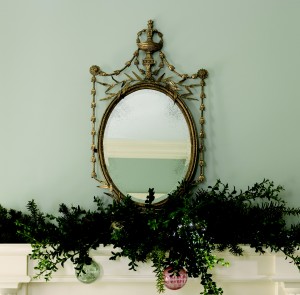 If you want to take your winter green display up a notch, just add in a few baubles or sparkly shiny treasures. Wire in a few Christmas tree bulbs, either in the center of the mantel or hanging off the loose ends of the garland. You could also tuck in a trio of sparkling mini Christmas trees on one or both ends of the mantel. Or, work in some fun holiday figurines, like glitter-crusted reindeer, a Santa or an angel.
Set a Mood with Soft Light
One of the biggest decorating frustrations I hear from friends and customers is that their mantels are super skinny, too small to hold the grand displays they'd like to create. A great solution is to use wall lanterns in your holiday mantel display. These lovely lanterns are thinner and taller than regular lanterns so they fit well on thin mantels, infusing this small but important space with loads of charm. Put a wall lantern at the center of your mantel or put one on either side. Then give them a holiday makeover by tying them up with some great holiday ribbon.
Use Vertical Space to Create Drama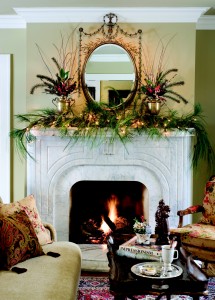 If you have ceilings that go up to the sky, take advantage of all that wonderful space by using some tall and powerful pieces on your holiday mantel. We have done a lot of that this year at Nell Hill's, using tall, thin vases to hold bouquets of fallen branches.
Try Something Out of the Ordinary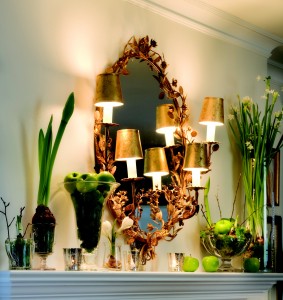 There is nothing quite as fun as filling your home with forced bulbs during the dark, cold winter months. I always watch them like a hawk as they grow and bloom, a promise that spring will return again. Why not start the process early in the winter season, working bulbs into your holiday mantel display? Add in some silver holiday votives and some bright green apples, and you've got a fresh, fun and truly unusual look for the season. Then, when Christmas is over, remove the votives and apples, and wait for the blooming of the lovely spring flowers.
Next Week … I'll have tips and lots of photos of gorgeous holiday tabletop treatments to inspire you to make your dining table a thing of beauty for the holidays.