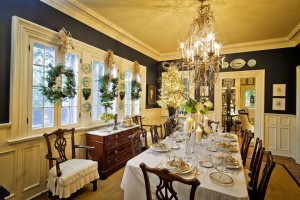 When it comes to decorating your dining table for your holiday feast, I'm all for a full-steam-ahead, all-out, over-the-top display that is as magical as the season. This is the one meal of the year when you simply can't do too much on your table. I've learned a secret through the years, after decorating my dining room over and again for my holiday open houses: Creating a memorable holiday tablescape doesn't have to take a lot of time and effort. The key to success is to add a few personal touches that will make a huge difference. Here are five ideas to inspire you.
1. Sprinkle in a Bit of Holiday Magic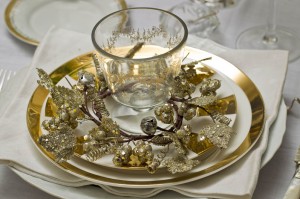 Part of the charm of the holiday season is the feeling of joy it evokes within us. Everything around us seems to sparkle and shine, making us feel like kids again. Bring that same sense of wonder and anticipation to your holiday table this year by sprinkling in a bit of holiday magic.
On my table this season, I've created a warm setting using china detailed in gold. Then, I added in the holiday magic: a gold gilded wreath, resting atop each salad plate, making a nest for a pretty piece of stemware. It was so simple to do, yet it made this table come alive because it was out of the ordinary. What little surprise can you place atop the dishes on your holiday table? An ornament? A tiny bouquet of roses? A small, beautifully wrapped gift for your guests to take home?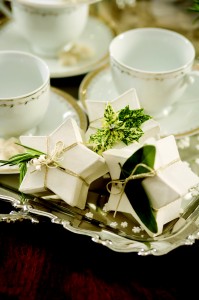 If you will have children around your table, add in a bit of whimsy. For this Hanukkah table, we decorated with petite white gift boxes shaped like stars. What's inside? The kid in you can't wait to find out! You could easily work in Christmas or winter images to your table, too, like Santa, snowmen or angels.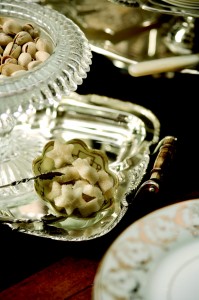 If you have a bit more time, try a few extra touches, like these star-shaped candies on our Hanukkah table. You just want to pop one into your mouth, don't you? So simple, but they go a long way in making your holiday table truly celebratory.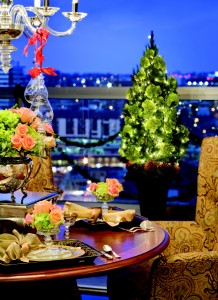 My friend Melanie's dining room is like a dreamland, and the addition of this charming little Christmas tree makes the scene that much more enchanting. I'm a huge fan of putting a Christmas tree in your dining room because I think it creates such wonderful ambiance. Every year, I put one in the same corner of my dining room, strategically placed so it's visible from the kitchen, entry and living room.
2. Celebrate the Past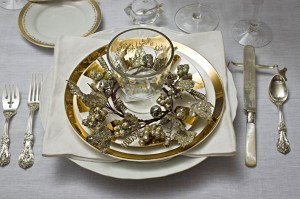 I really like to use antique pieces in my decorating. And one of my favorite spots to do so is on my dining table. When Dan traveled to Europe once on a Nell Hill's buying trip, he brought me back a set of sterling silver knife rests. Boy, does that man know how to score in the gift department! I swooned. I not only love how the knife rests look on my table, giving it a classic formal look, I also really like how the stands keep the messy knives from resting on the tablecloth, saving my fine linens from being stained.
I also like to use antique or reproduction salt cellars on my dining table when I entertain. Dan, in particular, loves these little individual dishes filled with salt and pepper because he's a salt hog. Now he doesn't have to keep asking everyone to pass the salt – he has his own stash by him at all times.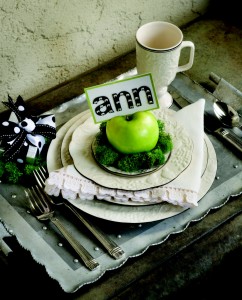 In recent years, I've also gone gaga over place cards, another rich dinner tradition that has gone by the wayside in recent years. Honestly, I don't care where everyone sits at my table. I just like the look of the cards! I think they add a truly unique look to a table and make each guest feel special and recognized. You can use a million different objects as place card holders on your table. Here, we inserted one into a green apple for this contemporary holiday table setting. If you want a vintage feel, use a small bottle brush tree. Or a pinecone. Or an ornament.
3. Design a Creative Centerpiece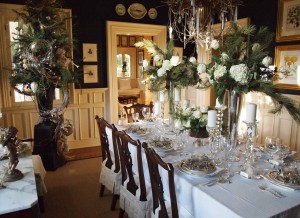 Designing a stellar centerpiece doesn't have to be intimidating. In fact, sometimes the simpler the design, the more breathtaking it is. The secret is to find a few key pieces that pack a lot of drama. In the photo above, taken of my table dressed for my holiday open house, the Academy Award goes to the vases holding holiday greens and white flowers. Why do these pieces elicit such wow-factor? They are unexpectedly tall. Once these statuesque beauties were in place at each end of my table, I just filled in with clusters of glass candlesticks – one of my new favorite go-to decorating tools from Nell Hill's this year.  I'm drawn to them because they are chunky yet graceful, inexpensive and incredibly versatile – you can use them everywhere in your home, in every season.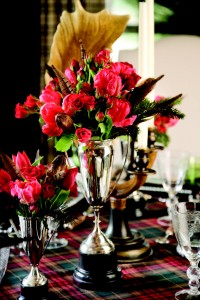 I also like holiday centerpieces that revolve around a theme. This great tablescape captures one of my favorites: English hunt club. The trophy cups are turned into vases to hold inexpensive floral bouquets. Weave in a few faux antler candlesticks, and you've got a sensational centerpiece.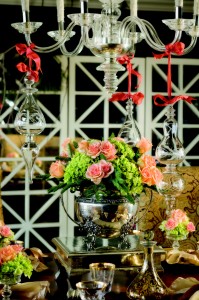 This centerpiece is off the charts on the drama scale, but when you look it over, it's really very simple. A silver riser holds court at the center of the table. It's topped by a silver vase holding fresh flowers. The extra glitter comes in through some ornaments hung from the chandelier.
4. Let Your Linens Make a Statement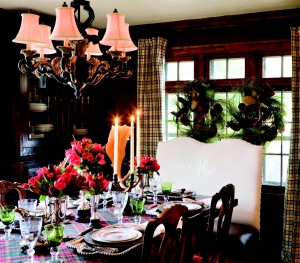 Your choice of table linens can do a lot for your holiday table. You can go with a sophisticated white on white palette, if you want a very formal feel. You can embrace your inner child and pick out linens that are playful. Or, you can use linens to support a theme for your table.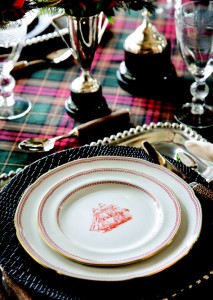 For me, noting sings "Christmas" quite as merrily as tartan plaid. We are selling lot and lots of plaid napkins this holiday season at Nell Hill's, so I'm guessing others agree.
5. Work in a Conversation Starter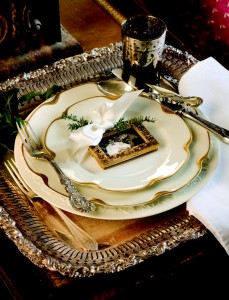 If you're entertaining family or old friends for the holidays, gather together some photos of all of you through the years and use them to decorate your table. You could frame a photo of each guest and use it as a place card. Or, you could rest a few photos on top of each place setting. You'll laugh yourself silly as you pass around the photos, razzing each other about those bad haircuts, geeky glasses and groovy clothes you had in some of your more "awkward" stages growing up.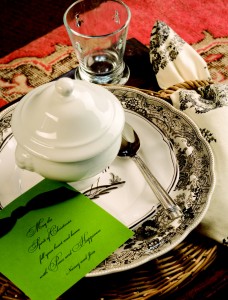 Why not put a personal greeting at each guest's place? If you're feeling sentimental, write a personal note. Or, you could put a conversation starting question at each place to get the ball rolling.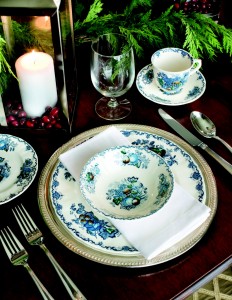 If you have some fabulous family china or dinnerware, pull it out and use it to dress up the table. It will give you a chance to regale your guests with stories about your ancestors, including some of the nuts in your family tree.
Next Week … Haven't had a chance to decorate for the holidays yet? It's still not too late! I'll share some super speedy decorating tips you can use to turn your home from bah-humbug into merry in a matter of minutes.