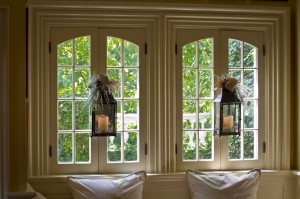 Been too busy to decorate for the holidays? Believe me, I've been there. There have been years I've been so busy helping everyone else get their homes ready for this special season that I barely had time to toss up a decoration or two before the family arrived for Christmas dinner.
Never fear: There is still time to change your home from bah-humbug to merry and bright. Here are six festive fixes you can do in minutes.
1. Hang a Wreath or Swag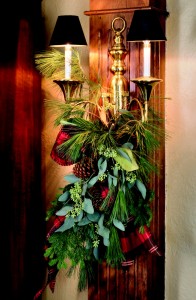 In you only have seconds to decorate, hang a pretty holiday wreath or swag. Noting is simpler than this holiday mainstay. Get a wreath that's already decorated, fluff out the evergreen branches and you're done! If you want, spend 10 seconds more and add a holiday ribbon to hang the wreath. Be sure to pay attention to scale – you don't want a tiny wreath hanging in a huge window or on a huge empty wall because it will be gobbled up. Big spaces call for big wreaths.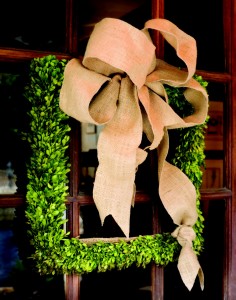 Any surface in your home could become an instant home for a holiday wreath or swag. Hang one from the obvious places, like your front door or above your fireplace mantel. Or give guests a little surprise by hanging your swag or wreath someplace unusual, like from the door of an armoire or the top of a bookcase.
2. Spark up a Window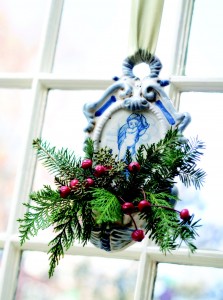 Dangle a darling holiday decoration from the window sash in one of your common rooms. It could be something you have on hand, like a little vase filled with bits of evergreen snipped from your garden. Or it could be something as dramatic as a lantern.
If you have generous windowsills, use them as mini stages to hold holiday decor, like a snowman figurine, a vase filled with evergreen snips or a potted rosemary topiary.
3. Spotlight a Pretty Package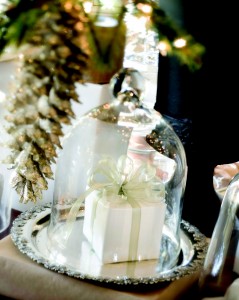 Go on a raid under the Christmas tree, pick out the prettiest packages and use them to add a bit of cheer to your décor. Here's a fun idea: Place a small parcel on a silver tray then cover it with a glass cloche. Under a bell jar, everything looks majestic!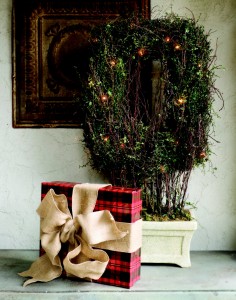 You can also work a few gifts into your year-round decorating. Simply tuck a package into an existing display on your mantel, coffee table or buffet.
4. Add Some Seasonal Flowers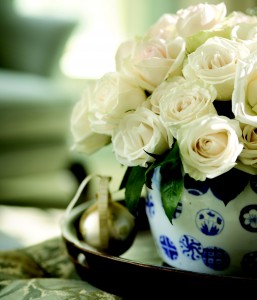 An inexpensive cash-and-carry bouquet of roses has saved my hide more times than I care to admit. When you haven't had time to decorate, it's so easy to run by the grocery store or florist on the way home from work and get a bouquet of flowers. I am horrible at arranging flowers, so I've come up with an easy look I can now do with my eyes closed: Get a dozen or two of roses, snip the stems down short and insert them into a vase so they make a mound of blooms. If you want, finish off the arrangement with a few greens, like cuttings from an evergreen bush.
5. Fill a Container with Holiday Treats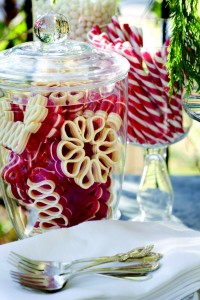 Scout for a few of your prettiest clear glass containers and fill them with classic holiday items. I love the look of peppermint candies in a glass apothecary jar. You could also fill an apothecary jar or hurricane with vintage Christmas tree ornaments. Or, if you want a more natural look for the display, fill the jar with a few stems of evergreen then rest a faux bird's nest in its branches.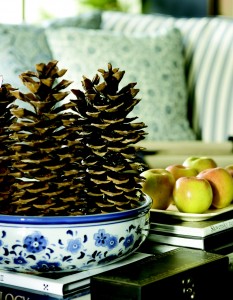 Or use a silver punch bowl, a glass compote or a china serving bowl to hold your holiday decor. One of my favorite last minute cheats is to put large pinecones into a blue and white china bowl, standing the pinecones straight up like trees in a winter forest.
6. Tuck in Baubles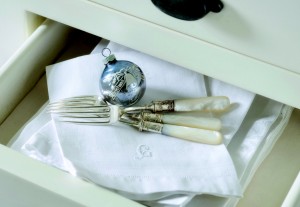 Sneak a few tree ornaments, holiday candles or seasonal figurines into unexpected places in your home to give guests a smile. For example, if you already have a great display on your coffee table, don't remove it, just supplement it with a tiny touch of the holidays. Put a single Christmas tree bulb in the foreground, a glittery reindeer statue in the mid ground or a lantern tied up with a holiday bow in the background.
Next Week … it's time again for the Nell Hill's decorating New Year's resolutions, a list of fun ways to add beauty to your home in the new year.