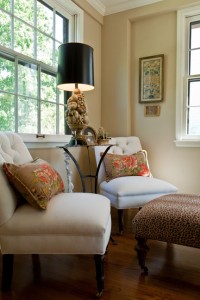 When you make your New Year's resolutions for 2012, don't forget to include a few that will help your home become its stylish best. Here are a few ideas to inspire you.
Organize with Style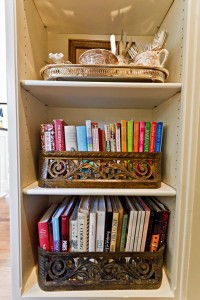 If you have storage space in your home that is open to public view, make it look its absolute best.  It's easy to make hard-working shelves as beautiful as they are functional by using lovely storage containers and interesting accents. Here, a friend of mine made a built-in bookcase in her kitchen look amazing by putting old coal grates in front of her cookbook collection.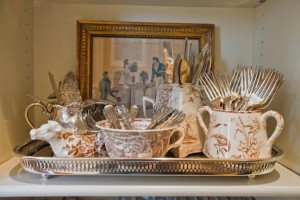 Need a place to store Grandma's silver? Instead of burying it away in a box in a drawer in a cabinet, include the silverware in a lovely display so you can enjoy it every day. Here, an assortment of china cups and containers serves as an interesting silverware caddy. Underneath it all, a silver gallery tray contains the elements of the display perfectly. Resting the antique picture in the background gives the pieces added context.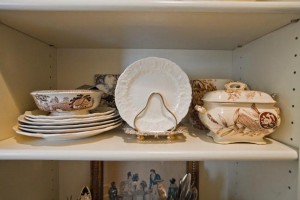 The next shelf up in the built-in bookcase is used to store more china. But the china is arranged so wonderfully it looks more like a display than a storage shelf, doesn't it? Notice how the white plates are stacked in an old silver toast stand? Love it!
Reupholster a Chair or Ottoman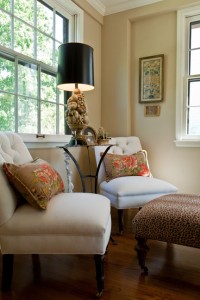 Are you tired of the look of one of your chairs or an ottoman, but you don't want to get rid of it because it's a good, quality piece? Have a family hand-me-down sofa or chaise with great lines but atrocious fabric? Sounds like it's time to reupholster! You can transform the look of a piece simply by switching out the fabric and pillows. To pep up the look of her sun porch, my friend covered two slipper chairs in a neutral cream, then recovered a plain old ottoman is this super funky animal print. Adding in a contrast piece like this playful ottoman is a great way to freshen up traditional décor without spending much.
Add Interesting Artwork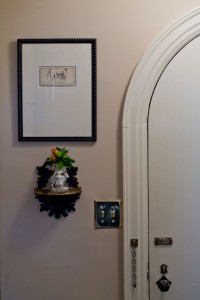 I am stark raving mad about great artwork, and I've nearly covered every single inch of wall space in my home with it. Any why not? Artwork is what gives a home personality. Look around at your walls and pick out a spot where a piece of artwork would enliven the room. It can be a new piece you want to add to your collection, a piece you have stored away or something you move from another display in your home. I re-hang artwork in my home all the time.
Use Flowers to Make Every Day Beautiful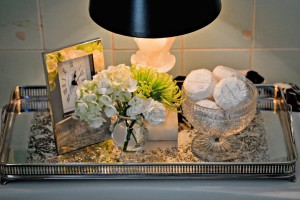 Seems like we only use fresh flowers in our decorating on special occasions. Why not resolve this year to enjoy the beauty of flowers more often? They aren't expensive and they do so much to make a space look special. This picturesque display is situated in the most unexpected of places: on the back of my friend's toilet! The marble lamp, regal silver clock and fancy soaps pushed this display to the top of my "Oh My Goodness, That's Beautiful!" decorating chart. But it's the addition of the tiny floral display that makes this scene simply stunning. Tucking tiny floral bouquets into special spots every once in a while will make you smile, and that's what decorating is all about, isn't it?
Update Your Glassware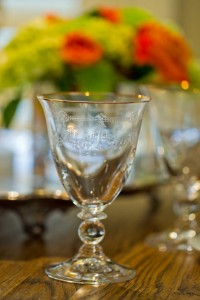 Life takes its toll on our drinking glasses. Through the years, water glasses take tumbles and break or they get dingy and chipped. This year, do an assessment of your glassware. Do you have enough wine glasses for a party? Are your water glasses still clear and beautiful? You can find stunning glasses today for a good value, so don't keep using those faded glories longer than you have to.
Remake a Side Table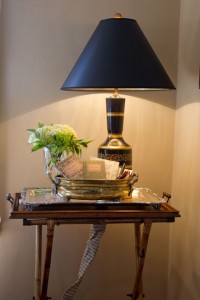 Sometimes it's overwhelming to redesign an entire room. But everyone has time to take on a simple table. Find a side table in your home that could use a bit of decorating magic then let your creative juices flow. On this bedside table, my friend layered a to-die-for silver tray atop the table then filled it with a few fun accents, including a great lamp, a simple glass flower vase and a compote filled with cute books.
Add a New Lamp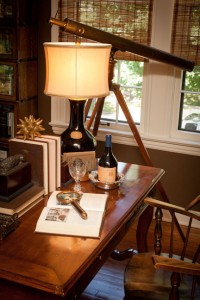 Simply updating a lamp can change the look of a room. My friend made her study fabulous by investing in this gorgeous piece. Look around at your rooms. Do the lamps look outdated? Are they too small for the tables they are standing upon? Are they giving you the correct lighting for the spot? If not, it's time to be out with the old and in with the new. And believe me, you will be dazzled by what you find in the marketplace today. Every time I go to the huge home furnishings markets, I go crazy ordering lamps because there are so many unusual new looks and reinterpretations of classic beauties.
Repaint a Room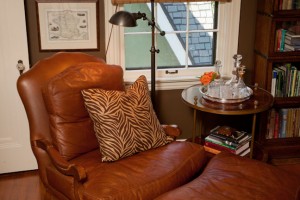 Do you have a room that needs a new look? Turn it into a cozy cocoon by painting it a rich, dark color. Or make the space light and bright by selecting a clean white or pastel.
Roll Out an Accent Rug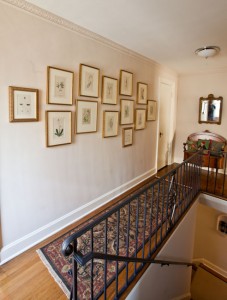 Many of us have lots of open hardwood floors in our homes. They are beautiful, but during the winter, they can also be a bit cold to the toes. If you have an open expanse, maybe in an upstairs hallway, your entry or kitchen, add a lovely accent rug for the cold winter months.