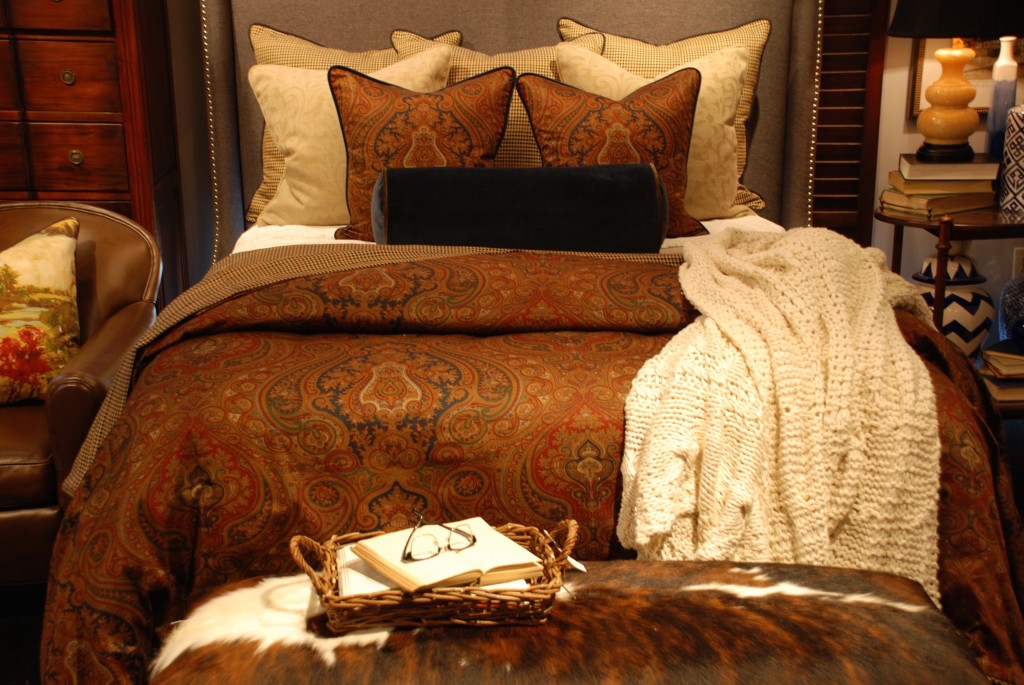 There is something so luxurious about turning in early after a long, hard day, giving your weary body and mind a chance to unwind and refresh. Autumn, with its long velvet-dark evenings and crisp light air, is the perfect time of year to spend the evening curled up in bed, lost in a good read or binge watching your favorite series. The first step is to design a warm autumn bed that is the stuff of dreams. The Nell Hill's team created three tremendous looks to inspire you: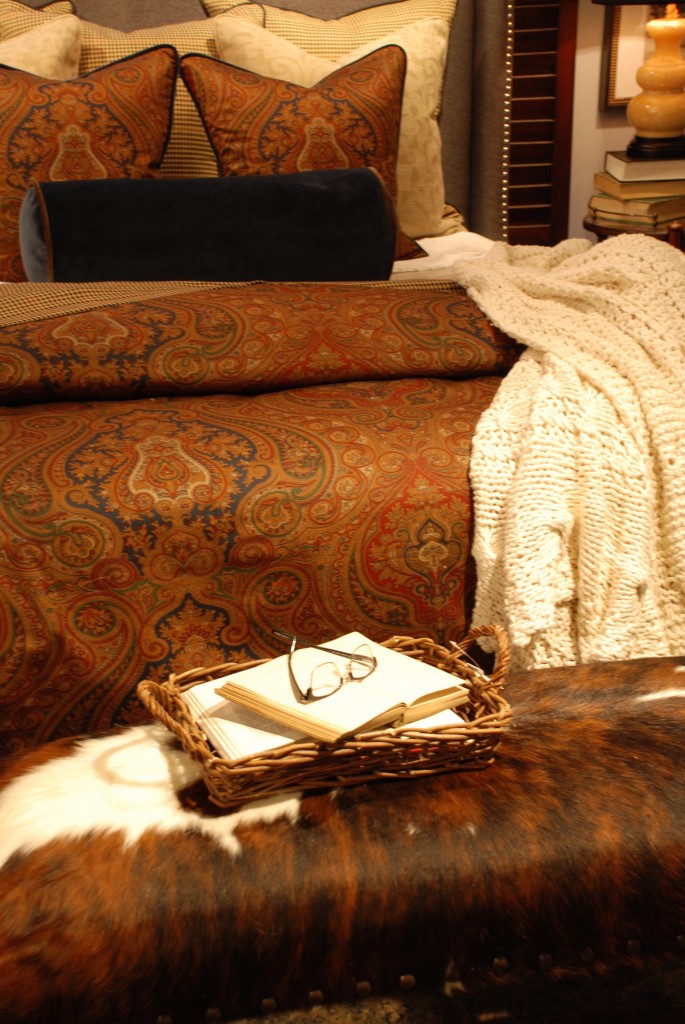 Most of us save decorating our bedrooms for last, focusing our design energy and budget on the more public rooms in our home. But we spend many of our at-home hours in our bedrooms, so I always encourage people to make this sanctuary as beautiful as the rest of their home. A natural place to start when designing your bedroom is with your bedding.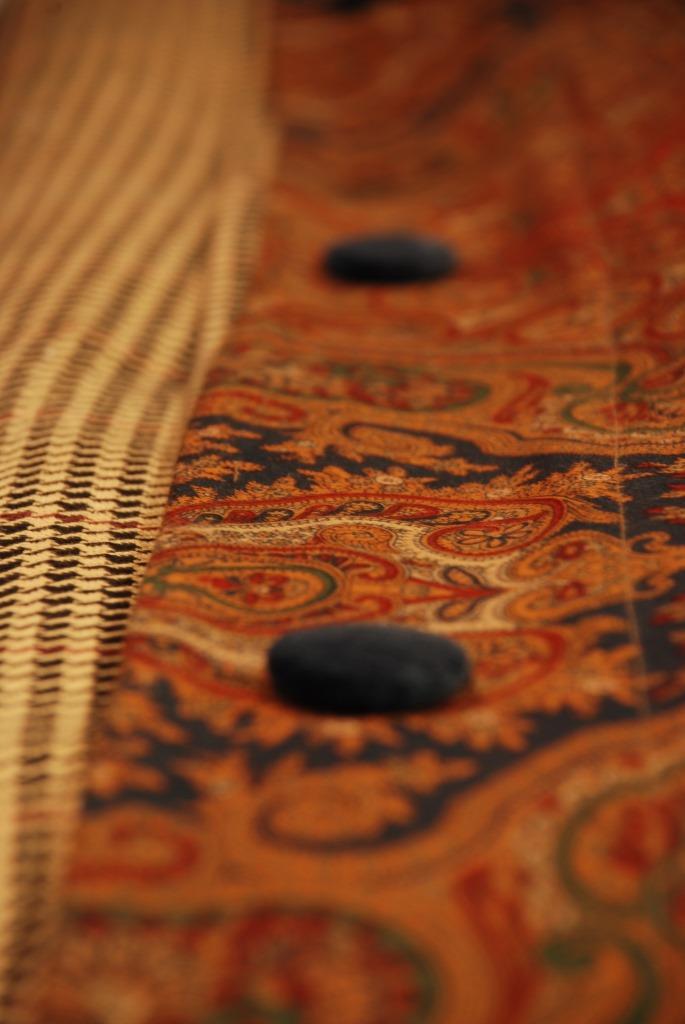 Whether we're designing beds for the Nell Hill's showroom or working with customers to create their own custom bedding, we almost always start with an inspiration fabric. This gorgeous paisley, a melting pot of fall's most luxurious colors, was the dreamy muse for this ensemble.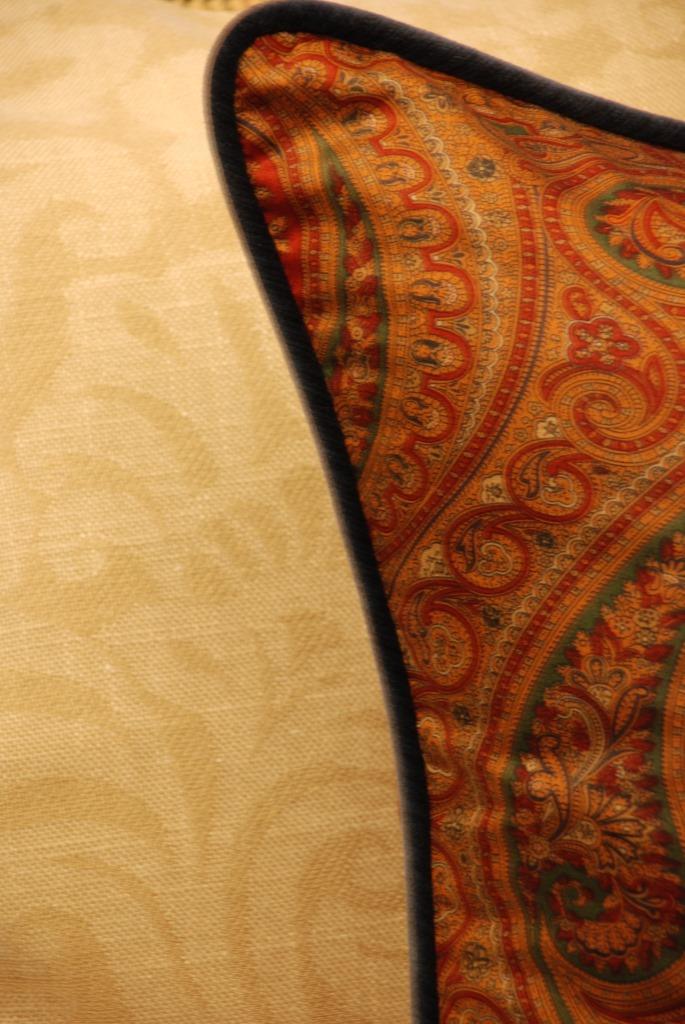 To add to the richness of the bedding, we trimmed the paisley accent pillows is the same yummy midnight blue velvet used in the bolster.  A row of pillows in creamy damask and plaid fabrics keeps this moody palette of navy, brown and rust from getting too dark.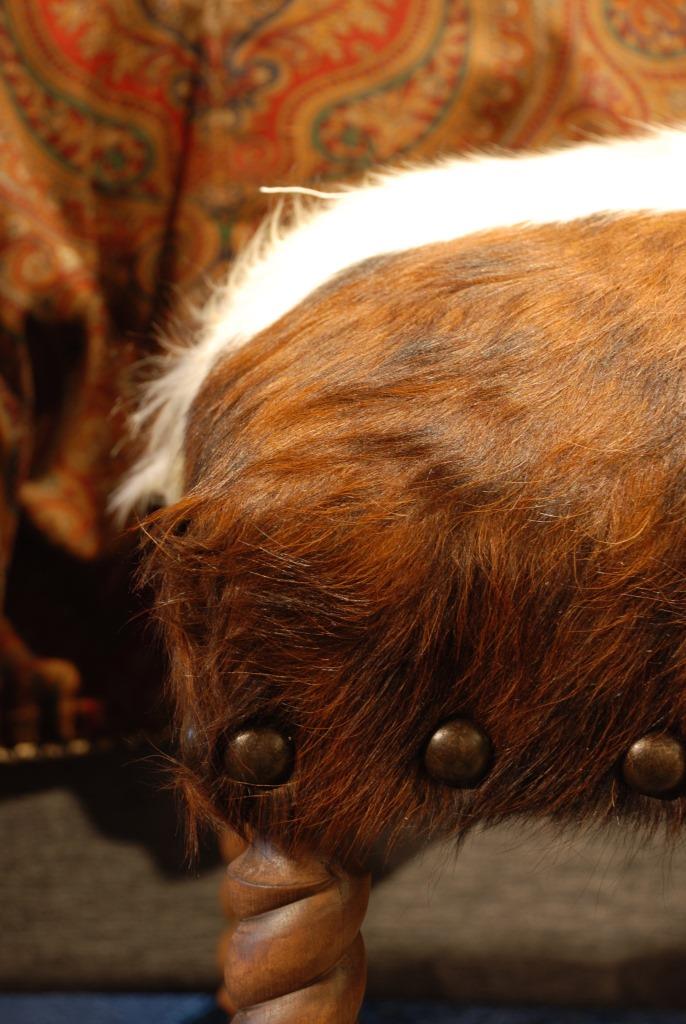 One of our favorite ways to finish off a beautifully designed bed is to nestle a bench at the foot. Benches are not only fetching, they're functional – a great spot to place your accent pillows at night or to sit and put on your shoes in the morning.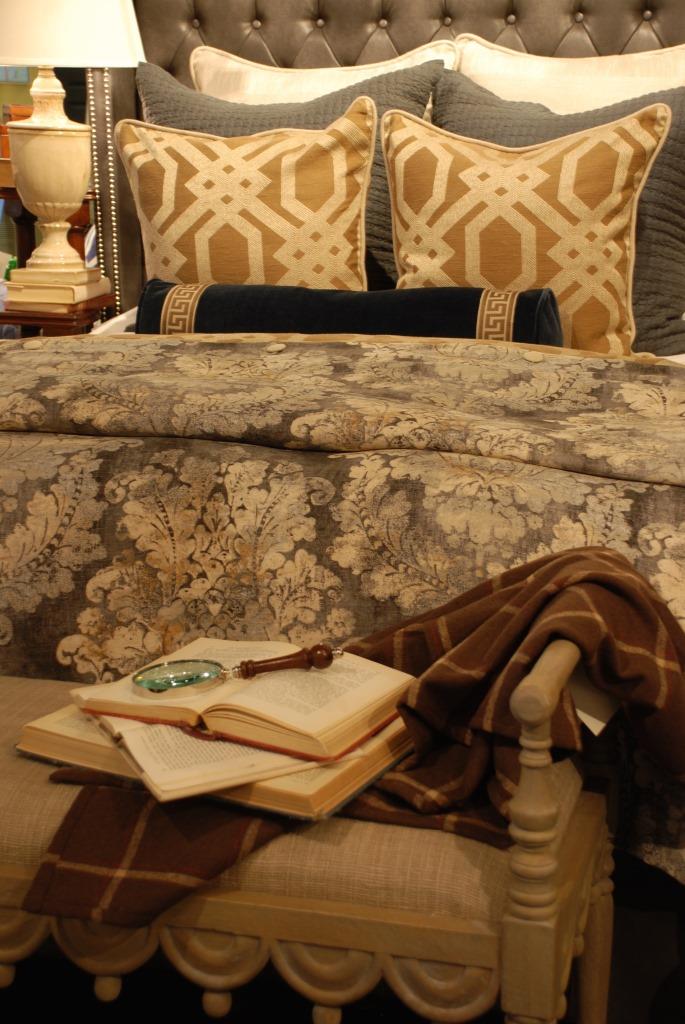 Neutral yet full of intrigue, this color-washed damask was the inspiration for this soothing ensemble.  We wove smoky grays and smooth caramels throughout, tossing in a midnight blue velvet pillow trimmed in a Greek key tape. Notice the gray euros sandwiched between the custom pillows? Adding in ready-made pillows like these can help you get a custom look for your bed for a fraction of the price. We often urge customers on a budget to invest in a few standout pillows, which set the mood for the entire bed, and economize on the rest.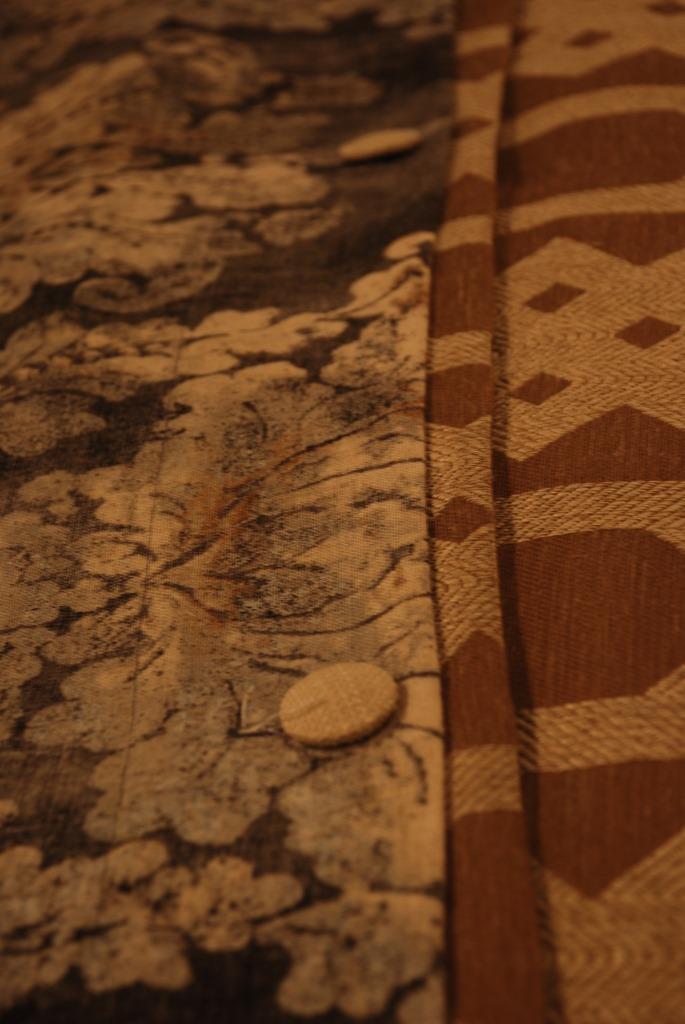 We've relied on a mix of patterns to infuse our quiet palette with a little energy. The duvet fabrics take traditional patterns and give them a contemporary twist. If your home is more traditional, this is a great way to keep it fresh.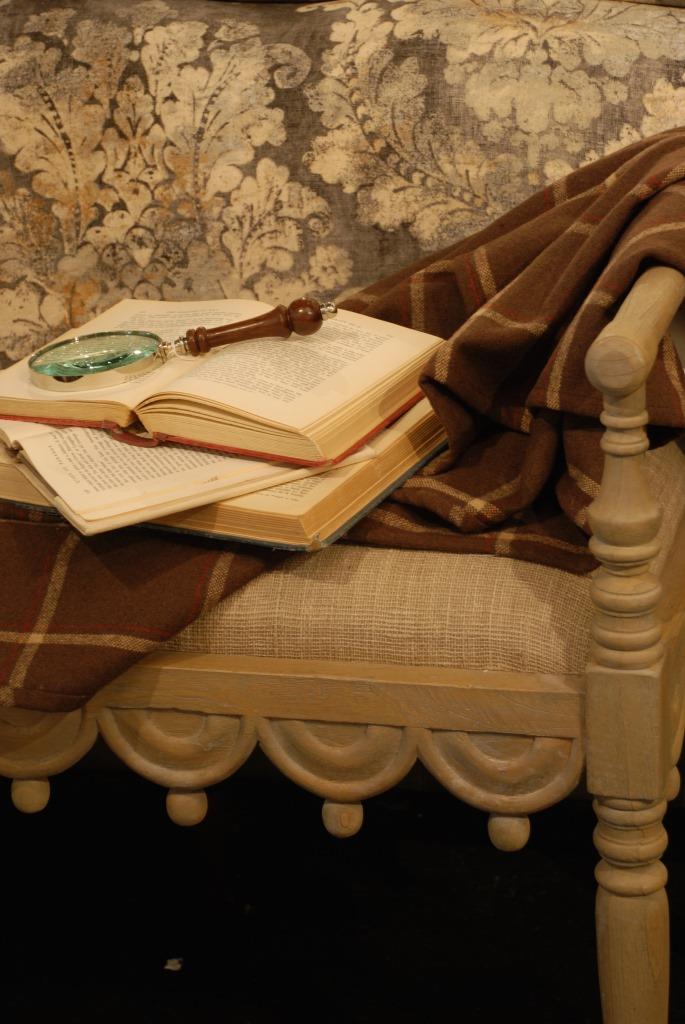 Another essential for a fabulous fall bed is a throw blanket. Sometimes, we pick up an accent color from the inspiration fabric and pull it out for contrast. Other times, the throw is a soothing complement to the duvet.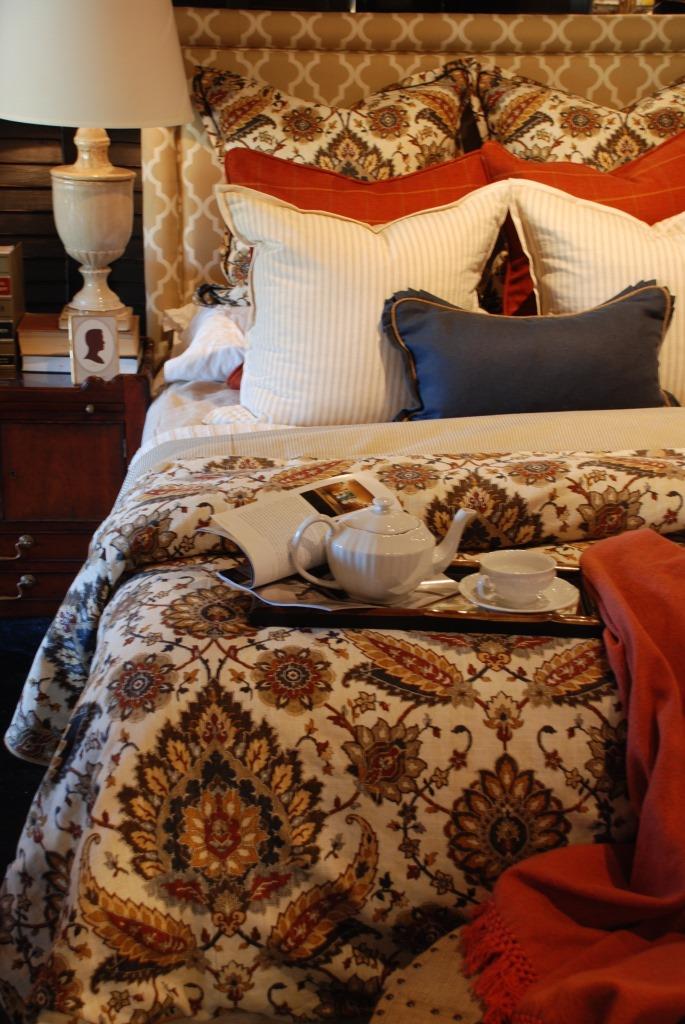 If you're designing a custom duvet, consider using contrasting fabrics for the front and back. When you fold back the duvet, the under fabric adds more color and texture to the bed. And, you can completely change the look of your bedding just by flipping the duvet over. Frequently we will put a fall-winter fabric on one side, then a spring-summer fabric on the other side so you can switch out your looks for the seasons. This bed is a great example of how to do this. When the weather warms up and you want a lighter look, just turn over the duvet to reveal the light and breezy cream and tan striped ticking.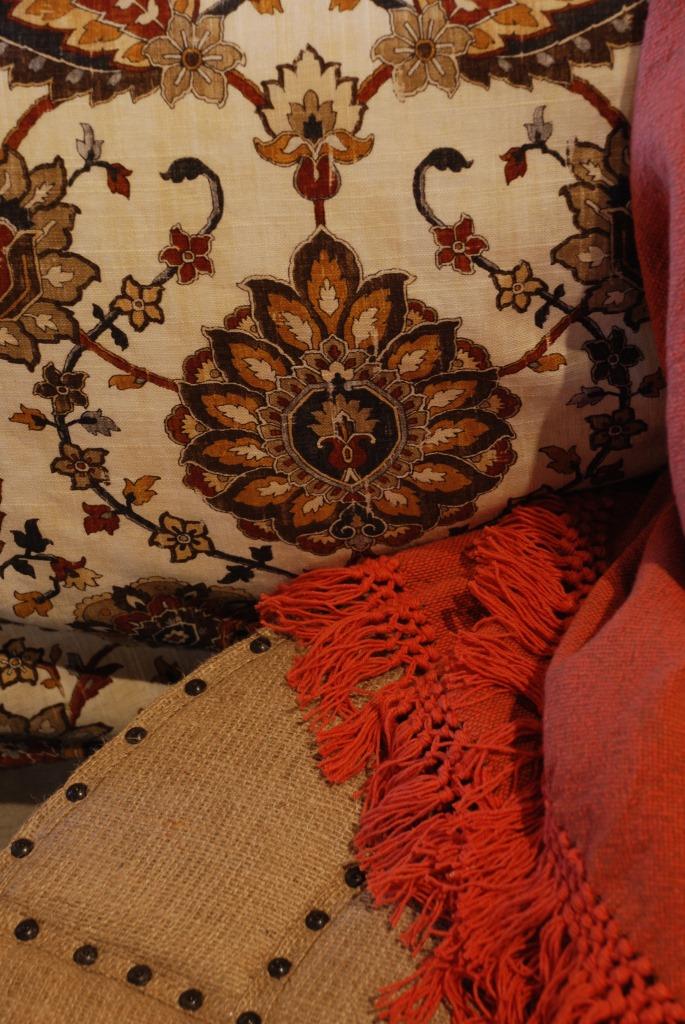 We wanted to pull out the brilliant rusty tones in our inspiration fabric, so in addition to the plaid terra cotta pillows, we tossed in a decadent orange throw blanket. Love!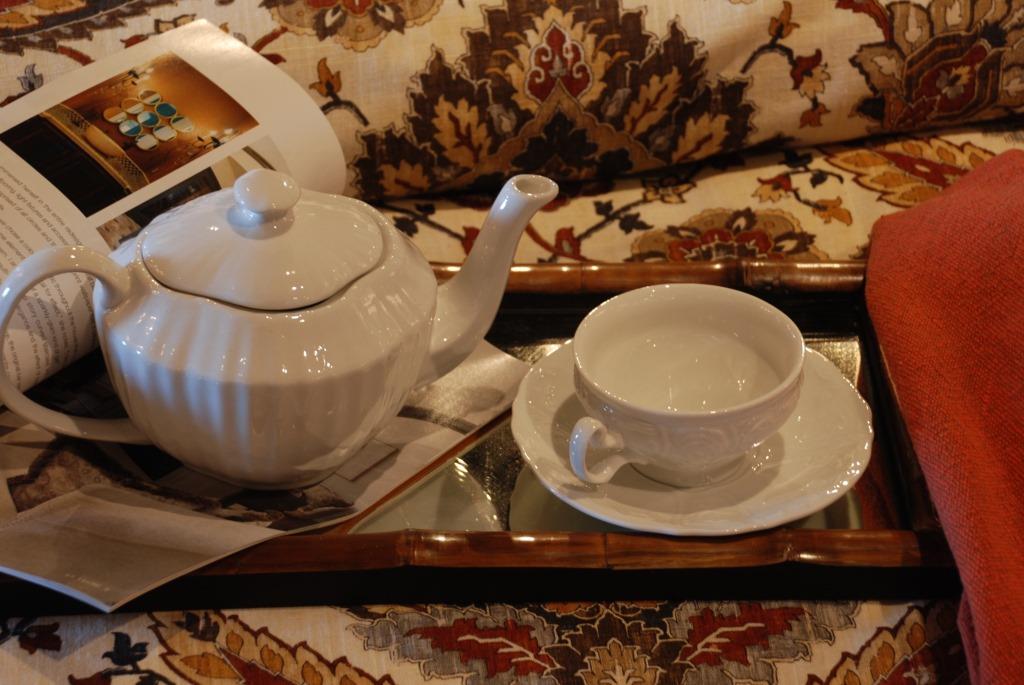 Once your bed is the stuff of dreams, you may never want to get up. That's OK. On lazy mornings, stay in bed with a cup of tea and your favorite read!
Next Week … One of our favorite tools for seasonal decorating is the invincible black garden urn. We'll show you how to create five killer fall looks in a classic urn.