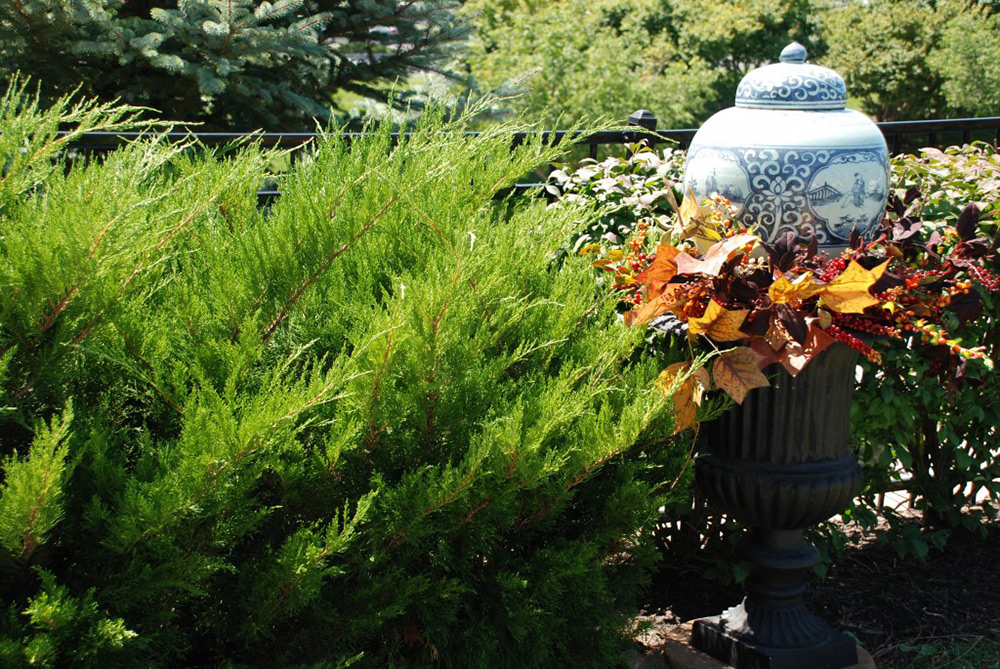 We've all had them, those short-term crushes on fun, new accents for our home. Maybe it was a splashy new vase that was perfect on your mantel for a season. Or a print that looked great in your living room, until you redecorated. But then there are a few pieces we fall in love with for life, the decorating mainstays we come back to year after year because they are so timeless, so versatile, so perfect for us and our homes. For me, one of those forever-loves is the iron garden urn. Through the years, I've used these amazing planters in a million different ways, from Christmas tree stands to ice buckets at summer parties.
I challenged Nell Hill's designers Bruce and Beverly to take my old friend the garden urn and come up with five fabulous fall treatments you can use as inspiration when decorating your home this season.
Pretty in Plaid
One of the best things about fall is being engulfed in a dizzying bouquet of colors every time you walk outside. This splashy display captures the sienna, umber and sage of the fall landscape and pulls them into a fanciful package. Bev and Bruce started with a metal orb, one of our hottest selling decorating tools right now at Nell Hill's. They filled up this hollow sphere with treasures, like this playful tin plaid basket.
The display is grounded on a wicker basket, which provides a nice, textural base. Next comes the fun plaid basket, with the lid resting in back. The basket acts as a container for fall foliage. We used picks of fall leaves and wild flowers, plus these super-cute gourds. Bev twisted and wired them so they descended into the foreground. We love floral arrangements that reach below and above the mouth of the container – it adds more drama.
Natural Beauty
Here is our wire orb again, but this time it's framing a very different picture. In fall and winter, I like to pull images of deer into my décor. The English hunt club feel, with its rich colors and hounds, deer and horses, seems perfect this time of year and was the inspiration for this display.
This intriguing deer's head, with its whitewashed, distressed finish, is the arresting focal point. But when you look closer, you'll spy a faux antler candelabrum holding pillar candles. Outfit this with battery-operated flameless candles so you can set it aglow and not worry about it. The display is finished out with fall foliage picks and a twist of honeysuckle vine.
Tower of Light
Bev and Bruce used our interesting metal orb again, this time to encase a three-tiered server filled with candles. Imagine it lit up in the early autumn evening, offering a romantic sparkle to your outdoor dinner.
When creating displays like this one, the key is to secure the server on something steady so it doesn't come crashing down. You could insert some old books or bricks. This server is one of my all-time favorites and I have one just like it at home that I use for daily displays and entertaining. This fall we are having fun mixing together an assortment of candles, all different sizes, but finished in a soft metallic or cream. It's a dreamy effect! The finishing touch – a rope of bare honeysuckle vine twisted around the orb – brings in a touch of organic energy.
A Capital Success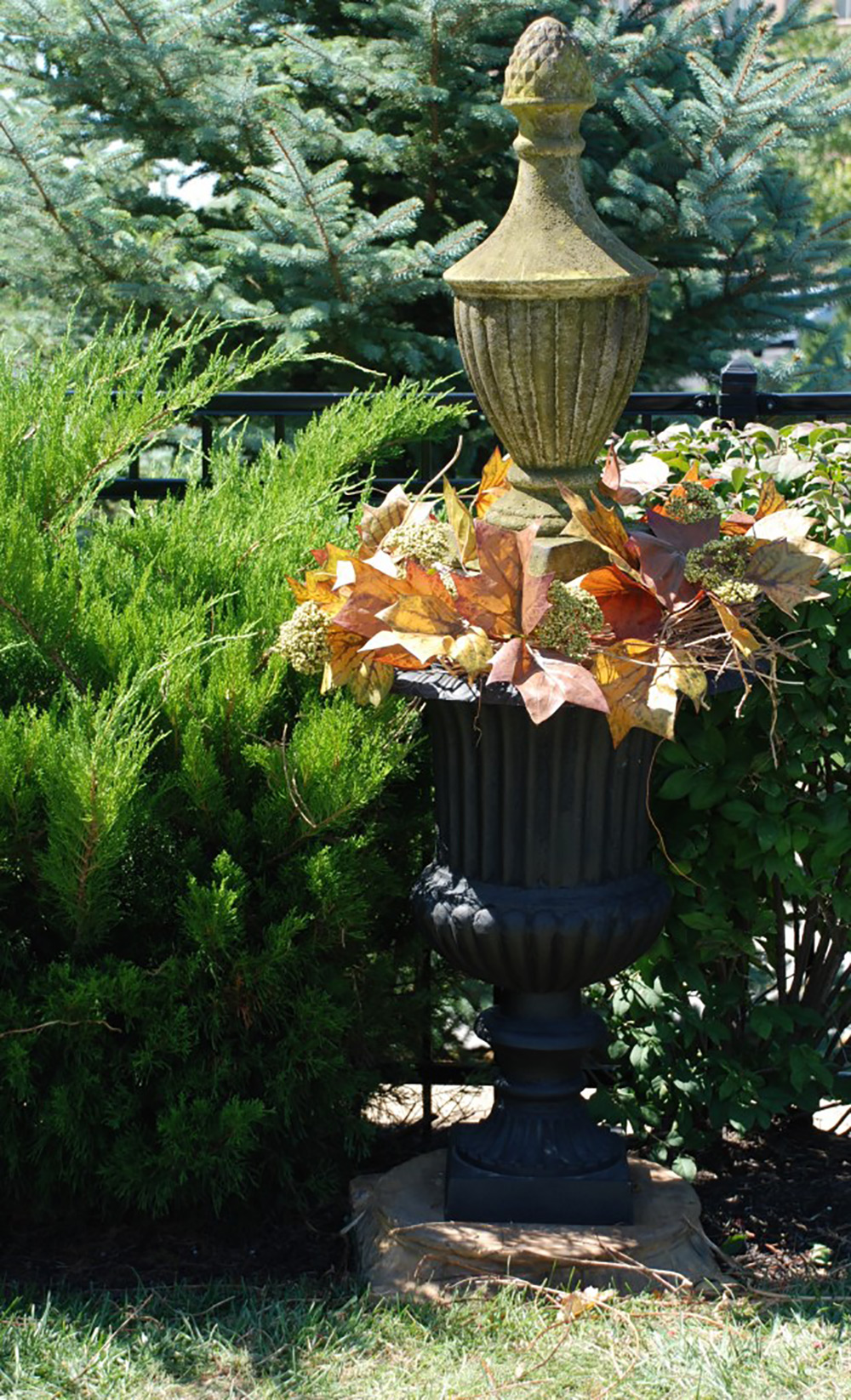 I love this simple but stunning treatment – it looks dramatic but it's easy to create and can be left outside on your porch with no worries about wind, rain or other acts of nature bringing it crashing down.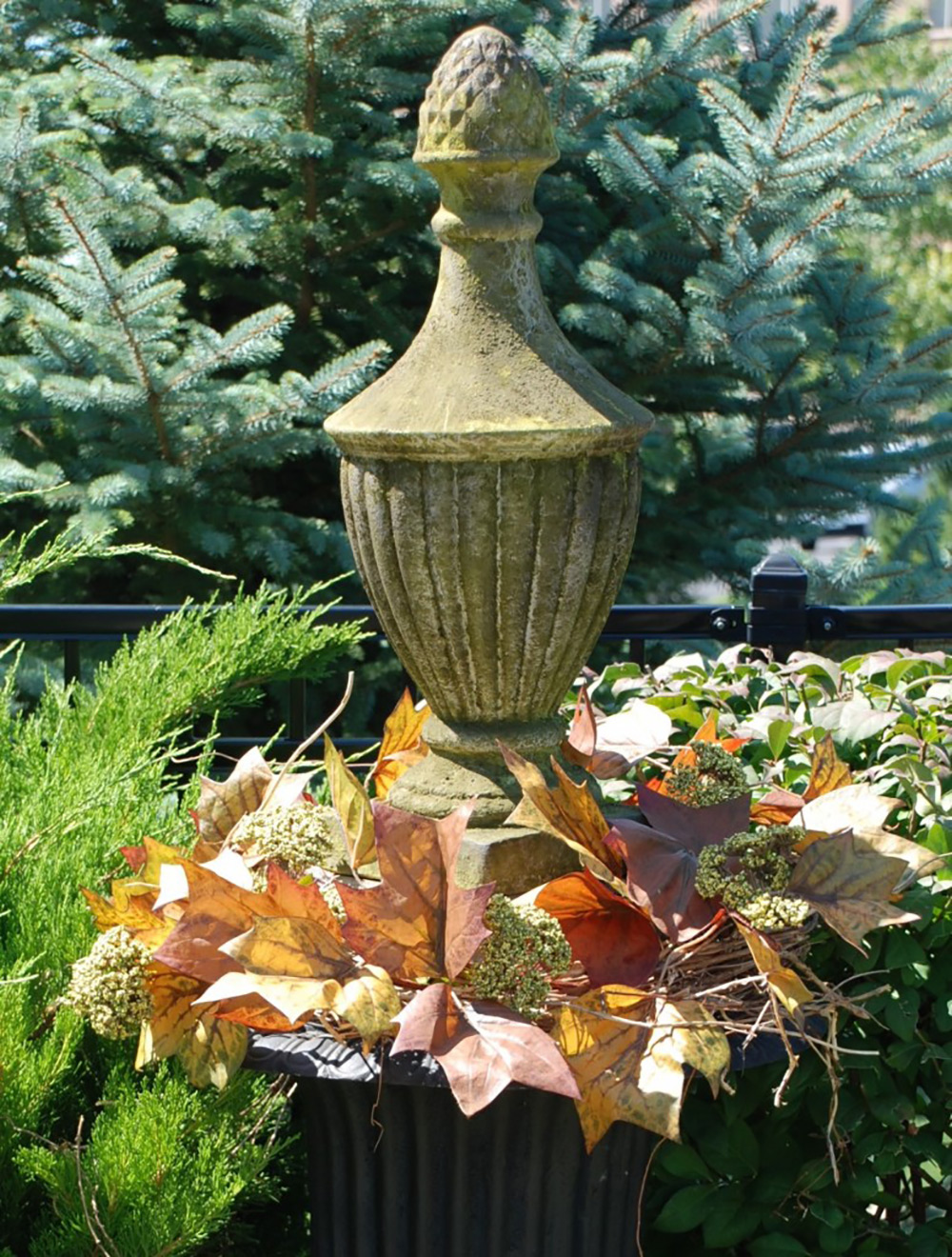 You can pull off this great look in two easy steps. First, place a fall wreath or twist of faux foliage on the mouth of the urn. Then, insert a garden statue or capital. Done!
Treasure Jar
This lovely display is just as easy to create as the one above. Like the other four treatments that feature lots of breakable treasures, it's not weather resistant. It's a great pick for a sheltered porch, interior display or decoration for an outdoor party.
Insert something steady and solid for the jar to rest upon. Then add in your fall wreath or vines. Insert the jar, and you're done. Beautiful!
Next Week … Nell Hill's has gone back to school! We did makeovers at three college sorority chapter houses. Can't wait to share their fresh, fun, new look.