The changing of the seasons is bringing heaps of new inspiration into the shop. Bolts upon bolts of new Spring fabric are arriving, and inspiring new furniture frames are making their way onto the floor each week. These days our fabric room is a flurry of refreshing showcased fabrics and assisting customers with their purchases. A peek into our design room finds a few Nell Hill's designers busily working away with clients, selecting the perfect welt for a new sofa or flat flange for an accompanying pillow. Each new project inspires new ideas!
With the gorgeous weather finally upon us (for now, anyway), it is the perfect time to put some of that inspiration to use. I tasked a few of our designers with creating spring-inspired room designs, bringing their visions to life through flatlays that I'm sharing with you today!
Sunshine and Fresh Air
Inspired by the freshness of Spring, Rebecca started her design from the ground up, beginning with a yellow patterned area rug that injects some happy vibes into the space. The next detail she added was the window treatment fabric, in Nell Hill's Tongli Fern, a green, pink, and teal Asian toile. The floral lamps (with colors green, yellow, and pink, of course!) were the next detail to be added, and those inspired a yellow papier-mâché chandelier.
The pink bunny pillows (in size 14" x 22") add a nice pop of color for a pair of green high-performance fabric swivel chairs. The powder-blue sofa has a modern design with touches of traditional elegance. Placed gingerly at the center of the sofa is a beautiful lumbar pillow featuring a buttery yellow trellis fabric. The ottoman is a special piece too! With a scallop-shaped whicker base featuring a floral print cushion, it's certainly a head-turner!
The artwork provided a little "wow" for the walls in a similar color palette, and the bamboo side tables add a touch of warmth to the space. Overall, this Spring-inspired design is an explosion of color. A design suited for the whimsical and daring, this flatlay is playful yet refined. This high-energy space is perfect for a sunshiny maximalist.
Rebecca wants her future clients to know that working with her will be fun! "We will be working to pick pieces that you love living with for years – those with a unique silhouette, that are textural or impactful. Remember, the best designs incorporate a good mix of styles. We can keep items you might already own but LOVE and give them some new life by tweaking other elements of the space. It's all about balance!" Schedule with Rebecca.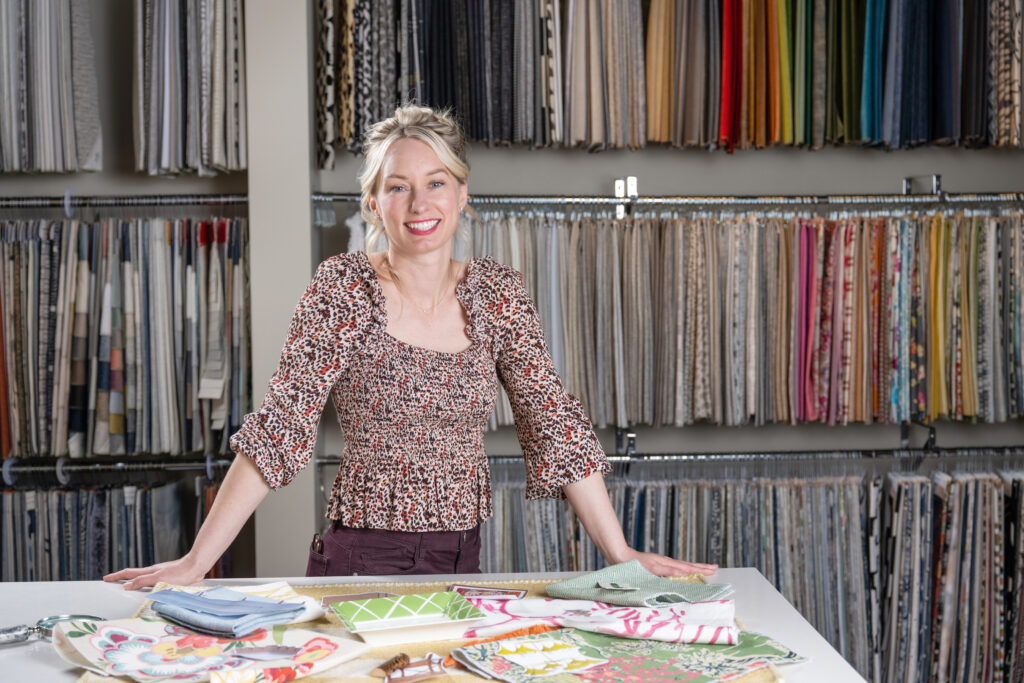 Fresh from the Garden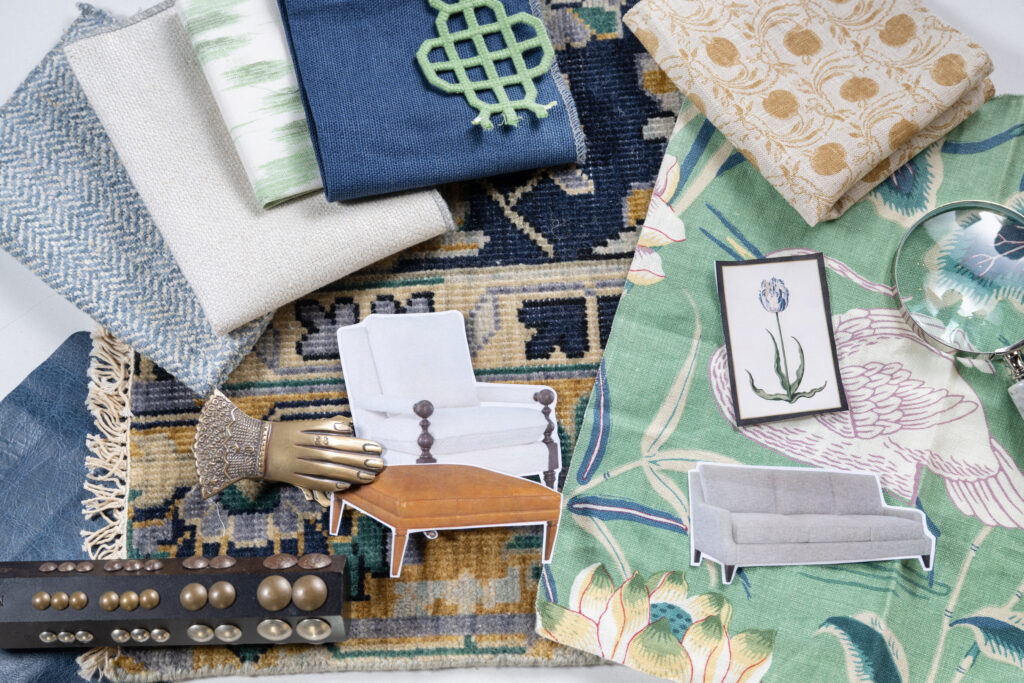 This fresh palette has me dreaming of a day spent in a lush, green garden under the clear blue skies! When creating her flatlay design, Anne was inspired by a rug sample we had just received at the shop, and she built her design around the dark blues and golds found in the piles. Allowing the details of the space to do the talking, she kept the larger pieces of furniture on the more neutral side. A cream sofa, soft blue herringbone chairs, and a caramel leather ottoman were imagined as ruling the room. Building on that soft foundation, Anne added color and pattern through the pillow selections and window panel fabric choices.
What's it like working with Anne to make your design dreams come true? Anne really listens to her clients, and uses her design skills to create imaginative pairings they might not have thought of before. "When I help a customer plan out a room, I like to find a fabric that they LOVE and move forward from there." Schedule with Anne.
Pastel Posy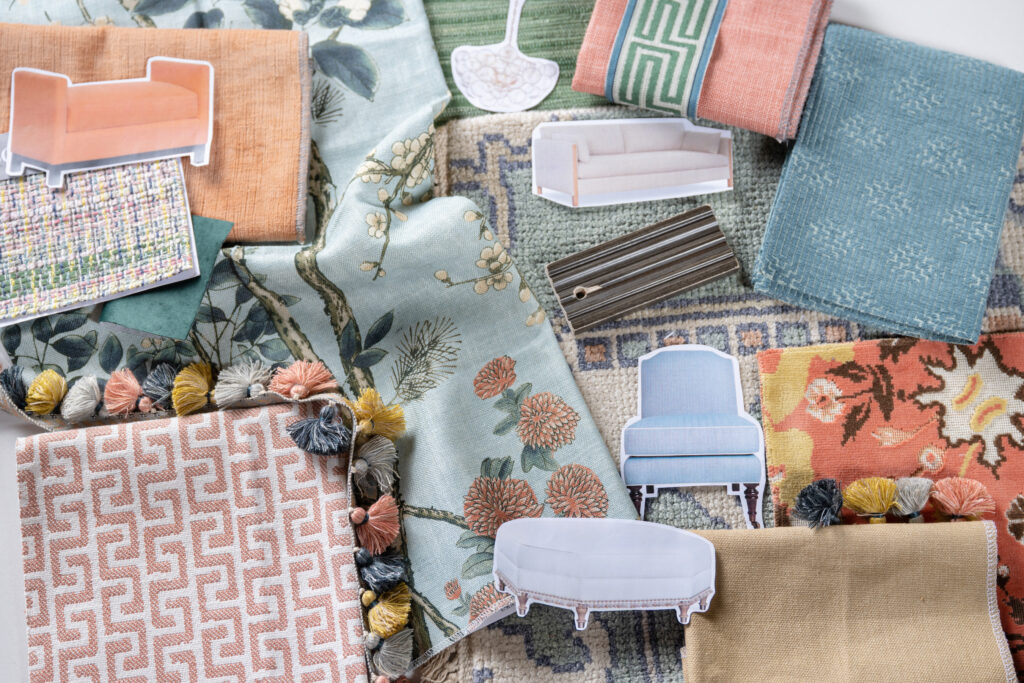 This twist on the primary blue and red palette leans instead into coral and teal tones. Jenna's design was inspired by gorgeous chinoiserie linen fabric that will be styled into window treatments. She imagined an embossed velvet for the sofa with lumbar pillows accented with a tape trim in a classic Greek key pattern. A pair of benches in the solid vintage velvet will allow the slipper chairs in the cut velvet scene do the talking. A couple small bolsters with a tassel trim will lean into the ottoman design. With a small uniform Greek key and tassel trim, this gives the perfect updated traditional look. Last but not least, she finished off the space with a transitional rug that helps ground the space and ultimately lets the textiles shine.

Jenna's inspiration for this design was taking a traditional design and bringing it into today with updated colors and textures. When I asked Jenna about what she loves about working with clients she said, "My goal when designing for any of my clients is to achieve their desired feeling when they use their space. I love to find what makes my clients tick. If it makes you happy, let's figure out together how to make it make sense! I believe it is important for people to see their own personality reflected in their home design." Schedule with Jenna.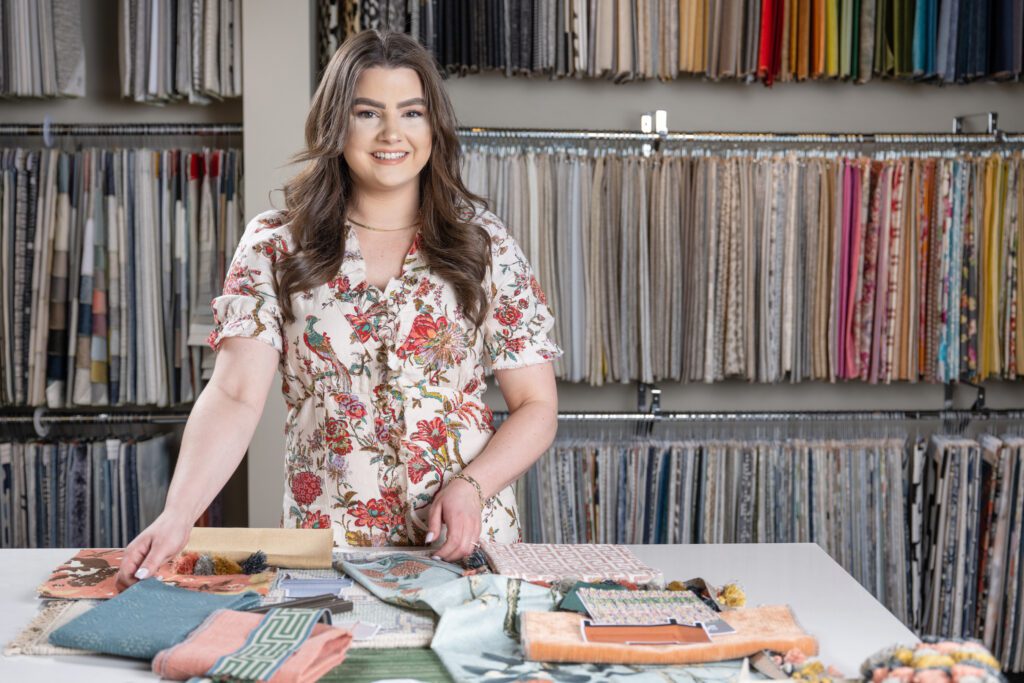 This is only the beginning of the fun. I'll have three more looks to unveil next week! Which inspired space makes you think "SPRING!"? Tell me below in the comments! Until next time – happy decorating!