The holiday season often brings with it feelings of nostalgia and keeps us reminiscing about Christmases past. With a teacher for a mother, and having two grandmas who loved to craft and homemake, handmade treasures and decorations were nearly always part of our seasonal preparations and celebrations. From paper loop garlands to beaded pipecleaner ornaments to knitted socks, items made with time and love adorned window frames and Christmas trees and added a layer of magic to the holiday.  
As someone who loves to create, there's also a certain sort of magic in turning simple, hard-working materials (think kraft paper and pom poms) and elevating them into a whimsical displays. Alas, as a busy mom of two (and a business to run), I just don't have as much time as I'd like to "make" these days. Enter: holiday decor with a homespun spin.  
Introducing Homespun Holiday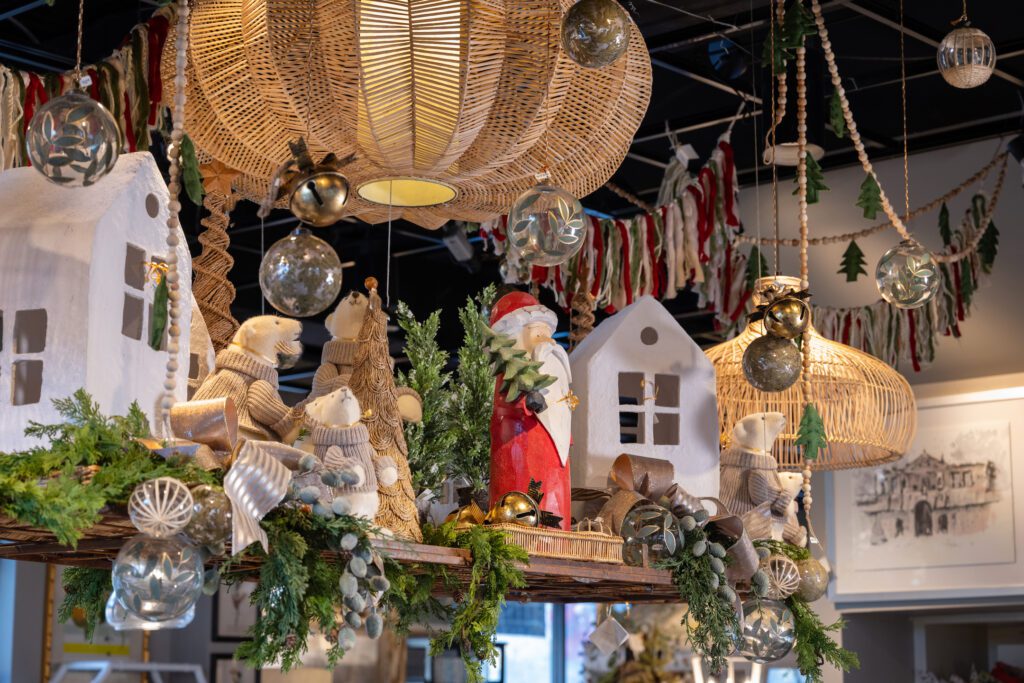 For one of our final looks of the holiday season, we make our way through the shop and to the registers. We're calling this lighthearted take on Christmas decor our Homespun Holiday look. This is one look that feels folksy and modest but doesn't lean too rustic. It's a design that speaks to simplicity and whimsy, a departure from the more formal themes we've explored this season. Nestled around the registers, the magic begins with a suspended Christmas scene, setting the tone for the warm and cozy journey ahead. The shelves on either side of the checkout counter are adorned with a delightful array of folksy decor, each piece telling its own story.
The color palette is a timeless combination of classic red and green, bringing forth a sense of nostalgia and tradition. But, what makes Homespun Holiday truly special is the incorporation of organic textures, adding an earthy authenticity to the festive setting. Unlike other designs where organic elements might tone down opulence, here, they are the soul of the look, essential for achieving that casual, handcrafted feel.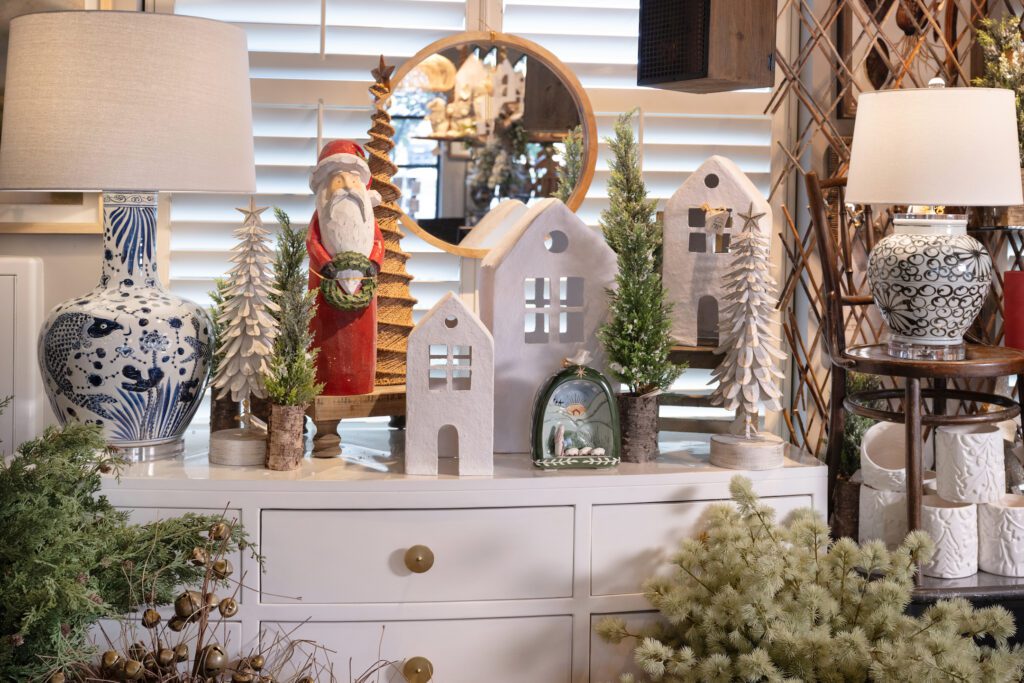 Imagine stepping into a cozy cottage in the woods, the air filled with the scent of a hearty pot of soup bubbling on the stove. This is the essence of Homespun Holiday — a design that welcomes you home with open arms, evoking the warmth and comfort of timeless holiday traditions. From sleepy Christmas villages gracing console tables to an array of trees in a mix of materials, this look invites you to embrace the simplicity and joy of the season. Homespun Holiday is not just a Christmas look; it's a celebration of the heartwarming moments that make the holidays truly special. 
Festive Layers: The Art of the Homespun Holiday Christmas Tree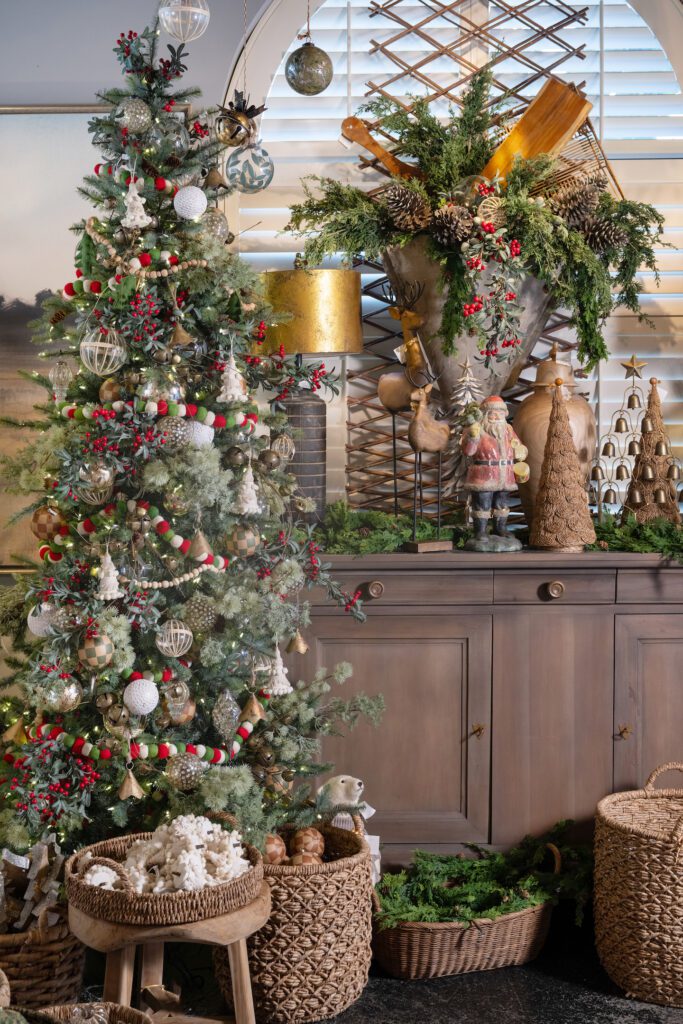 The Christmas tree in the Homespun Holiday look is a true embodiment of casual elegance and whimsical charm. One thing that sets it apart from the other trees throughout the shop is the thoughtful layering of two different garlands, each contributing to the handcrafted, cozy atmosphere we aimed to achieve. The wood beaded garland, with its natural tones, intertwines with the branches, creating a delightful contrast against the traditional Christmas color palette. Adding to the playful edge of the design, felt garlands weave through, lending an extra touch of whimsy.
In this festive setting, the greenery and green elements aren't overdone. They add a beautiful lush layer to the design but they aren't on top of ornaments, lights, and bells and bobs. Holly picks add pops of winter color, enhancing the overall appeal without overshadowing the baubles on display. The ornaments themselves showcase a delightful variety in texture and finish. From rustic bells that tinkle merrily to mirrored orbs and glass globes accented with twine, each piece contributes to the unpretentious, cozy feel of the look.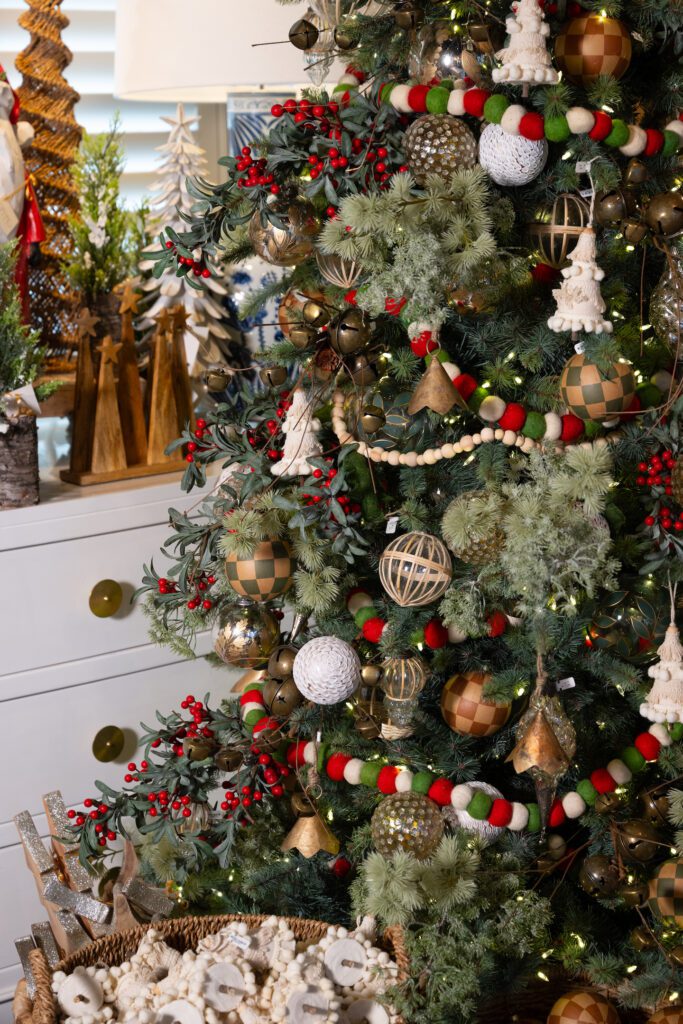 One of my favorite details is the incorporation of kraft paper ornaments in a checker pattern we feature in both green and brown colorways. This surprisingly modern touch harmonizes seamlessly with the overall aesthetic, adding a contemporary flair while maintaining the timeless warmth of the holiday season. The Homespun Holiday tree is a festive masterpiece, blending tradition with a touch of contemporary playfulness, making it the perfect centerpiece for a season of joy and togetherness.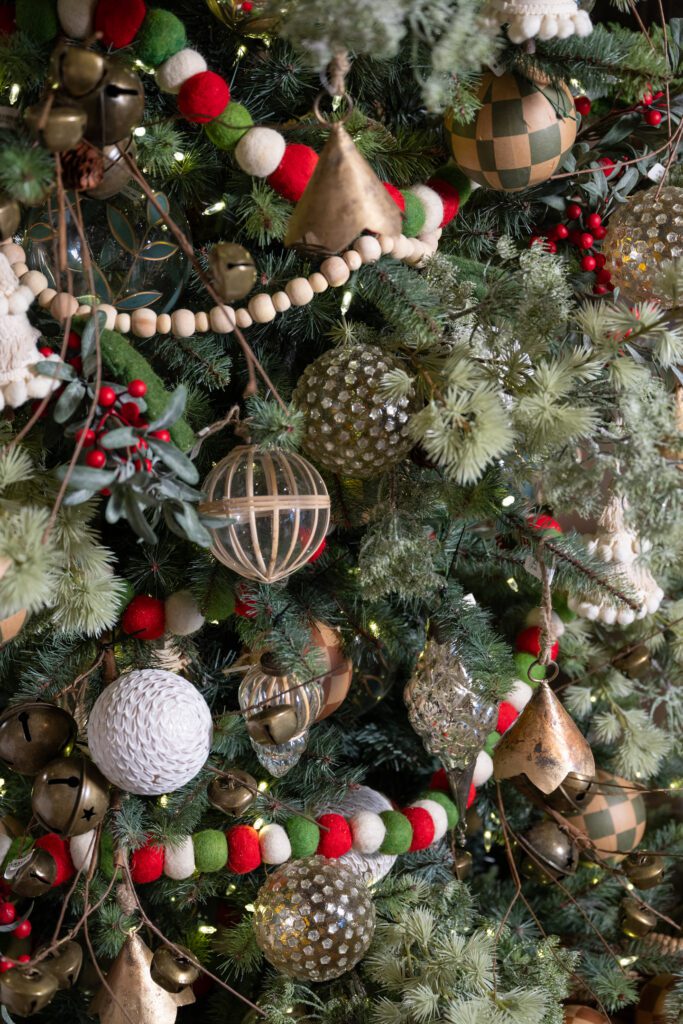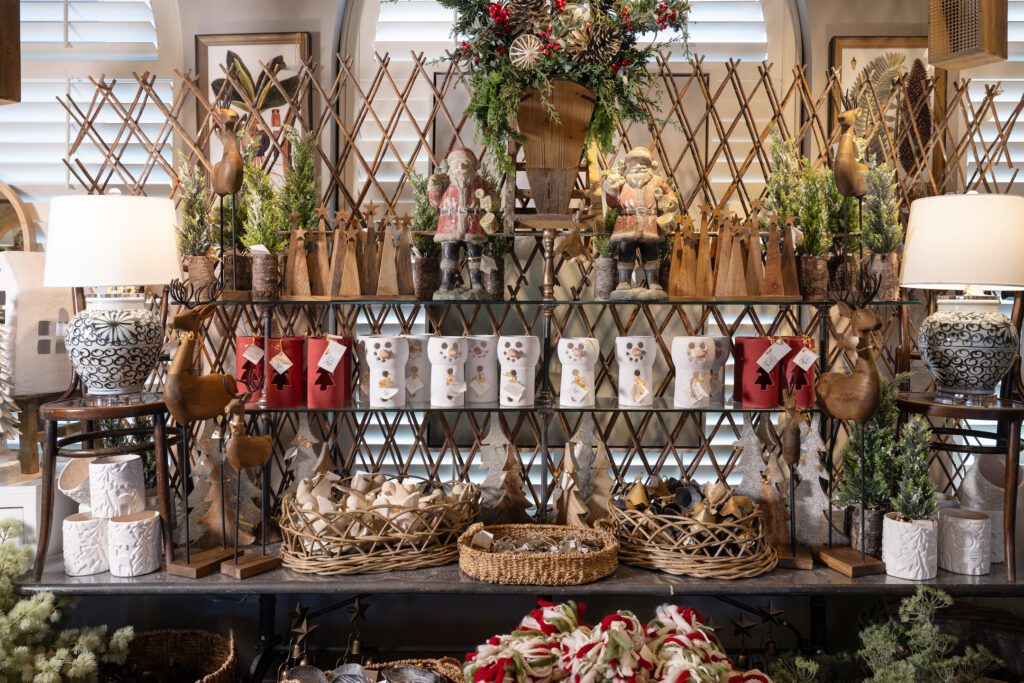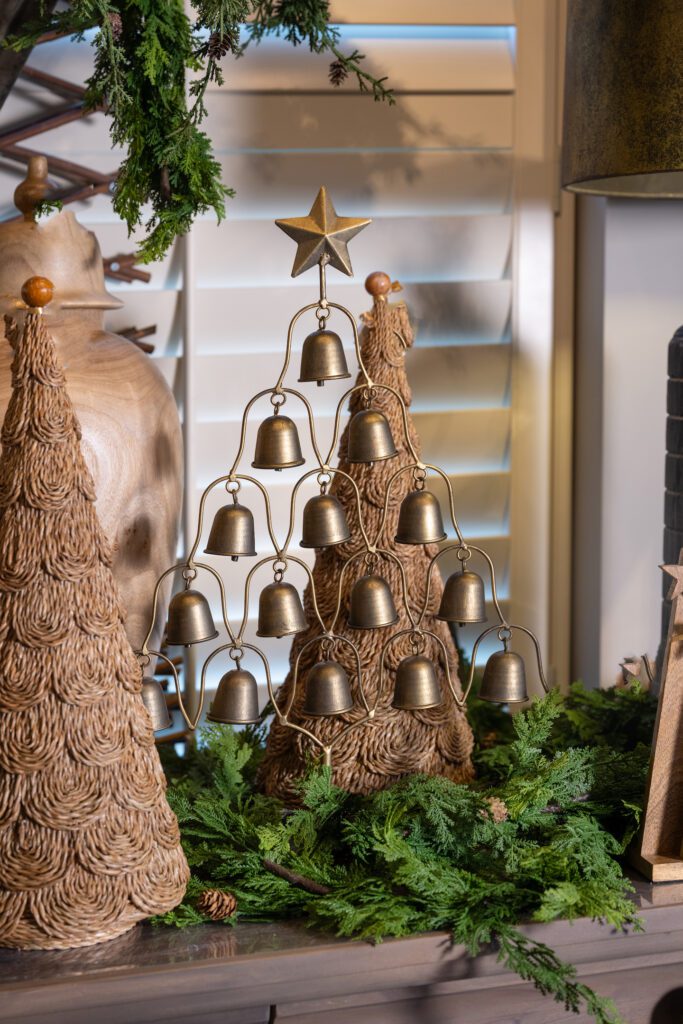 Splended Scenes: Showcasing a Nativty Display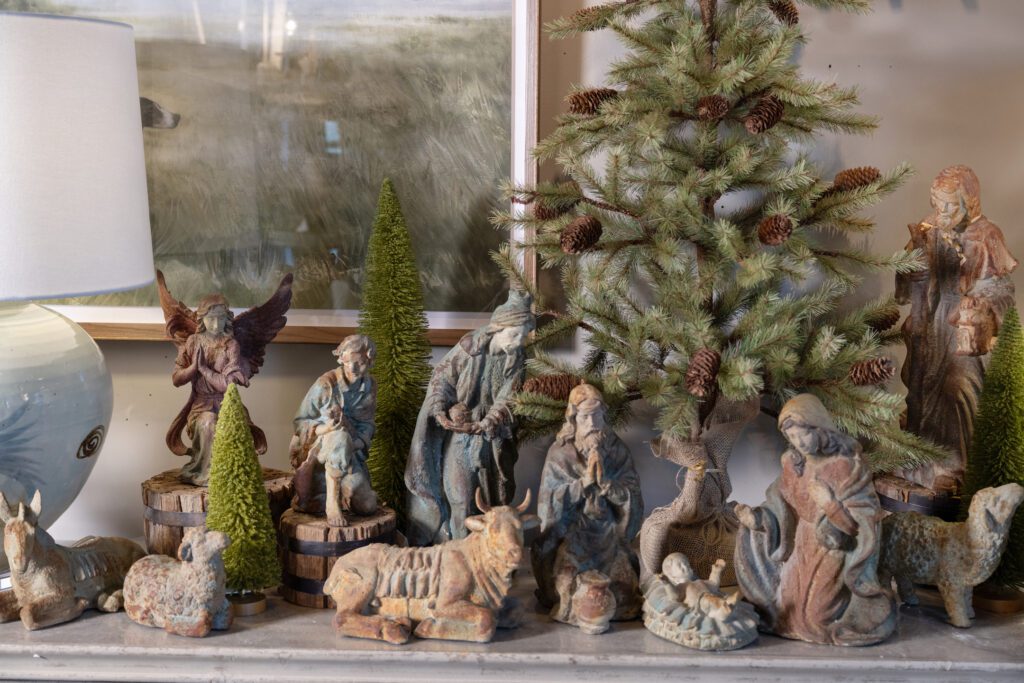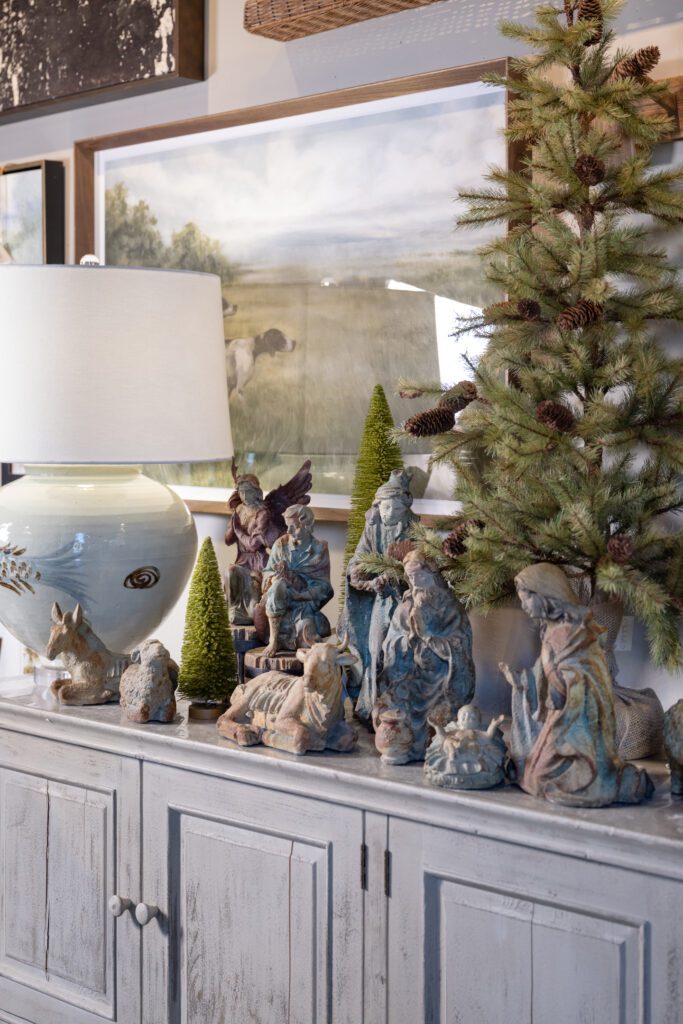 Nativity scenes have long been one of my favorite Christmas traditions. As a child, I would spend hours playing with our simple, hand-painted wooden set under a fresh Christmas tree every holiday season and to me, it was pure magic. The Nativity Scene collection at Nell Hill's is my heartfelt homage to these cherished memories of Christmases past.
These scenes, also known as Christmas crèches, capture the essence of the season by depicting the birth of Jesus in various forms. From simple displays depicting mother and child to intricate scenes with Mary, Joseph, sheppards and the Magi, each unique piece or set tells the same story. This collection, more than a defined holiday look, creates a serene corner in the front of the shop where nostalgia and beauty converge. Under a covered trellis topped with palm leaf fabric accents, a table adorned with nativity scenes becomes a focal point, surrounded by organic holiday decor.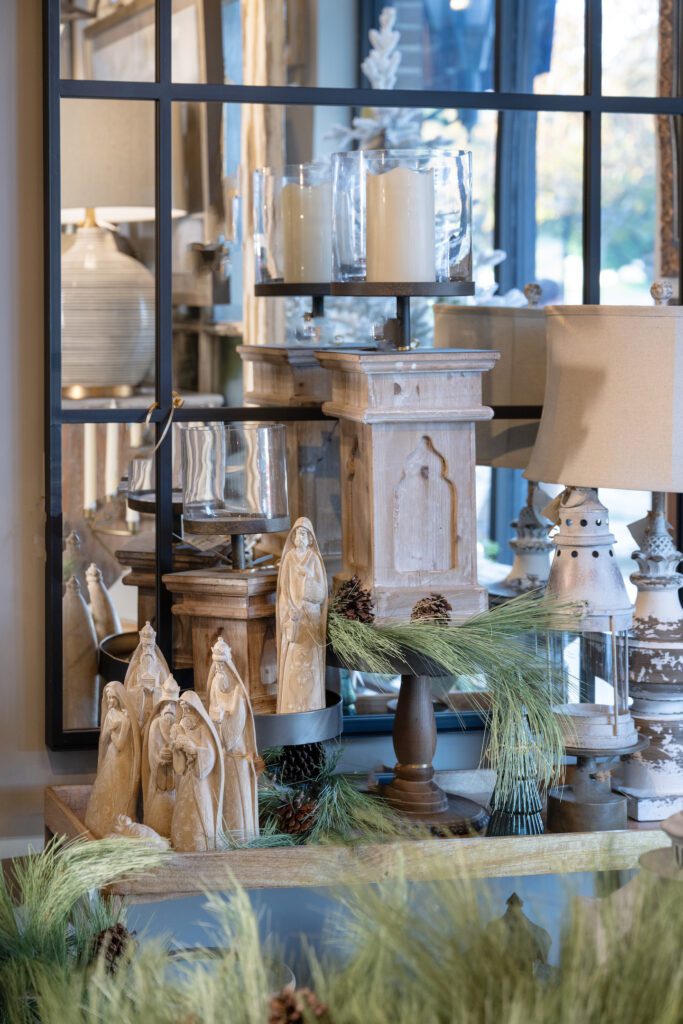 Bottlebrush trees and unexpected companions like woven raffia trees soften the scene, adding a touch of modernity to the traditional display. The assortment includes everything from delicate ceramic nativities to intricately carved wooden figurines. A large nativity scene atop a buffet exudes an old-world charm with muted tones, evoking a sense of timelessness. The overall palette in this space is a harmonious blend of earthy elements, wood textures, and pops of silver and glitter.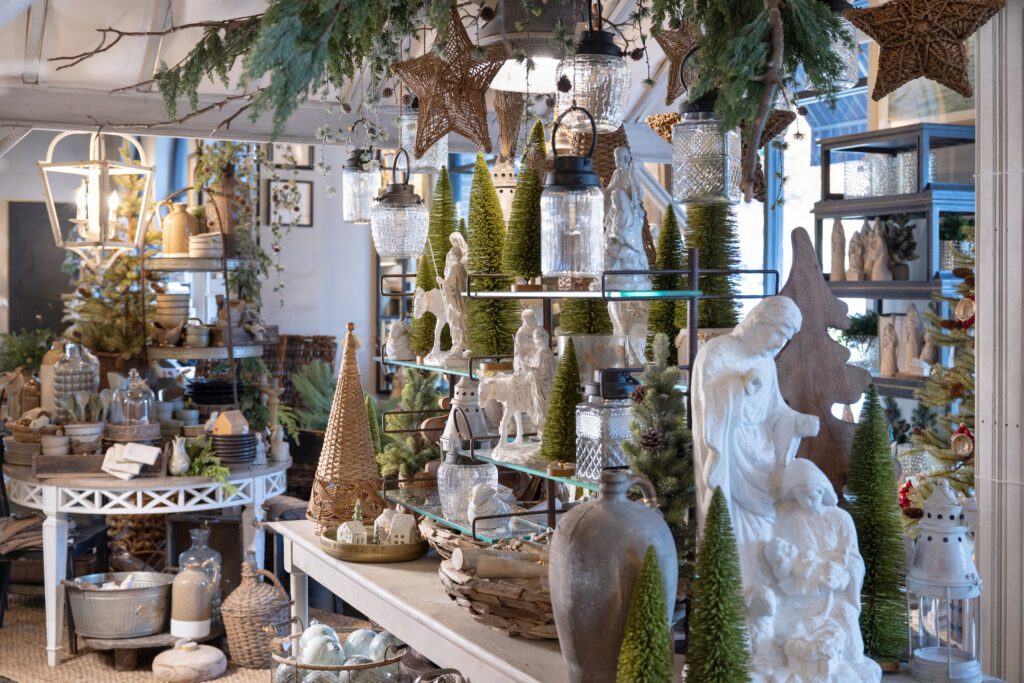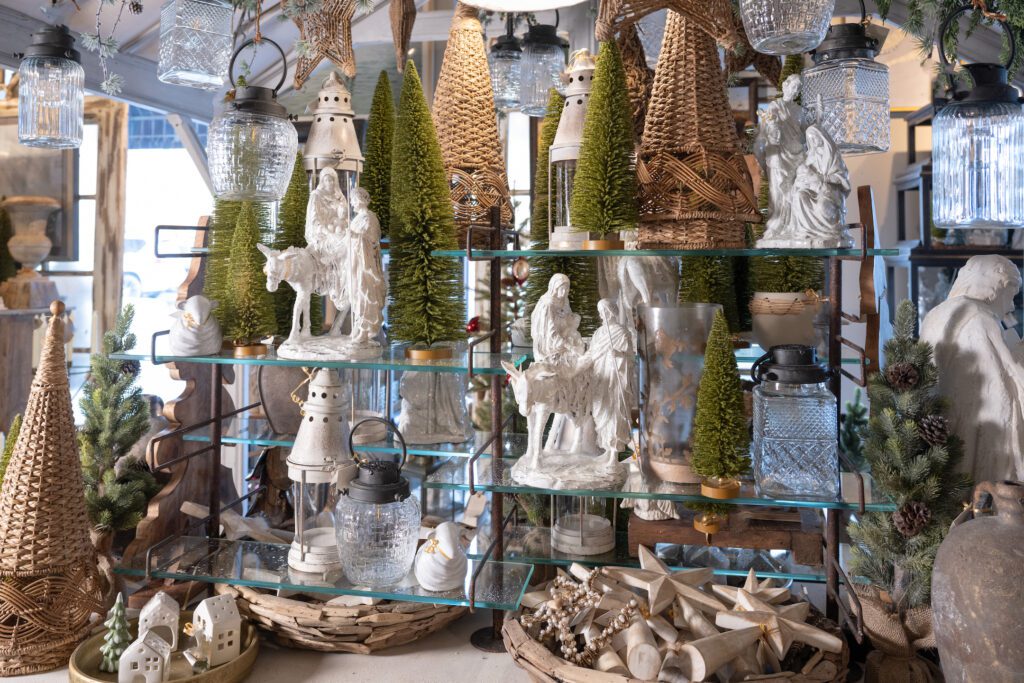 As you explore the collection, you'll find churches and cathedrals nestled among the figurines, adding depth to the scene. The muted tones, coupled with natural elements like pine trees, create a lush and organic backdrop that complements the overall ambiance of the season. This Nativity Scene collection at Nell Hill's is not just an assortment of decor; it's a celebration of the sacred story and the enduring magic of Christmas.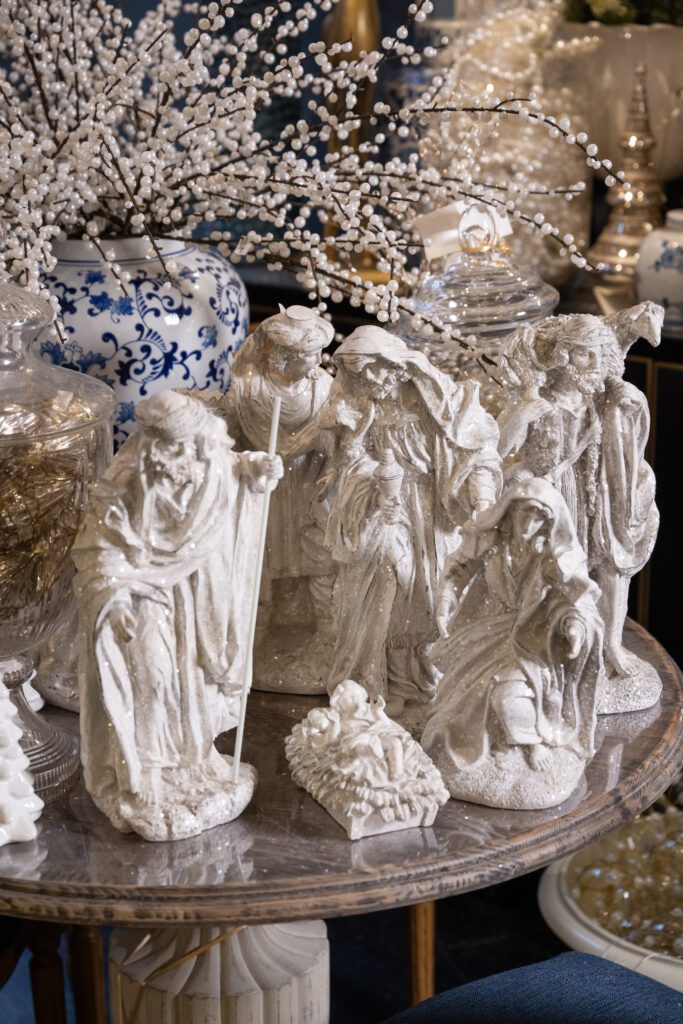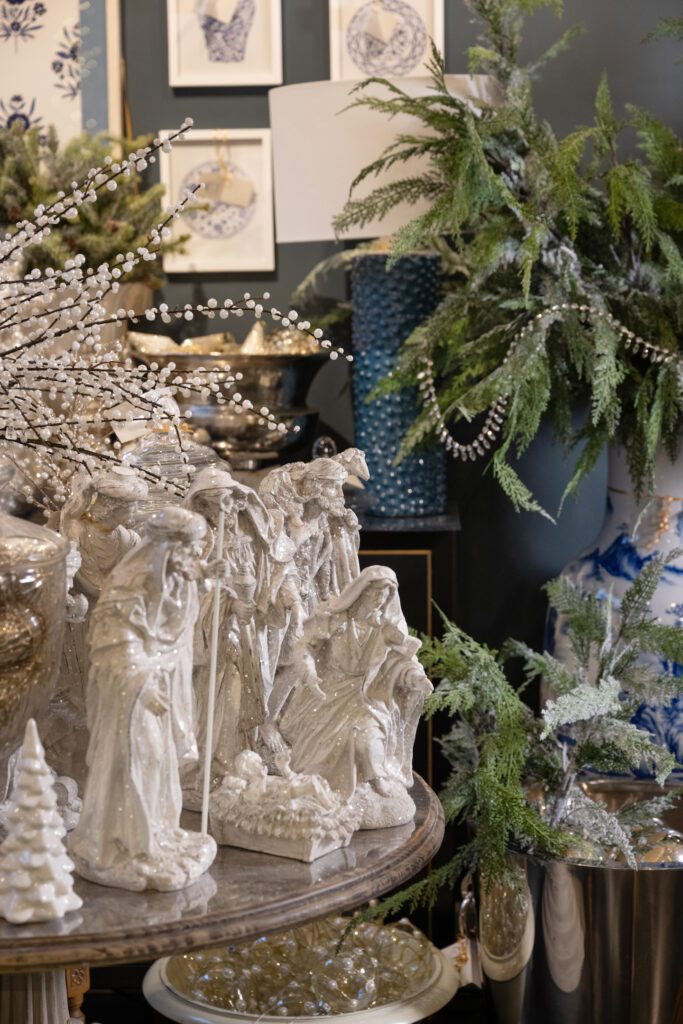 As we conclude this festive journey through the last few Nell Hill's enchanting holiday displays, we find ourselves immersed in the heartwarming tales of two distinct Christmas aesthetics: the whimsically cozy Homespun Holiday and the poignant Nativity Scene collection. In Homespun Holiday, the warmth and simplicity of the design evoke memories of cherished gatherings, with its woodsy elements and classic reds and greens. Meanwhile, the Nativity Scene collection pays homage to the timeless story of Christmas, weaving together muted tones, intricate figurines, and natural textures. These carefully curated displays showcase our commitment to capturing the essence of the season in diverse and meaningful ways for you to bring home and share with your loved ones. Whether you're drawn to the playful and lighthearted or the sacred and traditional, Nell Hill's invites you to make this holiday season truly magical by infusing your home with the spirit of the season. Visit our store to bring these curated Christmas looks to life in your own home, creating a season filled with warmth, joy, and the magic of timeless traditions. Until next time – happy decorating!