Like a good recipe, when creating a holiday design for the shop, and for all of you, there are a few ingredients that come together nearly every time, albeit with different formulas and styles depending on the look and accompanying space at hand. A stunning tree, an accompanying tabletop display, a breathtaking mantelpiece – all have a place within their respective designs that grace the various rooms at Nell Hill's. But for the look that is selected to greet our guests at the entrance to the shop, special consideration is made for this hallmark Christmas design.
One thing that sets this design apart and creates such a stunning display worthy of the shop entryway are the thoughtful combination of elements that come together at the center of the table to create a unique holiday statement. Here, three gold trees stand as a glamorous backdrop for Santa and his sleigh and two reindeer.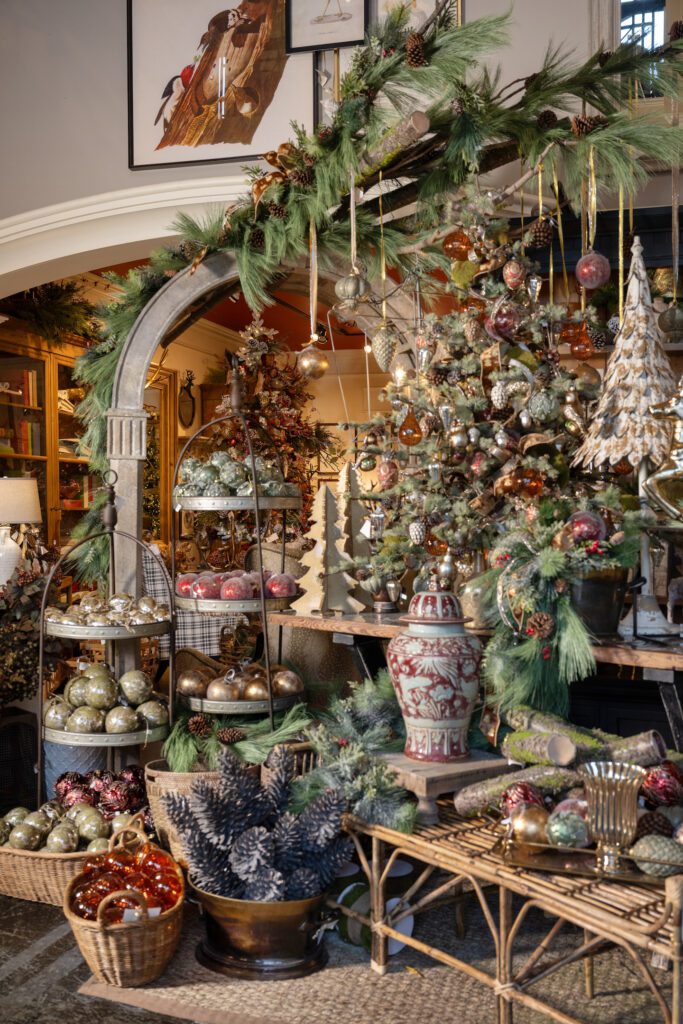 A statement piece in decor serves as the anchor, the conversation starter, and speaks to the soul of a space. In the context of holiday decor, it's the showstopping piece that captures the essence of the festive season. Executing a statement piece successfully involves a thoughtful blend of scale, color, and theme. For instance, in holiday decor, we often advocate for a large, eye-catching centerpiece on a dining table, buffett, or mantel. This could be a beautifully adorned Christmas tree, an elegant arrangement of festive foliage, or a unique holiday sculpture. The key is to balance it with the surrounding elements, ensuring it complements the overall theme without overwhelming the space.
In this look, three metal trees create symmetry and provide a pop of warm color against the backdrop of soft organic browns and earthy tones that keep Santa and his two reindeer from blending in with the background of the display. Incorporating layers such as garlands and coordinating accessories refines the execution, creating a cohesive and enchanting holiday ambiance. Whether it's a magnificent tree adorned with personalized ornaments or a captivating vignette, a well-executed statement piece elevates the holiday decor, making it memorable and inviting.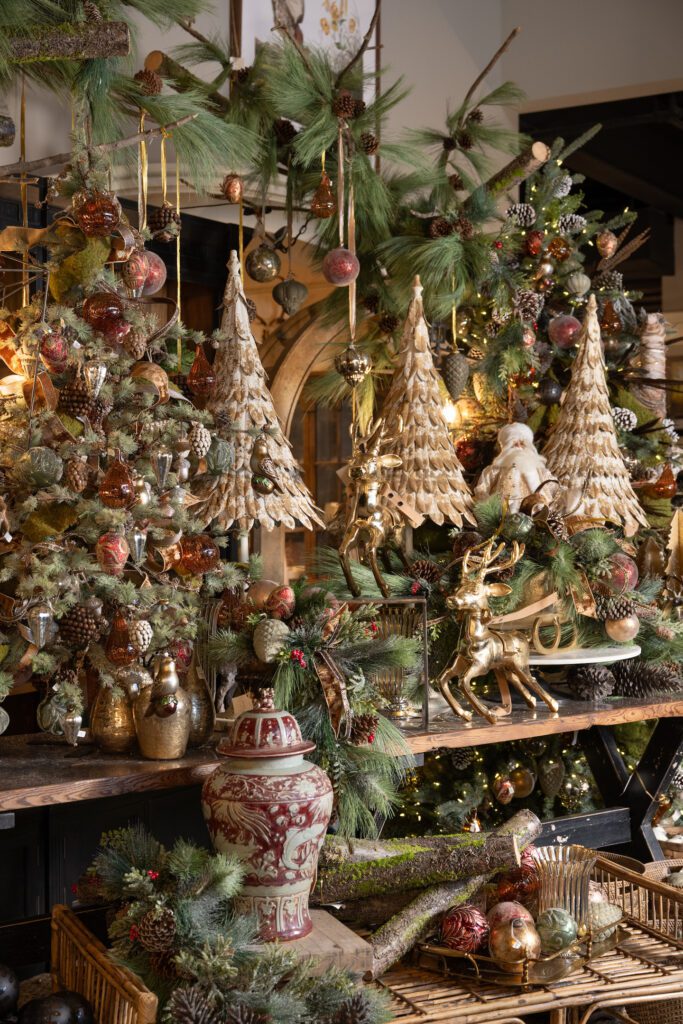 Earthy Opulence: A Closer Look at the Cottagecore Christmas tree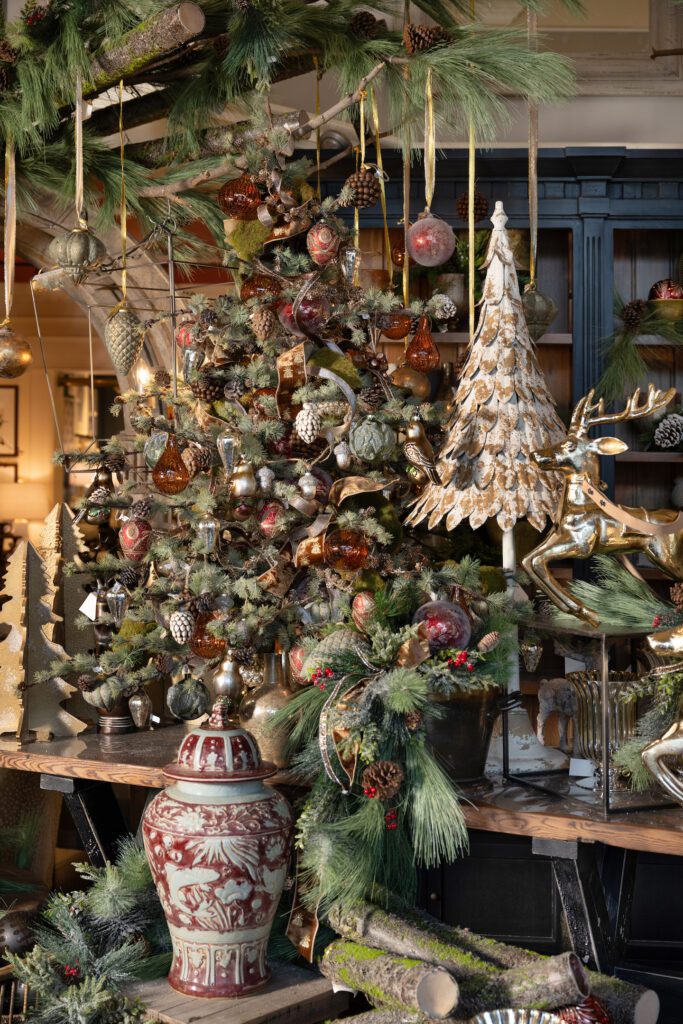 I personally love a nature spin on a Christmas look, but I still want it to feel elegant and special for the season, and this stately tenenbaum does just that. My tree at home has some earthy elements as well, but like this look, I've also incorporated some gold garland and ornaments for balance.
 
In crafting this holiday tree design for Nell Hill's, we aimed for the perfect blend of upscale elegance and organic warmth. The tree serves as a canvas for a harmonious marriage of earthy elements and sophisticated accents. Starting with velvety ribbon adorned with gilded bees, we set a graceful tone. Flocked pine cones and beaded wooden ornaments contribute to the tree's natural charm, while amber tear drops, silver finials, and glitter-topped pine cones introduce a touch of opulence. The strategic use of silver prevents the design from becoming monotonous, adding a delightful contrast to the predominant brown and gold tones. Dusty red ornaments, intricately detailed with golden scrollwork, evoke a sense of old-world charm, completing the tree with a timeless and festive feel that's both upscale and inviting.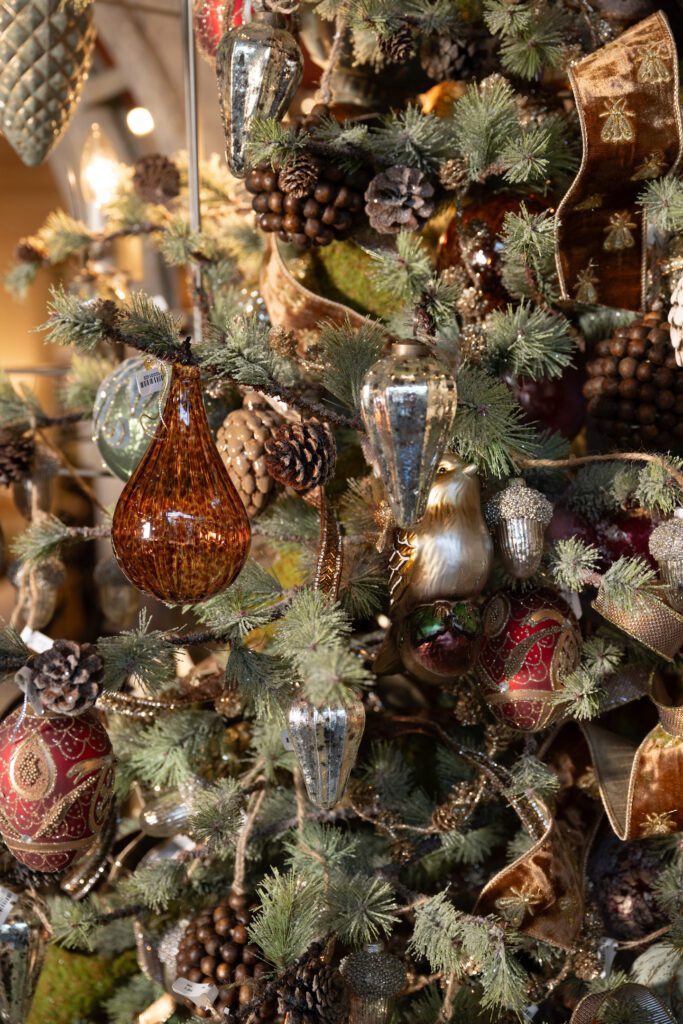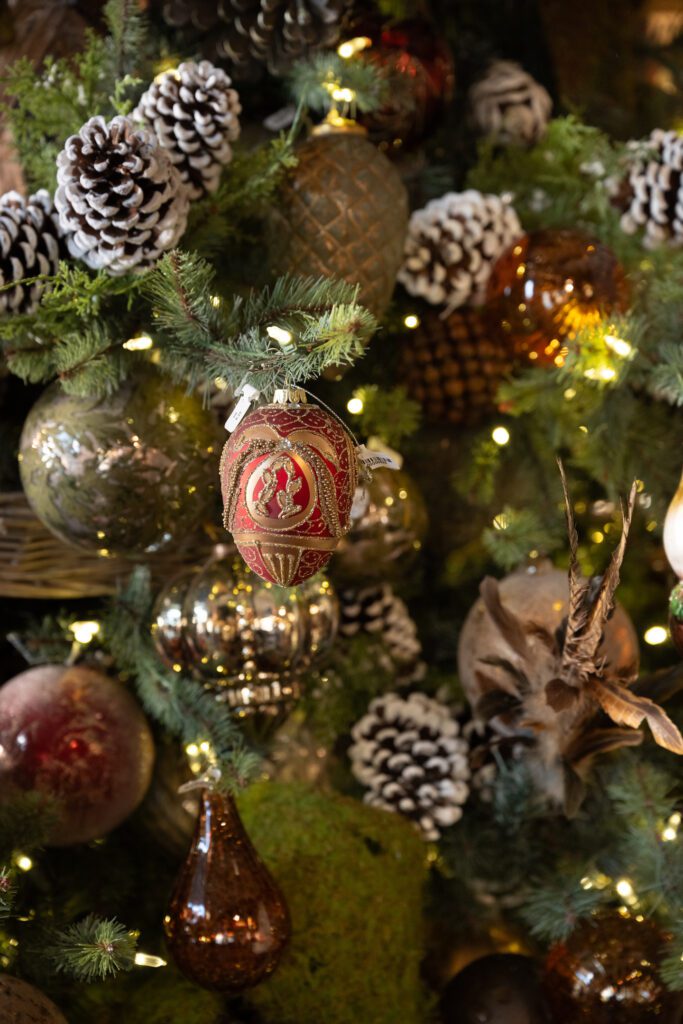 Cottagecore Couture: Exploring the Delicate Details of Our Elegant Christmas Design 
This look feels right at home for those who enjoy Cottagecore vibes, but may be looking for a moodier, earthier take on the aesthetic. Not dolled up in sweet pastels like you might find in traditional cottage core, neutrals dominate this look, making it adaptable to any room in the home. It can take a room with a lot of color and not feel out of place, but still feels perfectly at home, and has plenty of depth, to act as the focal point of a space. Warm browns and earthy tones take center stage, elevated by the strategic incorporation of gold accents for a touch of glamour. Wicker elements and grapevine deer sculptures bring in an organic, approachable feel, softening the overall ambiance.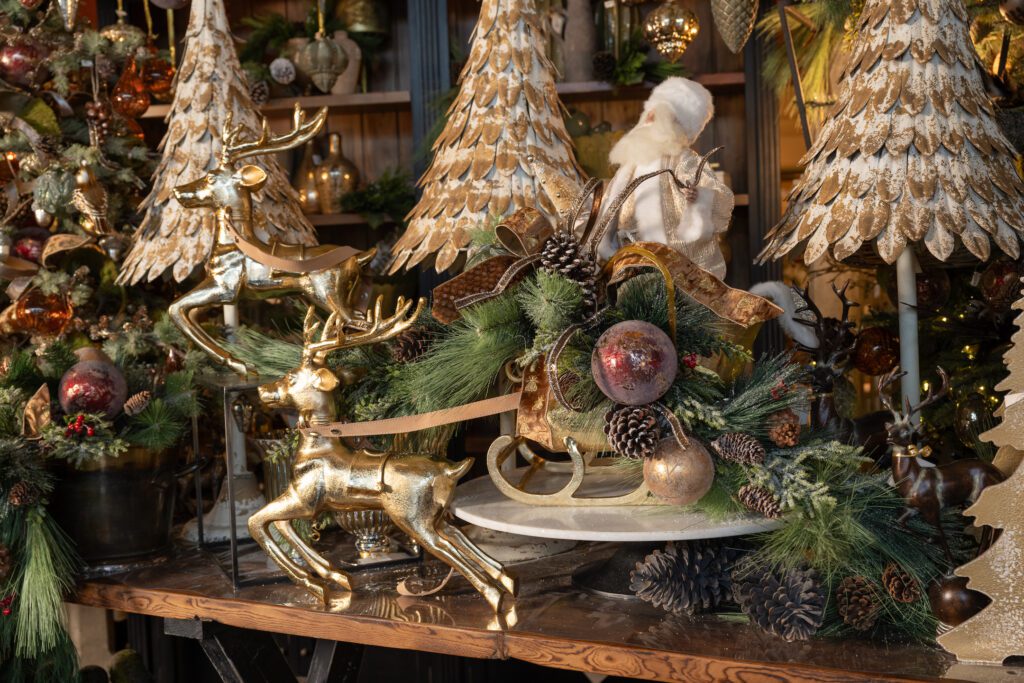 The color palette is a harmonious mix of earthy and organic tones, highlighted by subtle touches of gold. Wood tones, both in furniture and decor, contribute to the design's warmth and authenticity. The trellis archway adorned with our long needle classic garland adds a layer of softness, enhancing the overall cozy atmosphere. Dusty greens, bark elements, and soft mauve introduce subtle pops of color, balanced by luxe metallics that, while more understated than in other designs, still add a touch of sophistication.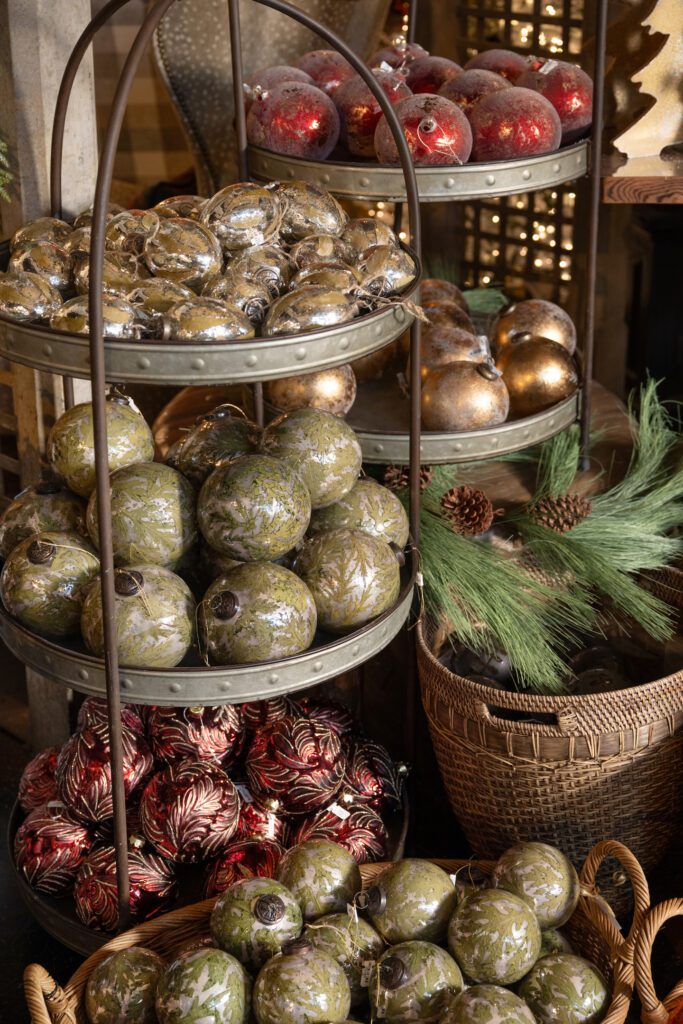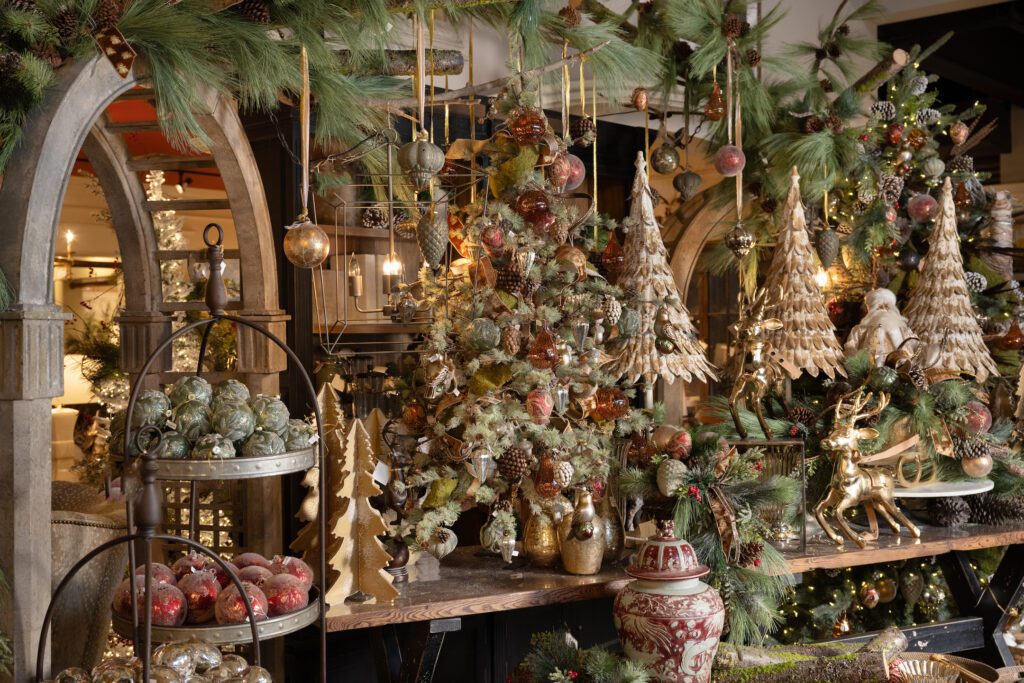 From Figgy Pudding to Flocked Trees: Crafting a Traditional Christmas Tablescape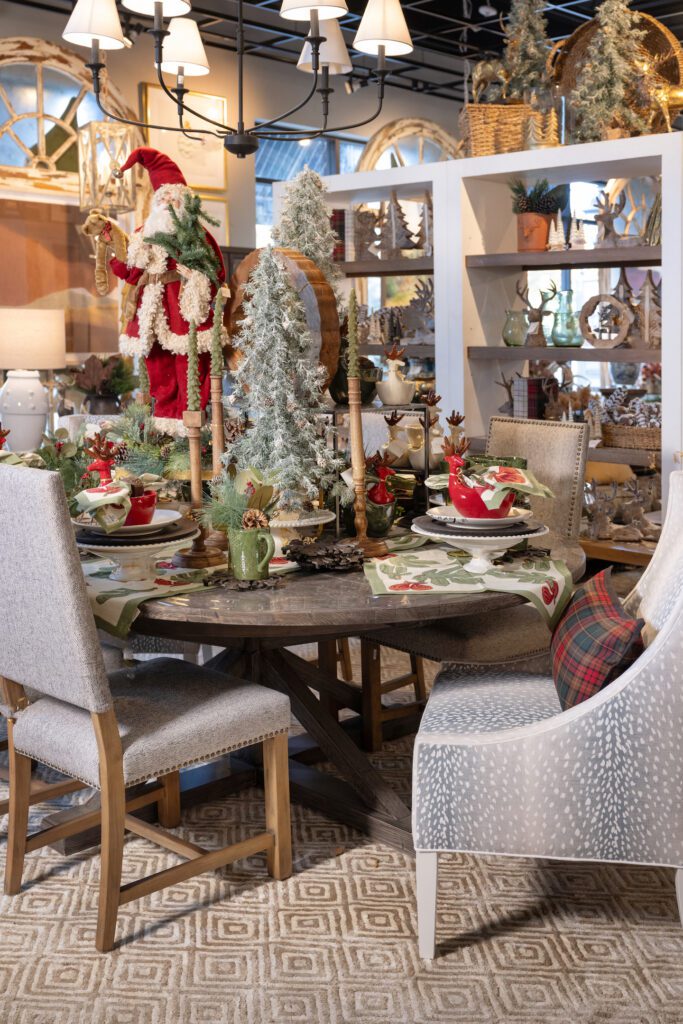 But, the cottagecore couture design isn't the only one serving looks, so to speak, in the front of the shop. In fact, one of my favorite seasonal tables came together just to the left of the entryway. In crafting this holiday tablescape, we've embraced the classic charm of traditional Christmas colors, incorporating rich reds and deep greens that instantly evoke the festive spirit. At the center of attention sits a large Santa and a couple of flocked trees, creating a statement piece that adds a touch of whimsy and holiday magic. While these elements may not stay put during the meal, they effortlessly elevate the table's aesthetics, providing a delightful focal point easily removed when it's time to dine.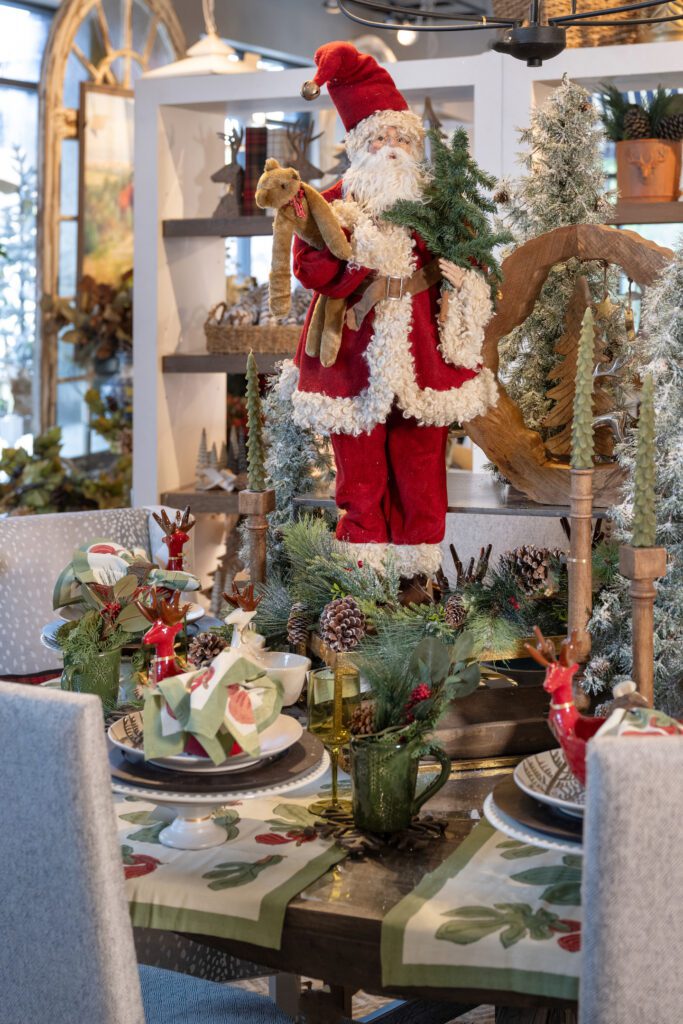 To ground the festive vignette, garland is expertly woven throughout the base, adding lush texture and contributing to the overall organic feel of the design. The table itself is adorned with fig motif table linens, a playful homage to the classic figgy pudding that graces tables during the holiday season. Despite the traditional color palette, the tablescape maintains an earthy and organic vibe, offering a unique blend of Christmas cheer and natural elegance.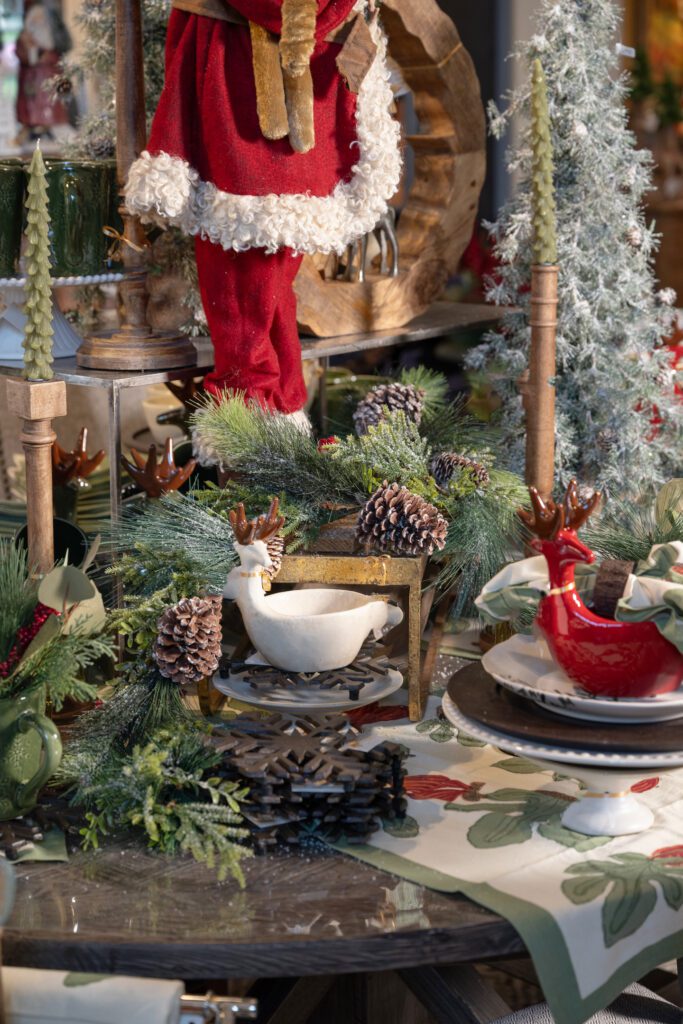 Accentuating the organic theme, stoneware tabletop elements take center stage. The flatware handles are crafted to resemble branches, a thoughtful touch that adds a signature rustic charm to each place setting. Not only a favorite in the shop, I use this flatware in my own home and love to bring them out for the holiday season. I adore the signature touch that they add to an already gorgeous place setting. Drawing inspiration from the beauty of nature, this holiday tablescape combines tradition with a touch of the outdoors, creating a warm and inviting space for festive gatherings.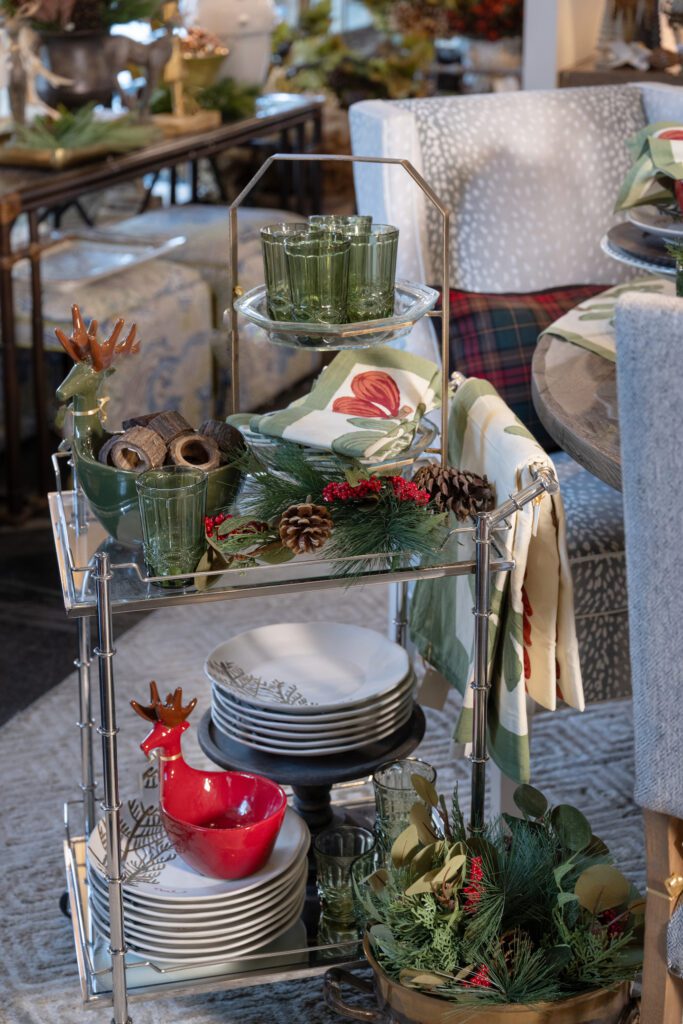 As we conclude our festive journey through this holiday design, and through the front of the shop, I am delighted to bring you the perfect blend of natural enchantment and timeless tradition. Our Cottagecore Couture look transports you to an elegant woodland escape, where earthy tones and graceful metallics harmonize, creating a space that is both refined and inviting. On the flip side, our traditional red and green tablescape captures the heart of classic holiday cheer, with vibrant colors and festive motifs adorning every corner.
Whether you're drawn to the rustic allure of nature-inspired elements or the comforting embrace of traditional hues, these designs showcase the diversity of holiday style that can be accomplished with the right touch. At Nell Hill's, we believe that the magic of the season lies in the ability to curate spaces that resonate with your unique spirit. Wishing you a joyous and stylish holiday season filled with warmth, laughter, and the beauty of well-designed spaces. Until next time – happy decorating!