Christmas in the South is a spectacle of tradition and charm, unlike any other holiday celebration. The South prides itself on its rich history and the continuation of customs passed down through generations. It's a region where Christmas lights shine as brightly as the Southern stars, where every door and window boasts a wreath, where poinsettias grace every corner, and where the nativity scene is carefully displayed in a place of honor. While there's no one-size-fits-all approach to celebrating the holiday in the South, there's a collective commitment to making Christmas warm, bright, and deeply meaningful. And while I cannot claim Southern roots of my own, and thus am not speaking from personal experience, but rather an appreciation for the style and tradition.  It is this festive energy of Southern Christmases that served as the inspiration for our latest Christmas look.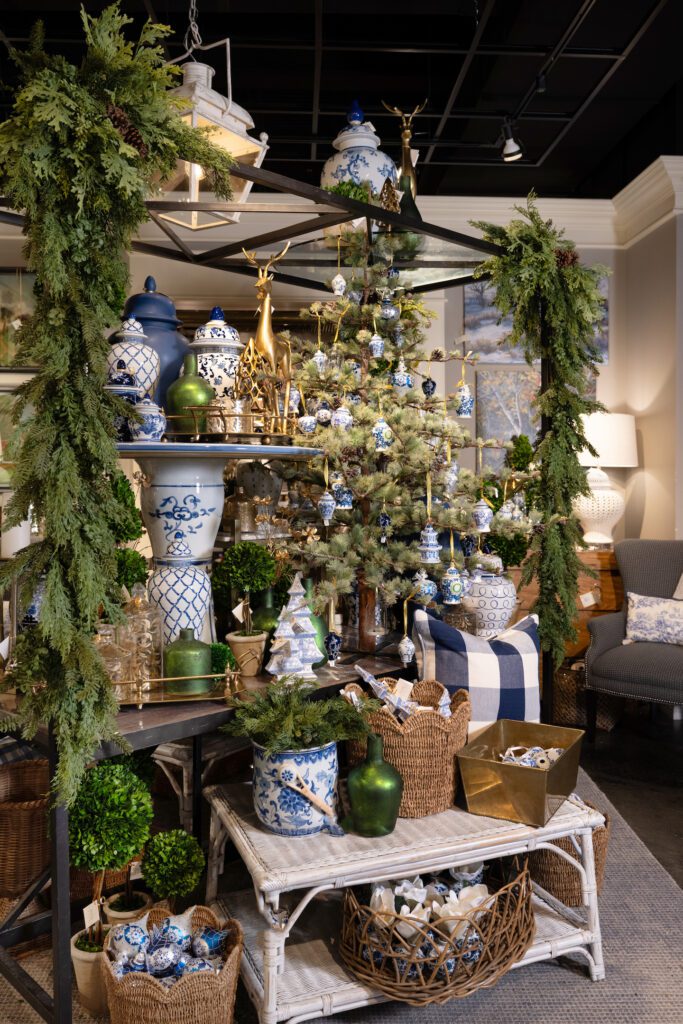 Our Blue and White and Boxwoods Christmas design simply exudes the charm of the South. This design pays homage to the timeless pairing of blue and white, capturing the essence of grandmillennial style, which merges classic, homey elements with a modern twist. It's a style that embraces traditional decor, including vintage china plates, floral-patterned curtains, and elegant prints, but it reimagines them in a way that feels fresh and trendy rather than outdated. So, if you're not a fan of the typical red and green holiday palette, if you adore blue and white or have a penchant for chinoiserie, or if you want to infuse a sense of fun and whimsy into your holiday decor, this is the perfect look for you. This design is incredibly versatile and adaptable to your personal style or existing decor, and you can even add a pop of color (I like green!) to make it uniquely yours.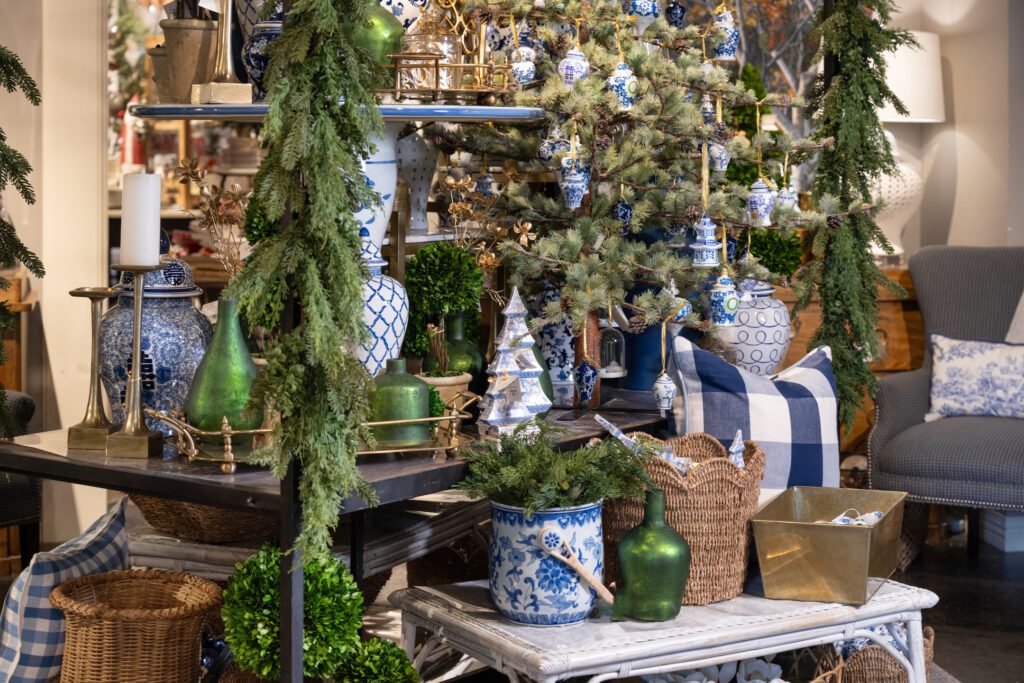 Let's dive into the details of our Blue and White and Boxwoods Christmas look, exploring the various elements that make it a quintessentially Southern and elegantly grandmillennial holiday experience. 
A Whimsical Chinoiserie Touch: A Tree with a Twist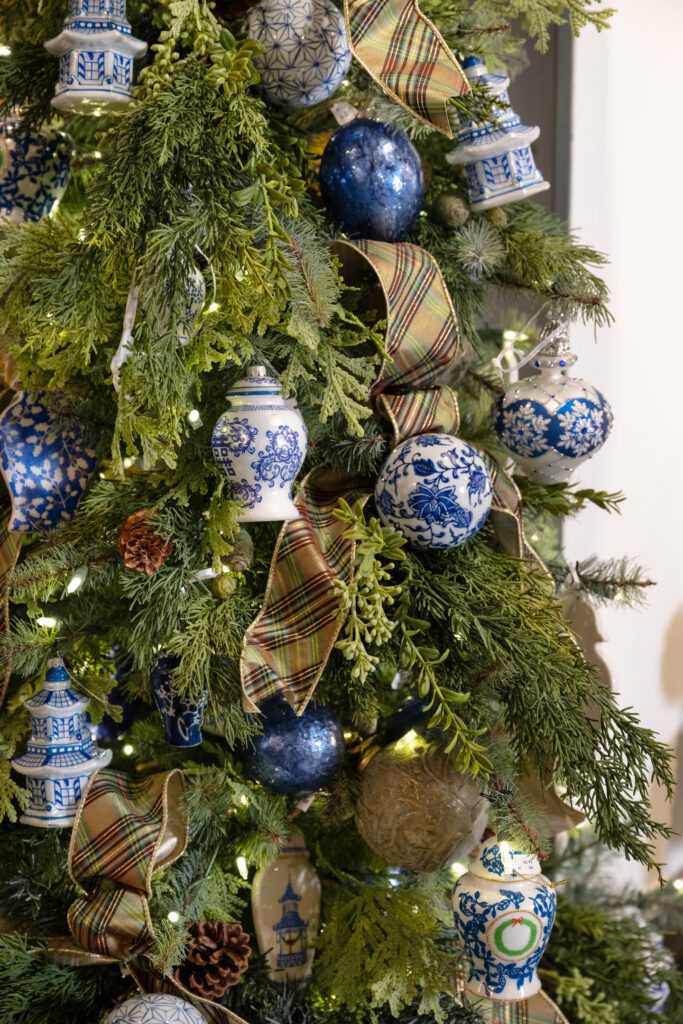 This elegant Christmas tree in the Blue and White and Boxwoods holiday design is a delightful fusion of Southern charm and classic style. Delicate ceramic ornaments in varying chinoiserie patterns, from ginger jars to pagodas, grace the branches, adding a timeless and whimsical touch. Complementing these treasures are orbs adorned with intricate floral motifs, bulbs of blue and gold, and a few finials for added grandeur. The sparse branchy look of the tree is deliberate, allowing the ornaments to shine without overwhelming the design with picks. Pinecones cap the ends of the branches, infusing a natural element into the otherwise sophisticated arrangement.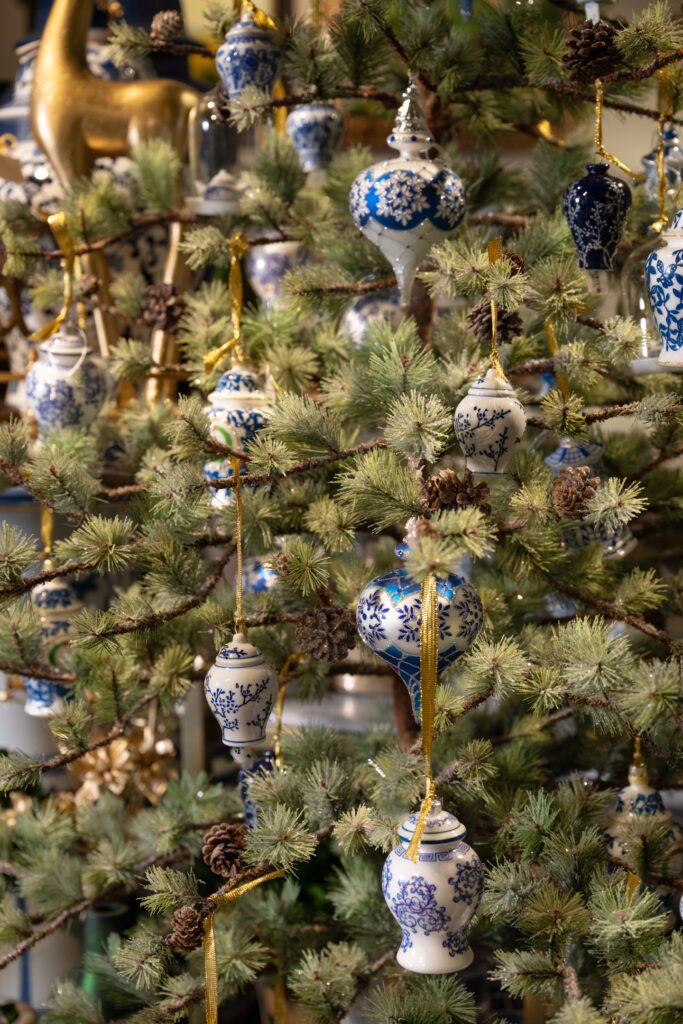 Woven through the limbs, a gold plaid ribbon adds a touch of Williamsburg flair, enhancing the tree's old-world appeal. At the base, baskets brimming with chinoiserie ornaments create a sense of abundance, inviting you to explore the detailed craftsmanship of each piece. This Blue and White and Boxwoods Christmas tree encapsulates the heartwarming spirit of a Southern holiday celebration, where cherished traditions and artistic elegance come together to create a festive masterpiece.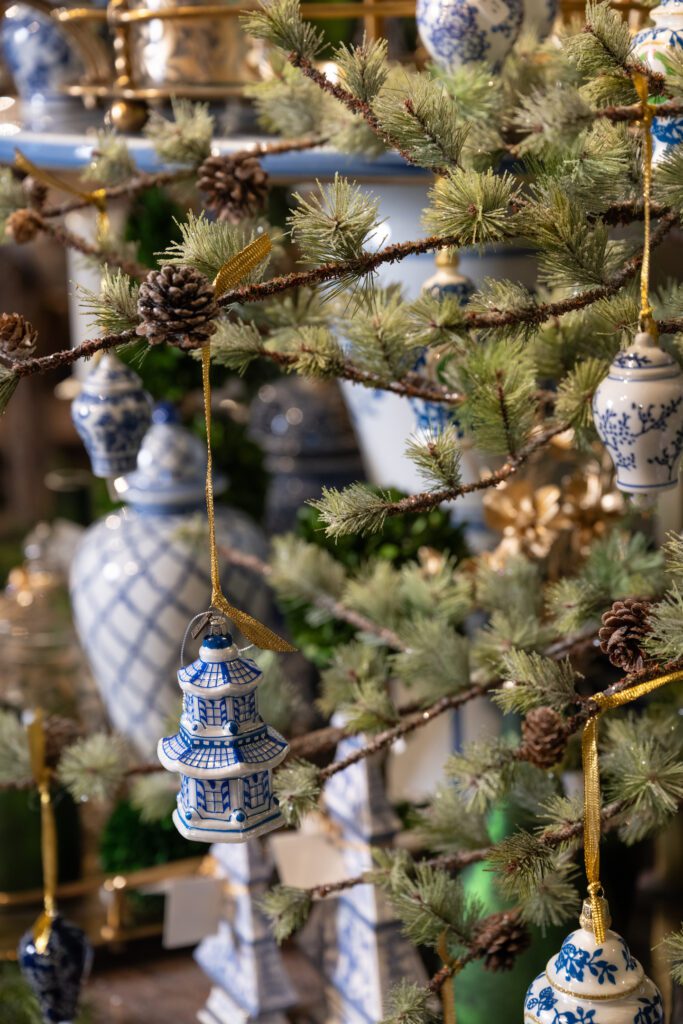 Classic Blue and White Charm: It's All in the Details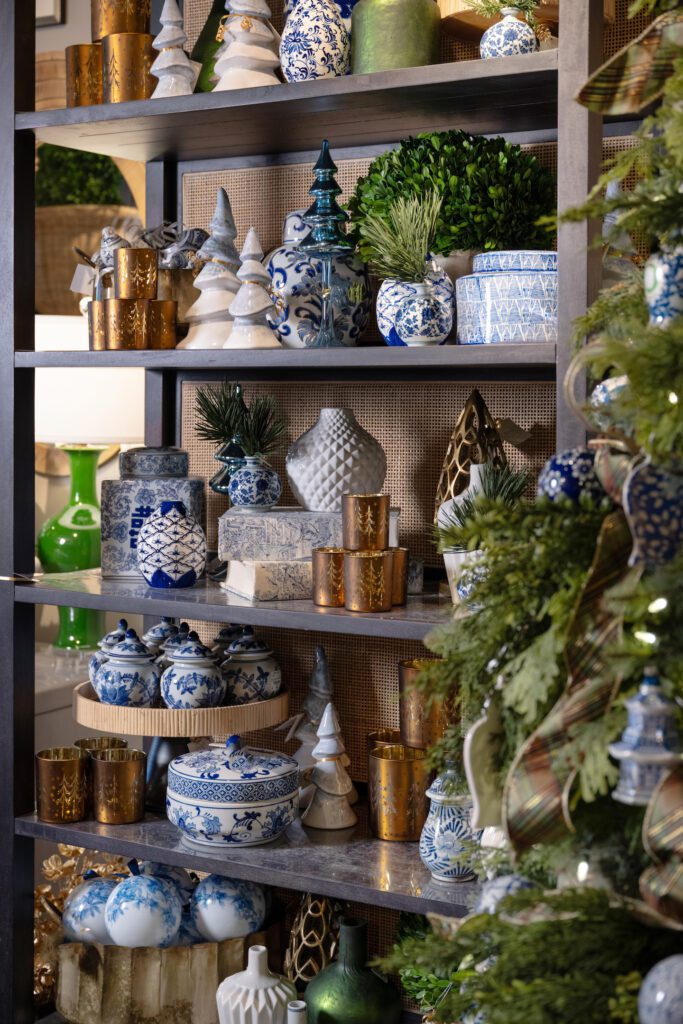 While the classic red, white, and blue color scheme is beloved for the holidays, for this design we decided to go all-in on the blue and white, giving it a unique twist with pops of green. You'll notice subtle dusty green vessels alongside the lush greenery of garlands and, of course, boxwood. Talk about a decor piece that can last year-round: it is the humble boxwood. This is maybe an a-typical holiday green than you aren't used to seeing this time of year, but we love that boxwoods are so versatile and easily dressed up for the holidays, especially in the South.
The combination of traditional blue and white chinoiserie pieces with modern elements creates an elegant nod to the grandmillennial style, while gold accents subtly enhance the color theme without overwhelming the overall aesthetic. This design truly is an ode to timeless Southern charm with a contemporary twist.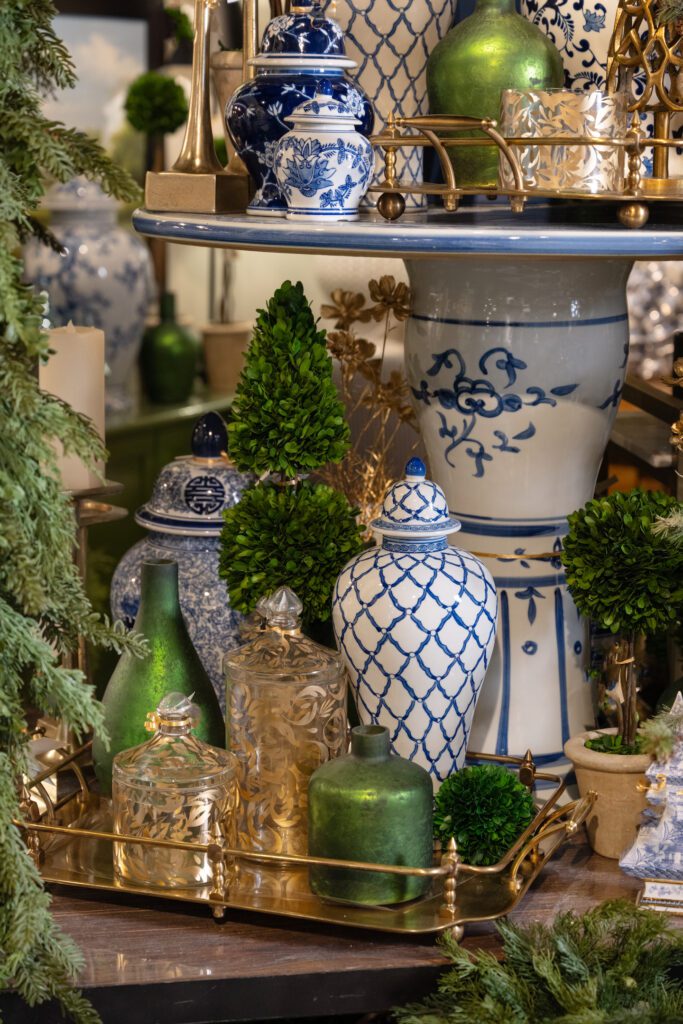 At Nell Hill's, I'm sure you already know that blue and white holds a special place in our hearts, and this latest Christmas design pays homage to this timeless pairing. We absolutely believe in celebrating your own existing blue and white collections during the holiday season. It's simple – just add greenery and other floral arrangements to your cherished ginger jars! Pop the lid off to the side or make it part of the grouping. And if you're a fortunate owner of a tulipiere, seize the opportunity to dress it up with seasonal stems. Don't tuck them away, these classic chinoiserie elements can really shine during the holidays!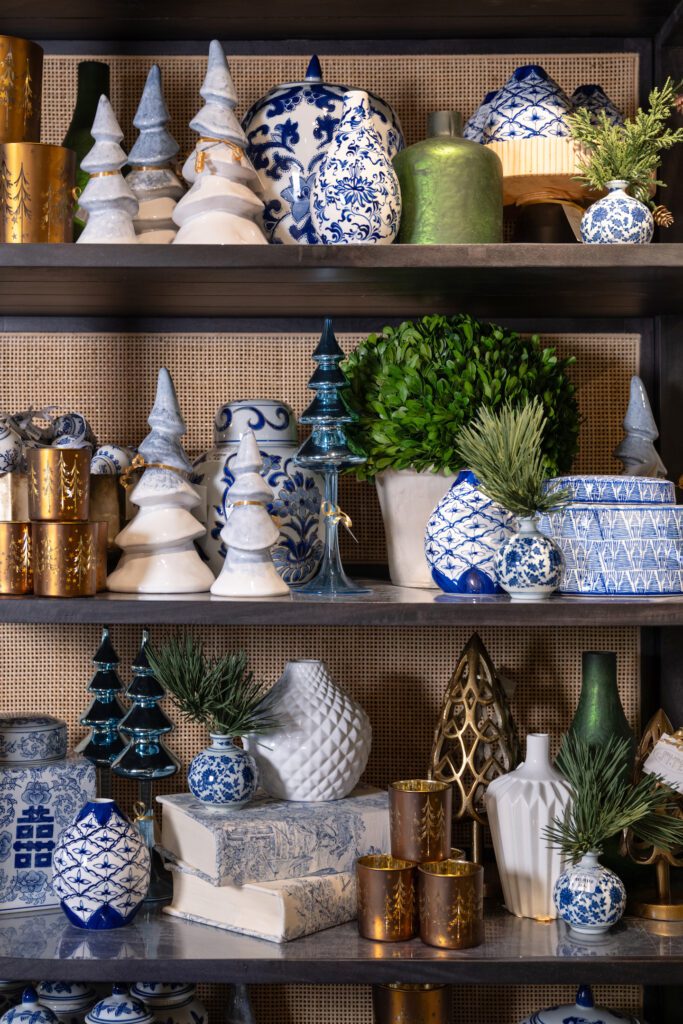 The details in this look are all about creating a sense of fullness and visual delight. In this display, the design plays with height and depth by stacking elements on top of books and artfully tucking items behind others. The shelves come alive with a mix of chinoiserie and more contemporary elements, but the magic happens in how they share a harmonious color palette and finishes. Marbled modern ceramic tree figurines, adorned with sweeping boughs, create a whimsical touch, grouped in twos and threes for added impact. Pops of green, brought to life by verdant boxwood and garland, guide the eye seamlessly from shelf to shelf. The subtle addition of gold accents enhances the depth and charm of this design. It's a testament to how, with careful styling, a diverse collection of pieces can come together to create a beautifully cohesive holiday look.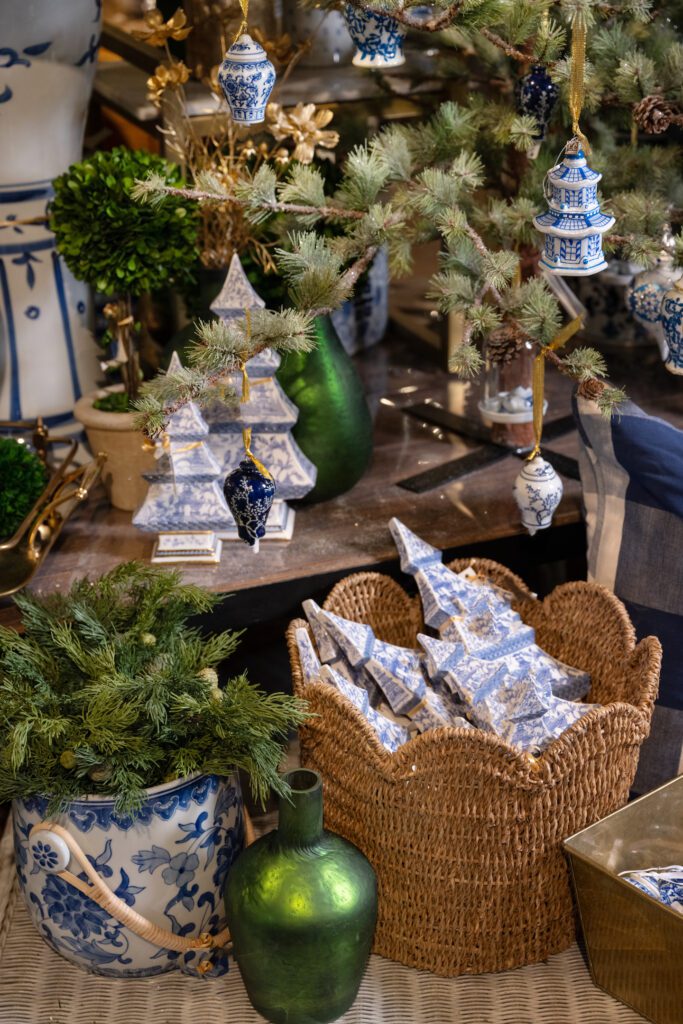 Sun-Kissed Delights: The Essence of a Southern Citrus Tree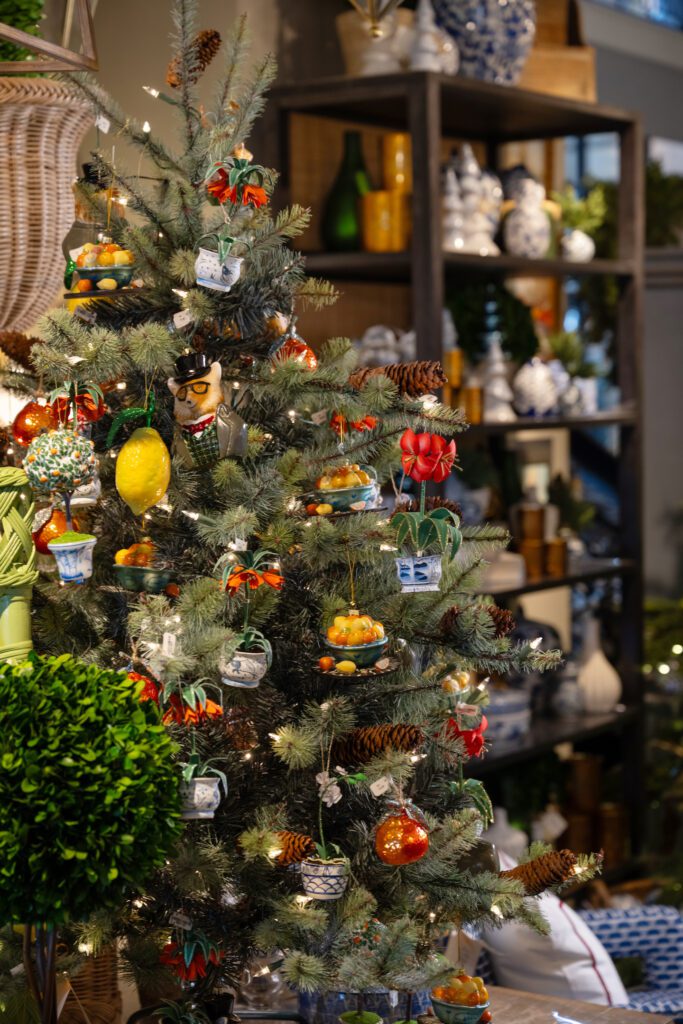 In the same delightful corner of the shop, we've brought to life a Southern Citrus Christmas tree design that radiates the warm, sun-kissed charm of the South. Inspired by age-old traditions, this tree features whimsical ornaments like lemons, clementines, and even whimsical fox and deer heads that capture the essence of a Southern holiday season. We wanted to keep the tree light, fresh, and full of bright, happy vibes. It's fascinating to think that the tradition of receiving citrus fruits in your Christmas stocking originated from a time when these fruits were rare and considered a luxurious treat. Back then, citrus was a symbol of abundance and joy, making it the perfect addition to holiday decor. So, as you explore our Southern Citrus Christmas tree, you're not just enjoying a beautifully adorned tree but also connecting with a piece of cherished Southern history.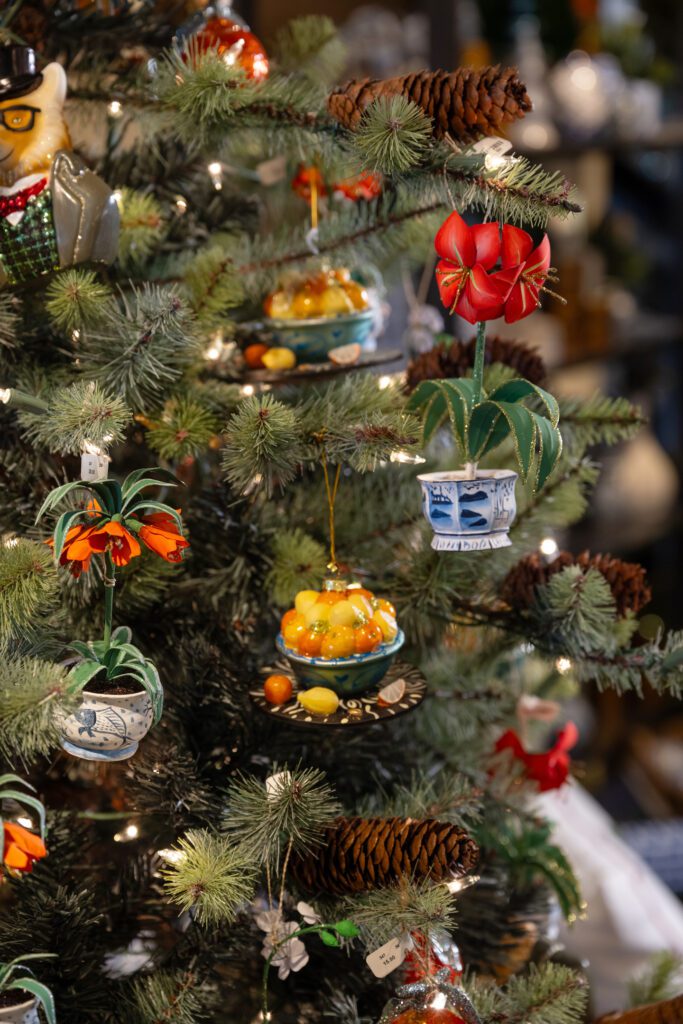 The Blue and White and Boxwoods Christmas design at Nell Hill's is more than just a holiday decor theme; it's a celebration of Southern traditions, chinoiserie elegance, and the enduring beauty of classic color palettes. As we wrap up our exploration of this enchanting design, we hope it has inspired you to embrace the festive spirit with a touch of grandmillennial style. The timeless appeal of blue and white, intertwined with the fresh vibrancy of boxwood, invites you to create a holiday wonderland that's both inviting and sophisticated. Whether you choose to enhance your cherished chinoiserie collection, play up metallic elements, or let your boxwood topiaries shine, this design is a canvas ready for your personal touch. As you embark on your holiday decorating journey, remember that traditions evolve, but the magic of the season remains. In the South and beyond, the spirit of Christmas lives on, ever radiant and heartwarming. Until next time – happy decorating!