Welcome to the world of Hot Toddies & Holiday Cheer, where Christmas magic meets the timeless elegance of the great outdoors. At Nell Hill's, we know that each person's decor taste is a unique brushstroke that paints the canvas of their homes. From new traditional to contemporary styles, room after room of Christmas looks await. Our latest holiday look is tailored for those who relish the cozy warmth of a rustic cabin without straying too far from classic holiday splendor.
Found at the heart of the shop in the Ward Parkway Brick room, this design emanates the comforting aroma of cinnamon and the irresistible allure of toasty campfires beneath snow-capped mountains. Brown, a versatile neutral that doesn't get it's due credit, marries perfectly with the festive warmth of red in this snow-flocked confection. Whether you have a room bursting with colors or one that embraces rustic simplicity, this design effortlessly adapts to your unique space.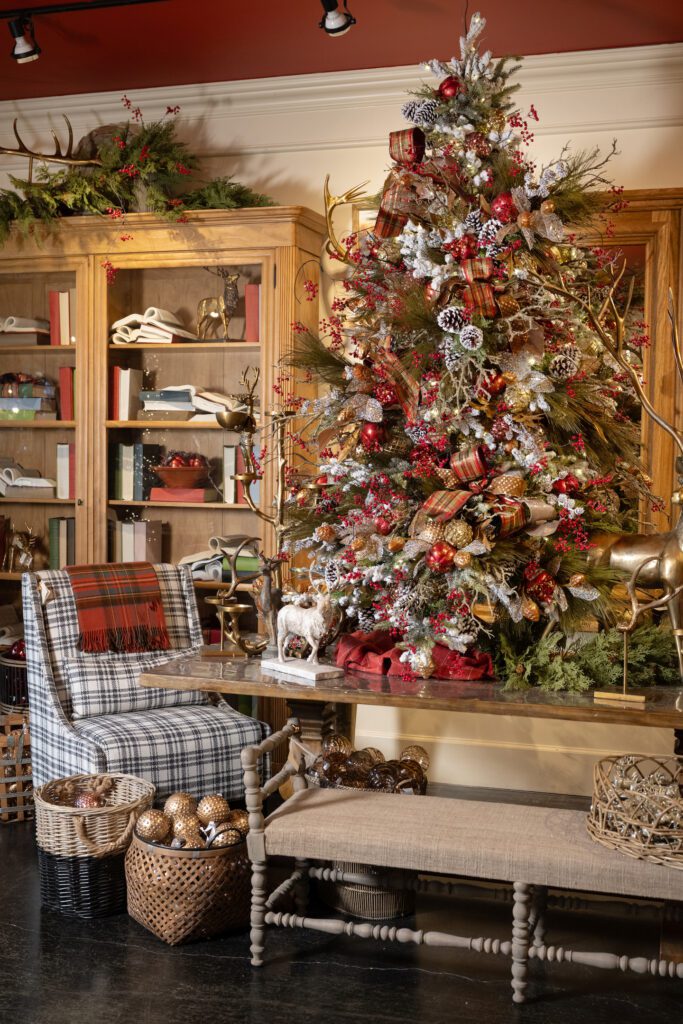 Even as the Christmas festivities conclude, this room embodies the tranquil beauty of winter, ensuring your home remains seasonally inviting long after the holiday cheer subsides. So, let's delve into the magic of creating a space that is as comforting as a sip of hot toddy on a frosty evening. Get ready for a Red and Brass Christmas Dream at Nell Hill's.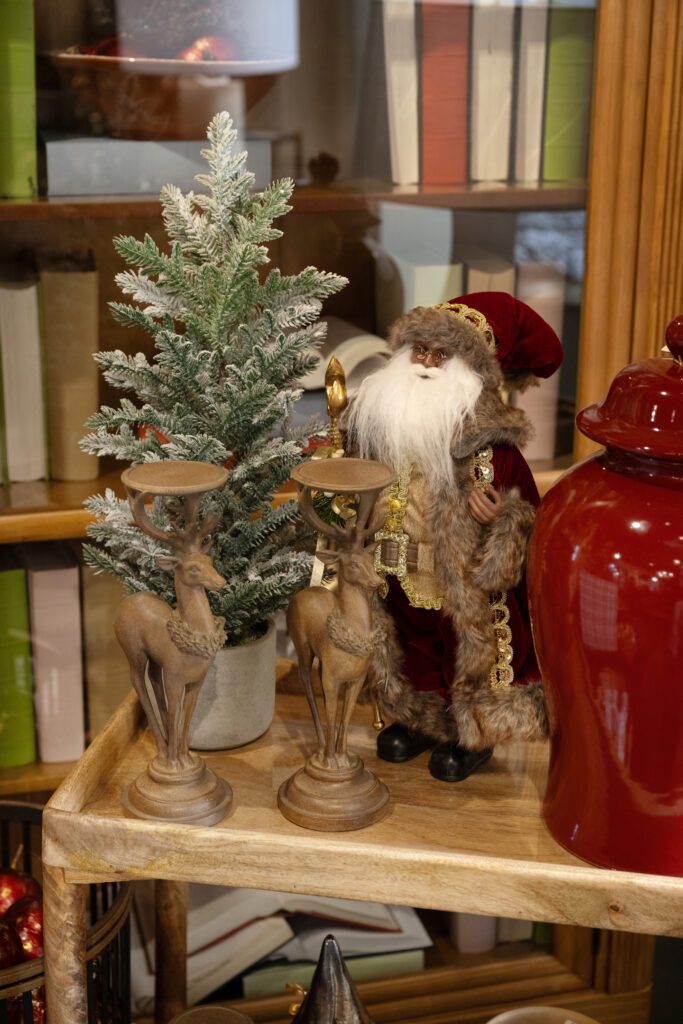 Nature's Embrace: Adorning the Christmas Tree with Earthy Elements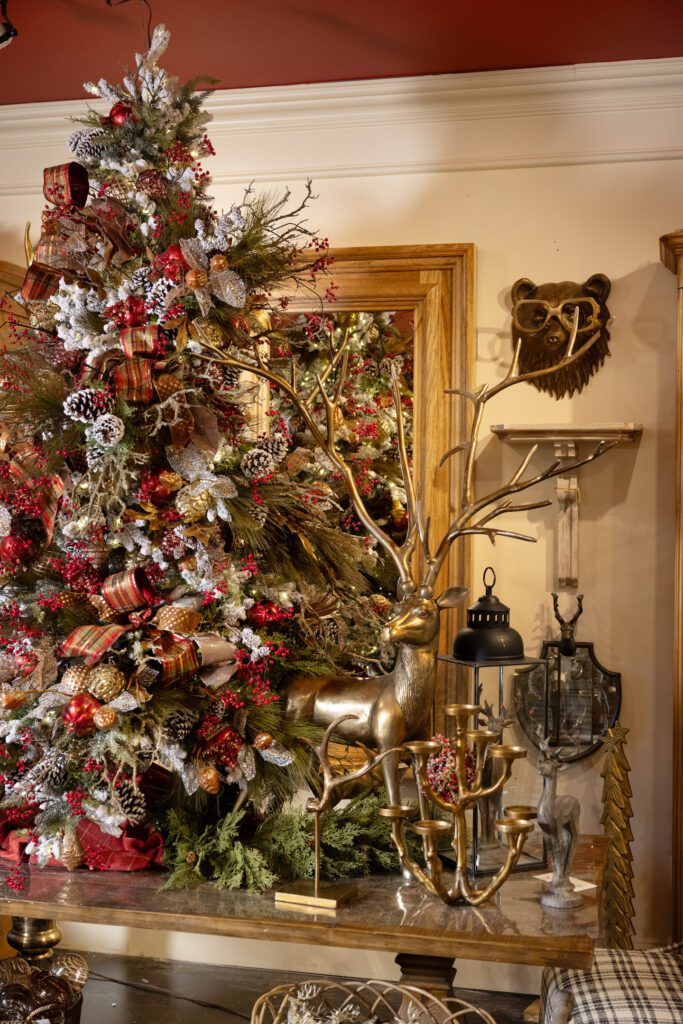 Creating a tree that befits the quiet sophistication of our Red and Brass Christmas design was a joyous challenge. This stately tree stands as the centerpiece of the room's expansive holiday table, offering a symphony of reds, browns, and copper tones that exude warmth and elegance. Brass elements peek out from around it's full skirt.
The tree itself is beautifully flocked, one of the few flocked trees featured in the shop this year, enveloping the space in a wintery hush. To play up the earthy elements, we've adorned it with red berries, long needle pine picks, and pinecones. Some of these pinecones have been meticulously gilded, adding a touch of brilliance to the design and elevating the look from lodge to elegant chalet in the woods.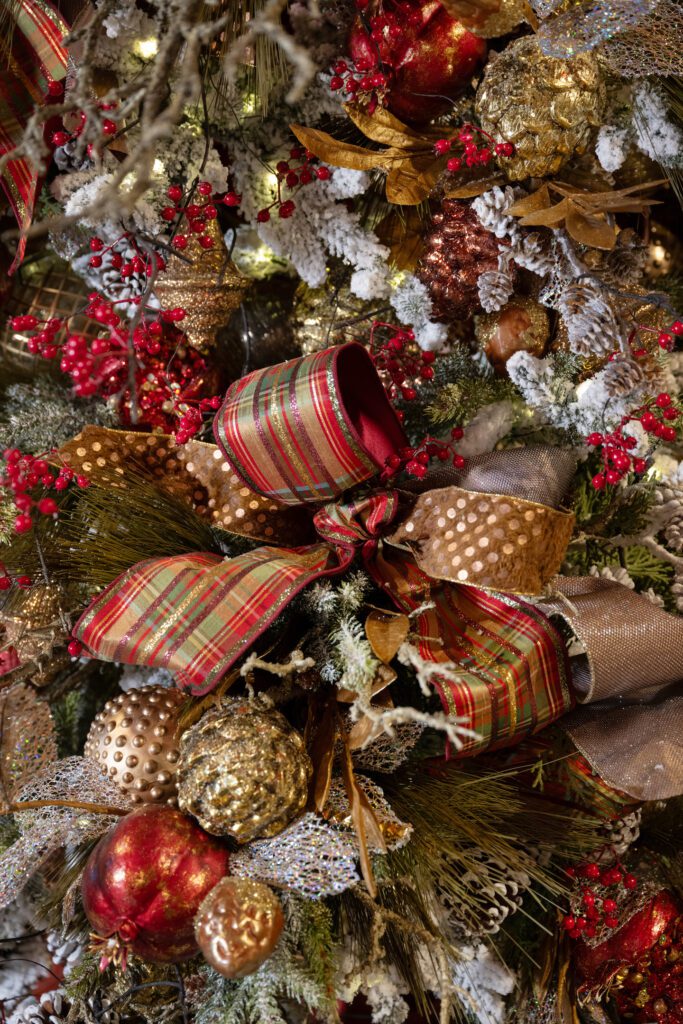 First, the ribbon, secured in knots and bows throughout the tree, gracefully meanders its way throughout, accentuating the tree's form. Next, we carefully incorporate picks, ensuring the tree is full and balanced. Finally, clusters of ornaments, artfully arranged in threes, adorn the branches at varying depths, creating a lush, abundant look that truly captivates. The result is a tree that effortlessly blends classic charm with timeless sophistication, a hallmark of this enchanting Christmas design.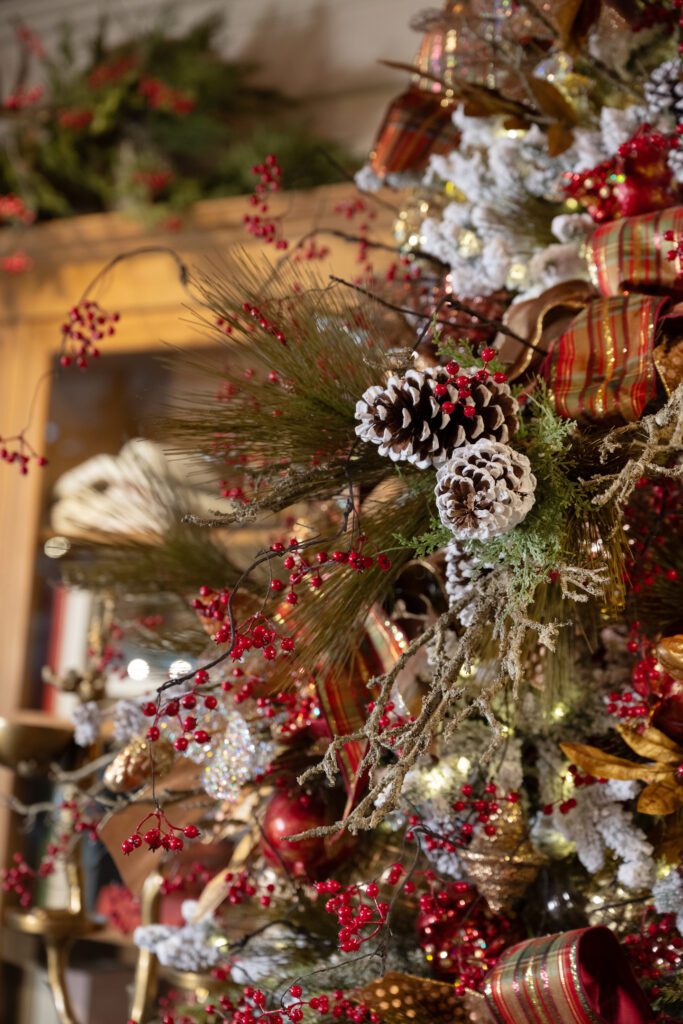 Bruce the Moose: A Whimsical Centerpiece for the Mantel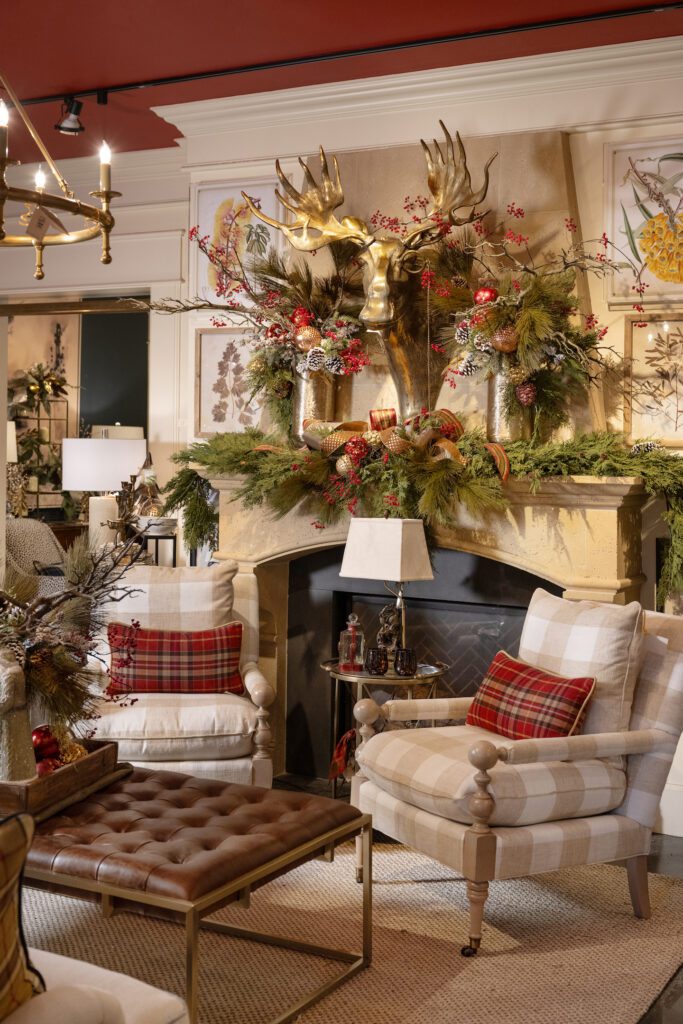 In the heart of the Ward Parkway Brick room, the mantel stands as a welcoming focal point for the space's holiday designs. This year, we've introduced a delightful new addition, Bruce the Moose. With his lustrous brass finish and playful demeanor (yes, that's a monocle on a chain you see on his left eye!), Bruce has become an instant favorite around the shop. He's joined by other charming brass accessories throughout the room, which add whimsy and personality to the space, either as standalone statements or in creative groupings.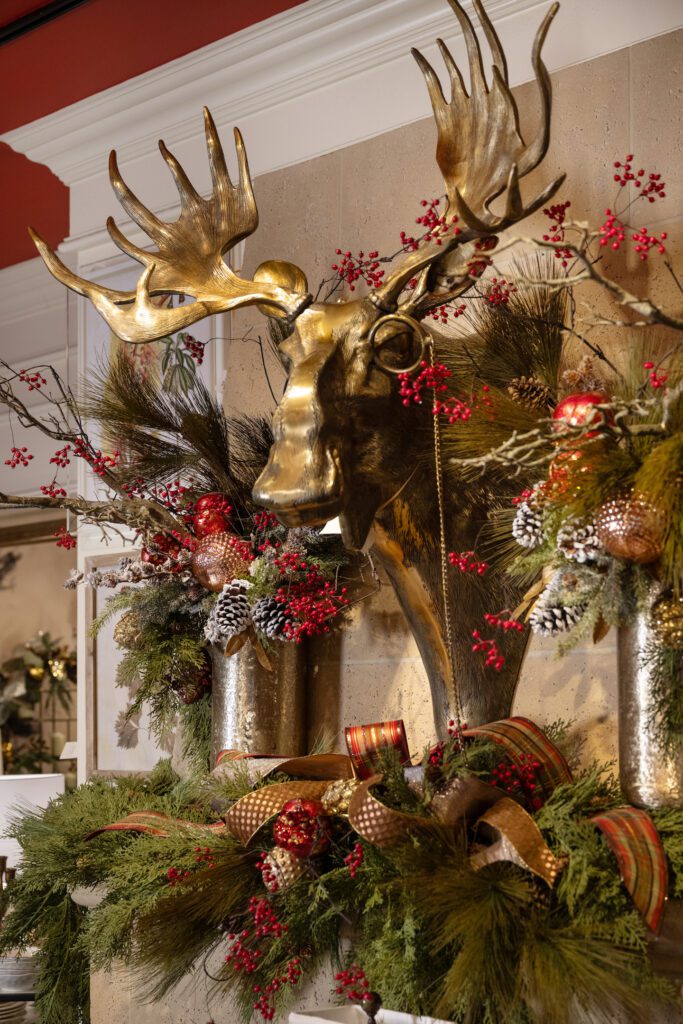 Flanking Bruce are two elegant arrangements thoughtfully hung on the wall above the mantel. Here, we've taken a different approach, opting to let the natural beauty of greenery shine through. Rather than being overwhelmed by excessive ornaments, we wanted it to be the star of the show. We've centered a grouping of a few ornaments and flowing ribbons on the mantel's bough, creating a captivating focal point that effortlessly draws your gaze. This design is a harmonious blend of charm and sophistication, inviting you into a world of holiday cheer. 
Every Corner Awaits: Exploring the Room Details of Our Red and Brass Christmas Design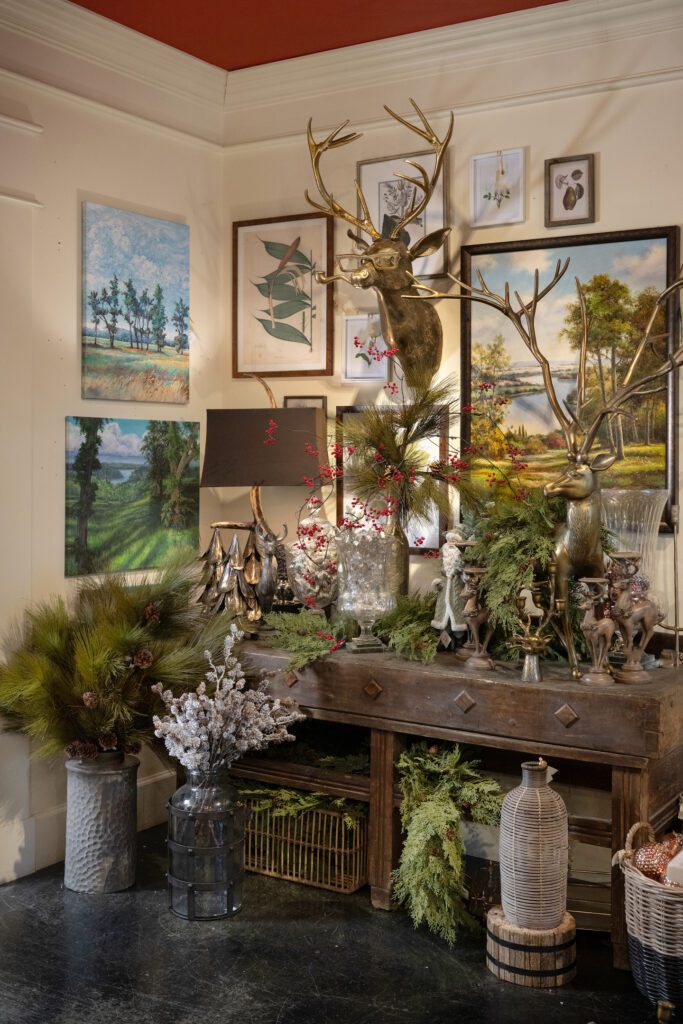 At Nell Hill's, the holidays are a time to truly shine, especially when it comes to our selection of greenery and picks. Our custom garland, flocked with vibrant red berries, takes center stage in this enchanting room. The natural, unpretentious beauty of greenery is showcased here, creating a lush and visually striking look.
To elevate this design from a rustic lodge feeling to an upscale chateau vibe, we've paired rustic elements with touches of brass and gold. The fusion of these seemingly contrasting elements harmonizes perfectly, lending the room a warm, inviting atmosphere that feels instantly elevated.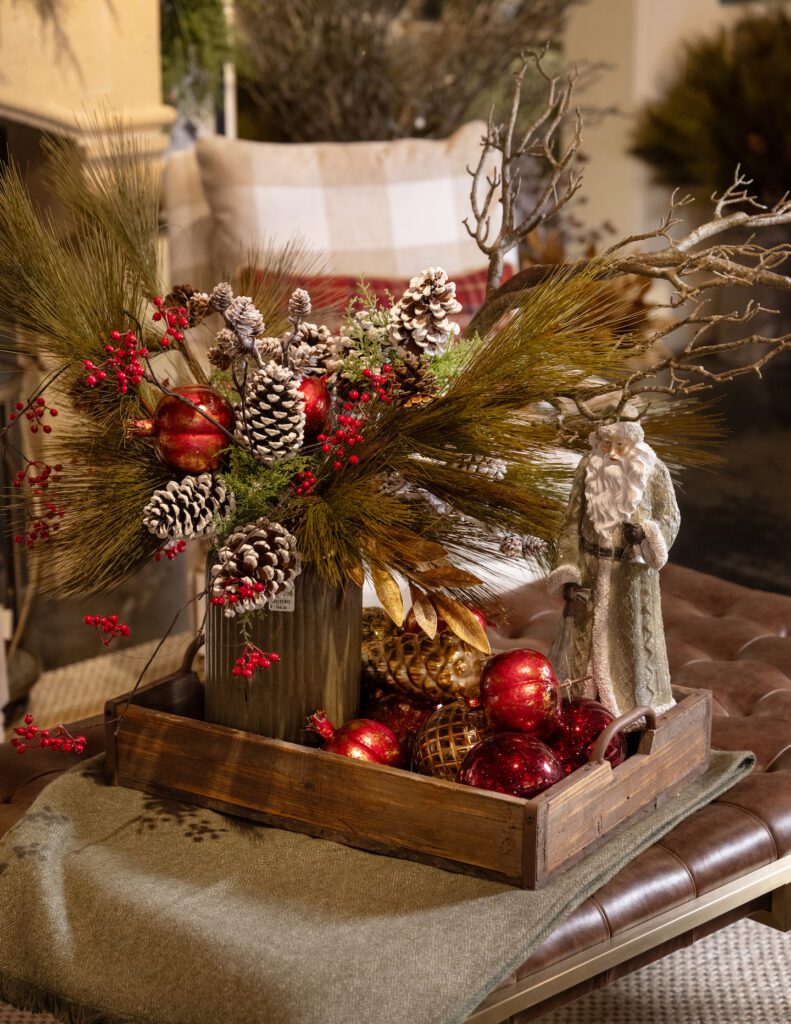 One of the things I love most about this design is that it isn't just for Christmas; it's a versatile winter layer that brings the essence of the outdoors inside. With the right additions, it can last well beyond the holiday season. You can infuse a mountain chalet vibe with plaids or opt for a more elevated ambiance by playing up the metallics. This is a look that adapts to your personal style.
In the spirit of the season, we encourage recycling everyday items in your holiday decor. Don't stash away those beloved ginger jars; let them join the holiday festivities, adorned with a twig of red berries. And if you have leftover ornaments, place them artfully at the bottom of a tray – an effortless yet effective addition to your holiday vignettes. The true beauty of this season is in the blending of cherished traditions with newfound joy.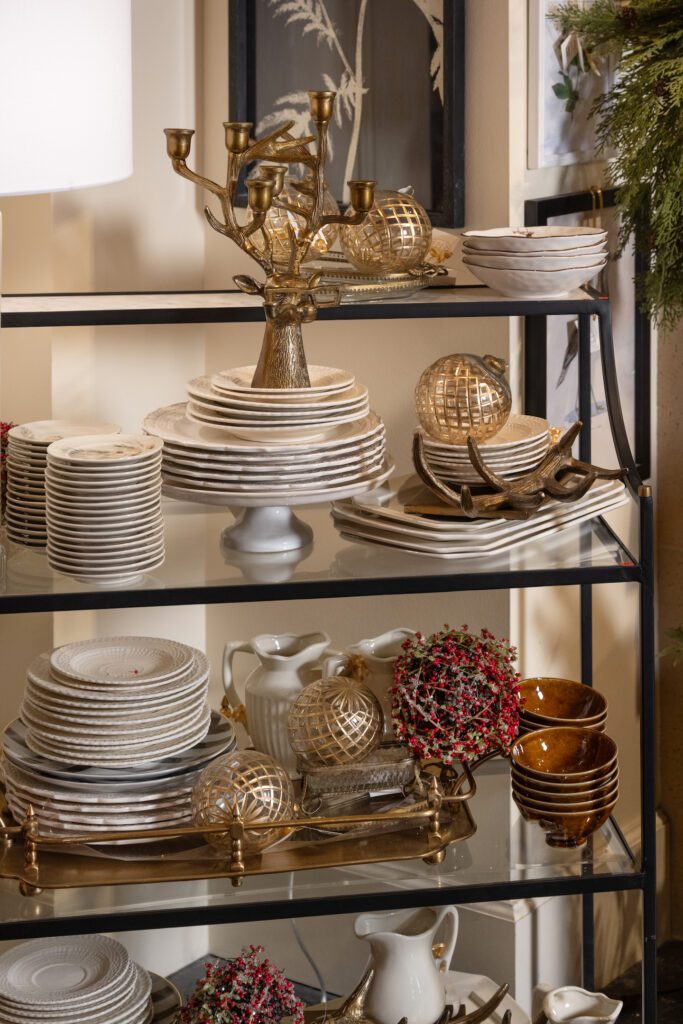 Indeed, the holiday season offers a perfect opportunity to infuse your own personal touch into your décor as well. Why not showcase those special pieces you've been waiting to unveil? Whether you're hosting a gathering or simply want to display your cherished holiday plates, it's the time to let your unique style shine. In my own home, for instance, it's my beloved hunt scene plates that make their debut as fall rolls around. This seasonal transition brings with it a sense of anticipation and delight that I look forward to each year. The earthy tones of these plates, featuring a backdrop of woodsy animals amidst shades of green and brown, would feel right at home in this space. Here, stacks of dinnerware rest gracefully upon a bar cart, nestled amongst brass elements like a regal stag candle holder and a handful of artfully placed ornaments. It's these personalized touches that truly make your holiday décor special and full of character.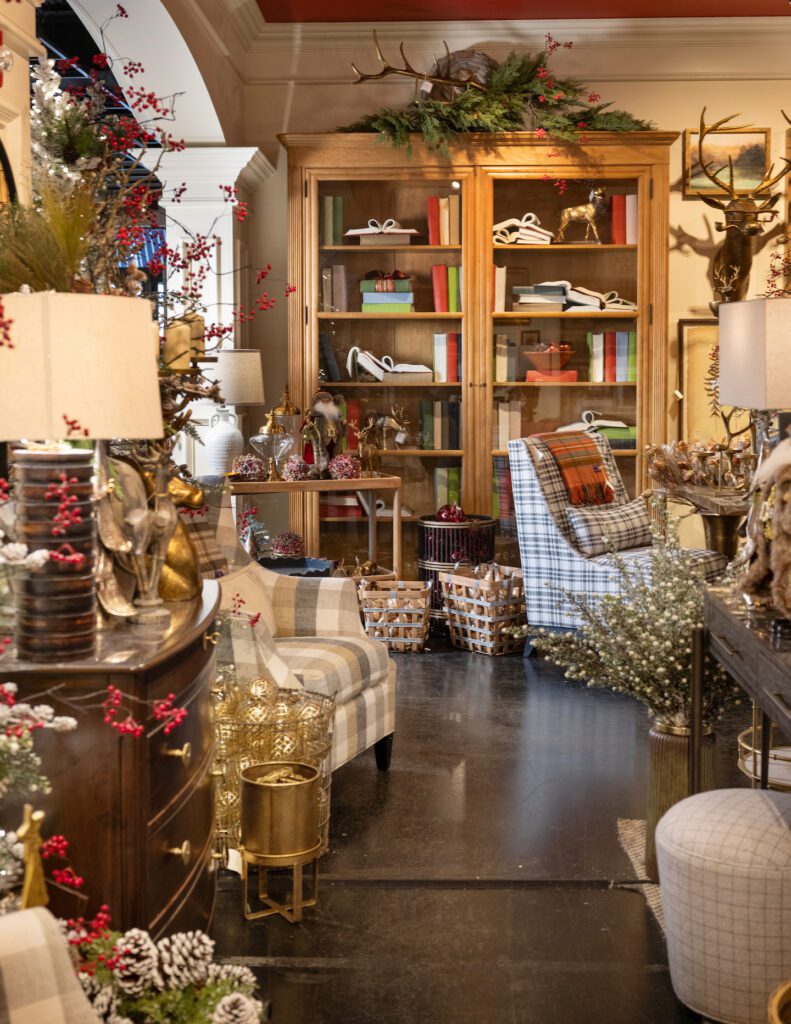 As we wrap up this festive tour of the Ward Parkway Brick room, we're reminded of the power of blending rustic elements with opulent metallics, creating a look that transcends the conventional lodge style. It's a nod to the enchanting wilderness of nature while embracing the season's sophistication. I hope that you've found inspiration and new ideas to infuse your own spaces with holiday cheer. Remember, holiday decorating can be both joyful and sustainable, as everyday items can effortlessly merge into your festive decor alongside newer items. From all of us at Nell Hill's, we send our warmest wishes for a holiday season filled with joy, laughter, and memorable moments shared with loved ones. May your home be a haven of comfort, warmth, and style, exuding the magic of Hot Toddies and Holiday Cheer. Until next time – happy decorating!