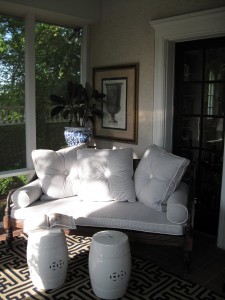 Every spring, I count down the days until I can open my porch for the summer season. Dan and I practically live on the screened porch, a sanctuary where we can enjoy our morning coffee, sneak in a Sunday nap or entertain family and friends. But before we move outside for the season, I always give my outdoor retreat a much-needed makeover. Chances are, your porch or patio has taken a beating this winter, too, and needs to be freshened up. Here's how: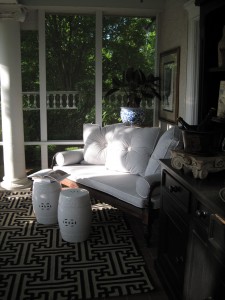 Outfit Your Space with Great Furnishings
People think I'm crazy, but I'm a big believer in using indoor furniture outside, if your porch is covered and somewhat protected from the elements. Typically, I furnish my porch much as I would an indoor room. One of my favorite porch pieces is my antique daybed, which is ideal for a summer nap, a great place to read the paper and lots of fun to redo on a regular basis.
For years, guests who come to my open houses have asked where they can get a daybed like it. Until now, I'd have to tell them, "You can't." But I just found a furniture maker that could reproduce my daybed down to the last exacting detail, meet my stringent quality standards and make it so affordable that most customers can enjoy one. I'm so thrilled to tell you, the daybeds are now available at Nell Hill's and are ready to find a place in your heart and home.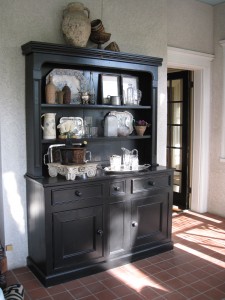 Transform the Look with Paint
If your outdoor furnishings look a bit worn or lackluster, brighten them up with new paint. I took a boring wood hutch, and with a coat of glossy black paint, transformed it into an attractive display case and bar that serves as the focal point of my porch. You could never tell that it's been sitting out on my porch, year round, for the past 20 years!
You can't miss when you paint outdoor furnishings classic colors like black, white or cream. But if you're feeling adventurous, crack open a can of today's hot colors and have fun. Paint your wooden garden bench apple green then toss on some navy and white pillows. Or jazz up your wrought iron dining set with a coat of periwinkle blue, purple or tangerine paint.
Whatever furniture you pick for your porch or patio, don't spend a fortune on it.  Depending upon where you live, it will get pummeled in the weather. Pick something that's structurally sound, but economical, so when it begins to show the inevitable signs of aging, you won't die a thousand deaths over the money you invested.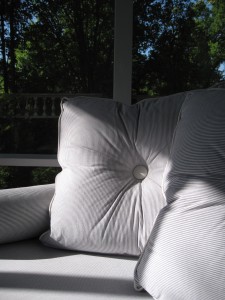 Freshen Your Linens
Sun and rain can wreak havoc on your outdoor linens, leaving them stained and bleached out. If your cushions and pillows are looking shabby, treat yourself to some new ones this year.
That's exactly what I did on my porch last year. In the past, I've picked colorful linens for my daybed. And most recently, I did all my linens in black and cream. But right now, I can't get enough of navy and cream, so I selected this simple color palette for my porch linen redo. My goal was to make the porch feel restful and serene, gentle on the eyes and restoring to the soul. Let me tell you, it worked. I love, love, love my porch linens! Every time I go out there, I just exhale.
Normally, I'm a big advocate of using a number of different fabrics when creating custom cushions and pillows. But for this project, my goal was to go with something different, something simple and serene. So I used only two cotton fabrics: a modest navy and cream stripe that looks like old fashioned ticking and a natural looking solid cream. I used the stripe for the daybed cushions and three huge box pillows. I used the solid cream fabric for the welting on the cushions and pillows. I also had the seamstress make over-sized fabric buttons out of the cream fabric and sew them smack dab in the middle of the box pillows. People went ape over this fun button detail – proof that sometimes even tiny touches can make your decorating more dramatic.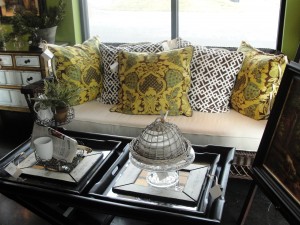 If you're craving color this season, and lots of it, you're in luck. One of today's hot looks in outdoor fabrics is bold and bright. You'll see lots of electric hues like apple green, orange and sunny lemon, and a wealth of peppy patterns that feature huge flowers and funky geometric shapes.
A friend of mine created a sensational look on her outdoor patio using the black, cream and apple green. For her seat cushions and pillows, she mixed three black-and-cream fabrics – ticking, a fat stripe and a wonderful abstract floral. Then she added a jolt with apple green, brought in through pillows and accents.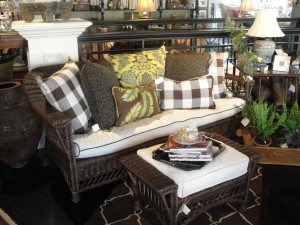 At Nell Hill's we're also having fun pairing brown with green, orange and yellow. These color groups look sensational on our popular wicker settees, chairs and ottomans. While this is not indoor-outdoor, weather resistant wicker, I've found it works fine on a covered porch. I also love to use it outside in the summer then bring it in during the colder months, knitting it into my year-round decor. If you love wicker as much as I do, you've got to come check these pieces out – they are one of our most popular sellers at Nell Hill's, and paired with custom cushions and pillows, they are absolute show-stealers.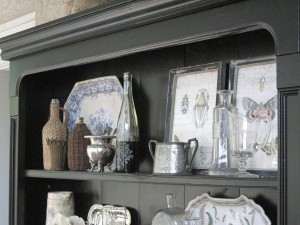 Finish with Fun Accents
Many outdoor accents are so affordable you can add a few new ones every year to keep your space fresh and fun. Start with easy-to-maintain plantings like succulents. These little guys are very popular this season, and it's easy to see why: They come in interesting shapes and colors and are nearly impossible to kill. Ferns are also one of my favorite plants, and I use them liberally in my indoor and outdoor decorating. I will forever have Kimberly Queen ferns in my front planters because these amazing plants are determined to live, even when I forget to water them for days.
No outdoor space in complete without chic lighting. Hang a rustic chandelier above the table or use a big lantern as a centerpiece. Dot the porch rails with smaller lanterns or wicker wrapped votives. This year, I think I'll take our courtyard lighting up a notch by hanging lanterns from our huge shade trees, first fitting them with remote-controlled battery operated pillar candles. When we want to dine outside, I'll be able to flip the switch, and we'll have a canopy of twinkling candlelight. Talk about romantic!
Make mealtime a special event with zippy outdoor dishware and table linens. Try a cute cotton tablecloth in a playful check or stripe. Top it with nature-inspired dishes that feature birds, bugs or ferns. Finish off with an interesting centerpiece, like a garden bust ringed by a summer wreath, a trio of succulents or a lantern that contains an interesting still life.
Next week …
Styling your fireplace mantel can be one of the most fun – or most maddening – decorating challenges you face. What pieces should you place on this all-important focal point, where should they go and how much is too much? I asked Marsee and Becky, two of our design goddesses at Nell Hill's Briarcliff, to show us how to create a marvelous mantel for summer. You'll love their step-by-step, easy-to-follow tutorial. Don't miss it!