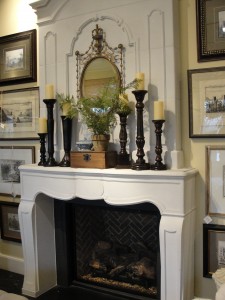 There is something magical about your fireplace mantel, isn't there? This small plank of wood serves as the all-important focal point in one of the most public rooms in our homes. No wonder so many of us get stage fright when it comes to decorating our mantels.
Now you can say goodbye to mantel decorating angst because it's really very easy to make magic on your mantel when you know how. All you need are a few tips from the pros, and you'll be off and running.  So I grabbed Nell Hill's visual directors Becky and Marsee and asked them to show us how they style the show-stopping mantels at the Nell Hill's stores.
Set the Stage
Marsee says when she styles a mantel she always starts with a blank slate. Clear everything off the mantel and give it a good dusting. Then, stand back and decide what look you want to create. Something simple or complex? Serious or playful?  What colors, textures or themes do you want to introduce? Do you have a favorite piece you want to showcase on your mantel?
Once you decide on what direction you're going, pick the right backdrop. What do you want hanging or leaning above your mantel? For our example today, the visual team hung a gorgeous replica of an antique gilded mirror. This mirror is one of my favorites, and we sell a ton of them in the stores. Becky and Marsee liked how the feminine curves of the mirror offset the coldness of the stone mantel.
Add Weighty Accents
Becky warns that one of the biggest mistakes people make when decorating their mantels is to fill them with little nick-knacks, creating a mass of diminutive pieces that get lost and give off a feeling of clutter and chaos. Instead, pick a few weighty pieces that are larger in scale to serve as the foundation of your display. Using a few killer pieces will give your mantel lots of drama.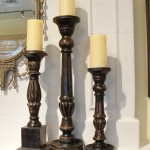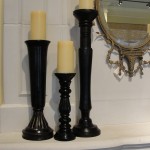 For our example, Becky and Marsee selected six similar mahogany pillar candlesticks in varying heights and shapes. By picking candlesticks that repeat the same color and style, they've created harmony in the display. But by mixing up the heights, they also brought in lots of energy and interest.
When you select the pieces that will anchor your mantel display, be sure to pay keen attention to scale and height. The visual team picked these tall candlesticks because we have a massive mantel surround and very tall ceilings at the store. But if this were a home with lower ceilings and a smaller mantel, they would have likely gone with slightly smaller pieces.
I love how the visual team also topped the pillars with battery operated candles. I used to use only real candles in my decorating. But after waiting on far too many customers who were replacing the contents of their homes because they lost everything in fires caused by candles, I have changed my tune. I've found a few companies that make battery operated wax candles that are every bit as beautiful as the real thing. You can even get fake candles that work on a timer or are controlled by a remote. They are absolutely fabulous, and now I couldn't live without them. You can order some right now at Nell Hill's Online or pick some up next time you come to Nell Hill's.
If you are going for a simple, clean look on your mantel, stop here. It looks sensational.
Add Layers of Interest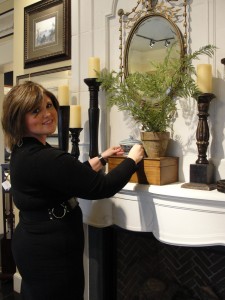 If you love displays loaded with layers, you can easily add a unique focal point to this simple mantel display, like Becky is doing here.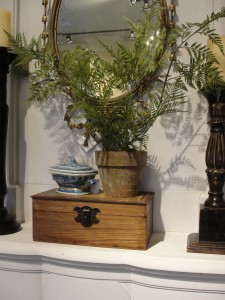 For our sample, Marsee and Becky first picked a riser to lift up the pieces they will use in their tableau, giving the display more prominence so it is not lost among the large candlesticks. They used one of my favorite types of risers – a replica of an antique wooden box. I adore antique boxes so much that I had several styles reproduced for my Mary Carol Home Collection custom line of accents in order to make these pricey treasures affordable to all of us. Some of them are available at Nell Hill's Online – check them out.  Pedestals, books and cake plates also make ideal risers for mantel displays, so use your creativity.
Next, the girls topped the wooden box with a fern to introduce a pop of color and soften up all the hard surfaces in the display. To finish out, they added a blue and white Chinese import jar to bring some much-needed pattern to this sea of solids.  You could use just about any favorite piece as the third object in this display, like a conch shell from your last vacation, a bronze figurine or even a lovely dish.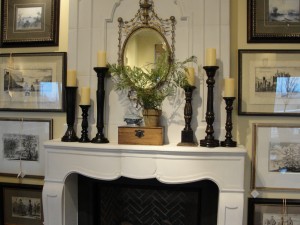 I really like the finished look of the simple mantel masterpiece Marsee and Becky pulled together. It's dramatic and loaded with visual interest, yet not busy or overpowering.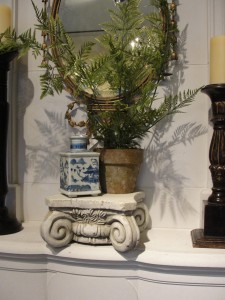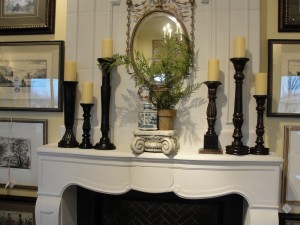 Or, for a modification, switch out the riser and instead use a stone capital. Trade the jar for a smaller vase.
Want More Ideas?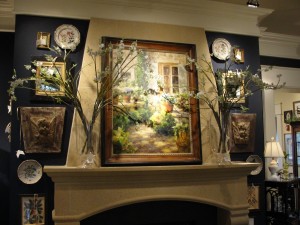 While I adore unusual displays on mantels, sometimes you just can't beat a classic symmetrical presentation. At Nell Hill's, we often create mantel treatments that feature paired jars, urns or tall glass cylinder vases. Try placing a large Asian ginger jar on each side of your mantel. Leave it as is year round or trick it up for each season simply by filling the jars with greens.
Or, for a whimsical summer look, gather together a number of clear glass vases. Let the vases skip down your mantel, being sure to arrange them so the overall height of the display varies. Then insert a single flower blossom into each vase. Feeling playful? Tie a strand of summer ribbon around the neck of each vase. You'll have a look that's fresh and fun and loaded with personality.
Next Week …
A wonderful table centerpiece can make or break your tabletop displays. So I've asked Marsee and Becky to give us pointers on how to create dining room table centerpieces we can leave up for show or pull together when we entertain. I went crazy over the amazing ideas they came up with. Come back next week and I'll share them with you!
Enjoy!