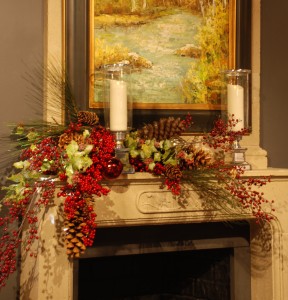 When it comes to decorating your fireplace mantel for the holidays, it seems like people have two perspectives. Some see this long piece of wood as a stage for their masterpiece. But to others, it feels more like a gangplank because decorating this key focal point is intimidating for them.
Let me just underscore that decorating should never be stressful. Just the opposite! So to alleviate any mantel mania you may feel, or if you'd like some new tips and techniques for creating a fresh holiday look, here are the 3 simple steps for success we follow at Nell Hill's when we build seasonal displays on our mantels and chandeliers: 
Step 1: Pick the Pieces You Want to Feature
Every year when I pull out my boxes of holiday décor, I feel like I'm unearthing buried treasure. The boxes are packed with my favorite pieces, some I've used in my holiday decorating for years and others, prize new additions. Before you dress your mantel, pull out all the items you might want to use in your display, including greenery, ribbons, ornaments, and seasonal and year-round accents.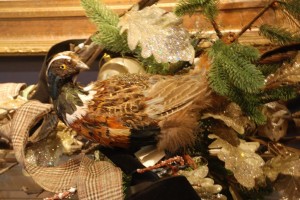 Lay all the ingredients out before you so you can see what you have. As you do, assess your stockpile. Are there accents you no longer love, or that are starting to look dated or tired? If so, let them go. You only want to surround yourself with the things you love.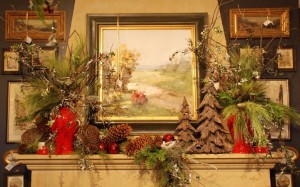 Is there anything new you'll need to freshen up your collection? New greens (they only last a few years)? A fun new focal point like an angel, reindeer or Christmas tree? If so, now you have an excuse to go shopping! (As if you needed one, right??)
Step 2: Decide On a Theme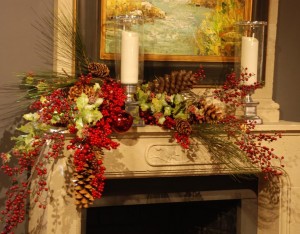 Your mantel and chandelier need to communicate one lovely, focused look, not be a hodge-podge of lots of different themes. Bruce, a movie buff and the head of our visual display team at Nell Hill's Briarcliff, says to think of your home like a movie set. Everything in a display needs to be true to that movie. If you pull in pieces that don't fit your theme, it's like dressing your set for two very different films. It doesn't work.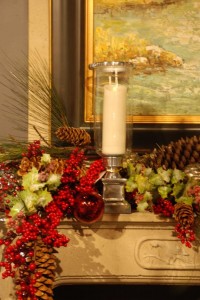 This beautiful mantel at Nell Hill's brings to life one of my all-time favorite themes for the holidays: winter woodlands. I am crazy about birds and natural greens, so I like to pull together displays that look like they are a snapshot from nature. Right now, just about every holiday look is in, from glamorous and regal to whimsical and fun. So the sky is the limit when you pick the theme that works best for you.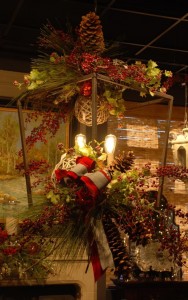 Don't forget to dress up one of two chandeliers in your home, whether in the entry, dining room or kitchen, because they give you tons of bang for the buck. A gorgeous fixture pushes the entire room up on the drama scale, and doesn't take that long to do.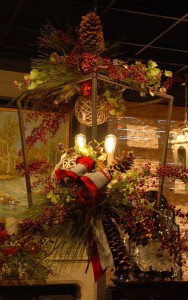 Winter berries are the theme in one of our galleries at Nell Hill's this year, so we echoed the look on this light fixture.
Step 3: Layer it Up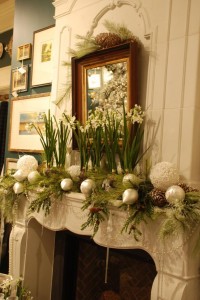 Everyone has her own LQ: Lushness Quotient. Some of us like displays that feature layers upon layers of décor. Others of us prefer to decorate with just a few powerful objects that make a strong statement in their simplicity. What is your LQ? Bring that to life through the layers on your mantel and light fixtures.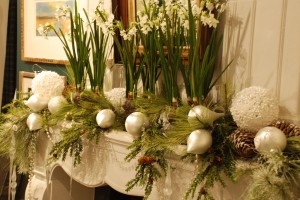 I'm crazy about this mantel display at Nell Hill's. When you deconstruct it, it's really pretty simple. We centered a line of faux paper whites in glass compotes then filled in with ropes of garland dotted with strings of pearls and white and silver ornaments. But the mantel is so lushly layered, it rates a 10 in my book.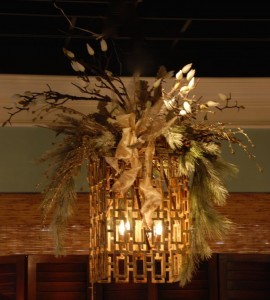 The same holds true for this stunning treatment on a light fixture at Nell Hill's. Opulent and elegant, this chandelier is a show-stealer, thanks to layers of picks, a rich assortment of natural and glam pieces intertwined with ribbon. Love it!
Next Week … Make your table beautiful for holiday entertaining, and all winter long. I'll show you how to create tablescapes you can still use to add beauty long after the holidays are over.