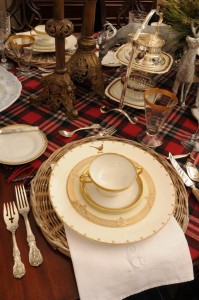 Setting a stunning table for  the holidays is high on my Bliss Chart. Whether I'm in the mood for simple and serene, or shock-and-awe, I love approaching my tabletop like a canvass, ready to tell a story that entertains my guests. This year, I'm building a tablescape that I can easily transition from winter holidays to just plain winter so I don't have to take it down on December 26. Here's how you can do the same:
1. Start with wintery white dishes that transcend the holidays.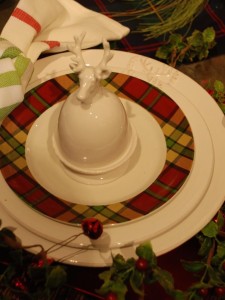 Meet my new dish crush: these simple white dishes that feature the relief of a deer's head. These guys stole my heart at market because they hit two of my hot buttons. First they are white, which means they have no ego. They are happy to go any direction we want to take them. Depending upon what accent plates, table linens, glasses and centerpiece items we pair them with, we can create a jillion different looks. Fun!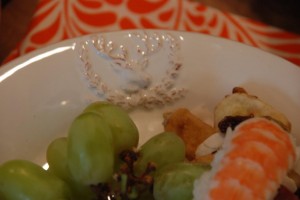 Second, they had oodles of charm. If you've been reading my blog for long, you know I adore a rustic, hunt club look in the winter. So, I took the dish salesperson's order form and said "I do"!
2. Pair them with holiday accents you love.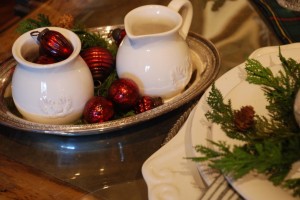 Now for the fun part: using these easy-going dishes to create a holiday look you love. Bruce, the head of our visual display team at Nell Hill's Briarcliff and ace camera man, grabbed some snapshots of displays at Nell Hill's featuring our lovely deer head dishes. If you don't own any white dishes, here are two things you can do: First, put them on your holiday gift list! Second, use white serving pieces on your holiday table instead, like we did here. All we had to do to make this cream and sugar set merry-merry was put it on a vintage silver tray, then festoon with greenery and ornaments.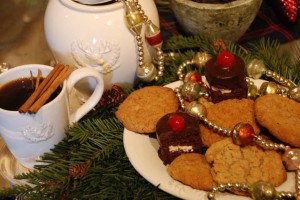 Another super easy way to give your white-dish-dressed table some holiday flair is to use a seasonal table square for a tablecloth. It's hard to see, but we have a plaid square on this display table. Then, dot in some iconic holiday décor, like the faux winter greens and glass bead garlands in the display above. At Nell Hill's sometimes we place holiday wreaths under the dinner plates as festive chargers. Or you could fold a holiday napkin in a fancy way and place it atop the plates. Or top each plate with a sorbet cup holding a Christmas tree ornament. Dig into your holiday décor box and get creative.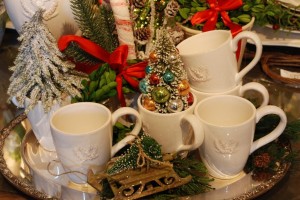 For a fast and fun centerpiece, polish up a silver tray, stack up a few of your white coffee cups then fill in with some holiday decorations. Remember those kitschy bottle brush Christmas trees? They are back! In fact, they have been hot sellers at Nell Hill's for the past few years. I love them because they are a simple way to put a celebratory stamp on any display.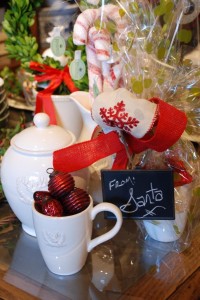 One more quick note on the deer head dishes before I move on … they make fabulous, inexpensive gifts for friends, neighbors, co-workers, teachers, etc.  Fill a mug with ornaments, cocoa mix, cinnamon sticks, a pretty spoon – anything – and wrap it up in cellophane tied up with a beautiful ribbon, and you have an affordable gift that looks like a million!
So… how do you take your white dishes and holiday décor and come up with a fabulous look? Here are some examples of how I've dressed up my white dishes for the holidays through the years …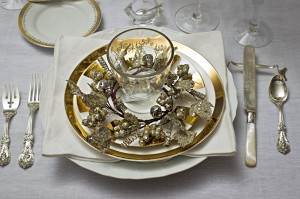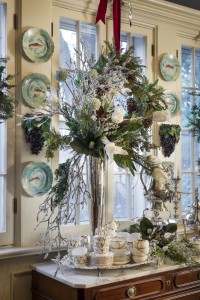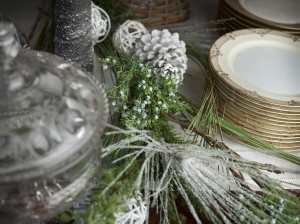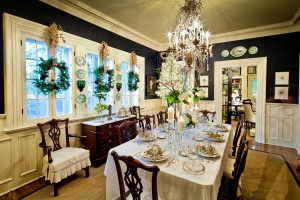 3. Switch to winter icons after the holidays are over.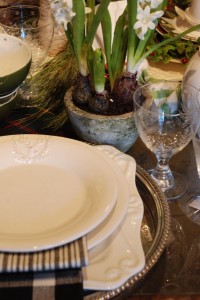 The day you take down the holiday décor is always a little sad, isn't it? Your house looks so bare after being dressed in all that finery. But you can keep the lush winter layers going on your dining table until the crocuses pop out in spring. Just pull out all the pieces on your table that scream "holiday" and fill in with décor that celebrates winter. Here's how we pulled that off at Nell Hill's. Notice we kept our plaid table topper, but brought in black and white napkins. We cleared off the ornaments and put pots of faux paper whites at the table's center.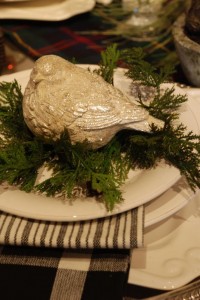 Your white dishes will allow you to go lots of different directions on your winter table. You can pair them with silver and gold for a formal and elegant look. The other day I was at a dinner party thrown by a friend, and she set her table completely in white. You might think a white-on-white palette would be booooorrrrrrring. But it was a knock out! I love a winter woodland look in my home in January and February. You can bring this to life easily on your post-holiday table by topping your white dishes with a bit of nature, like did here, using some faux greens and this darling bird.
Next Week … Have some last-minute holiday gifts to get? I have ideas for perfect presents!