From the beloved bronze figurine that stands proudly on my mantel year round to several silver serving pieces I use when I entertain, some of the most precious treasures in my home were gifts from friends and family. These pieces are special to me not just because they are lovely, but because they reflect the love of the gift givers, who took time to study what kinds of things I like and hunt for just the right thing. Want to pick out special holiday gifts for those you hold dear? Here's how: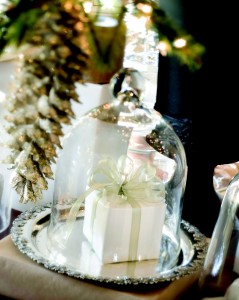 To pick a gift that is spot-on, you need to spend a few minutes studying the recipient. What is this person passionate about? What does he love to do? What are the kinds of things she surrounds herself with and showcases in her home? Once you have a crystal-clear understanding of what brings your loved one joy, zero in on one of her hobbies or activities or interests. Brainstorm the type of gifts that might be useful in her pursuit of this passion. Here are a few things I'd recommend …
For the cook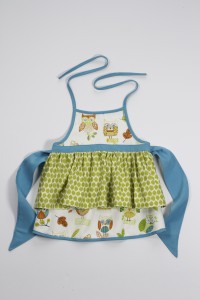 I have lots of friends who love to cook. I love to eat, so we get along very well! Cooking can be messy and if the olive oil splashes or the tomato sauce bubbles a little too robustly, it can destroy your clothes. So, I'm giving some of the cooks in my life a cute little apron. The apron shown here is designed by Nell Hill's to benefit the Global Orphan Project's work with orphaned and abandoned children in Haiti. You can find them at Nell Hill's.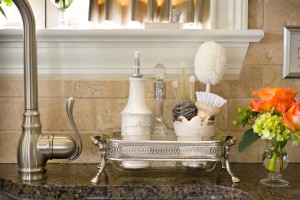 After spending decades with Dan, who does all the cooking in our house, I know that cooks need things to hold all their gadgets and gizmos and sauces and spices. Why not give your favorite chef a beautiful tray, bowl or canister to hold all her stuff with style?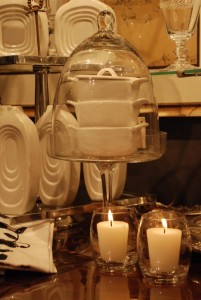 Once the delicious dishes are prepared, it's fun to display them beautifully. My favorite food stages are trays, tiered servers, cake plates, footed bowls and compotes. Perhaps the cook in your life could use a new serving piece to make her creations look as wonderful as they taste.
For the reader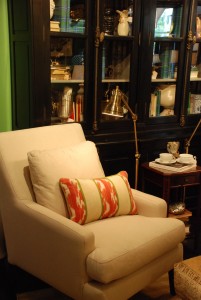 I've found that the older I get, the more important it is to have great lighting when I read. (And, it also helps to remember where you put all those spare pairs of reading glasses!) If your favorite reader is trying to squint his way through his favorite books, get him a great reading lamp he can place next to his favorite reading chair.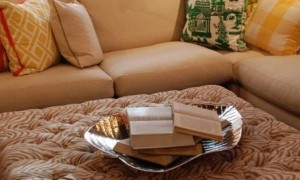 Dan never met a book he didn't want to buy and display in our home. So I'm always looking for cleaver ways to include books in my décor. One of my favorites is to place a large tray on a coffee table, then fill it with books.  Scout for a tray that your book lover could use to hold the books and magazines he is enjoying.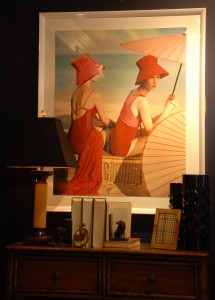 Another great gift idea for the reader in your life is a set of book ends that would work well with her décor. Want to be unorthodox? You can use just about anything for a bookend, from pottery to architectural elements to lamps.
For the gardener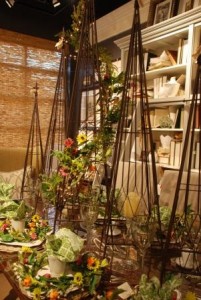 My friends who are gardeners love to bring the look of their gardens into their home décor. This presents a rich opportunity for gift giving! We created this dramatic table at Nell Hill's to celebrate the garden, using trellises for centerpieces. When the weather warms up, the trellises can go outside, inserted in a big iron urn or in the garden bed to hold a flowering vine.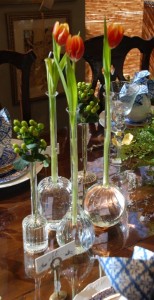 There is nothing more rewarding that snipping a fresh bloom from your own garden to add beauty to your home. How about a lovely vase?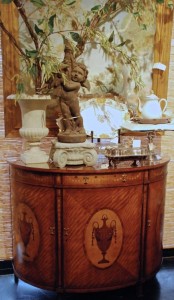 I'm crazy about garden statues and use them year round in my interior decorating. Give the gardener in your life a statue to work into an interior display or to serve as a focal point in a garden bed outside.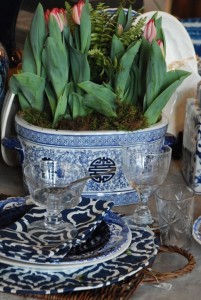 Garden cachepots are perfect building blocks for lovely centerpieces. This English footbath replica looks gorgeous filled with potted plants, a great way to give your gardener a bit of green in her home during the cold winter months.
For the wine enthusiast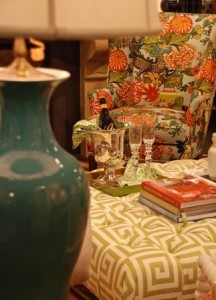 Picking wine for enthusiasts can be hard – it's so difficult to know their tastes. So I like to give gifts my wine aficionados can use to serve their favorite bottle in style, like a pretty decanter and glasses. Or, a great tray to hold their wine service.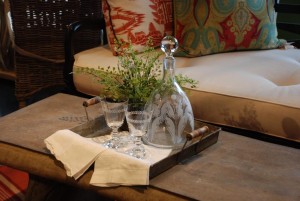 You can find trays, bottles and glasses in lots of different styles and price points. This rustic tray is great for indoor or outdoor entertaining.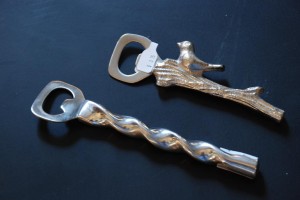 Do you have a friend who prefers craft beers? These fun bottle openers are big sellers at Nell Hill's.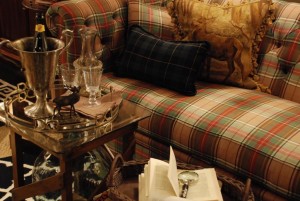 Another great gift idea is an unusual ice bucket to keep the bottle cool. How about this fun trophy cup? Or a cachepot? We sell lots of decorative ice buckets at Nell Hill's so the wine will be a pretty addition to the table.
For the pet lover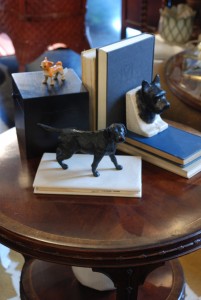 Is your friend ga-ga about her cat or dog? Scout for a fun animal accent she can use in her décor. Dog figurines sell like hot cakes at Nell Hill's because so many of us want to celebrate our animal friends in our décor.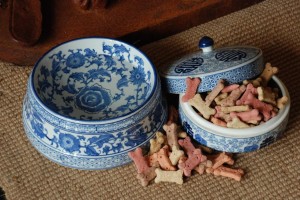 My dog and cats eat in our kitchen, so I long ago decided to make their dinner bowls as attractive as possible since they are a fixture in our most-used room. These blue and white pottery bowls and lidded jars are very popular at Nell Hill's, and you'll find them at my house, too.
For the romantic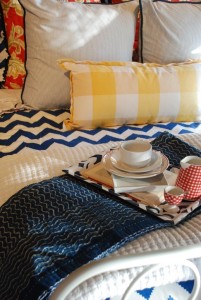 I'm a bit of a romantic at heart, and I love to get gifts that fill my everyday life with beauty. How about giving your friend a tray filled with the fixings for breakfast in bed?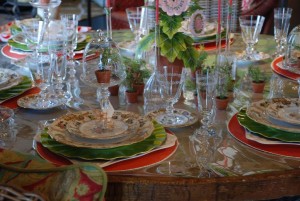 I have a weakness for vintage dishes. Does your friend? Find some old plates (or replicas) for her to use on her table or to hang on her wall as artwork.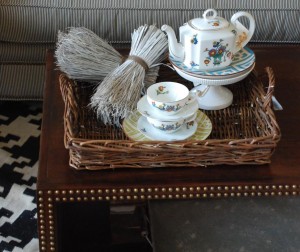 Tea, anyone? Give your loved one an excuse to slow down and enjoy a steaming cup of tea by giving her a unique tea set for the holidays. Who knows – you may get an invite to come join her!
Next Week … The holidays can be so stressful, can't they? I'll share my five favorite ways to rest and restore during this crazy time of year.