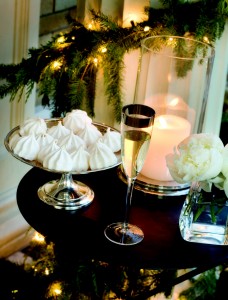 The holidays are a time of magic, and mania, aren't they? We are all so busy making merry, shopping for gifts for loved ones, baking and cooking, and entertaining, that we risk running ourselves ragged. Take a moment to stop and refuel yourself. Here are my top 5 refresh strategies: 
Refresh 1: Pour Yourself a Cup of Cheer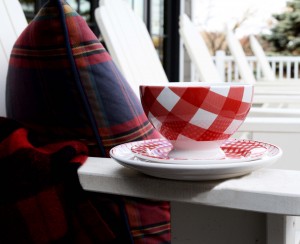 When you've wrung the last ounce of energy from your hard-working holiday-making self, what is your favorite beverage to indulge in? Mine is hot cocoa: Steaming, creamy rich, liquid chocolate heaven in a cute-as-a-button mug. When I come home on a freezing cold winter night, chilled to the bone, all I want to do is soak in the tub while I drink a cup of cocoa. Perhaps this is why I will never be thin …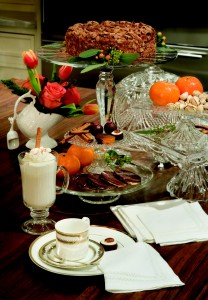 Filling yourself with your favorite beverage is only half the fun. The other is enjoying the indulgence of serving it up in a beautiful mug or glass, stirring things up with a sweet little spoon, perhaps balancing it all on a lovely plate. When you have the right dishes, even the simple things in life become luxurious.
Refresh 2: Get Your Beauty Sleep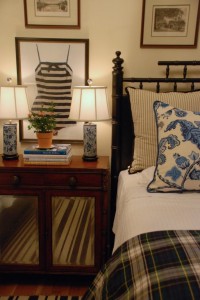 We've always known it; science has proven it: A good night's sleep does wonders for our physical and mental wellbeing. Unfortunately, too few of us get the shuteye we need every night, especially during the hurly burly holiday season.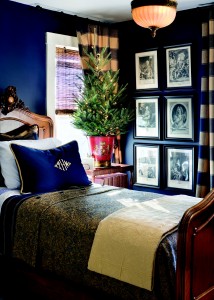 I am convinced that a good night's sleep starts with the sheets. I am kinda OCD about my sheets. I like high quality cotton sheets that are freshly ironed (yes, I literally iron my sheets, and yes, I can see you rolling your eyes right now!). There is something magical to me about slipping into those crisp, soft sheets. Next, I like to pile up my bed with layers of blankets. I sleep best when the room is chilly, buried under a stack of quilts and comforters. Maybe this is a result of living in a drafty old house!
Refresh 3: Indulge in Some Eye Candy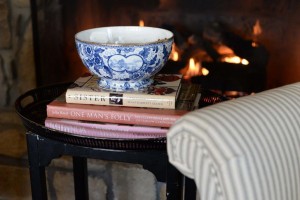 Those of us who love beautiful spaces need to indulge ourselves is books and magazines and Pinterest boards filled with decorating eye candy, don't we? These beautiful tomes, filled with gorgeous photos of homes we'd love to live in (or at least visit!) restore our creativity and rekindle our passion to feather our own nests.
My prepare-myself-for-the-world morning ritual includes thirty minutes with a decorating book. Bundled up under a throw, cup of coffee in hand, I join homeowners and designers on their journeys to make their spaces beautiful. Right now, my decorating book faves are:
One Man's Folly: The Exceptional Houses of Furlow Gatewood, by Julia Reed
Besides having a fabulous name, Furlow Gatewood has a singular ability to use antiques in his decor so they look fresh, not like your grandmother's parlor. Furlow is an antique dealer in New York who refers to his homes as "laboratories." One of the tips I gained from Furlow was to use light colors with my antiques so they don't look stale and stuffy.
Veranda A Passion for Living: Houses of Style and Inspiration, by Carolyn Englefield
I will never live in a luxurious European home. But I can visit them every day through indulgent books like this one. Chock full of take-me-away photos, the book features 30 stunning homes in France, Italy, Switzerland and Sweden.  Threaded throughout the photos are tips from top designers on how to create drool-worthy interiors.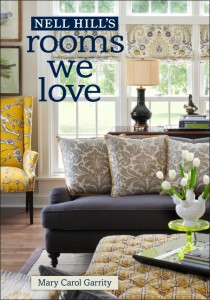 Nell Hill's: Rooms We Love, by Mary Carol Garrity
Do you have a copy of my latest book? It features the interiors of my home and a few of my dear friends. I hope you like it! We carry them in our stores, so give us a call if you'd like us to ship an autographed copy: 877-746-4320. You can also order the book from any online bookseller.
Another great escape is to lose yourself in Pinterest. Come check out our Nell Hill's boards, and pin them to your own!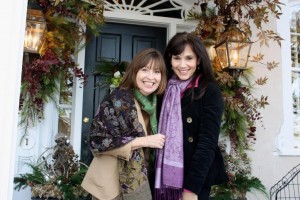 The Shoebox, by Lisa Fernandez
It's also wonderful to hit the pause button on your chaotic schedule to enjoy a take-me-away read. Maybe your favorite is a romance novel or a mystery. Recently, my friend Lisa Fernandez sent me a copy of her novel, The Shoebox. It was so fun to read this story of love, loss and regret, especially since I know the author (the pic above is of Lisa and me during one of my open houses)!
Refresh 4: Treat Yourself to Luxurious Bath Products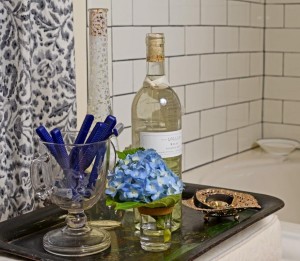 When you're tired and weary from holiday shopping, baking, wrapping and decorating, give yourself a mini spa break with some luxurious bath products. It may be as simple as some lovely scented hand cream in your purse to keep those dry winter hands happy. Or a favorite body butter to use after you shower to hydrate and heal your body and mind and spirit. There is something wonderful about the silky texture and alluring aroma that just does us good.
Since I end every day with a long, indulgent soak in the tub, I'm always on the lookout for fabulous bath products. Right now I'm hook-line-and-sinker in love with Lollia products.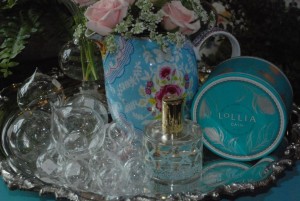 I discovered them at market a few years ago and knew I had to start carrying them at Nell Hill's. My favorite scents are the Relax foaming bath and the Calm hand cream.
Refresh 5: Nosh on Some Yummies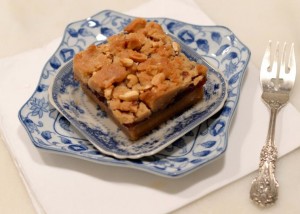 OK, all you health nuts out there, whose idea of an indulgent snack is an extra carrot stick or two, you might want to quit reading. Because when I'm bone-dead tired from the holiday crazies, I crave baked goods. Rich, gooey, flakey, sinfully high-calorie croissants and éclairs and cookies and cakes and pies and … oh my goodness, I got carried away there.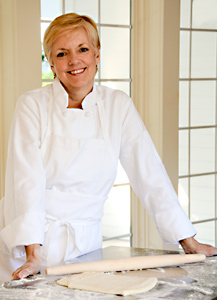 My friend Tracy, who owns the French Bee Bakery in Parkville, Mo., keeps me supplied with the best pastries in the world. It's super easy for me to swing by her bakery in this adorable old river town on my way to work. I fill up a box with an assortment of bite-sized treats to share with the Nell Hill's team or with guests when I entertain. Even though these appropriately portioned treats are just the right size for a little indulgence, I don't just eat one. This is another reason I will never be thin.
Next Week … What decorating trends will be hot in 2015? I'll share the predictions of one of my favorite designers …