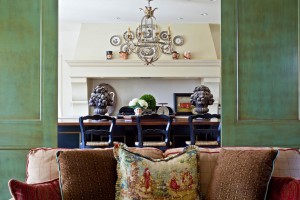 Infuse your interior spaces with star quality by adding some kind of statement piece, like a unique architectural element, head-turning furniture or a pop of unexpected color. By working in just one "wow!" feature, you can transform your room and transfix your guests. Try one of these five ideas. 
1. Hang a Huge Piece of Artwork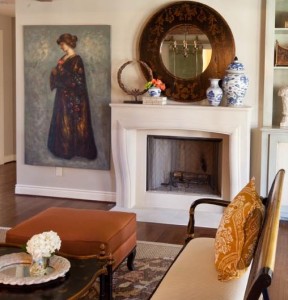 Artwork has the magical ability to add lots of drama and personality to a room. So when you fill a wall with a really, really big piece of killer art, the impact is stupendous. I'm crazy about montages made out of a mix of smaller sized pieces. But there is something incredibly powerful about using an entire wall to spotlight one wonderfully oversized piece.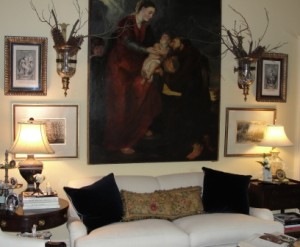 I tried this trick in my own home with a huge painting Dan brought back from a buying trip in Europe. You can see from this snapshot taken during my winter open house that I centered the painting over my sofa and flanked it with two sconces, the contents of which I change out seasonally. My living room has changed since this shot was taken, but the picture remains, a dramatic constant in the room.
2. Place a Bulky Cabinet in an Unexpected Spot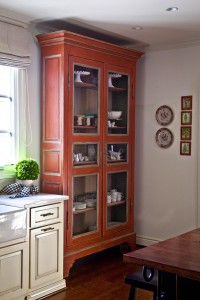 Large cabinets pack lots of punch and elevate the look of any room lucky enough to have one. Whether it's a large bookcase in your study, an antique armoire in your bedroom or a cabinet in your kitchen, these big beauties steal the show. In this photo of my friend Anne's dream kitchen, an immense red cabinet interjects a bit of color into the room's otherwise neutral décor. And, it gives Anne a place to store and display dishes and accents.
Right now, lots and lots of Nell Hill's customers are investing in these statement pieces for their kitchens, just like Anne did. While built-in cabinetry is a must in your kitchen, the new trend is to also add a contrasting piece of furniture to use for storage and display. I think these pieces are a perfect pick for a kitchen because they give the space a more evolved, homier feel.
3. Work in an Architectural Accent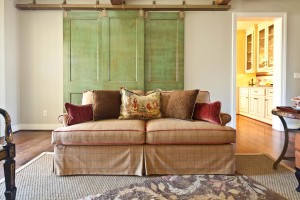 Long before Anne was able to build her new home, she knew she wanted to add in some architectural accents that would make the rooms uniquely hers. One of her ideas sent me to the moon: barn doors hung in the doorway between her family room and kitchen. She'd seen this in a decorating magazine and fallen in love, clipped the picture and saved it until it was time to build her own home. It was worth the wait. The green barn doors that now separate her kitchen and family room look sensational whether they are opened or closed.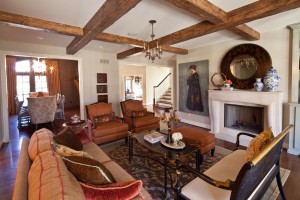 Another eye-catching architectural element in Anne's new home is a ceiling crosshatched with wooden beams. She loved the rustic look of old beams, so she had her builder fashion these reproductions, which were easier and less expensive than the real thing.
Unless you're building a new home or remodeling your existing home, you may not be able to add architectural elements like these, but you can use your creativity to create drama by mimicking the look using different means. For instance, if you want to define a large passageway, like Anne did with her barn doors, place big, bulky floor screens on either side of the doorway.
4. Add a Piece of Eye-Catching Furniture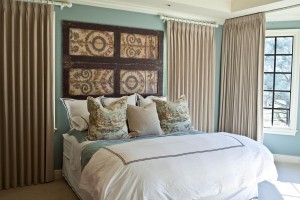 You wouldn't want your entire home filled with statement furniture, but a piece here and there will keep your interior spaces lively. In the photo above, Anne decided to give her bed star quality by crowning it with a statement piece headboard. I'll let you in on a little secret – she achieved this look not by investing in a regal bed frame but by hanging two inexpensive painted wood panels she got from Nell Hill's above the top of her bed!
5. Try a Pop of Color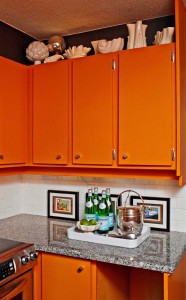 Everyone has a different CQ – color quotient. Some people want their spaces filled with bold, beautiful color. Others prefer a quieter, more muted palette. No matter where you fall on the CQ scale, consider adding a new pop of color to your space. I guarantee, it will turn heads. The photo above is of my friend Rich's kitchen cabinets, which he fearlessly painted in his favorite color. Talk about a statement!
I recently got the paintbrush out and did a little color redo in my home, too. It all started when I was at a boutique hotel in Chicago that had painted the interior doors black, creating a wonderful contrast to the rest of the interior woodwork, which was painted cream. I had an ah-hah moment and decided to try the same trick in my home. I've been itching to replace my lackluster interior doors with six-paneled mahogany doors. But when I got the bid from the contractor, I was floored. So, for the price of a gallon of glossy black paint, I've tricked up a few of my existing interior doors.
Next Week … Dust off your porch and get ready for summer. I'll have some tips for achieving a high-style, low-maintenance look for your outdoor spaces.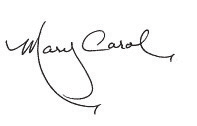 P.S. Don't miss a bit of Nell Hill's news – stay up to date on my favorite finds, new arrivals at the stores and all our special events by checking the Nell Hill's Facebook page every day. You don't have to have a Facebook page yourself to look in on the fun, but if you're already on Facebook, "like" us today!