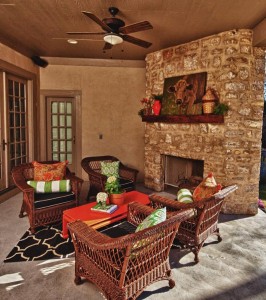 One of my favorite things to do in the spring is to get my porch spruced up for a summer of entertaining and relaxation. This year, I have an incentive to make my outdoor spaces really special: On May 11, I'm once again inviting everyone to come tour my home during my Spring Open House. (The tour is free and fun, and each room will be packed full of ideas you can try in your own home this season – I hope you can join us!)
This season, why not make your outdoor room your favorite spot to hang out? The secret to creating outdoor spaces you will really use is to make them so beautiful that they fill your senses and so easy to maintain that they don't add stress to your life. Here are some ideas to make your outdoor spots lovely and carefree.
Sturdy Stuff Outside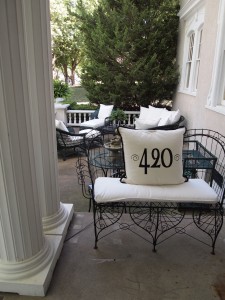 My historic home is outfitted with a few patios, a necessity back in the days before air conditioning.  These open areas are lovely, but they are woefully exposed to everything Mother Nature dishes out, from high winds, beating sun and torrential rains, to birds that leave their droppings right where I want to sit. I've learned the hard way that everything you place there needs to be tough enough to take on the elements and win.
When I designed the furniture grouping on my front patio, I wanted a relaxed, gracious feel, so I chose weather-resistant outdoor wicker furniture. Summer after summer, these chairs stand up to the elements, and they still look beautiful. It may sound crazy, given the amount of debris that falls down on the chairs from the trees and neighborhood wildlife, but I outfitted them in white cushions. Here's why: Even though white shows dirt, it's super easy to clean up. When the cushions start to look dingy, I slip off the covers, wash them with a bit of bleach, place them back on the cushions when they are still damp, and they look like new.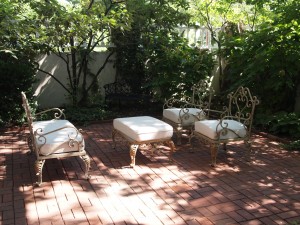 Last fall, I added a group of iron chairs to my courtyard, and I am completely smitten by them. I tried fitting them with indoor cushions at first, but it was a nightmare. To keep the cushions looking good, I had to store them inside. That meant that every time we wanted to use the chairs, we had to drag out all the cushions. Needless to say, this was such a hassle we almost never used the chairs. This spring, I'm making weather resistant cushions out of outdoor fabric. I can't wait to unveil them at the Spring Open House!
If you're still babying your outdoor furniture, give yourself a break and invest in furnishing and fabrics that are made to withstand the weather. You'll be amazed by how far outdoor furniture and fabrics have come – I was.  I'm particularly blown away by the range of colors and styles and patterns available now in outdoor fabrics. I decided to carry some at Nell Hill's Briarcliff, and it's been so popular, I've expanded the line. You can get a mix of fabrics to create custom outdoor cushions that are every bit as beautiful as those inside your home.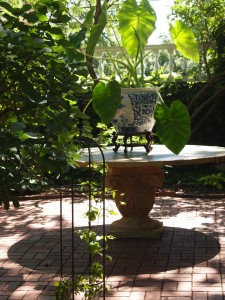 One of the best pieces of furniture I've gotten for my courtyard is this eye-catching concrete table. I've had it for about five years, and I reinvent it every season, using it to hold a variety of accents, surrounding it with chairs for a dinner party or using it as a buffet when I entertain outside. It's regal and elegant and can't be destroyed by the weather or rough use. Guests to my home love it so much, I've started selling it at Nell Hill's.
Protect Your Delicates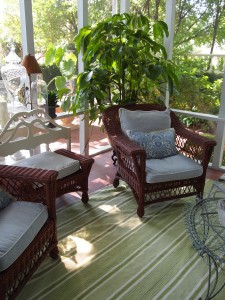 I really like to use indoor furniture in my outdoor rooms because it's so unexpected to have refined pieces in rugged, natural environments. But I also live in a part of the country that sees some pretty severe weather during the summer. So I place my more delicate pieces, like my antique daybed and wooden hutch, on my covered screened porch, where they aren't exposed to rain, wind, direct sunlight or the neighborhood wildlife. I have indoor cushions on my furniture, and even though they get damp during some of our gully-washing Kansas storms, they dry nicely.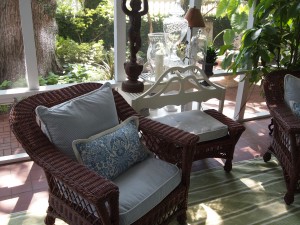 Dan and I practically live on our screened porch during the summer, so our cushions get a lot of wear and tear. Every few years, when I need to recover the cushions, I usually try a whole new look. But I am so over the moon about the blue and cream ticking on my cushions right now that I'm repeating it. The ticking acts like a neutral, allowing me to use a host of different colors and patterns in my accent pillows, area rug and accents.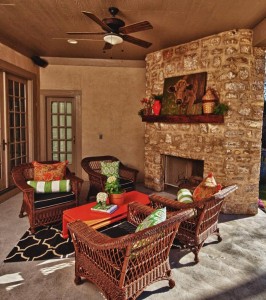 If your outdoor room is only partially protected, use furniture and cushions that can handle a bit of stress. A friend of mine furnished her covered patio with the top-selling indoor wicker chairs we carry at Nell Hill's because her spot isn't exposed to harsh sunlight and direct rain. But when the forecast calls for heavy rain, she has to pull the chairs further under the protective overhang so they don't get wet.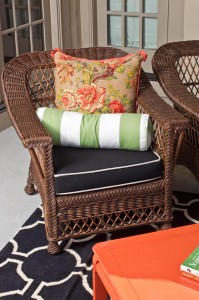 The outdoor fabrics on these seats can take a beating and still look beautiful. I adore the mix of fabrics she pulled together to bring to life her plucky orange, green and black color palette. Notice the contrasting welting on the cushions? They are marvelous! Since cushions are expensive, go with a neutral fabric that allows you to change out your accent pillows to create a number of different looks.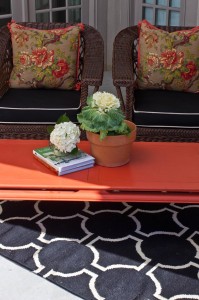 This playful coffee table is a great pick for this patio because the outdoor paint helps protect the wood from the damp.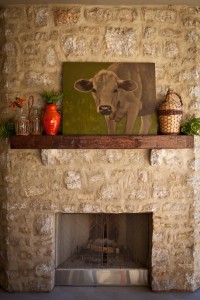 I wish I had a spot for an outdoor fireplace so we could enjoy our porch in the early spring and late fall. My friend's fireplace not only provides warmth, it's a great focal point.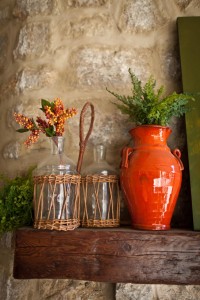 Notice that she's decorated her outdoor mantel in much the same way you would adorn your indoor fireplace. But if you look closely, you'll see that the accents are tough enough to handle the weather and inexpensive enough that if they are ruined, it won't be the end of the world.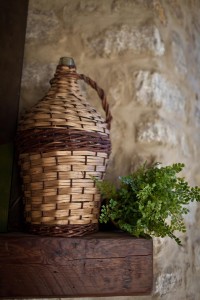 I like the happy orange pottery and wicker covered bottles on this rugged mantel. The faux greens add a bit of natural color but don't have to be watered. My favorite kind of plants – the ones you can't kill!
Next Week … Plants fill your home with the freshness of spring. I'll have some fun tips for working them into your décor next week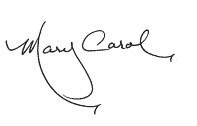 P.S. Don't miss a bit of Nell Hill's news – stay up to date on my favorite finds, new arrivals at the stores and all our special events by checking the Nell Hill's Facebook page every day. You don't have to have a Facebook page yourself to look in on the fun, but if you're already on Facebook, "like" us today!