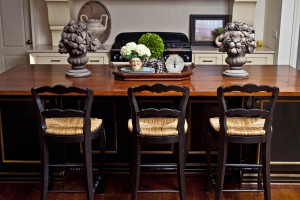 I am so greedy for green by the time spring rolls around that I can't just enjoy nature outside my window—I have to fill my home with plants too.  I can't get over what a difference it makes when you add a splash of green to a few key spots. It lifts my spirits and freshens my décor. Here are five quick tips for working plants into your home too.
1. Celebrate the Art of the Topiary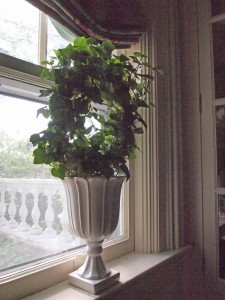 I am crazy about live topiaries because they are verdant three-dimensional art. So this spring, I've decided to showcase them in my home and feature them at my Spring Open House on May 11. I hope you'll join me for this fun, fun day when I open my historic home in Atchison, Kansas, for free tours. The perfect way to celebrate Mother's Day, the Spring Open House will be relaxed and informal, and each room in my home will be full of inspiring spring decorating ideas. One of my favorites will be topiaries! In fact, I'm going to have a large number of live topiaries for sale during the open house. I can't wait for you to see them – you are going to love them as much as I do!
2. Add Romance with Ferns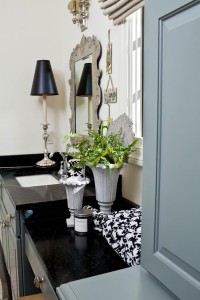 You have to know right up front that I am NOT a green thumb. Every house plant I've tried to grow has met the same disastrous end. My friend Melinda says that for me, house plants are like fresh flowers because they have about the same lifespan in my home (you gotta love your friends, don't you?!?). Still, I can't resist!
One of my all-time favorites is the maiden hair fern, and I pick up several every year. They are so romantic, with their wispy fronds, and they are particularly resilient – if they wilt, just trim them, give them some water and they will make a comeback.
Once I pick some pretty plants, I put them (plastic pots and all) into cachepots and work them into displays throughout my home. You may find one on a bedside table in my bedroom, on a vanity in the bathroom, on the mantel or a side table. When the weather warms, I put a cluster on a plant stand on my screened porch. I like how the inside plants look against the green backdrop of my garden.
If you don't want the fuss and risk of using a live plant, try a fake. Many of today's faux plants look so real you'll have to pinch them to see if they are alive or not. Faux house plants are also a great option for rooms you don't use often or for second residences, like a lake house.
3. Go for the Drama with a Stately Palm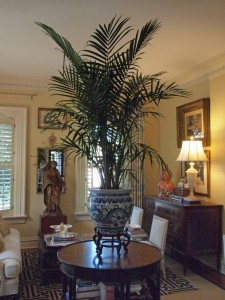 Give a room in your home a bit of exotic beauty by putting a large palm in a killer cachepot and displaying it in a prominent spot. This year, I picked up two palm trees, one for my entry and one for my living room. I slipped one palm into a large blue and white Asian cachepot and the other into a plain white cachepot.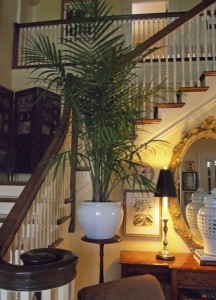 The palm in my entry sits atop a five-foot tall pedestal and is stationed next to my staircase. It fills up this vacant space perfectly and gives me the wow factor I'm looking for. The palm in my living room is standing on the round table that divides the room into separate seating areas. The height of the plant helps separate the two spaces a bit more and gives me lots of vertical height, which I need in this loft space.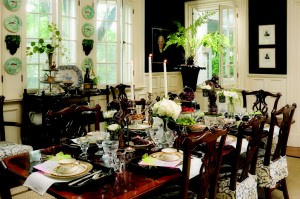 Another favorite look of mine is to place a large faux fern in an iron garden urn in the corner of my dining room, as you see in the photo above. The little pop of green looks great in the room, and the fern is airy enough that it doesn't take up much room or fight for attention.
4. Freshen Your Front Door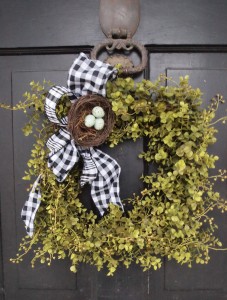 In the spring, I often hang faux green wreaths on my door. I've gotten wreaths made from fern fronds, flowers and twigs. This year, my pick is a wreath made from preserved boxwood branches. It's simple and clean and perfect. You can hang it solo, and you have a powerful punch of natural color. Or, you can dress it up, like we've done at the Nell Hill's stores, tying it with a plaid ribbon and inserting a bird's nest pick. Love it!
5. Get Wild with Green Branches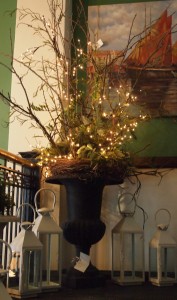 One of our favorite looks at Nell Hill's is to make natural looking arrangements out of real sticks and faux spring branches. To create this wild and wonderful look, select a big ginger jar, tall glass cylinder vase or tall iron garden urn. Insert some bare fallen branches to create the base of the bouquet. Then, work in an assortment of faux picks that resemble spring branches covered in buds. The goal is to arrange the pieces so the bouquet looks spontaneous and natural, like you were out trimming your bushes and just stuck the cuttings in a vase for a second. The jumble of branches captures the essence of spring. In the snapshot above, taken of an arrangement we created at Garrity's Encore in Atchison, we wove in white lights to elevate the drama.
Next Week … During the entire month of May, we're having a tabletop event at Nell Hill's Atchison and Garrity's Encore. Both stores will be packed full of dining tablescapes that will inspire you. Next week, I'll have a preview, plus my picks for the best colors, dish styles and tabletop designs of the season.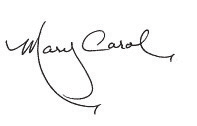 P.S. Don't miss a bit of Nell Hill's news – stay up to date on my favorite finds, new arrivals at the stores and all our special events by checking the Nell Hill's Facebook page every day. You don't have to have a Facebook page yourself to look in on the fun, but if you're already on Facebook, "like" us today!