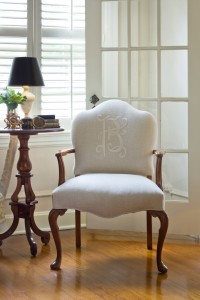 We have been mad about monograms for years at Nell Hill's, but this spring, we're taking these lovely letters to new heights. If you want to add a little something extra, a touch of class, a small detail that makes your rooms so personal and unique, add some monograms. Here are four spots to put your mark: 
Pillows are the Perfect Place for a Monogram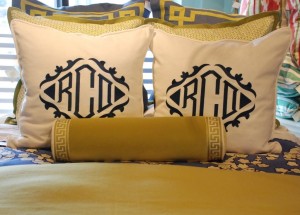 Think of the pillow places throughout your home, like your bed, sofa, window seat or dining room chairs, as easels for pillows emblazoned with your monogram. We're having lots of fun adding monograms to all sorts of pillows that are displayed in all sorts of places. I love this matched set of monograms on these gorgeous euro shams.  Or, you could do one euro for him and one for her.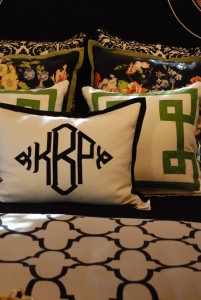 If you love your current bedding but want to make your bedroom a bit more personal, add one small lumbar pillow bearing your monogram to cap your pillow display.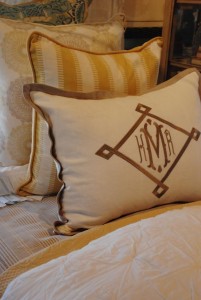 At Nell Hill's we're adding millions of new fonts and styles to our monogram offerings. We now have everything from the ornate and flourished, to the tailored and trim. And, you don't have to just monogram your initials. Have a daughter or son who pledged a Greek house at college? Have their Greek letters monogrammed on a pillow as a celebration.  Know someone who is having a baby? Have the little one's name placed on a pillow as a gift.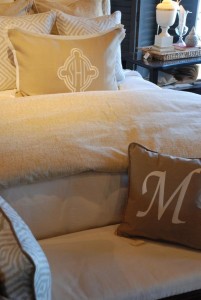 Lumbar pillows are also ideal to showcase at the center of your sofa, on a bench in the hallway, on the dining room table host and hostess chairs. Know someone who is getting married? Have their initials monogrammed on a pillow for a treasured gift. It's also a great gift for the new graduate just starting her own home.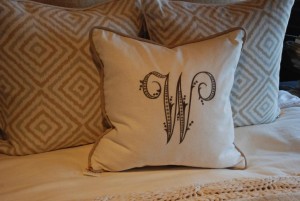 Square pillows are also a super size to toss in anywhere. Check out the fun different monogram styles and how they completely change the look of these pillows. Here, just a last name initial is made resplendent with this embroidered detailing.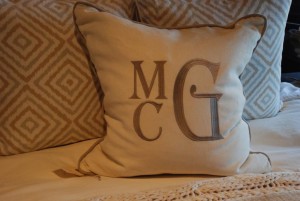 If you like a tailored look, check out this blocked treatment. Love it!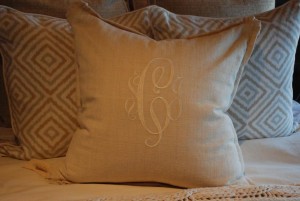 Here's a great treatment for the romantic. The tone-on-tone of this pillow makes it subtle but sophisticated.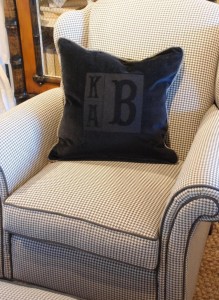 This reversed monogram is really unique and powerful, the undisputed focal point of the chair.
Monogrammed Furniture is an Instant Heirloom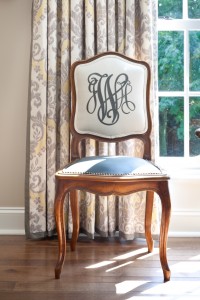 Add your signature to your upholstered furniture with a monogram. It's easier than you think, and we do it all the time for Nell Hill's customers. Ask your upholsterer how  much fabric you will need for the area that will be monogrammed, select your fabric (we have hundreds of gorgeous fabrics to choose from), and pick your monogram style and color. Your upholsterer will use the monogrammed cloth to create an instant heirloom.
Linens Personalize Your Table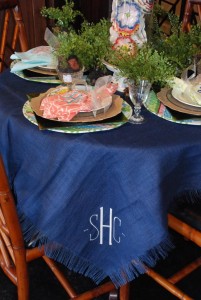 Beautiful linens are an essential for creating a memorable tablescape. A monogram makes this tablecloth transcendent.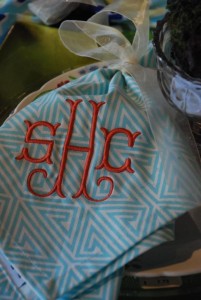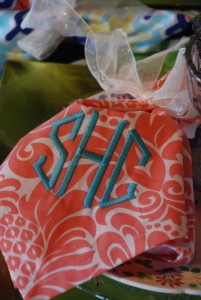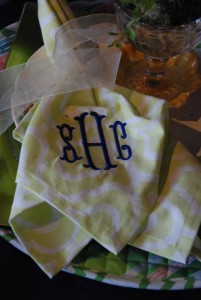 I am so excited about the new monogrammed napkins we're making at Nell Hill's. We have dozens of styles and colors, so there is definitely something for every person, every table. They also make great wedding gifts, housewarming presents, and something for the new graduate starting her own home.
Add a Delightful Detail to Your Home Décor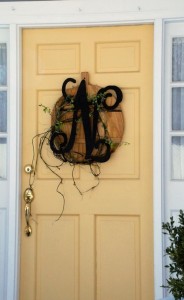 I love to do inventive things to decorate my door, like zipping it up with a metal monogram, like you see in the photo above. These come in black, but you can paint them any color you want to make them even more personal. Have a daughter going off to college? Paint her monogram in her school colors to decorate her dorm room. College girls have gone completely crazy over monogram décor for their dorms! How about a monogram hanging on the wall of your new baby's nursery?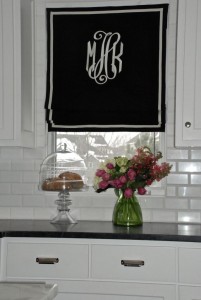 Add a monogram to your window coverings, shower curtains, throw blankets or baby bedding. The sky is the limit!
Next Week … 3 tricks for summery displays on your side tables!