Mother Daughter Moments at Nell Hill's
It seems that almost every day Nell Hill's plays host to mothers and daughters shopping and laughing together and making memories. And it's not just shopping that's a family affair – working here is, too! I'm fortunate to have three generations of women from the same family on my team and I'm thrilled to introduce them to you today, though you may not need an introduction as one (or all) of these lovely ladies may have helped you at some point in the past!
For Design Manager, Carlie Goss, Nell Hill's has been a part of her life since childhood. Her mom, Kathy, is a Bedding Department Manager here, and her daughter, Zoe, is now the Fabrics Department Manager! "Nell Hill's has been a part of my life since I was 12, I have such fond memories of our day trips all together seeing how much we could cram into our car after a day of shopping. We feel like Nell Hill's is our family, it is a part of us. Nell Hill's has been very good to us and we are good to Nell Hill's. There is no store like it anywhere. We hope to be a part of it for many years to come." Carlie says.
One of Zoe's favorite things about working with her mom is not only the ability to see her every day, but getting to learn from one another about different aspects of the design world and the meaningful collaborations that happen as a result. I asked Zoe what makes her mom a great addition to the Nell Hill's team. "My mom is the hardest working woman I know! She puts in long hours and always is looking out for her team above all else. Not to mention her eye for detail and amazing talent she has when it comes to decorating a space! I aspire to be like her each and every day!"
I recently caught up with the three of them to select a few of their favorite giftable things for moms leading up to Mother's Day. It was so fun to spend a day with them flitting from one corner of the store to the next, picking out trinkets, giggling all the while. "We love to go to estate sales and antiquing together, it's hard sometimes because we all like the same things!" Carlie rattled off as she assessed a bud vase. "It's a hoot to see us try and get ahead of each other to get the good stuff first!"
A New Take on the Traditional Ginger Jar
The first thing they spied were these powder blue ginger jars that would be the perfect addition to Zoe's downtown loft. The backdrop is industrial, so they brought in lots of texture and color to soften and warm up the space when they began decorating. The geometric cutouts offer a new take on the new traditional staple, the perfect gift for a young hip mom. "We all had so much fun pulling fabrics and accessories for her. It was a real labor of love." Carlie gushed, of designing Zoe's home.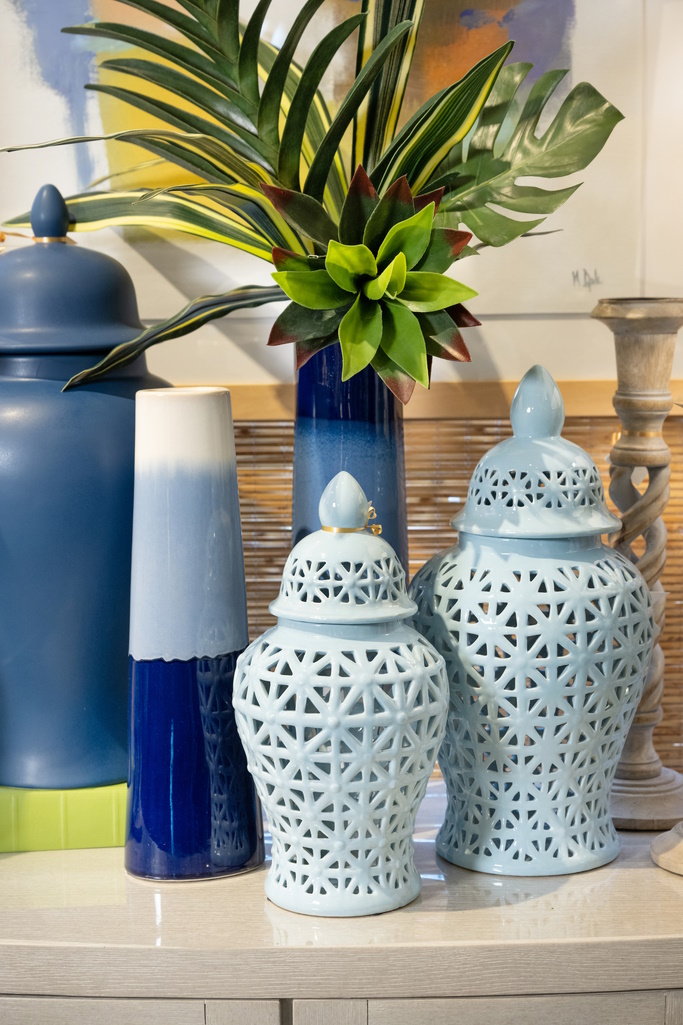 Everyone Loves a Trinket Box
Next, the ladies walked over to a console table that housed a small collection of trinket boxes and a bud vase. Zoe honed in on them right away. As the Fabrics Department Manager, Zoe is always keeping track of pins, clips, and tiny tags. She keeps small containers like these handy as they are the perfect place to stash such necessities while still tailoring to the aesthetics of her space, at home and at work.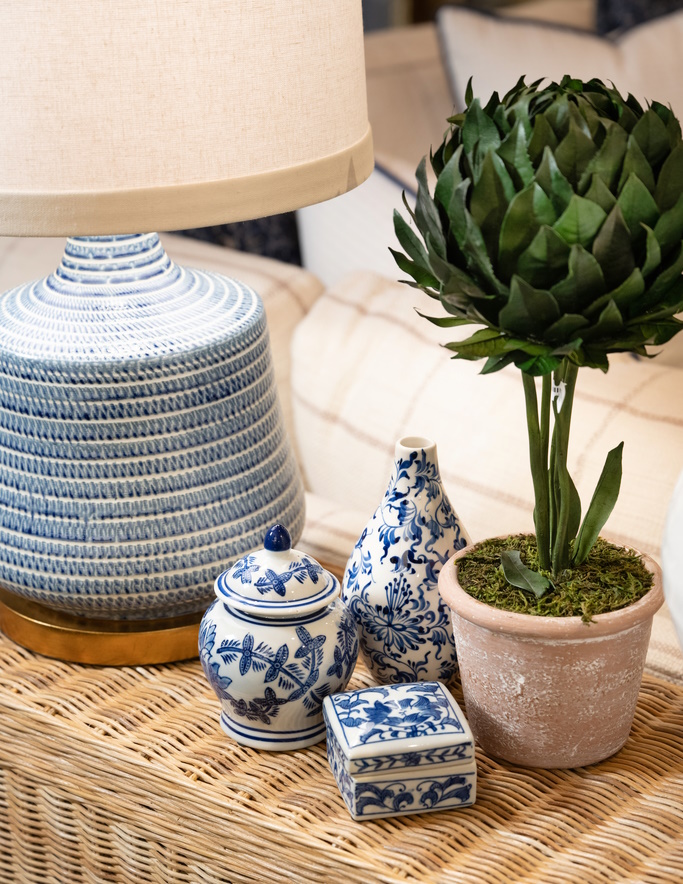 Creative Uses for Cannisters
Next, Carlie gravitated toward a pair of rattan and glass cannisters that were bringing texture and interest to a cheery corner of the Winter Wheat room . A beautiful blend of form and function, they would make for the perfect containers for bath goodies in the guest bathroom or accessories in the bar of her lake house.
For the Mom that Loves to Host
Cheery coup glasses in a warm colorway add an extra layer to the celebration, and some beautiful eye candy to the coffee table when not in use. Carlie is Queen of the Cocktail, and loves having friends over to her beautiful lakefront home for drinks and appetizers. And, she declared these perfect for her signature Spring cocktail, The Rosebud. Each friend gets a different colored glass to avoid any mixup mishaps!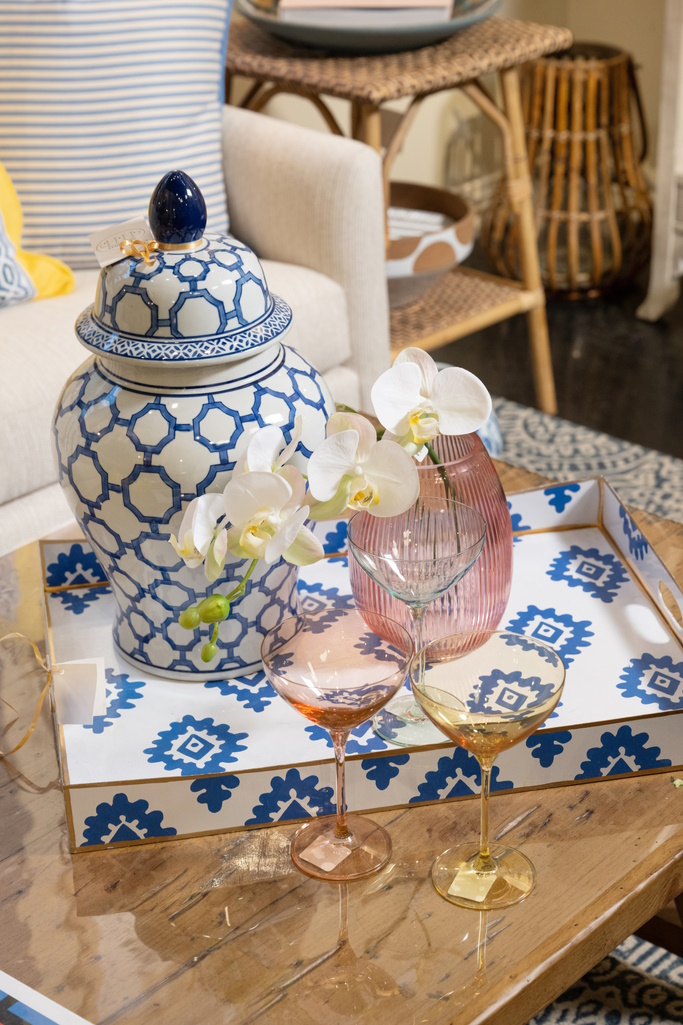 Lean Into New Traditional Style
Kathy's sophisticated style is perfect for the tulipiere. This new traditional staple features an artichoke shape and spouts at varying levels, perfect for displaying a delicate spray of tulips. Originally crafted to grow tulips, rather than display cut stems, a modern tulipiere could serve either purpose.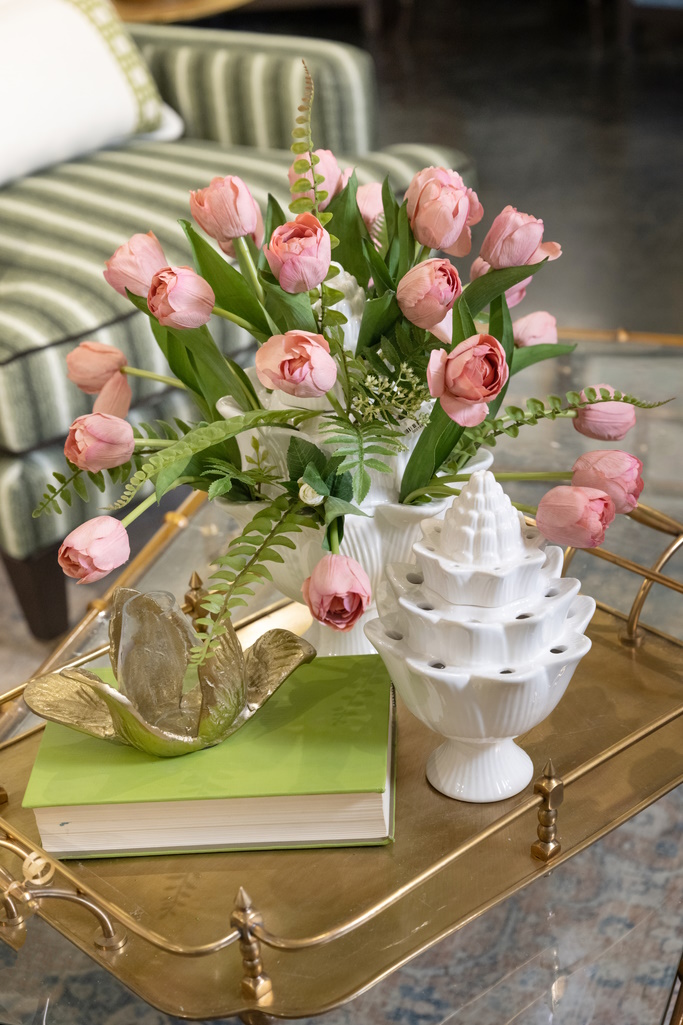 Beautiful and Practical
This decorative tissue box holder is actually one of my favorites that I admittedly had to sneak onto the list. I am known among family and friends for my love practical things, but there's one thing I love even more: beautiful and practical things. Just in time to save me from my allergies this time of year, I love that this decorative holder can be placed somewhere handy and in reach without looking like you simply left an unsightly tissue box sitting on the counter.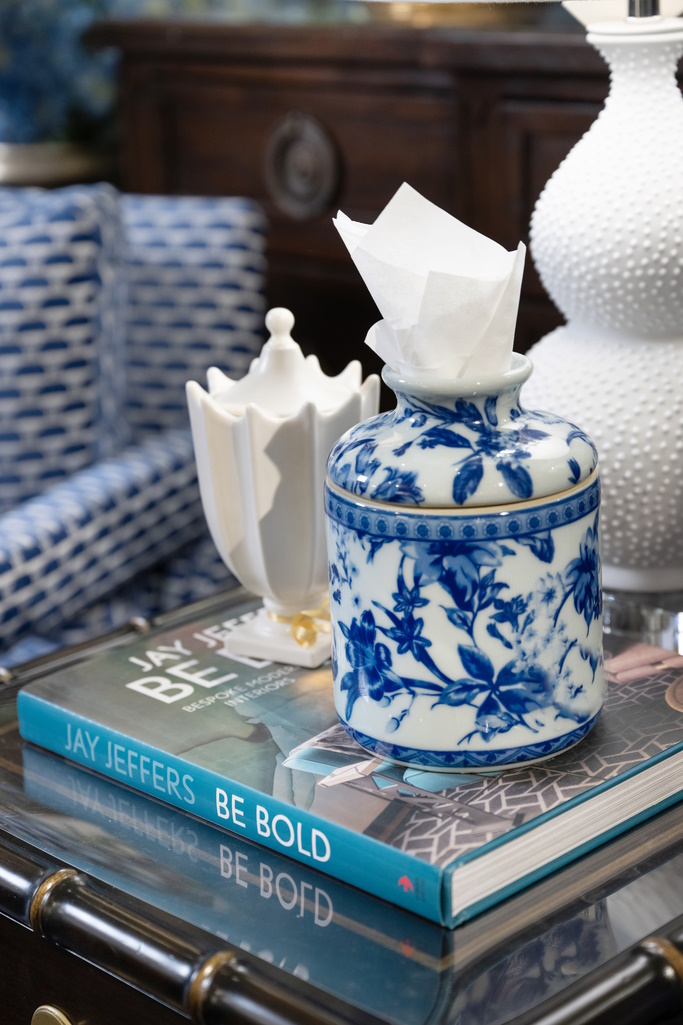 For the One-of-a-Kind Mom
Our shopping trio wandered to the garden corner of the shop where a collection of darling one of a kind hand-painted pottery dress up a chic but casual display. Kathy, who likes to incorporate seasonal decorating into her home, found the perfect vessel for displaying her spring stems. What I love about this collection is the variation found between the pots and plates and saucers. Each piece is beautiful enough to stand out on it's own, but when a few items are grouped together they create a stunning assemblage.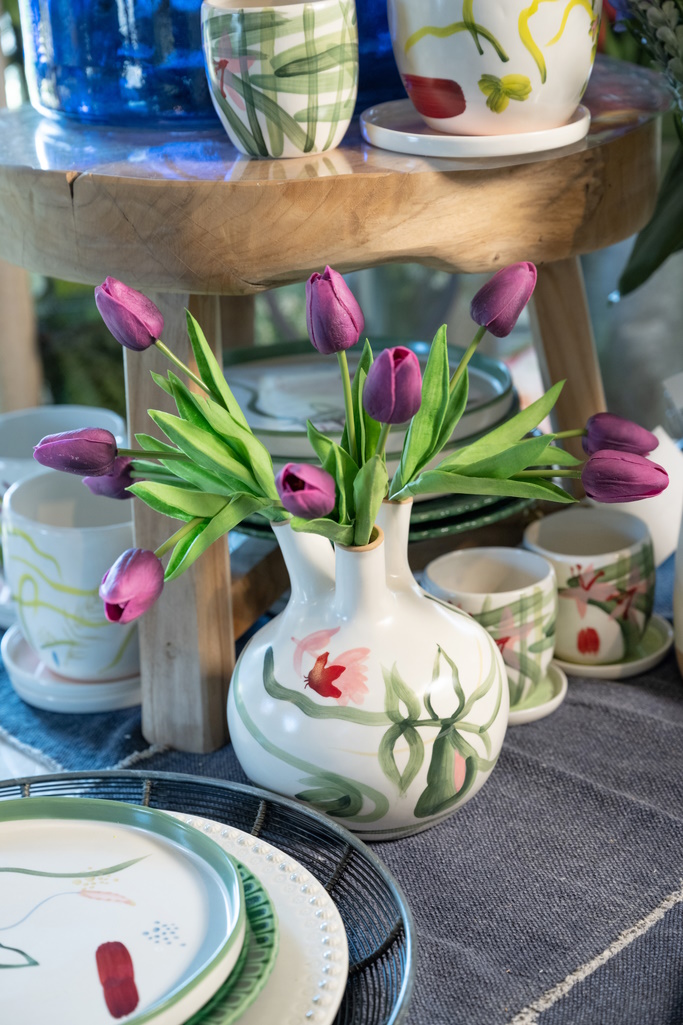 An Un-Brie-Lievable Gift Idea
We ended our shopping trip in the Ward Parkway Brick room, where all three ladies were in agreement over our final piece of the Mother's Day giftable collection. Nestled among a cheese tray and rustic hand-painted bowl resting upon the beautiful tabletop display is a functional and charming piece of glazed ceramic pottery. This brie baker is the perfect gift for a cheese lover or lover of entertaining (qualities they all share). The three immediately began planning a gathering, settling on cocktails and appetizers at Carlie's house.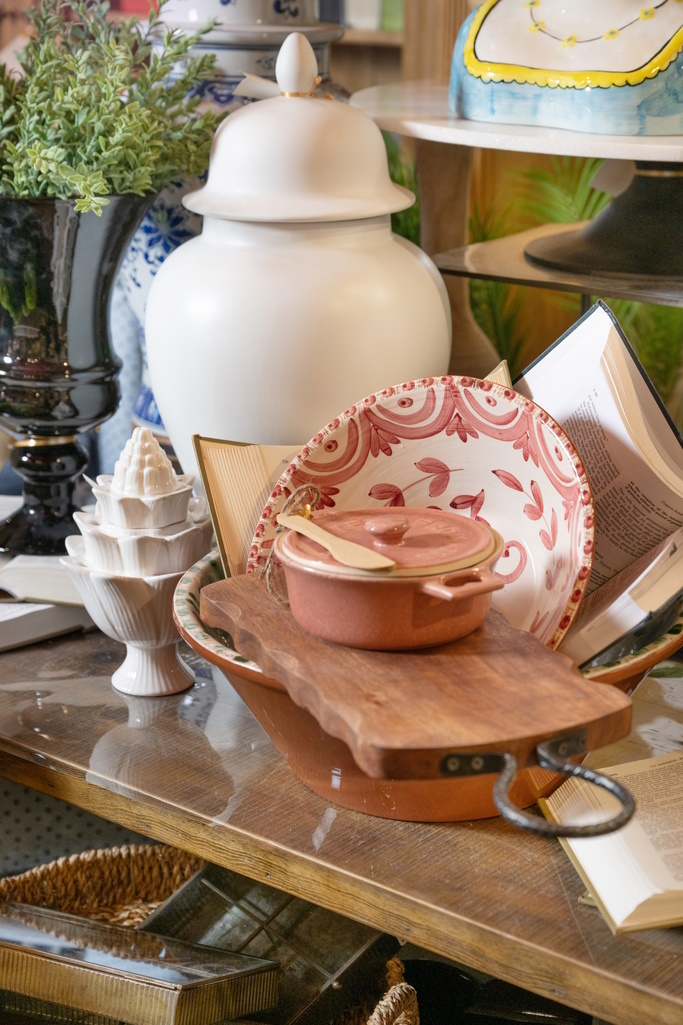 In fact, we've been invited along for the fun as well! Next month on the blog I'll be sharing a peek inside Carlie's beautiful and rustic lakefront home.
I so enjoyed my time spent with these three special ladies, and I loved to see the pieces in the shop that they selected for this Mother's Day gift roundup. I hope it gave you some good ideas on how to spoil the special Mom(s) in your life. Until next time – happy decorating!