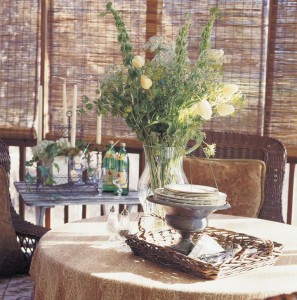 Dan and I are proof that opposites attract. I tease him that he's so mellow, he's one step above a coma. And he says I'm so hyper, I could be a poster child for Ritalin. Pairing opposites may or may not be the recipe for a good marriage, but it's definitely an exciting approach when it comes to interior design.  Creating surprising visual juxtapositions is at the heart of the Nell Hill's style because high contrast decorating is so dramatic. Here are five secrets for working the magic of high contrast decorating into your home's design. 
1. Pair Light and Dark Colors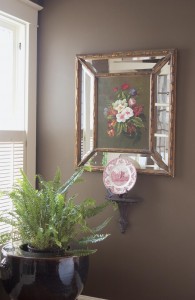 One of the most effective ways to play with opposites in your décor is to pair dark and light colors. Some of my favorite dynamic duos? Black and white. Navy and cream. I love to pull these and other high-contrast colors together when I design a space because together they have such a wow factor that they suck you into the room.
My dining room features Twilight navy blue walls. If the entire room was this deep, dark color, it would be a little too brooding for my taste. So I painted the trim and the paneling, which covers the lower portion of the walls, in Garrity Cream. The Garrity Cream keeps the space from taking itself too seriously by brightening the overall appearance of the room. The room above achieves the same effect through Molasses, a yummy brown paint that's also from my Mary Carol Artisan Paint line. Notice how the Garrity Cream trim gives the brown walls definition? And how the artwork just pops off the dark wall?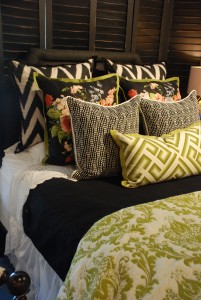 Black and white, a perennial favorite of mine, is gaining strength with interior designers again. We're seeing it popping back up at market and in the work of new designers. It's never gone out of vogue in my heart because it's such a timeless classic. Check out how this powerful high contrast color combo is brought to life through the custom bedding at Nell Hill's. You'll find a lot of high contrast color combinations in the bedding at Nell Hill's because it is so eye-catching – ensuring that the bed is the undisputed focal point of the bedroom.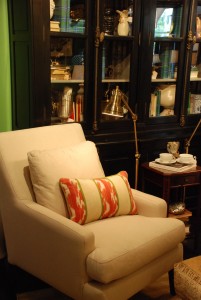 You can also use high contrast color combinations in your furnishings. The photo above shows just how easy this is to do: Just place a light colored piece of furniture next to one that is dark. Bingo! Accent your light or dark sofa with a mix of contrasting pillows. Or, try this: If you have dark hardwood floors, zip them up with light area rugs.
2. Mix Refined and Rough Objects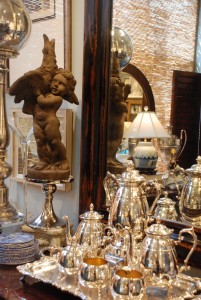 Another of my favorite techniques for high-contrast decorating is to create tableaux that include both refined and rough elements. The display above, from Nell Hill's Briarcliff, is a great example. We wanted to make this elegant silver tea service even more arresting. So we brought in some visual contrast by including a gritty garden statue in the display. The pairing of these two unlikely partners makes them all the more beautiful.
Look around your home and see what type of refined and rough pieces you have, then mix them together in a display. Maybe it's a china soup tureen or English foot bath filled with earthy moss balls. Or a primitive wooden dough bowl cradling crystal candlesticks.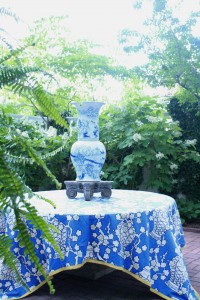 A natural place to blend the refined and rough is in your outdoor rooms. The photo above features a weatherworn cement table that stands in my courtyard year round. It seems ironic to cover this rugged piece of furniture with the gorgeous custom tablecloth, doesn't it?  The delicate urn on the table doesn't belong out in the yard, or does it? It does at my house.  When I entertain outdoors, you'll find my best pieces on the al fresco dining table, from heirloom china to crystal water goblets.
3. Blend the Elegant and Everyday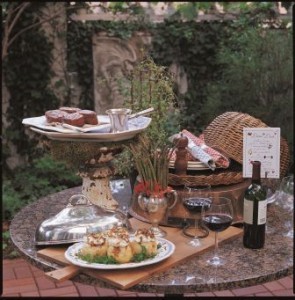 When designing rooms, I intertwine pieces that are elegant with those that are everyday.  I love how the mismatch of these elements takes visitors by surprise.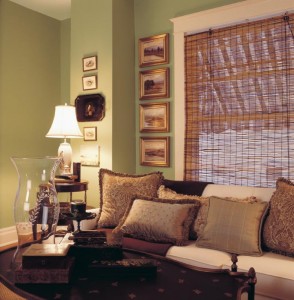 The photo above, taken at a friend's home, is a great example. We dressed her formal sofa in sophisticated silk pillows. Then we contrasted this fussy fabric with no-nonsense window coverings: garden variety bamboo roller shades. I'm bringing the same concept to life in my home right now. I've covered some upholstered furniture in ticking, one of my favorite fabrics because it's so simple and unassuming. Then I helped it go a bit uptown by tossing on some accent pillows in a formal damask.  Some of my other elegant and everyday fabric combos? Buffalo check or burlap threaded together with luxurious velvets, plaids and paisleys.
4. Wed Objects that are Manufactured with Those that Are Organic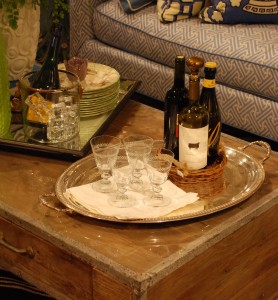 My style is ever evolving, and I'm increasingly in love with the clean and simple contemporary accents that are so hot today, like colorful pottery. But an unshakable bedrock of my style is using organic elements in my everyday décor. To create a high-impact, high-contrast look, I use them both, together, in my décor. I often display items that are made out of natural materials with those that are not. For example, I may place a lovely drinks service on a wicker tray. Or put a bird's nest on top of a place setting of china plates. Or fill a china bowl with stones or nuts.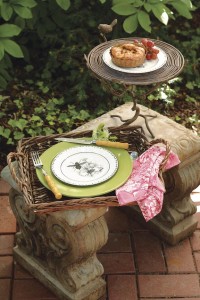 What natural treasures delight you? Collect things you fancy as you walk in the woods or along the beach, then interject them into your existing décor.
5. Showcase the Inexpensive and Expensive Together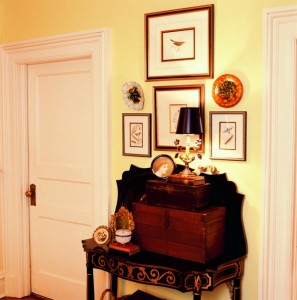 Sometimes there is no replacement for using well-made, high-quality pieces in your décor. I feel that way about upholstered furniture. You definitely get what you pay for. But when I can, I love to cheat, opting for pieces that look super expensive but are a bargain. A great example is the blue and white bowls, vases and urns we carry at Nell Hill's. I see our customers look at the price tags, then do a double take because the cost is a lot less than they expected. Why spend more when you can get the same look for less?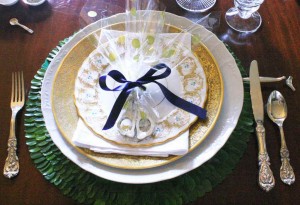 If you wander through my home, you'll see pieces of great value mixed together with those that are inexpensive. Often, they are hardly distinguishable from one another. I embraced this marriage of inexpensive and expensive in my 20s, when I was too broke to purchase more than a few nice things for my apartment. I would save my pennies and buy one or two investment pieces, then fill in with low-cost pretenders.  The place setting above is a good example. I grounded the display of china on inexpensive placemats.
Next Week … In the heat of August, nothing refreshes your decorating like cool, clear glass. I'll share ideas on using glass pieces in your everyday décor.