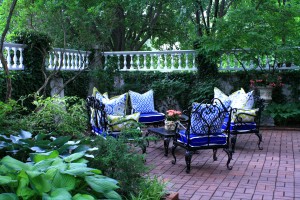 For as long as I can remember, I've been head over heels in love with the color blue. Cobalt? Be still my beating heart. Robin's egg? Divine. Turquoise? Makes me swoon. But when it comes to navy, oh my goodness! I have a personal weakness that borders on obsession. If my staff at Nell Hill's didn't restrain me, everything in the stores would be done in navy.
Navy has it all. It's a no-fail neutral that looks perfect paired with practically everything, from white and cream to coral and citron. It gracefully sets off every finish in your decor, like leather,  silver, brass and pottery. It's a timeless classic that will never go out of style. And, because it's not overused by designers, it feels fresh. Other colors will come and go in my home, but navy is here to stay, in a big way. Here are six ways you, too, can weave a little navy into your interior decor. 
1. Embrace Navy's Softer Side Through Your Furniture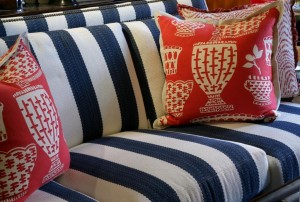 One of navy's many wonderful attributes is that it is a fabulous tool for high contrast decorating. I really like it paired with white when I'm designing a contemporary home and with cream if the home is traditional. This navy and white striped sofa is lots of fun and looks sensational with a little splash of red.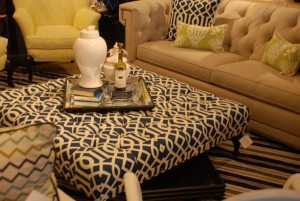 Here's a different interpretation of navy and white. This contemporary geometric fabric allows this sometimes-serious color to play a little. When you cover your furniture in a solid navy fabric, you have free rein to take it casual or formal, contemporary or traditional. I think navy is one of the best neutrals for sofas because it is timeless enough you'll never get sick of it; forgiving enough to handle pets, kids and husbands; versatile enough to look great with a rainbow of colors: black and white, citron, green, turquoise, coral, red, yellow. Whew! There aren't many colors that give you this much breadth.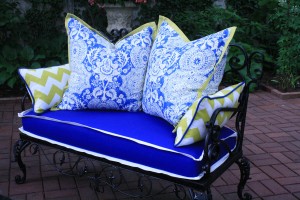 I just redid the cushions on my outdoor furnishings this summer, swapping out light cream for cobalt blue, which just feels like a more electric shade of navy to me. To pop things up a bit more, I pulled together pillows in citron, white and blue fabrics for a crazy mix up of classic and contemporary. It's so stinking fun!
2. Perk Things Up with Navy Pillows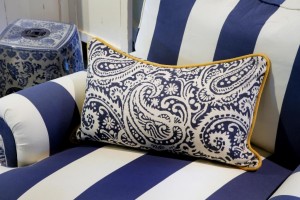 If you don't have any navy in your home, but would like to add a bit, try working it in through some accent pillows. Since navy works with so many colors, it's easy to plug in to just about any color palette. We went for a saturated salute to navy in the photo above from Nell Hill's Briarcliff, adding this contemporary paisley pillow to our beefy stripe sofa. I love the layering of the blue and white garden stool in the background, a little side table for drinks or books. It brings in yet another pattern, which keeps this grouping lively even though it revolves around just two colors.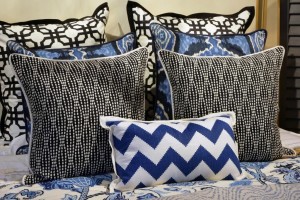 Here's another example of how a simple color palette can be anything but boring when you bring it to life with lots of lively patterns. Your bedding ensemble is an ideal place for navy because you don't typically redo it very often, so you want to pick colors you won't grow tired of soon.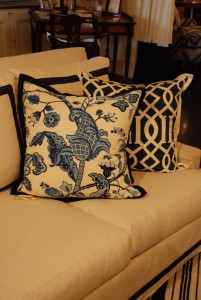 Be still my beating heart! Love this cream sofa with its navy and cream striped skirt, accented with these different but harmonious blue and white pillows.
3. Let Navy Dishes Add Drama to Your Table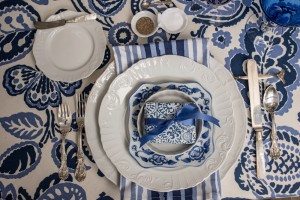 Long ago I invested in a set of blue and white transferware dishes, and I have used them constantly ever since. In the photo above, you see them on my dining room table dressed for a summer party. When you add in lots of pattern, this simple color combo is really exciting on a table. But I also like to pop it up for spring and summer by weaving in apple green. In fall, you'll see these same dishes on my table paired with orange. During the holidays, I use a leather or silver charger as a base for a more formal place setting. It's amazing how versatile these dishes are.
Just because blue and white transferware is a classic doesn't mean you can't make it feel fresh and new. All you need to do is pair it with more contemporary dishes and glassware, like we did here.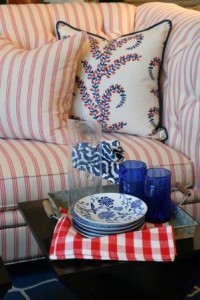 Florals are back in vogue, but today's floral patterns are cleaner, brighter. This little stack of plates featuring a transitional navy floral pattern is great in a casual or formal setting. We styled ours for a little snack.
4. Make a Room More Dramatic with Navy Paint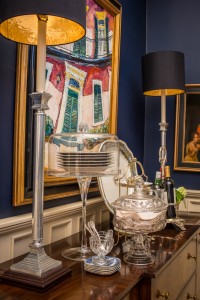 While I like to constantly switch out some of the decorative elements in my home, there are some things that will never change. One is the color of my dining room walls. I can't imagine them being anything but Twilight, a rich navy blue color from my Mary Carol Artisan Paint line. I forced myself to try a new color once, painting the walls a chocolate brown. But it just felt wrong, and before long I was back to my navy. Since I use my dining room table as a stage for so many different seasonal tablescapes, I couldn't beat the versatility of the navy walls. Like a good navy blazer, they go with anything.
5. Use Navy Pottery as Arresting Accents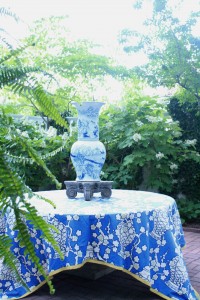 If you have read my blog, syndicated column or books for long, you know I love, love, love blue and white pottery and have used it all over my home for the past few decades. We're seeing a real resurgence of Chinese porcelain in a blue and white color palette these days. More people are working this classic look in with their modern furnishings for a design that's full of contrasts.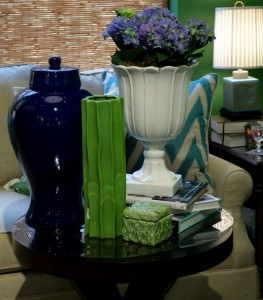 We just got in a big shipment of ginger jars that are solid navy, and we're having so much fun weaving them into our store displays.
6. Let Navy Rugs Pull Your Room Together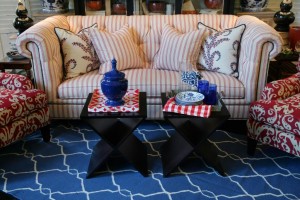 Navy is a great color for area rugs because it refuses to show dirt. You can find flat weave rugs – my new go-to because they are so affordable – in an assortment of contemporary patterns. Like something more traditional? Navy is a frequent star in Persian wool rugs.
Next Week … I love high-contrast decorating, pairing together elements that are complete opposites, for maximum drama. I'll share tips for pulling off this powerful look in your decor.