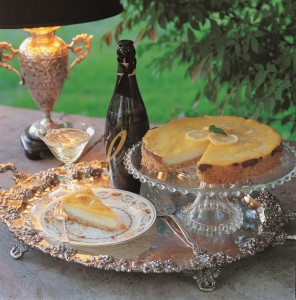 Want to have some friends over to enjoy a lovely summer evening together, but don't have the time or inclination to prepare a full meal? Skip dinner and go straight to the best part: dessert! Having friends over for just dessert is fun, easy and, if you do it like I do it (buy the goodies instead of making them myself) it is virtually stress free. One of the best parts of having a dessert party, besides the chocolate, is creating a simple but beautiful dessert bar.  Because desserts are usually so visually attractive all by themselves, you don't have to do much to craft a display that shows them off.
Bruce, one of our designers at Nell Hill's, had a blast creating two super simple summer dessert bars that sport very different looks. One is for a stylish soiree, a perfect selection if you like to entertain on a more formal level. The other is a casual presentation that will bring out your inner kid. 
Stylish Summer Dessert Soiree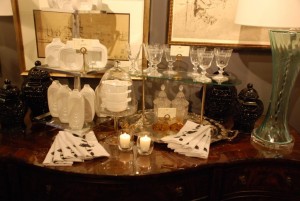 The key to crafting a dessert bar that is as arresting as the confections you're serving is to build it with a few dramatic serving pieces. This display features two of my favorites: a French pastry shelf and a silver tiered server. With powerful pieces like these as your anchors, you don't need to add much to have a display that captures guests' hearts.
I have a number of tiered servers, like the one on the left, that I use over and again when I entertain. You may find them topped with fresh fruits. Or they may be holding a variety of delicious cheeses. With their graceful lines and suspended platforms, they make everything look regal. And, they bring in strong vertical height, which is essential for a well-crafted food display.
You have to use your imagination a bit with these photos. Instead of using real desserts to style these shots, we opted to use place holders, represented through the white pottery vases. (We knew if we went out and got a bunch of yummy treats, we would gobble them up before we were done shooting.) So, picture these servers filled with your favorite confections, like cupcakes, eclairs or mini cheese cakes.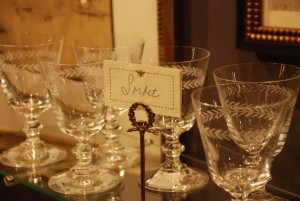 This pastry server is another outstanding tool for food displays. It gives you the perfect stage for showing off beautiful glasses holding desserts. A hot trend among my friends right now is to prepare individual serving desserts in drink glasses, like a martini glass holding a little lemon pie or a wine glass cradling a chocolate trifle. We imagined the cluster of lovely glasses in the photo above being filled with fresh fruit sorbet. Sorbet is a great choice this time of year because it's infused with the season's best flavors yet isn't too heavy.  Don't the menu cards, done in an elegant script, bring the entire look of the display up a few notches?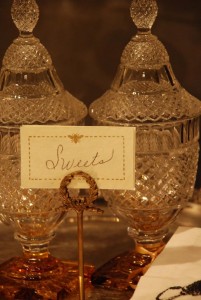 Another option is to serve a wonderfully rich vanilla ice cream in drink glasses, then fill crystal candy dishes like these with a variety of fun toppings. Or, just pour in a few of your favorite candies as an alternative for a guest who may not like your main dessert selection.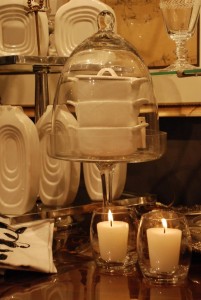 My mantra when entertaining is "presentation over preparation." It's an easy rule to follow when you are serving just dessert to guests. Go to your favorite bakery and indulge in a torte, cake or assortment of cupcakes. Then display them like pieces of art using tools like this cloche covered riser. They are also an ideal pick if you want to serve your guests at the table instead of set up a dessert bar. Top the riser with a cupcake, cream puff or other mouthwatering treat, cover it with the cloche, then put one at each place setting on top of a china dinner plate.
Good Old Fashioned Summer Dessert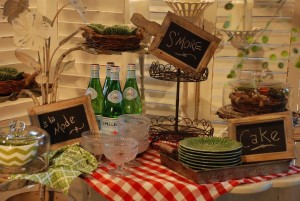 Is your style more casual? Than this presentation may be perfect for you. When you create your dessert bar, you can use a fun tablecloth as the springboard for your color palette or theme, like we did here. Our red and white check tablecloth is reminiscent of picnics of old and sets the mood for our food selection, which is as American as apple pie.
We achieved this casual, outdoor picnic look by mixing together serving pieces that incorporate a variety of homespun materials, like twisted wire, woven wicker and galvanized metal. My favorite feature has to be the adorable chalkboard menu cards. Feels like an old fashioned school ice cream social!
In the photo above, you'll see some different takes on risers you could use to hold food. Check out the painted metal leaf stand, with extended leafs meant to hold potted plants. Instead, we used wicker baskets cradling majolica plates. I could see them holding fresh fruit, a tower of lemon bars or brownies.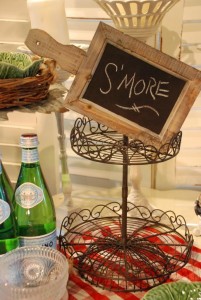 When people display food for a buffet, they often place bowls and platters directly on the table, which makes for a very flat, one dimensional look that lacks drama and intrigue. At Nell Hill's, our food displays always incorporate a number of risers to bring in lots of movement and drama. The good news is, it's super simple to do. This rustic two tiered riser does just the trick on our casual dessert buffet. We envisioned it filled with all the makings for 'smores, the undisputed best part of summer camp. Top the tiers with little bowls or baskets holding marshmallows, chocolate bars and graham crackers.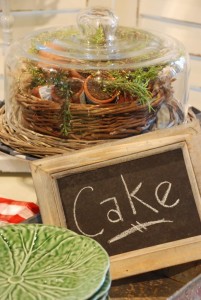 Even casual food looks better when you put things under glass. For fun, we filled our cake plate with faux potted plants as a place holder (see note above about not trusting ourselves with real, live desserts!). But imagine this cloche over a county fair winning layer cake. Or a berry pie made with seasonal fruit from your local farmers' market.  A dessert bar is the ideal place to weave in seasonally themed napkins and salad or dessert plates. These inexpensive majolica leaf plates add a pop of summer-grass color to this bright arrangement and celebrate the vibrancy of the summer season.
Next Week … Navy is one of my very favorite colors to decorate with, so I'm thrilled that this bold, brilliant hue is showing strong in home décor right now. I'll share ways to weave navy into your home's décor.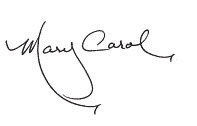 P.S. Our Wood Furnishing Sale is going on now through August 15, and I hate for you to miss out on the bargains. All our gorgeous wood furniture, like dining room tables and chairs, bookcases, end tables and hutches, are all 20% off. Bargains don't come along like this very often, so come check out our amazing selection.