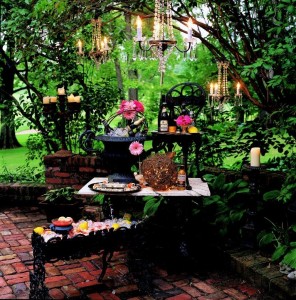 With its long, laid back days and evenings that seem to stretch into infinity, summer is the perfect time of year for gatherings with friends. But with work, family and all the other demands of life, sometimes we just don't feel up to hosting a big to-do at our homes. I've found that the key to getting your "friend fix" without stressing yourself out by adding more work to your schedule is to chill out when you entertain in the summer. This week and next, I'll share two ideas for easy summer entertaining that are big on fun and short on work. This week: happy hour!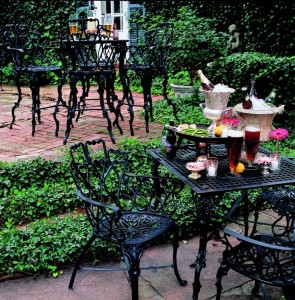 Gathering for drinks, whether they are alcoholic or not, is a great way to spend time with your friends, laughing and relaxing and catching up on all the news, without taking on the work of making a full meal. Whether your gang likes an after-work happy hour or drinks at dusk, this kind of easy prep party is super simple to pull together. Here are two approaches I like best when I have a last-minute happy hour at my home:
Stir up a Signature Drink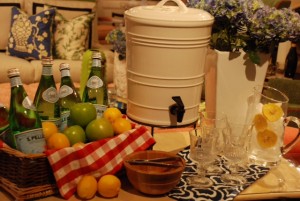 Back in my parents' day, when people had cocktail parties they set up a full bar with the all the mixings. Today, we're making things simpler when we entertain. One of my favorite time savers is to mix up a signature drink for the evening. Give it a try! Find a fun summer cocktail recipe on line or opt for a sure crowd pleaser, like my friend Cyreesa's Summer Brew – vodka, beer and lemonade concentrate mixed together for a bubbly, tangy and refreshing drink. (You'll find lots of recipes for this favorite on Internet sites.) If you prefer a virgin drink, select one that pulls in the season's best flavors, like water infused with cucumbers, melons and mint.
Next, set up a super simple but stylish bar. I like to entertain outside during the summer, so I set up a drinks station on a console table on my patio or on the hutch on my screened porch. If it's too hot where you live and you want to stay in where it's cool, set up the bar on your kitchen island, on a corner of your dining table or on the coffee table in your living room. My favorite indoor bar spot in my home is in on a butler's cart in my foyer, where guests can help themselves to a drink when they arrive.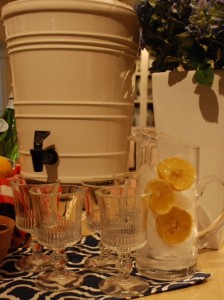 Keep your summer bar simple. Start with an attractive drink dispenser you can fill up with your signature drink, allowing guests to serve themselves. That keeps you from playing bartender and allows you to relax with the gang. We love the cute metal beverage dispenser at Nell Hill's that's picture above. It's casual and fun and adds to the look of this summery drinks station. If you want a second drink offering, serve it in a cute pitcher. It may be as simple as chilled water with sliced lemons.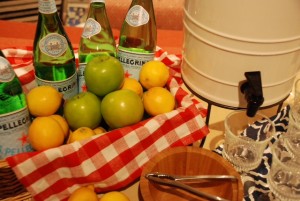 You'll want to serve a few appetizers for your guests, but, again, keep it simple. For our display at Nell Hill's, we tumbled fresh apples into a basket. But you will probably want something more substantial for your happy hour. I keep a few things on hand that I can pull out in a snap when friends drop by:
Artisan crackers
An assortment of nice cheeses
Cashews
Fresh fruit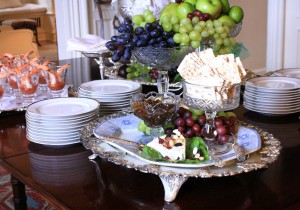 The key to making this simple fare seem elegant is to display it in a lovely way. Pour your crackers into a silver pedestal bowl. Place your cheese assortment on a silver tray. (Try this trick: sprinkle a bit of trail mix of nuts and dried fruit over the top of your cheese wedge. It looks so elegant!) Place cashews in a pretty bowl or in a compote. Put the fruit on a tiered dessert server or in a compote.
Chill a Bounty of Bottled Beverages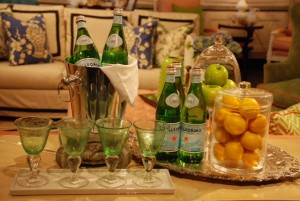 Want to spend even less time pulling together your simple happy hour? Just serve bottled beverages, like wine, craft beers or soft drinks. No matter what your friends' tastes, you'll score with this streamlined menu.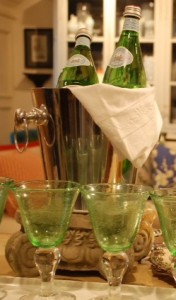 When the beverage offering is this easy, you can have a bit more fun staging your serving area. One fun trick is to create a lovely ice bucket to chill your drinks. In the photo above at Nell Hill's Briarcliff, we used one of our low-cost but high-appeal aluminum ice buckets to cool the drinks. We also like to chill beverages in aluminum punch bowls, wooden dough bowls, garden urns, blue and white cachepots, even birdbaths. If it can hold ice, it can be used for your summer bar, so be inventive.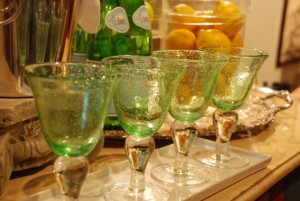 Your summer happy hour spread can be tricked up in a lot of different ways, depending upon your choice of glassware, plates and napkins. I like to use colored stemware and tumblers for casual happy hour bars. This is also the perfect opportunity to pull out seasonal accent plates, like majolica leaf salad plates or an interesting collection of dishes you might have, like vintage hand-painted plates or depression glass. I like to keep a few packs of paper cocktail napkins on hand, too, that I can call on in a pinch to save myself some laundry.
Next Week … Part two of our simple summer entertaining series focuses on the best part of the meal: dessert! Instead of cooking dinner, just have friends over for dessert. I'll show you ways to make your dessert offering decadent but decidedly simple to pull off.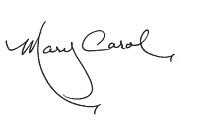 P.S. Today kicks off our Wood Furnishing sale at Nell Hill's Briarcliff and Atchison. All our wood furniture is 20% off through August 15. This is the ideal time to get that bookcase, dining room table and chairs, buffet or side table you've been dreaming about!