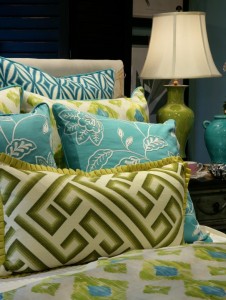 If you were to rank your home decorating projects, chances are "get new bedding" would be low down on your list. We often sacrifice the style in the private spaces in our homes because they are out of the public eye. But think about this: Your bedroom is your sanctuary, and it's up to your bedding ensemble to set the tone for this all important space. I've found that remaking your bed with a new bedding ensemble completely transforms the look of the entire room. Don't believe me? Check out these gorgeous beds designed by the Nell Hill's Bedding Goddesses that showcase today's six hottest trends in bedding. 
1. Flower Power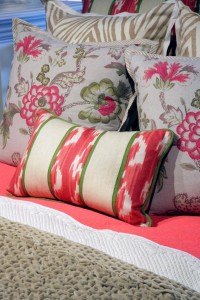 We're seeing them on the fashion runways and sprouting up in home décor: Flowers are back!  Today's florals are blooming with new hues and patterns. Because many floral fabrics mix in a multitude of colors, they offer a great jumping off point for pulling a rainbow of colors into your bedding ensemble. And, their perky patterns bring graceful movement to the lines of the bedding. The sweet but bold floral in the bedding above features coral, still a top color pick for interior designers. When you pair a strong color like coral with soft neutrals like cream and taupe, it feels lively but serene.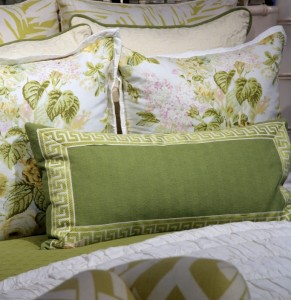 If you like florals, pick a pattern that makes you swoon as your inspiration, like we did in the romantic bed pictured above. I like to honor tradition in my decorating, yet keep it vibrant and new. So we blended lots of new colors and patterns into the ensemble to balance out our classic floral. Citron is the hottest color of the season, and we played it up big on this bed. We're pairing this unique shade, which rests somewhere between yellow and green, with black, white, gray, turquoise and coral. It's one of those unique chameleon colors that seems to change tone, depending upon what you put with it.
2. Stripes, Stripes and More Stripes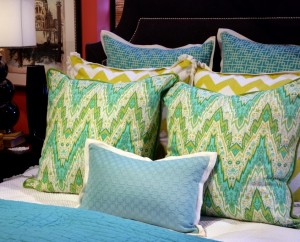 The bottom line on lines is that they are dominating the look in home decorator fabric. We're seeing it all right now – fat stripes, skinny stripes, in between stripes and a combination of all of the above. Stripes that zigzag, stripes that undulate, stripes that intersect, solid stripes, stripes made of polka dots, stripes that resemble Ikat. Whew!
I can't look at this peppy bedding combo without smiling because it is so darn fun! Check out the top layer of pillows: We used the still-crazy-popular chevron stripe as our inspiration for this bed because we adored this unique fabric, which weds the graphic elements of a chevron with the romance of a floral. The blue and green that dominates the palette was our jumping off point for the rest of the accent pillows on the bed, all of which celebrate the clean geometric shapes and fresh colors that are inspiring today's designers.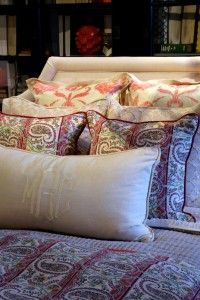 This unique stripe, made out of a dazzlingly updated paisley design, features another traditional color palette: red, white and blue. Patriotic colors are back, but with a new twist. You can go with the great colors featured in Old Glory. Or, you can do a unique variation, with reds that lean more toward coral or cinnamon, and blues that are mixed with a bit of green.
3. Geometrics Stack Up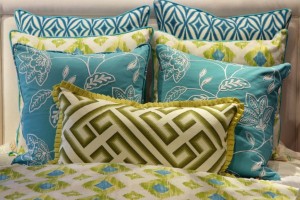 Designers are getting playful and reinventing the neat graphic patterns of old, and I'm loving the look they're creating. We're seeing lots of newly interpreted imperial trellis patterns, Greek key (one of my all-time favorites), polka dots, diamonds, all in vibrant, saturated colors.
Although it features the same greens and blues as the previous bed, the addition of the embroidered floral pillows gives this bed a softer, more romantic feel. Although we really like to mix lots of surprising fabrics together when we create our custom bedding at Nell Hill's, we tie the divergent looks together by repeating fabric patterns and colors, like we did with the Ikat fabric above, threading it through in the duvet and accent pillows.
4. Ikat Celebrates the Best of Old and New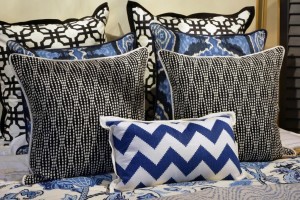 Ikat — that ancient pattern that has been unearthed and reinvented by today's designers – is still immensely popular and won't be going away any time soon. In fact, we're seeing the Ikat effect of creating an image by clustering parallel lines very closely, being used to create a wide variety of shapes like stripes and polka dots. Even though it embodies an old-world, global feel, Ikat looks right at home with today's trendy patterns. In the bed above, we threw it all together, mixing stripes, geometrics and floral with an Ikat. The patterns create an earthquake of energy, but the rock-solid color palette of blue, black and white keeps it from going over the top.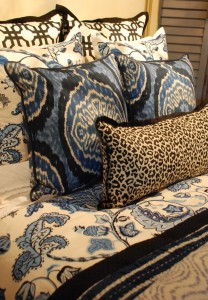 Right now, we are obsessed with navy at Nell Hill's. In fact, I'm going to be blogging on decorating with my favorite color in a few weeks. Traditionally, people have been wary about mixing black and navy together in bedding, maybe because they were afraid it would look too somber. But when you pour in high-contrast white and swirl it all together through a mix of interesting fabrics, you have a dynamic result, as evidenced on this great bed.
5. Animal Prints Are Roaring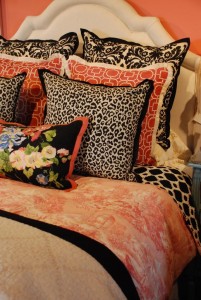 Animal prints still show strong in textiles because they bring with them an understated yet interesting graphic pattern. Cheetah spots and zebra stripes are our favorites at Nell Hill's, and we like to work them into bedding – and upholstered furnishings – when we want a little bit of pattern but not a strong graphic. It's a great way to make the bed look a bit funky and unexpected.
6. Bright Solids Shine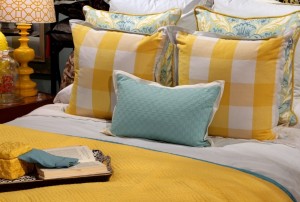 People are opening their hearts, and the doors of their homes, to bright colors this year. You not only see bright yellows, blues, greens, reds and oranges used in all kinds of patterns, but also in solid textiles. The canary yellow mate lassie quilt on the bed above makes this bed sing, doesn't it? Even with this sunny yellow echoed in the quilt and buffalo plaid pillows, this bedding feels light and breezy, thanks to the quiet white and blue pillows we mixed in. Solids do a lot to bring balance to a cluster of exciting fabrics, so they are always a good pick for a duvet cover, quilt or set of accent pillows. When we make up our summer beds at Nell Hill's, we switch things up, laying a light quilt like this one over the bed, and placing the folded duvet at the bottom. That way you still get the lovely look of layers, but without all that heat.
Next Week … I really like to entertain in my home during the summer. But with the reality of my schedule, it has to be relaxed and easy. So next week I'll share the first of a two-part series on simple parties to throw this summer. Part one? Happy Hour!