Packed full of energy and excitement, the color red is sneaking back into vogue in the world of interior design. For years, people shied away from this arresting color, opting instead for safe, soothing grays, tans and creams. But now folks are feeling bolder and taking bigger risks in their decorating. And as they do, red is shooting up the popularity charts.
We're having a blast at Nell Hill's zipping up people's spaces with spunky shots of red. Want to join the fun and add this striking color to your décor? The key to success when decorating with a statement color as powerful as red is to pick a few key places to let it shine. Here are my top seven spots to add a pop of red in your home's interior: 
1. Paint a Wall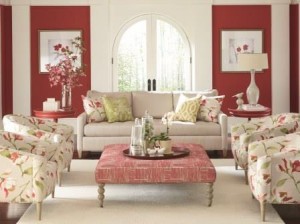 If you want to go big with red, wash a wall in it. Depending upon the shade you select, red will send off a strong vibe that ranges from happy to angry, so pick your paint color carefully. Another word of caution before you pull out the drop cloth and paint brushes: It's easy to go too far with red, so start in small doses. Before washing the entire room in red, paint just one wall and see what you think. Whether you end up painting one area or the whole room, be sure to balance your high intensity wall color with plenty of light colored neutrals through your upholstery, art and window coverings.
2. Cover Some Furniture
Give a room an energy boost by adding in a piece of red furniture. Check out the photo above. Isn't it amazing how the red chest snares your attention? Even though it's just a small piece of accent furniture, it stands out in this room filled with whisper white and dreamy blue. When you're working with red, it doesn't take much to get big results.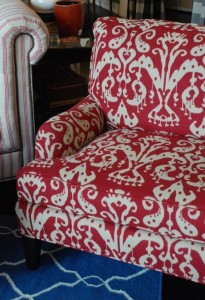 The beauty of red is that it works in every style home, from ultra mod to super traditional. Right now at Nell Hill's, we're covering lots of traditional and transitional furniture frames in more contemporary fabric patterns that play up red. The chair above is a perfect example. This refreshing take on a tried-and-true traditional design owes its success to a cleaner silhouette and an exhilarating fabric that is both formal and playful. I can picture a pair of these practically perfect chairs on either side of a fireplace.
I can't stop talking about this red leather chair. Love it! And talk about a statement piece!
3. Hang Artwork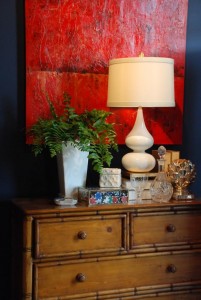 The walls in most of the rooms in my home are painted in soft neutral colors just so I can cover them with an ever-evolving assortment of artwork. I've found that switching out my art is a unique way to change the look and feel of a room. To pay tribute to a favorite color, showcase it through a piece of artwork. If you hang art that includes red, rest assured it will get noticed. At Nell Hill's right now, you'll find artwork that features about every shade of red, in about every style, from modern pieces like the one pictured above to classics.
4. Make a Red Light District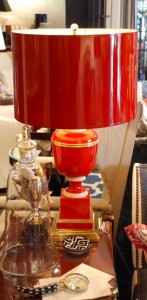 In my book, there are few things as stately as a beautiful red lamp. The smartly styled lamp in the photo above (taken at Nell Hill's Briarcliff) is so chic – what a great addition to a formal or informal room. When I decorate, I like to add a surprise element in every room – a little something that catches people off guard because it's so unexpected. A red lamp is the perfect pick. It's sure to elicit a smile. Don't want the whole lamp to be red? Try just adding a red shade to a glass or white lamp you already own.
5. Amp up a Space with Red Accents
I love homes decorated in red. But when it comes to using red in my own home, I want it in small doses. So one way I've threaded this timeless color through my décor is with accents. The fabulous ginger jar pictured above is a great example of how you can add the tiniest touch of red to a room to give it a lift. You could place a piece like this on your mantel, at the center of your dining table or on a kitchen island to zip things up. I also really enjoy the bright red pottery we're carrying now at Nell Hill's. With its bold lines and saturated hues, it's ideal for a home that's contemporary or modern.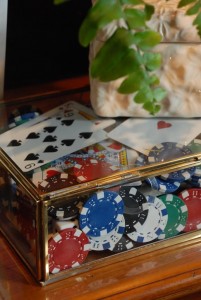 Here's a fun idea: Work red in through nostalgic or interesting details, like this glass memory box holding poker chips. Storage that doubles as a stylish accessory – what could be better than that?
6. Go Red on Your Bed with Pillows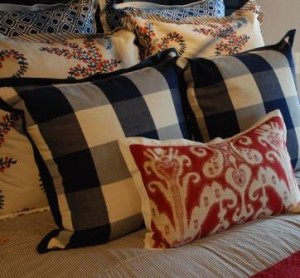 Like artwork, accent pillows give you a super easy way to introduce a new color to your home's décor. Toss a red pillow in the mix on your sofa or bed.
7. A Little Touch through Table Linens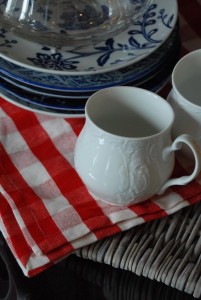 If you'd like to join the red craze but don't want red in your décor, try some red table linens. Perhaps you can feature red place mats, napkins or a tablecloth in your kitchen or patio. It's an easy and inexpensive way to dip your toes in without changing a thing in your home.
Next Week … Light and breezy summer bedding is a mid-summer's dream. Come see the latest colors, patterns and trims in beautiful bedding ensembles.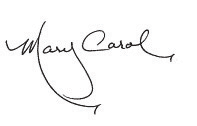 P.S. Our Special Order Upholstered Furnishings Sale is still going on! Through July 15 you'll receive 20% off all our lovely upholstered pieces, like sofas, ottomans and chairs. We'll help you design a custom piece of your dreams!